Paleo Zucchini Carbonara – zucchini noodles with healthy dairy-free carbonara sauce made from cauliflower! The creamy cauliflower sauce can be used to replace any cream-based or alfredo sauce for a dairy-free alternative!
This easy healthy dinner recipe is sure to please!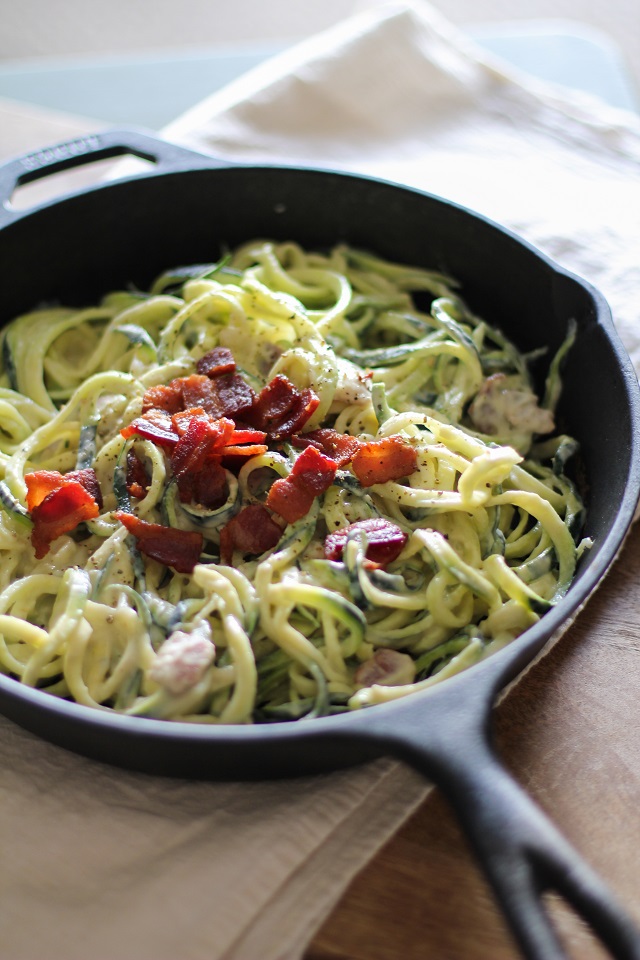 You're never going to believe the trickery that went into these noodles. I made cream-less, cheese-less pasta carbonara using cauliflower of all things!
Okay, I guess using cauliflower to make a creamy sauce isn't that revolutionary…in fact, we've done it multiple times on The Roasted Root, but healthifying carbonara was a bit of an ego inflator for this girl right here.
What is Carbonara?:
Let's back up. In case you're unfamiliar with pasta carbonara, it is an Italian classic made by cooking up guanciale (or pancetta, bacon or other fatty meat), then whisking up eggs, cheese, and cream on the stove top into a ridiculously delicious sauce.
Pasta is then tossed in this sauce of dreams and served with that tasty meat.
So to lighten the thing up, we're cutting out some of the eggs, and all uh-duh cheese and cream, to be replaced with half a dang head of cauliflower. It's fool's gold, I tell ya.
But we keep the fatty meat, because: duh.
How to Make Zucchini Carbonara:
The sauce requires a lot of steps, but don't worry: we've got pictures to guide us.
So here's what we do for that cauli sauce I've been telling you about:
We steam up half a large head of cauliflower, then stick it in a blender. #SteamShot:
We gather our guanciale, pancetta or whatever fat-tabulous meat we're using. I used thick-cut bacon. We cube up the meat, cook it in a skillet, then stick it on a plate.
Because we have all this delicious bacon fat for the cooking, we use it to saute our onion and garlic.
Stick said sauteed onion and garlic in the blender with the steamed cauli, along with a few egg yolks and some almond milk. We blend. We're golden.
We heat the spiralized zucchini noodles in the same skillet we used to cook the bacon. Cook for just 2 to 3 minutes until the noodles are just slightly softened, but still super al dente.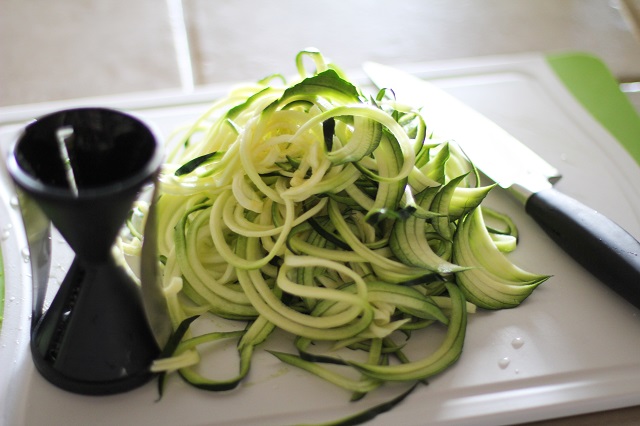 Then we add the cauliflower carbonara sauce to the skillet with the zucchini noodles and continue cooking until the whole mixture is steamy, hot, and thick, about 5 minutes. Since we have cooked bacon bits, we serve the zucchini carbonara with the cooked bacon.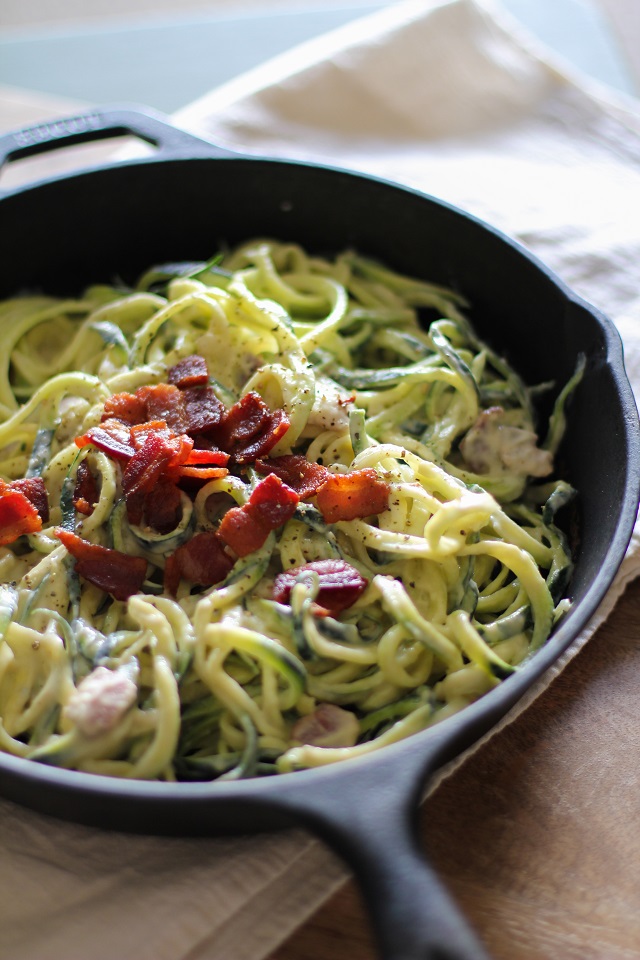 And that's all she wrote! It may sound complicated at first, but it's simple once you get the hang of it. And the whole meal is gluten-free and paleo-friendly!
As a side note, I've been collecting spiralizers the way my dad collects postage stamps, no joke. My newest spiralizer is this handheld spiralizer, but I also own a countertop spiralizer.
Spiralize up some zucchini and enjoy the this healthy pasta carbonara!
My cookbook,
Paleo Power Bowls
, is now available! CLICK HERE to check it out. Thank you for your support!
If you make this recipe, please feel free to share a photo and tag @TheRoastedRoot on Instagram!
More Zucchini Noodle Recipes:
Dairy-Free Zucchini Carbonara (Paleo)
Low-carb, keto zucchini carbonara made dairy-free using cauliflower!
Servings:
3
to 4 servings
Ingredients
3 to 4

large zucchini squash

spiralized

½

large head cauliflower

steamed

4

slices

thick-cut bacon

or 4 to 6 ounces guanciale or pancetta

½

large red or yellow onion

chopped

3

cloves

garlic

minced

3

egg yolks

1/4

cup

unsweetened almond milk

or coconut milk, + more if needed

1/8

teaspoon

red pepper

optional

½

teaspoon

sea salt

or to taste

cracked black pepper
Instructions
Chop the tip and tail off the zucchini squash and use a spiralizer to make noodles. Set aside until ready to use.

Steam the cauliflower for 6 to 8 minutes, or until tender. Place the cauliflower in a blender.

Chop the bacon and cook over medium heat, stirring occasionally until crispy, about 5 minutes. Using a slotted spoon, transfer the bacon to a plate and set aside until ready to serve.

Add the chopped onion to the skillet with the bacon drippings and saute until browned, about 5 to 8 minutes. Add the garlic and saute about 3 minutes.

Add the sauteed onion and garlic to the blender with the cauliflower, along with the egg yolks, almond milk, red pepper, salt, and pepper. Blend until completely smooth.

Heat the zucchini noodles in the skillet you used to cook the bacon (add a small amount of oil if necessary) over medium heat. Cook, stirring occasionally for 2 to 3 minutes. Add the cauliflower carbonara sauce to the skillet with the zucchini pasta and cook an additional 5 to 10 minutes, stirring frequently, or until noodles reach desired done-ness.

Note: If the sauce is thicker than desired, add a tablespoon or two of additional unsweetened almond milk.

Serve zucchini carbonara with the cooked bacon.
Notes
If you end up with more cauliflower sauce than you need, you can either spiralize another zucchini or save the sauce for later uses. Just be sure to heat the sauce up before saving it, since there are raw egg yolks in it.
Nutrition
Use the cauliflower carbonara sauce recipe for any and all of your favorite pasta dishes!