Curried Chicken Salad Sandwiches are an amazing go-to lunch! Made with Greek yogurt, curry powder, and more goodies, this flavorful chicken salad is truly a delight.
This post is sponsored by Teas' Tea.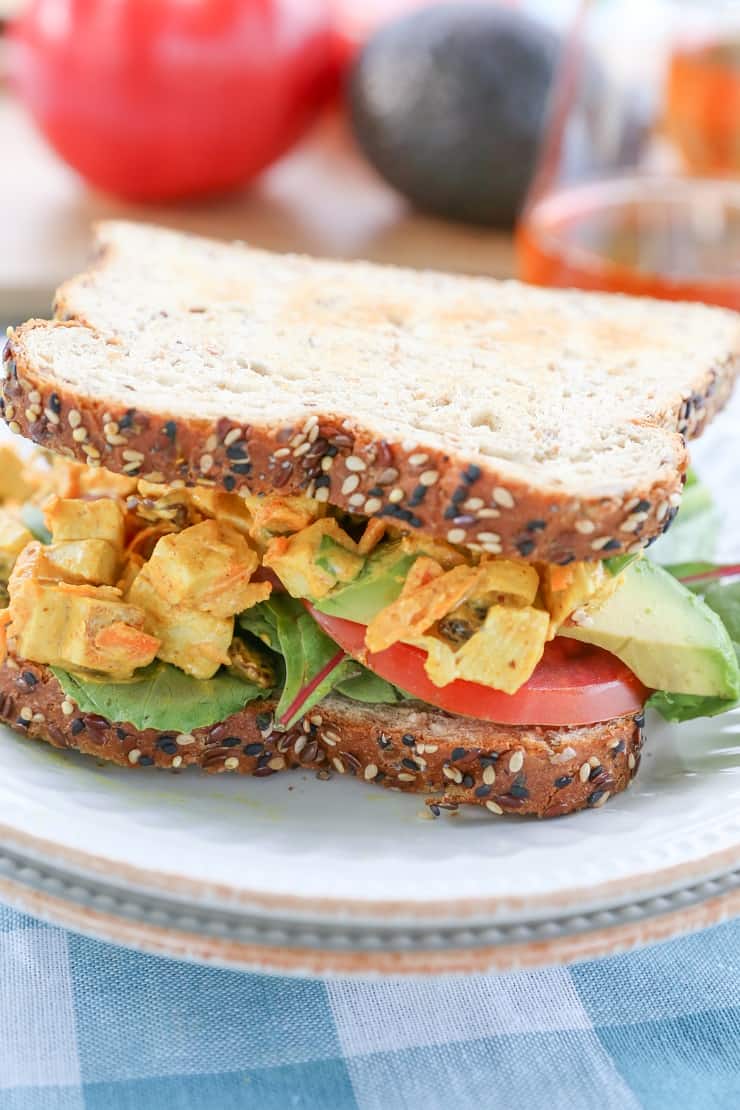 During my formative twenties, I never gave much thought to routine, rarely formed any sort of habitual behavior, and generally lived by a fly-by-the-seat-of-my-pants kind of mantra.
I never understood the people who drank a cup of coffee every morning (hello, I'm one of those people now ;), or the folks who needed to be home by a certain time to get enough sleep for work the next day (hello part two: totally one of those as well).
Now that I'm the ripe age of 31, I love the comfort of my essential daily routines, but also embrace my instinctual get-up-and-go spontaneous lifestyle.
Working hard during the week for those action-packed weekends is what my life looks like these days. It's nice to have that dichotomy to keep things feeling somewhat balanced – predictable with a side of adventure.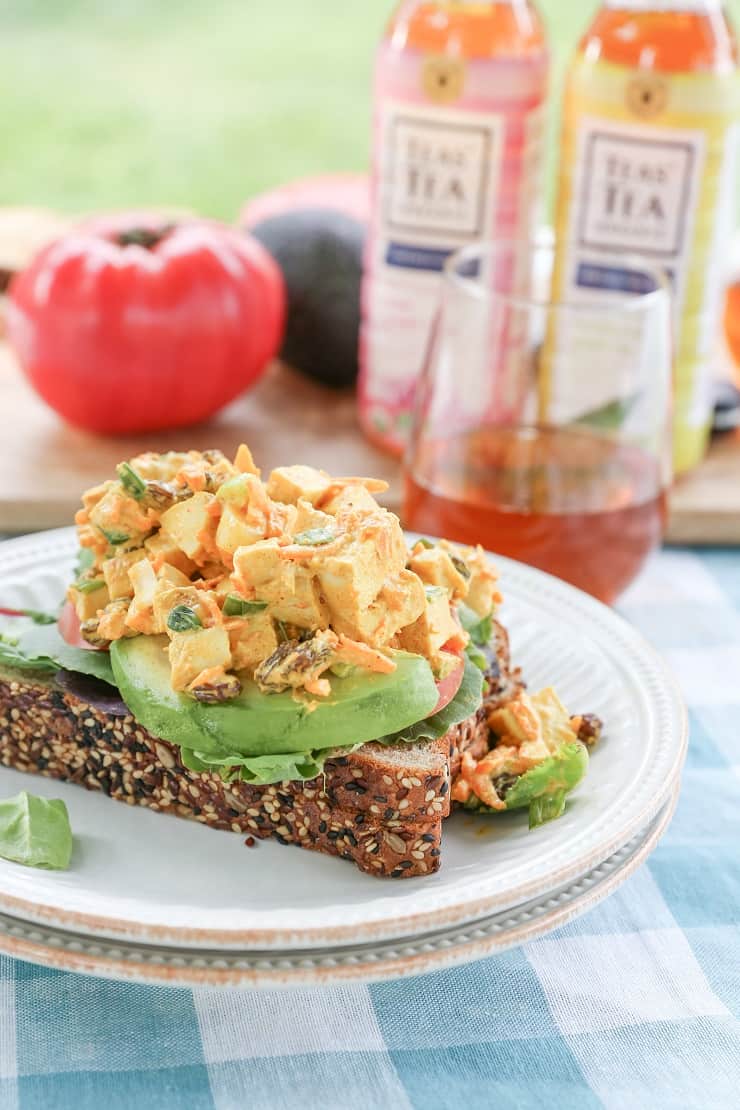 One activity I daydream about regularly, but never actually follow through on is having picnics during the week. You know, to relax, break up the workweek, and just get out of the house during the beautiful summer evenings.
Just think about the romance!: Laying a light blanket down on the grass, leisurely picnicking on all your picnic goodies, sipping on ice cold tea, and just enjoying the afternoon or evening.
I partnered with Teas' Tea to give you a taste of what I view as essential living: connecting with loved ones in a relaxed, beautiful setting, not getting too comfortable in routine, and mixing things up to keep life interesting.
For me, a clean and filling dinner is essential to my every evening – it satisfies after a long day of work, and ensures I wake up feeling energized. I don't drink alcohol very often during the week, but am always game for a refreshing beverage to go alongside my meal, which is where Teas' Tea comes into play.
Teas' Tea is brewed with high quality tea leaves, and the company has made it their mission to deliver authentic, amazing flavor while keeping the ingredients simple and natural. Their flavored teas are organic, super refreshing, and – my favorite part – include no added preservatives, colors, or sugar.
So in honor of fulfilling the desire to make the picnic daydream a reality, I whipped up this curried chicken salad.
My boyfriend and I packed up some sandwich fixings along with the chicken salad, plunked down on a park bench at one of our favorite spots, and picnicked the evening away.
These chicken salad sandwiches are a direct descendant of the Copycat Trader Joe's Curried Chicken Salad recipe I posted a few years ago.
The recipe for the chicken salad itself is almost identical, save for two minor differences, but the golden ticket here is turning the dish into a picnic event.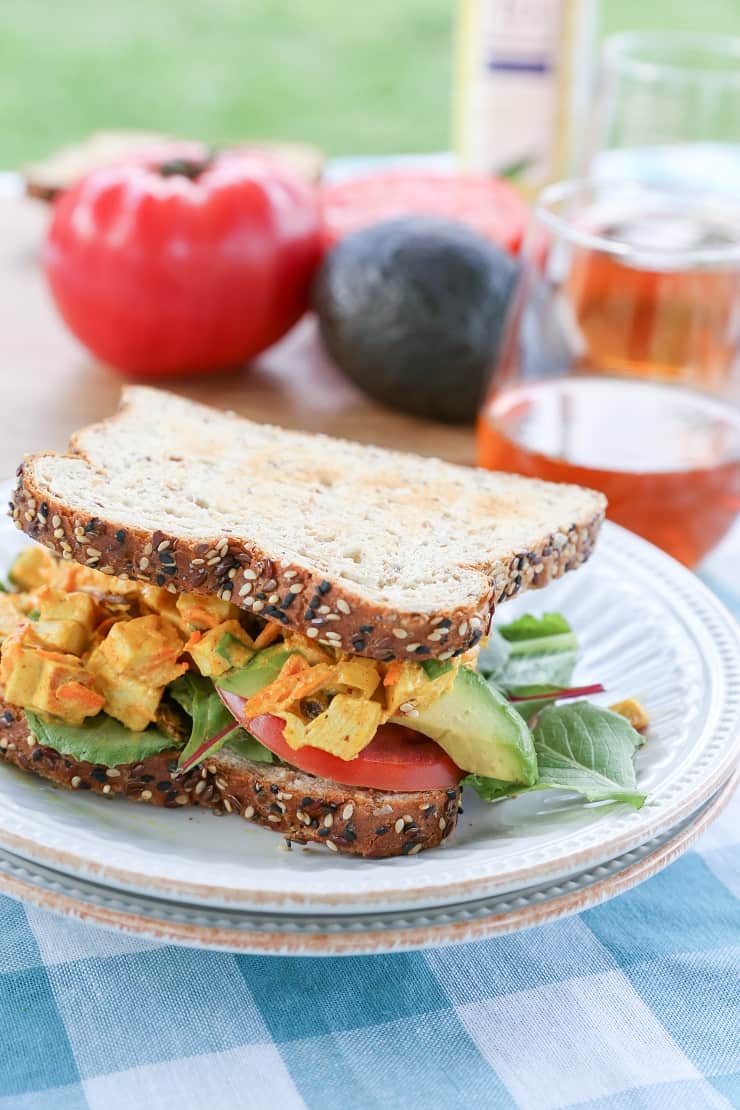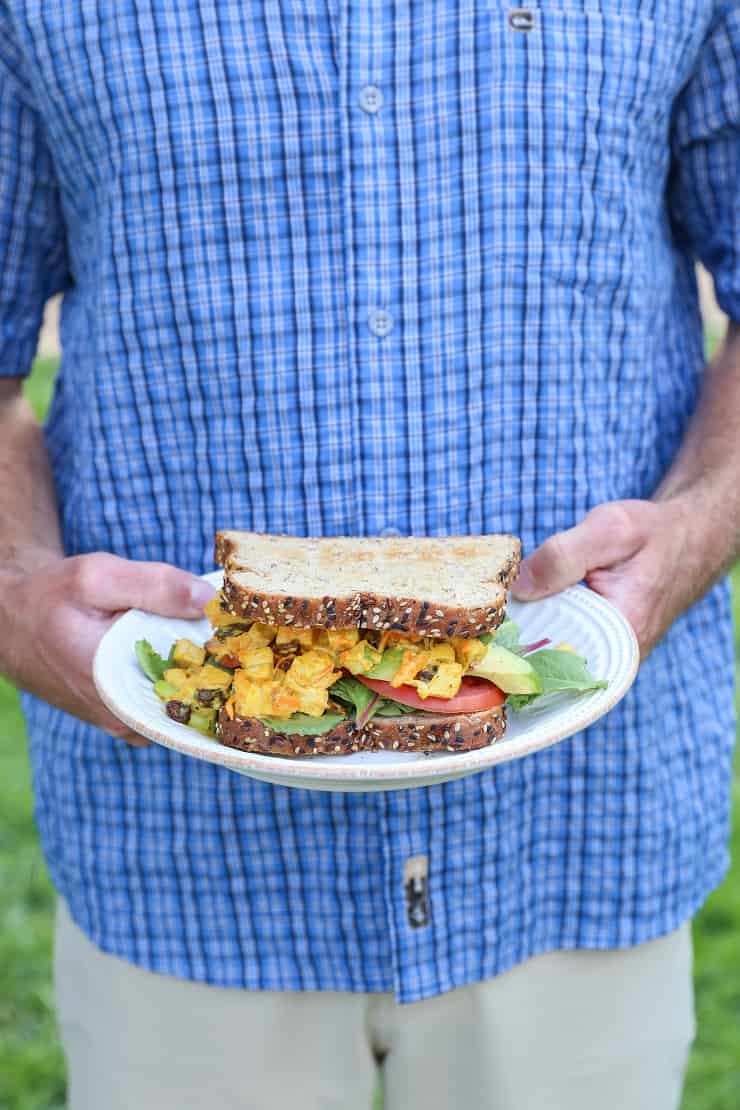 I use a combination of Greek yogurt and mayonnaise to make this ordeal come together.
For those of you who have been around The Roasted Root's block a time or two, you know I'm vehemently opposed to mayo, but I find that using a tiny amount of mayo in combination with Greek yogurt results in a nice and thick, creamy "dressing" for a chicken salad, without it being overly mayonnaise-y (because I don't know about you, but I can taste it from a mile away).
If you're even more mayo-averse than me, you can skip it and do all Greek yogurt. On the flipside, if you're a lover of all things mayo-seeped, feel free to up the ante.
And that's it, folks!
You can pack up a pasta salad, potato salad, or hearty kale salad to take with you on your picnic adventure to round out the meal, or keep it simple with these curried chicken salad sandwiches.
Curried Chicken Salad Sandwiches
An incredibly flavorful take on classic chicken salad, this healthier recipe makes for an amazing picnic salad or sandwich!
Ingredients
1

pound

boneless skinless chicken breasts

poached 5 to 8 minutes, see note

1/3

cup

whole milk Greek yogurt

3

tablespoons

mayonnaise

2

teaspoons

lemon juice

2

teaspoons

stone ground mustard

2

teaspoons

pure maple syrup

1

tablespoon

curry powder

1/4

teaspoon

sea salt

to taste

4

stalks green onion

chopped

1

cup

grated carrot

1/2

cup

raisins
Sandwich fixings:
8

slices

sandwich bread of choice

1

medium heirloom tomato

sliced

1

avocado

sliced

2

handfuls spring green mix
Instructions
Heat a large pot of water and bring it to a full boil. Add the raw chicken breasts and reduce heat slightly. Cook for 5 to 8 minutes (depending on thickness of chicken), or until chicken is cooked through. Place chicken on a cutting board, chop into cubes, and allow it to cool.

Whisk together the yogurt, mayo, lemon juice, mustard, maple syrup, curry powder, and salt in a large mixing bowl until well-combined.

Add the green onion, cashews, raisins, and grated carrot to the mixing bowl, along with the cooled chopped chicken. Stir well until everything is coated.

Assemble chicken salad sandwiches using your favorite toppings such as spring green mix, heirloom tomato, and avocado. Enjoy!
Nutrition
Serving:
1
Sandwich
|
Calories:
543
kcal
|
Carbohydrates:
81
g
|
Protein:
36
g
|
Fat:
12
g
|
Fiber:
20
g
|
Sugar:
18
g