Cranberry White Chocolate Macadamia Nut Granola Bars are a healthy granola bar option that is easy to make and loaded with delicious flavors! The combination of tangy dried cranberries, creamy white chocolate, and crunchy macadamia nuts make these granola bars mouth-watering dreamy!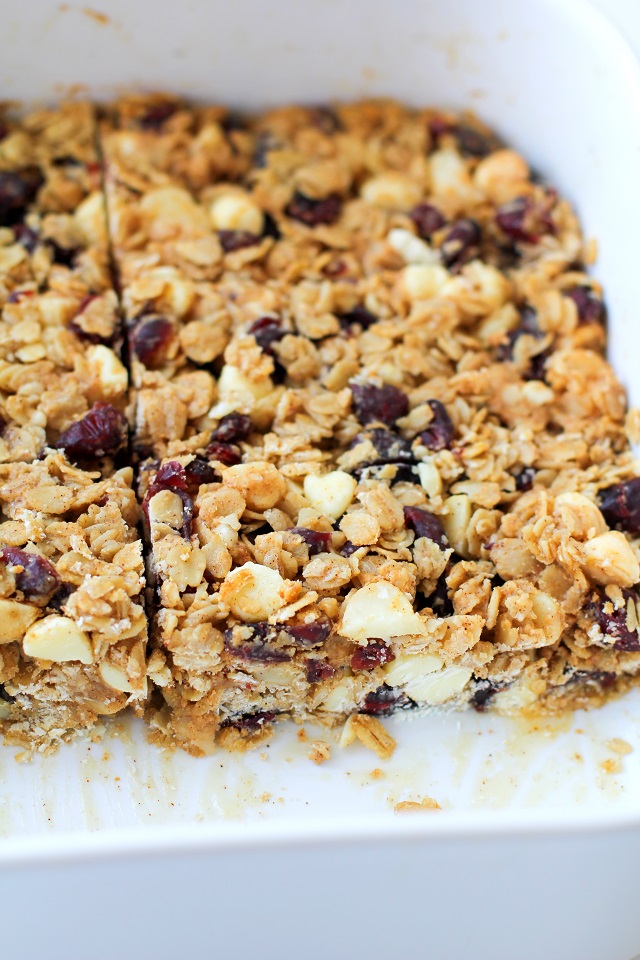 A homemade healthy granola bar recipe for the history books!
The older I get, the more I realize snacks are essential to keeping the hangry monsters at bay.
If not for me, for innocent bystanders who have hangry monsters lurking around them.
In fact, I'm becoming one of those madams who carries around water, mints, photos of her 10 nieces and nephews to show the clerk at check out, hand sanitizer, lotion, Q-Tips, tweezers (<- vicious lie, I don't even tweeze), wine opener, and snacks up the yinnity yang in her carpet bag.
You're still stuck on "madam," aren't you? Current event since turning 28 trillion, going on 29 trillion year old: I've been getting "ma'am-ed" left and right when I'm out in the public arena.
It's like I don't even recognize myself when strangers talk at my face.
But really, who can blame 'em when I've got my entire estate floating around in my suitcase-purse-apparatus?
Nevertheless: this madam's got the snacky time goods all up in her satchel.
Like these amazing Cranberry White Chocolate Macadamia Nut Granola Bars: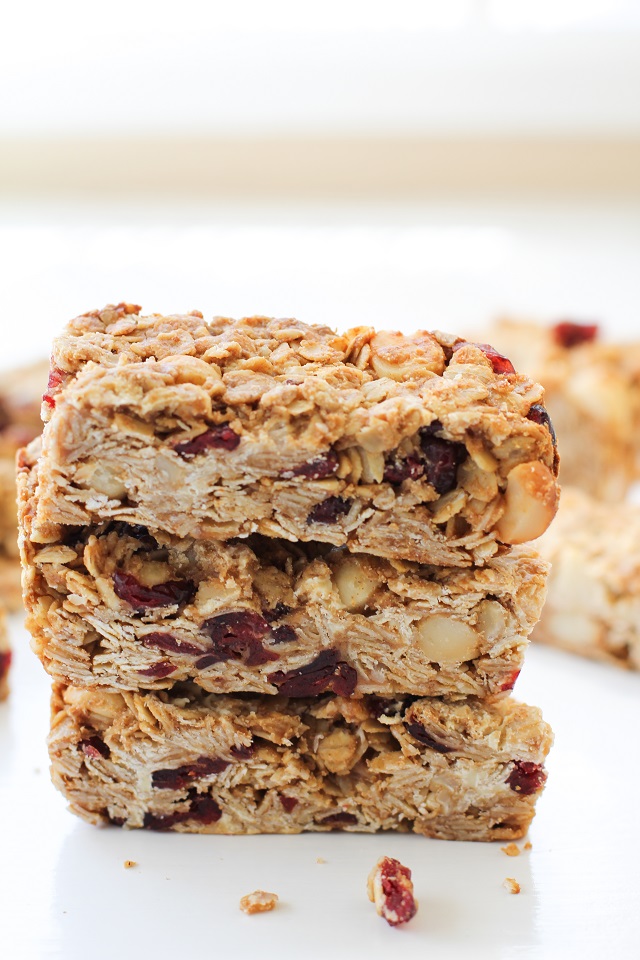 When I was a teenager, I was certifiably obsessed with this cranberry macadamia nut cereal from Costco.
I'd eat bowls upon bowls at all hours of the day, and even Costco's hefty voluminous packages couldn't keep up with my addiction on a weekly basis.
There's just something about the crunch, on top of sweet tangy dried cranberries on top of buttery macadamia nuts that just melt in your mouth.
I'm not much of a cereal eater these days, but I can always get on board with something sweet and crunchy.
While I make granola on a somewhat regular basis, I haven't been in the habit of making granola bars.
Not because I'm not bonkers in love with them, but because "granola bars" were having a difficult time not. being granola.
As in, they kept falling apart. Still edible and delicious…just not bar-like…bar wannabes with a little crumble up top.
I had almost given up hope until I salivated all over Sarah's recipe for 5 Ingredient No-Bake Chocolate Peanut Butter Protein Bars earlier this week.
Using her recipe, I was able to figure out my goo-to-oat ratio in a way that finally made the bars hold together. Eureka!
Employing my childhood love for the cranberry, macadamia nut combo, I threw in some white chocolate chips for good measure.
Honey and creamy almond butter (or nut butter of choice) are all you need to give these bars some glue. Because I love the toasty oat flavor, I decided to bake these bars rather than leave them no-bake.
You can also play with the oat-to-brown-rice-cereal ratio depending upon your desired level of crunch.
In order to keep the recipe gluten-free and full of good vibrations, I used Bob's Red Mill's gluten-free rolled oats from Bob's Red Mill.
I use these oats for all of my oat-infused goodies, including Strawberry Overnight Oats, Blueberry Baked Oatmeal, Gluten-Free Peanut Butter Oatmeal Cookies, etc.
How to Make Homemade Granola Bars:
All you do for these homemade nuggets of joy is heat the honey and almond butter on the stovetop just until they're melted together.
Resist the temptation to pour this in a cup and drink it. 😉
Remove the pan from the heat and add your remaining ingredients (don't panic if some of the white chocolate chips melt!
In order to keep your chocolate chips whole, you can freeze them ahead of time).
Press this mixture into an 8" x 8" lightly-oiled baking dish and bake at 325 degrees F for 22 to 25 minutes. For best results, allow the granola bars to cool and then refrigerate them before cutting into them.
Just look at these oats! Layers upon layers upon layers of them!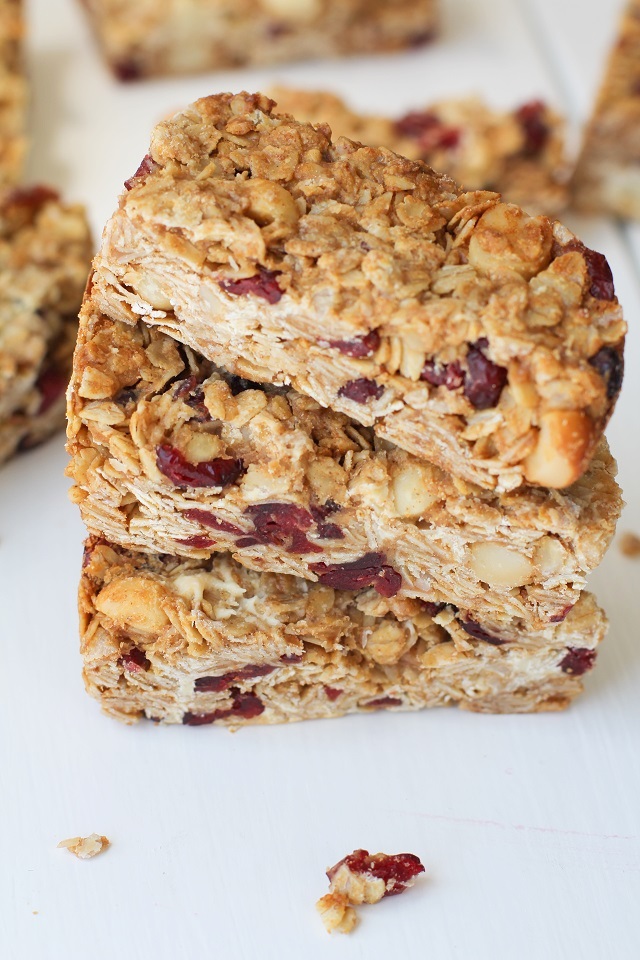 You can enjoy these granola bars as grab-and-go breakfast or snack.
They really are the bar that needs no occasion.
The combination of oats, almond butter, and macadamia nuts makes these a well-rounded substantial snack – perfect for kids of all ages and awesome for post-workout nourishment.
Keep a constant supply of these in your satchel!
Cranberry White Chocolate Macadamia Nut Granola Bars
A fun and delicious homemade granola bar recipe, dried cranberries, macadamia nuts, and white chocolate chips make these bars absolutely delicious!
Servings:
10
granola bars
Instructions
Preheat the oven to 325 degrees F and lightly oil an 8" x 8" baking dish.

Add the honey and almond butter to a skillet and heat over medium just until the two are melted together. Remove from heat and add the remaining ingredients except for the white chocolate chips. Stir well to combine and wait a minute or two before adding the white chocolate chips (to avoid having all of them melt).

Pour the mixture into the prepared baking dish and use a rubber spatula and/or your hands to press the mixture firmly into the baking dish.

Place on the center rack of the oven and bake for 22 to 26 minutes, until the edges are golden brown. Remove from the oven and allow the bars to cool to room temperature.

Cover the dish with plastic wrap and refrigerate at least 4 hours (or freeze for 2 hours).

Run a knife along the edges of the casserole dish and turn it out onto a cutting board. Cut desired-sized bars and enjoy!
Notes
*To make recipe vegan, use rice syrup instead of honey
**Replace the almond butter with peanut butter if you'd like.
You can switch up the add-ins to your hearts desire. Choose any chopped nut, dried fruit, or chocolate chip you like!
Nutrition
Serving:
1
of 14
|
Calories:
262
kcal
|
Carbohydrates:
36
g
|
Protein:
4
g
|
Fat:
12
g
|
Fiber:
3
g
|
Sugar:
24
g
This post is sponsored by
Bob's Red Mill
.