Use this Corn Salsa recipe on tacos, salads, or any type of animal protein for a delicious condiment. The sweet, savory, fresh flavors of this simple salsa recipe take any meal to the next level.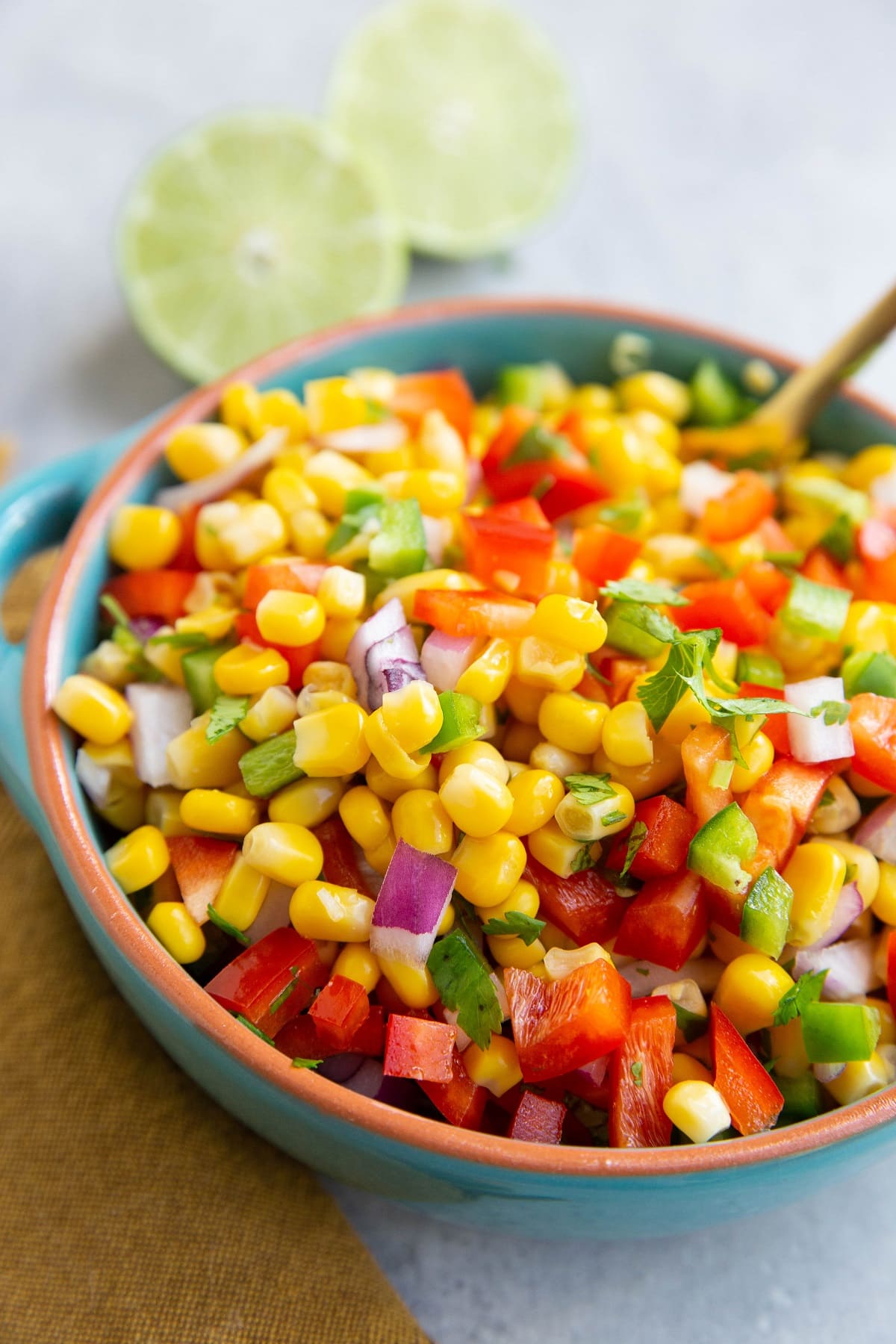 When I shared my recipe for The Best Salmon Marinade recently, I had a number of people reach out saying they wanted the corn salsa recipe that was pictured on top of the salmon.
Unfortunately, I didn't have a link to provide because the salsa on top of the salmon was my Mango Avocado Salsa.
Nevertheless, the voices were heard and I determined a recipe for corn salsa was mandatory.
This corn salsa is a great topping for burrito bowls, tacos or any type of animal protein such as grilled chicken, fish, and more. It is similar to Chipotle's corn salsa, with a few minor changes.
The natural sweetness of the corn with a gentle kick from the onion and jalapeno for a little heat is a sure-fire way of adding spunk to any weeknight dinner.
I typically make all of my recipes mild unless otherwise specified, and the same is true with this corn salsa recipe. It is a mild condiment, perfect for sprucing up any meal for any spice tolerance level.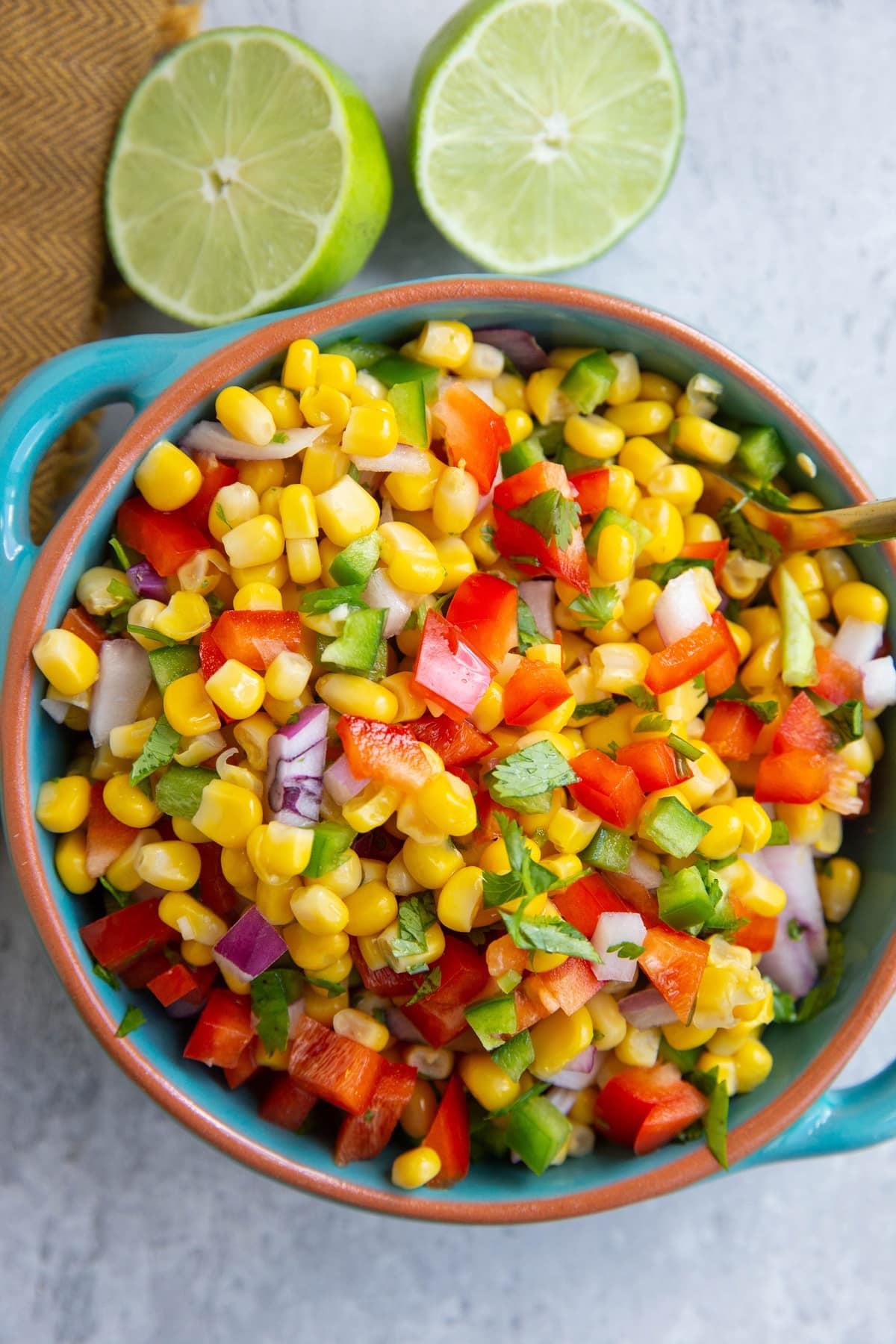 For those who love spicy food, you can easily dial up the heat by adding another jalapeno or habanero and leaving the seeds in.
Because so many people I know are corn lovers, I find this to be the perfect side dish or condiment to bring to any barbecue or food gathering. It is bound to get snapped up lickety split! It is a classic favorite way
Let's discuss the simple ingredients for this easy corn salsa recipe!
Ingredients for Corn Salsa:
Corn: I use two cans of whole corn kernels for a couple of reasons. First, I love canned corn, and second, it saves time. Because it's just too easy to drain a couple cans of corn, I personally choose this route.
If you love cooking fresh corn, no sweat! You'll need about 3.5 cups of cooked fresh corn kernels, which is about 4 ears of corn. The best flavor for the best corn salsa comes from fresh sweet corn.
Red Onion, Red Bell Pepper, Fresh Cilantro, Garlic, and Jalapeño Peppers: These fresh and flavorful ingredients are what make the salsa sing! You can increase or decrease the amounts of these ingredients to customize the salsa to your own personal taste.
Lime Juice and Sea Salt: Fresh lime juice and a sprinkle of salt gets tossed in with the fresh veggies to make a simple dressing for the salsa. You can increase the amount of lime juice you use or swap it for lemon juice, apple cider vinegar, or rice vinegar.
Recipe Adaptations:
For the mildest salsa, omit the jalapeno pepper altogether. Removing the seeds will make for mild corn salsa but sometimes jalapeno peppers can be extra spicy. For those who don't enjoy spice, leaving the jalapeno out is the best bet.
Swap out one of the cans of corn for one can of black beans to make corn and black bean salsa.
You can drizzle 1 to 3 tablespoons of olive oil or avocado oil over the corn salsa to give it some richness.
Toss in 1 tablespoon of chili powder or 1 teaspoon of ground cumin for more taco flavor for taco night.
Add in a poblano pepper if you love them.
Frozen corn works for this recipe too. Be sure to thaw it completely before proceeding with this easy recipe. You can thaw frozen corn quickly by placing it in a colander and running cold water over it.
Add in one bunch of chopped green onions instead of raw onions if you prefer green over red onions.
Toss in one cup of chopped cherry tomatoes or roma tomatoes if you love juicy tomatoes in your corn salsa.
If you love cotija cheese, mix 1/2 cup to 1 cup into this simple dish.
Now that we're familiar with the fresh ingredients for this tasty homemade corn salsa recipe, let's make it!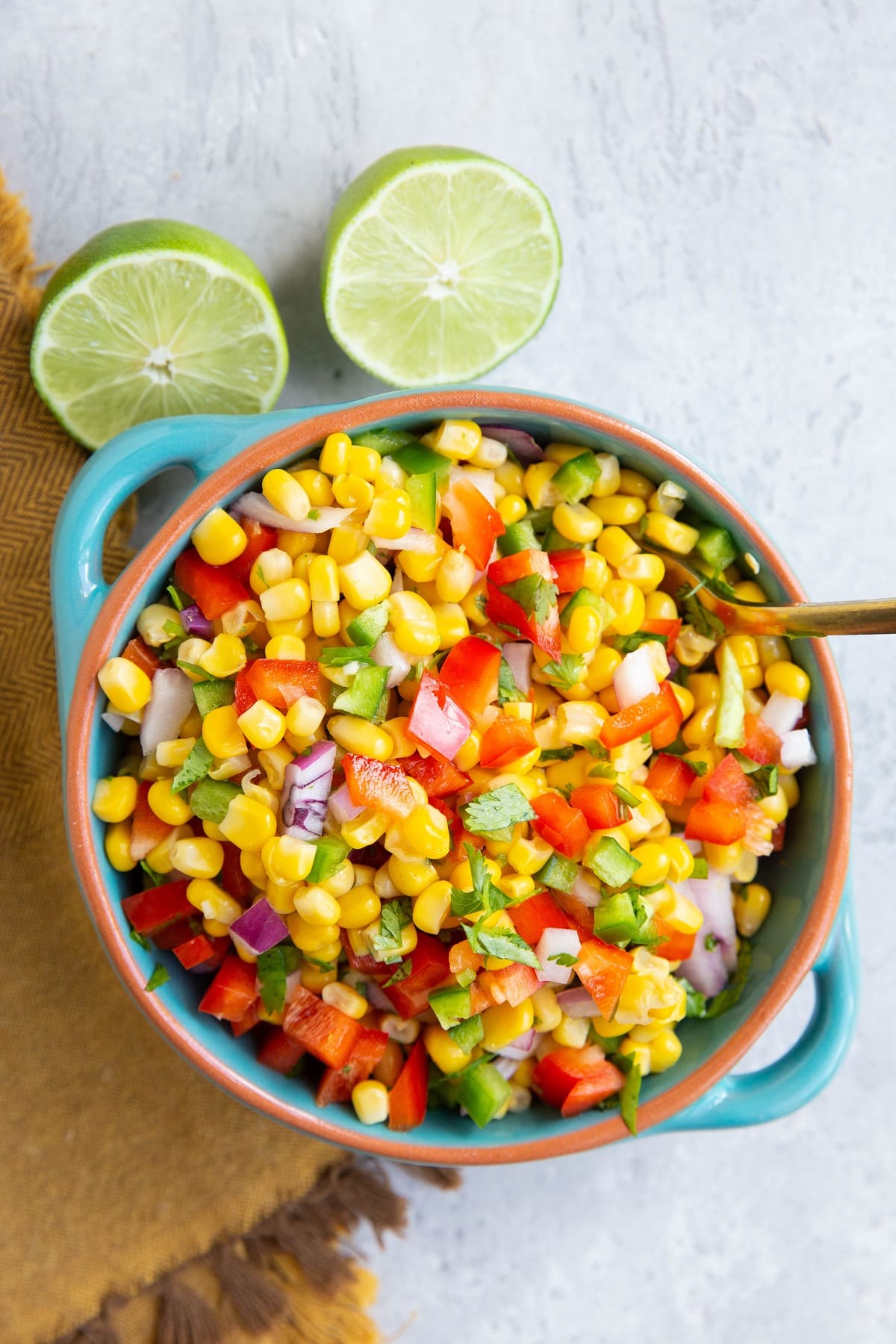 How to Make Corn Salsa:
Chop the red onion, bell pepper, garlic, and cilantro with a sharp knife. When you chop the jalapeno, be sure to remove the insides and discard the seeds for mild salsa.
If you love spicy salsa, leave the seeds in and consider adding a second jalapeno, serrano, or a habanero.
If you have disposable gloves on hand, it may be worth putting some on, as the capsaicin in jalapenos can irritate your eyes or skin if you accidentally touch them with your jalapeno hands.
Open the cans of corn and drain them into a colander. Transfer the drained corn kernels to a large mixing bowl along with the rest of the ingredients for the corn salsa.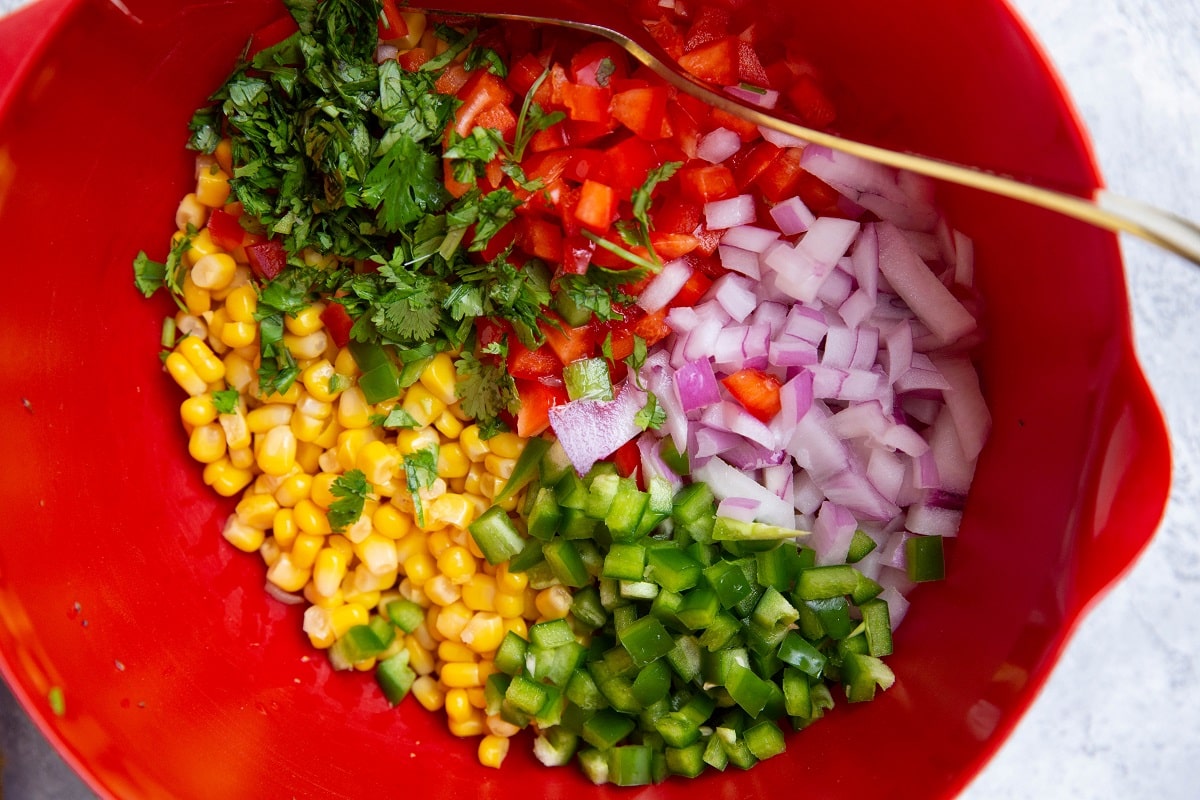 Toss everything together until the ingredients are well-combined.
Taste the corn salsa for flavor and add more sea salt, lime juice, cilantro or red onion to taste.
Use corn salsa on tacos, burritos, taco salads, and more! You can use this as a side dish or condiment on just about anything! Top baked salmon, grilled chicken, veggie burgers, or pork chops with this easy corn salsa. You can also serve this as a dip along with tortilla chips.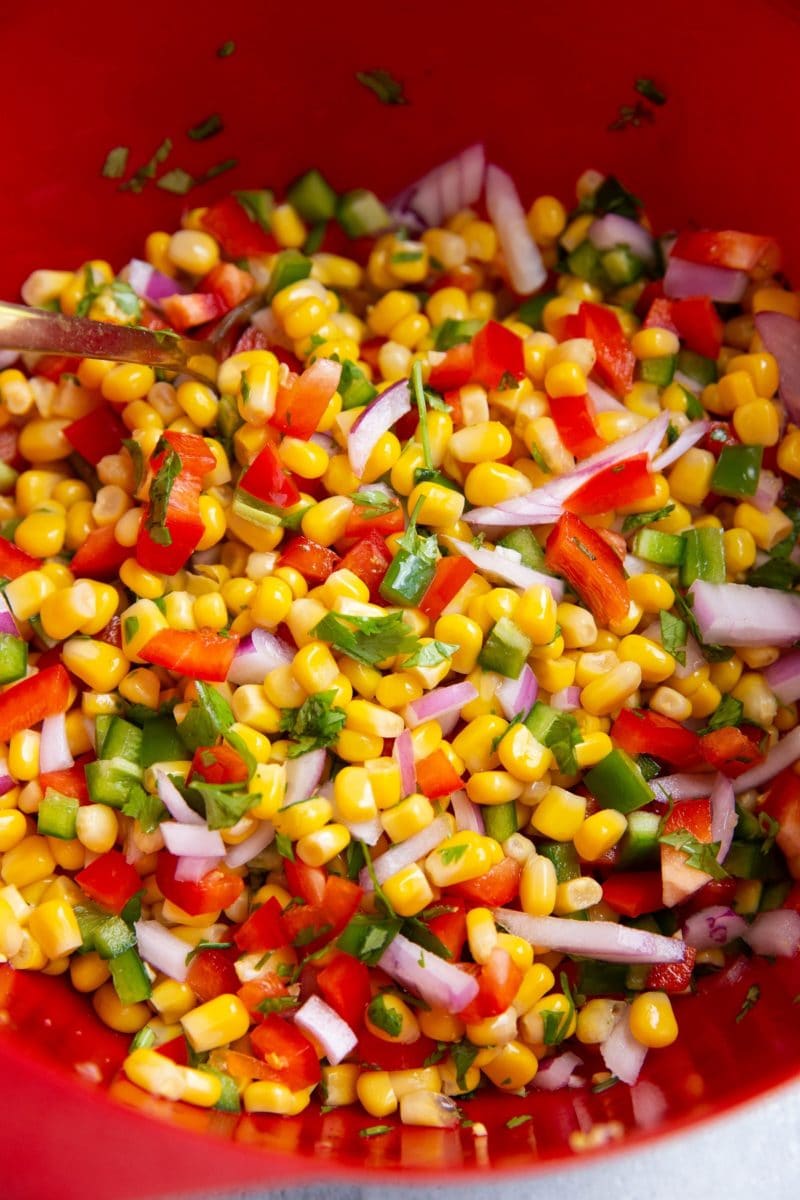 Store salsa in an airtight container in the refrigerator for up to 1 week.
If you love homemade salsa recipes like this, also try my Red Chili Tomato Salsa or my Easy Salsa Verde (green salsa).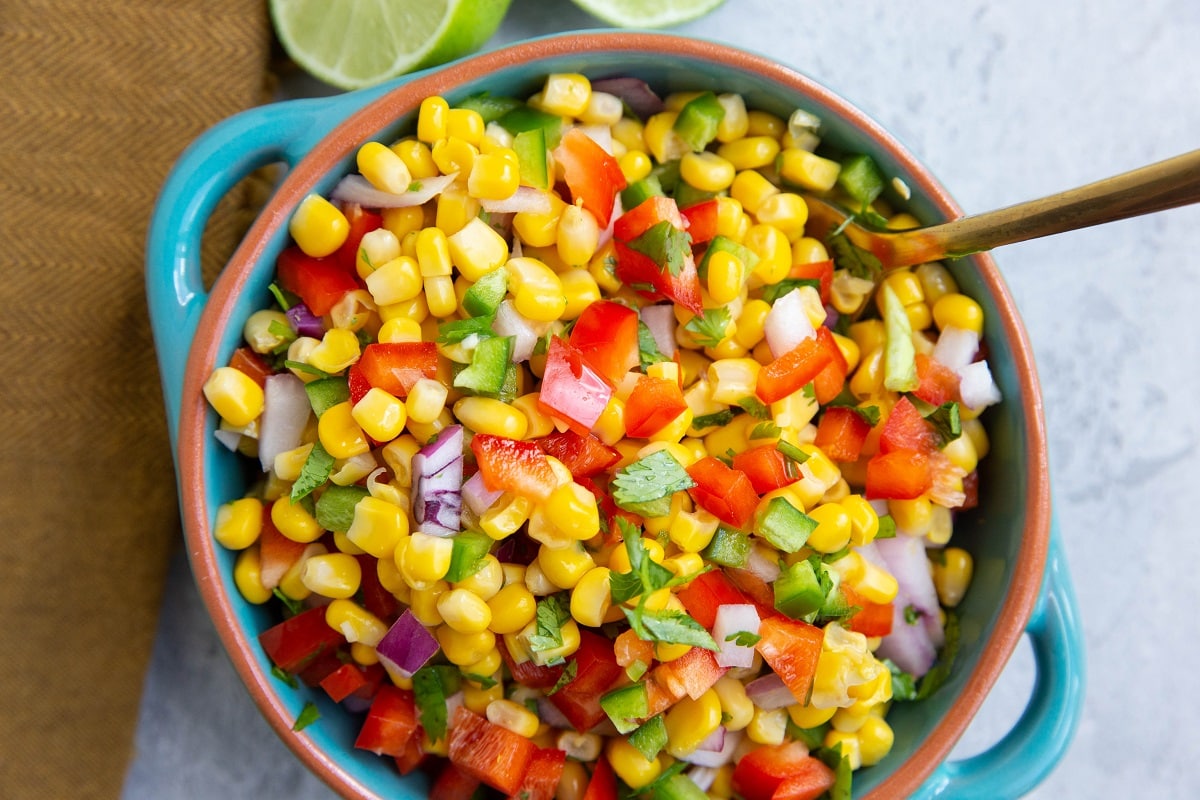 And that's it! A sweet, savory, juicy fresh salsa to add to anything you please! Change up your weeknight meals by sprinkling this flavorfest on top of your main dish!
Because this is similar to a copycat Chipotle corn salsa, you can pair it with my Copycat Chipotle Chicken along with rice, black beans, and any other add ins to make a burrito bowl or a burrito.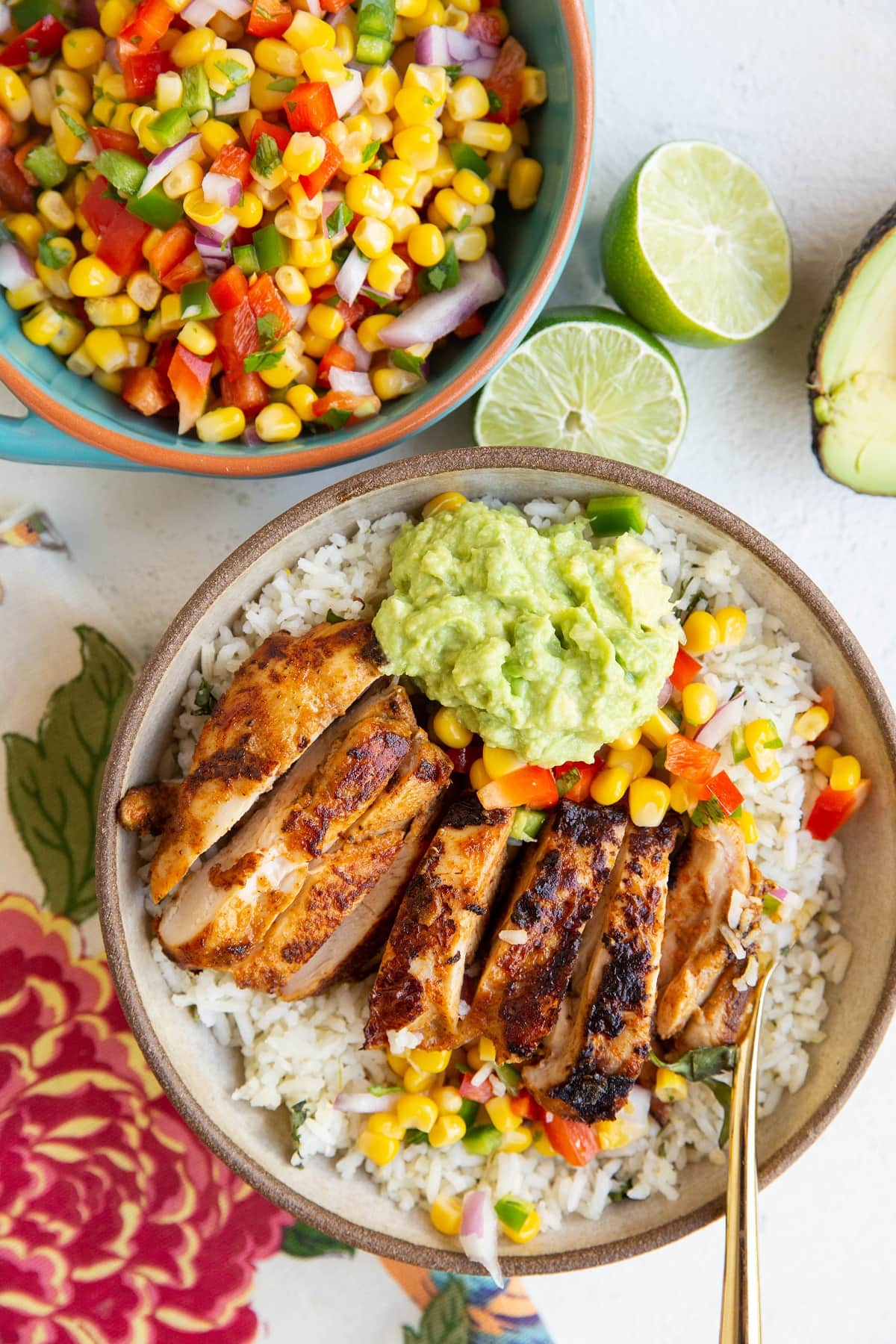 The best part about this easy recipe is there are all sorts of delicious ways of changing up this fresh corn salsa recipe to make it your own.
If you're looking for main entrée ideas for putting the corn salsa to use, here are my top suggestions.
Use Corn Salsa On:
Let me know where you put your homemade corn salsa!
Corn Salsa Recipe
Fresh, vibrant easy corn salsa is the perfect condiment for just about anything from grilled chicken or fish to tacos and burritos! You can also use it as a side dish for summer bbqs or picnics!
Servings:
6
to 10 Servings
Ingredients
2

15-oz cans whole corn kernels, drained*

3/4

cup

red onion

finely chopped

1

large jalapeno

seeded and chopped**

1

red bell pepper

chopped

4

Tbsp

fresh lime juice

2

cloves

garlic

minced

½

cup

fresh cilantro

chopped, optional

½

tsp

sea salt

to taste
Instructions
Taste the corn salsa for flavor and add more sea salt, lime juice, cilantro or red onion to taste.
Notes
*Or use 4 ears of fresh corn. You can leave them raw or pre-cook them for the salsa depending on your preference.
**Or two small jalapenos. You can also use red chilis if you prefer. Omit the jalepeno pepper if you're looking for a very mild salsa recipe.
Store salsa in an airtight container in the refrigerator for up to 1 week.
Nutrition
Serving:
1
Serving (of 10)
|
Calories:
66
kcal
|
Carbohydrates:
11
g
|
Protein:
3
g
|
Fat:
1
g
|
Sodium:
222
mg
|
Fiber:
2
g
|
Sugar:
4
g
This post contains affiliate links, which means I make a small commission off items you purchase at no additional cost to you.