This post is sponsored by Dole Fresh Vegetables. I received compensation by Dole in exchange for my honest opinion/recipe development.
Caesar salad bowls with baked salmon and carrots and wild rice. This well-balanced dinner is easy to prepare, and packed with nutrients.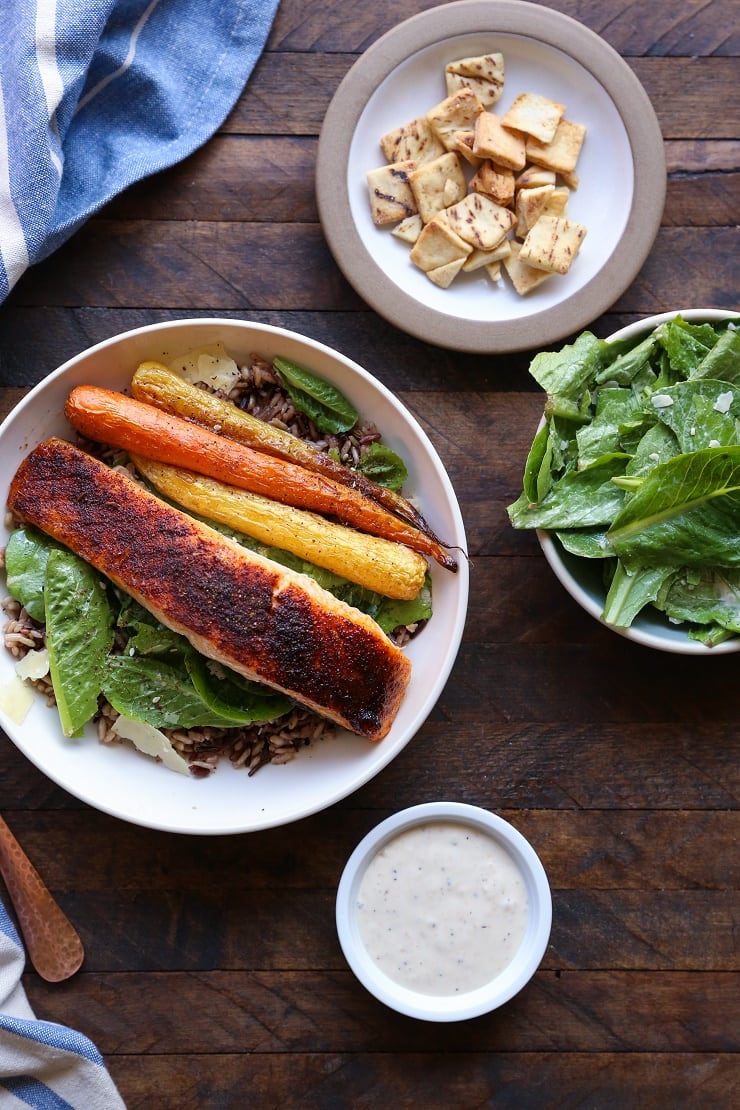 Did I tell you about the wild phase I went through between ages 10 and 12? Those two years may as well have been known as the Caesar Salad Era, because I kid you not, it was all I ever ate. My family would sit down to a lunch of burgers or grilled cheese, or a dinner of BBQ chicken and mashed potatoes, and I'd be sitting there munching on Caesar, enthusiastically, out of my own free will..
Not because I was vain in my preteen age and concerned with carbs or some such nonsense, but because I have simply always loved fresh food, and there's no arguing with the deliciousness of a classic Caesar. Hi, I'm definitely one of thoooose people who can put a meal on repeat without getting sick of it. Obsessive personality much? Guilty as charged.
While I do enjoy making my own Caesar Salad, I'm always game for a good quality Caesar mix. Which brings me to my next point: Dole released two new Organic Salad Kits – an Organic Caesar Kit, and Organic Apple Dijon Kit. Both of which make life the easiest thing you've ever experienced.
The Caesar kit comes complete with baby romaine lettuce (much more appealing to me than those transparent romaine heart stubs!), a very tasty Caesar dressing, shaved parmesan, and parmesan pita crisps (note: the crisps are not gluten-free in case you eat a gluten-free diet). The Apple Dijon kit comes with Spring mix, dried cranberries, walnut pieces, shaved parmesan, and apple dijon dressing.
While both kits are fully complete salads on their own, I got creative with them. I turned the apple dijon into a full-blown Spring salad, like so:
…And we've used the Caesar alongside our turkey burgers, I've legit eaten a whole kit to myself for lunch, and I've purposed the kit as you see here with this baked salmon bowl sitch.
Let's talk about these bowls. We already know I tossed together the Caesar kit for the green star of the meal. I also whipped up some wild rice, roasted carrots, and baked salmon.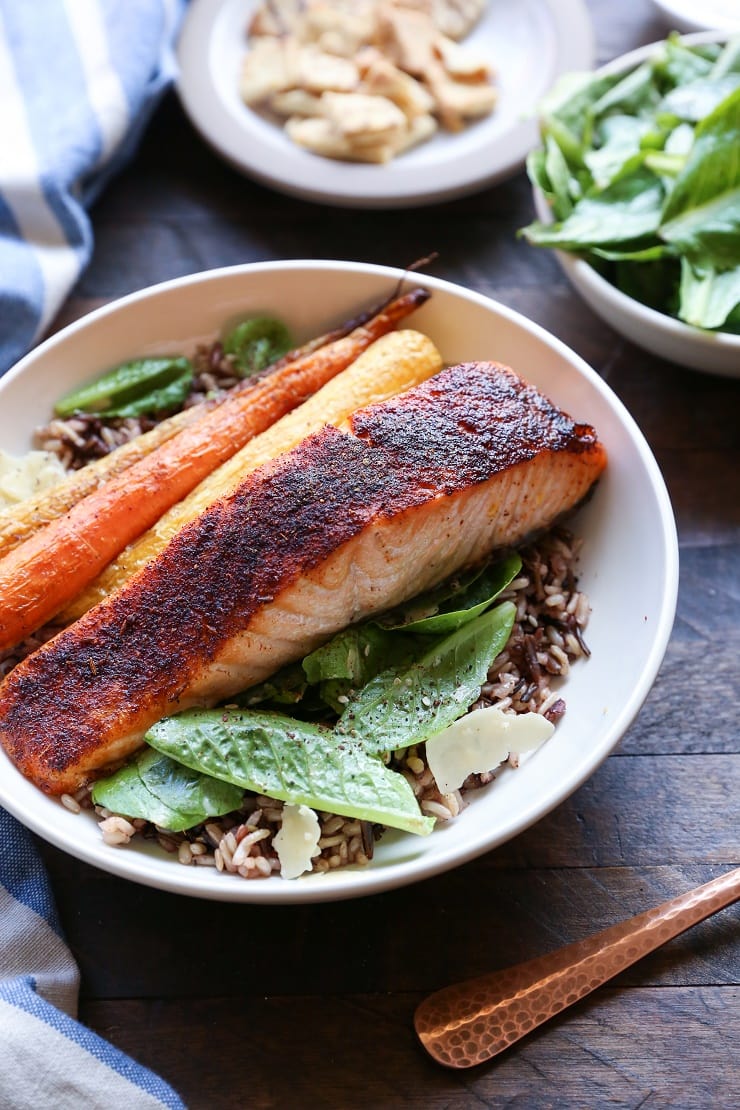 Baked salmon…I just can't get enough. And when I say, "baked," I always mean "broiled," because when I bake fish, I always broil it. It takes 10 minutes, it yields the perfect moist inside, and the perfect crispy outside. It is, in a word: perfection.
Do you see those roasted carrots and that wild rice? They help bring the meal full-circle, providing complex carbs and an additional veggie/vitamin/fiber source for our well-balanced dinner.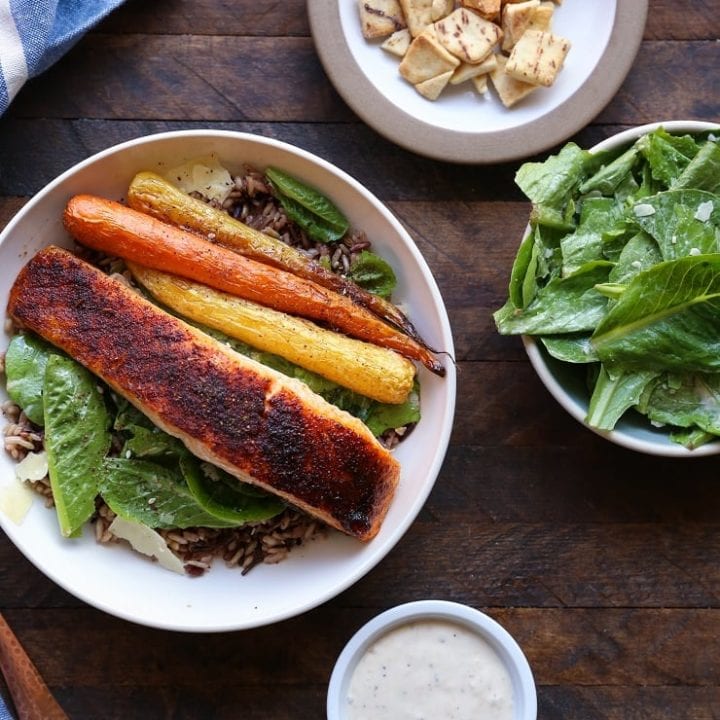 Baked Salmon Caesar Salad Bowls
Baked Salmon Caesar Salad Bowls with roasted carrots and wild rice are an amazingly flavorful, nutritious balanced dinner!
Ingredients
1 cup uncooked wild rice
1 bunch rainbow carrots
1 pound salmon fillet
1/2 teaspoon dried oregano
1/2 teaspoon celery seed
Instructions
Prepare the rice according to package instructions. While the rice is cooking, prepare the carrots and salmon.
Preheat the oven to 400 degrees F. Trim the greens off of the carrots and scrub them well. Pat them dry and arrange them on a baking sheet. Drizzle with 1 to tablespoons of olive oil and use your hands to rub the oil over the carrots, ensuring they're fully coated. Sprinkle carrots with sea salt. Bake on the center rack of the preheated oven for 10 minutes.
Change the oven setting to high broil setting and move the carrots to the bottom rack of the oven. Lightly oil the bottom of a casserole dish or baking pan and place the salmon fillet in the dish.
Stir together the paprika, ground cumin, dried oregano, celery seed, and sea salt in a small bowl. Coat the salmon with 1 to 2 tablespoons of olive oil, then sprinkle the seasoning over the fish. Broil for 10 to 15 minutes (leaving the carrots in the oven the whole time or until they have reached desired done-ness), or until salmon is crispy and cooked through.
Prepare the Caesar Salad in a mixing or serving bowl according to kit instructions.
Divide the rice between two bowls, followed by the Caesar Salad. Top with salmon and roasted carrots. Serve and enjoy!
Nutrition Information
Serving Size

1 g
Amount Per Serving
Unsaturated Fat

0g