Asparagus and Avocado Spring Rolls with Citrus Dipping Sauce are like a a really good burrito. But vegetarian…and in spring roll-form.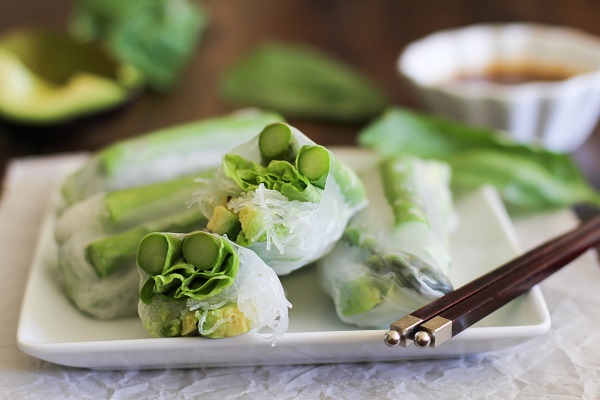 The question isn't what would you put in a spring roll, it's what wouldn't you put in a spring roll? It's spring, so let's triple spring roll these suckers up.
Asparagus. T – 10 minutes after eating asparagus, just remember: it's not you, it's the asparagus. No one's impervious. Asparagus: it's always worth it.
Asparagus is in season, along with butter lettuce, and…avocado? When is avocado in season? Always. So we put spring in the spring roll and then? We take a step forward. Then take a step back. Take a step forward. And then we're cha cha-ing (< – – – Real Genius, anyone? Anyone? Val Kilmer Greatest Hit. Do you ever wonder what happened to Mitch? I do.)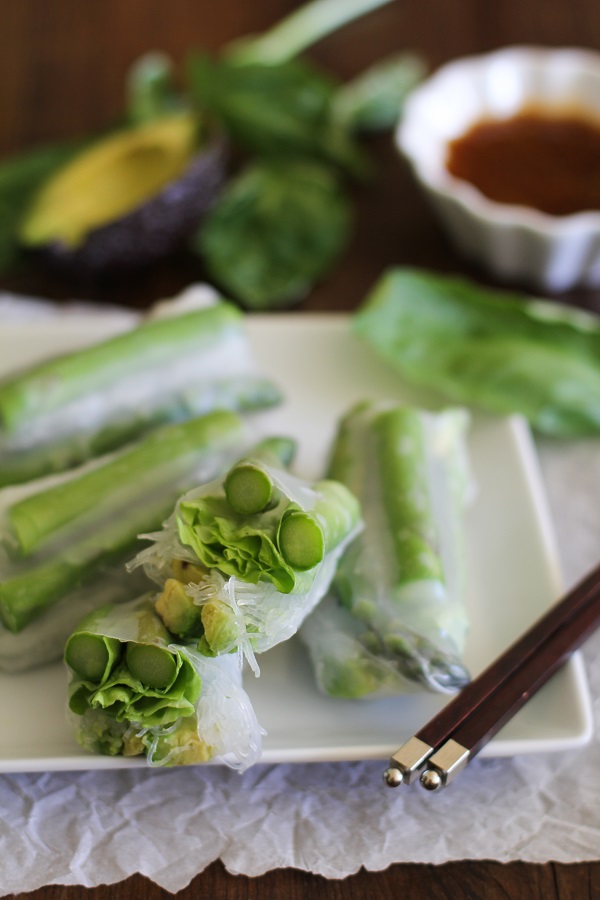 Aside from zucchini and carrot noodles, I've been all hot to trot about the spring roll lately. A while back, I posted a little tutorial on How to Make Spring Rolls with Peanut Dipping Sauce. Thereafter, I tried various spring produce-injected spring rolls with all sorts of dipping sauces. The citrus and the peanut dipping sauces wreak havoc on my vision. As in they give me tunnel vision. I only have eyes for them. Here's lookin at you, kid. Tunnel vision.
The asparagus, avocado, and butter lettuce combo is a real heartthrob because you get the snap of the asparagus, crunch of the butter lettuce, and the smoosh of avacaahdah within the homey confines of a burrito wannabe rice wrap. Nobody in the history of mankind admitted to not liking a burrito. Which, by my logic, means everyone loves spring rolls. Roll with it.
Let's make them at home!!
Get thee to Oh My Veggies to take a gander at my Asparagus and Avocado Spring Rolls with Citrus Dipping Sauce.