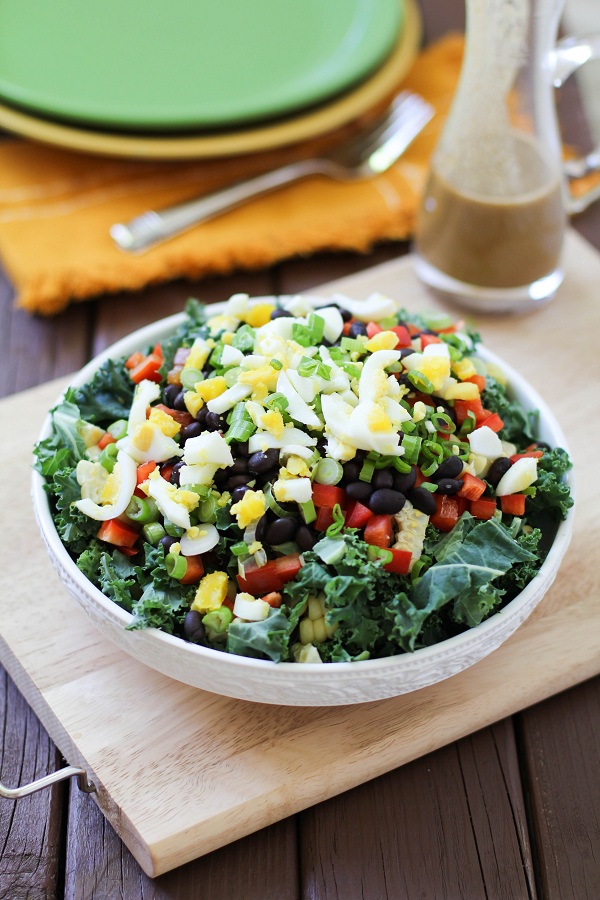 The man cake and I do this thing. It's a waiting game and it involves avoidance behavior with a hint of laziness and a competitive edge. This is how it works: we each procrastinate completing tasks that need to be done to see if we can hold out just long enough so that the other person does it. This is really romantic.
Making coffee Saturday morning is one I typically win because I have nooooo qualms about pretending to be asleep until the coffee is brewed and in my mug. Taking out of the trash. We're about even keel here. I say it's a man's job. He says I'm the one that fills it up. We meet in the middle by letting that sucker pile up until we rival Shell Silverstein's imagination. I'm sorry, but if Sarah Cynthia Sylvia Stout would not take the garbage out, I sure as hell ain't neither. The one I lose at every time is finding the house key in the dark to unlock the door. I get cold and then all overwhelmed so it takes but a split second before I cave and sift through my gazillion keys to force each one by feel into the lock.
I find the best way of winning this highly skilled waiting game is by acting as though I don't notice or care about the task at hand. This transfers the emotion and anxiety associated with the task (because taking out the trash is so daunting) to the other person, and it's always best to get under your opponent's skin.
The number one activity both G and I avoid at all costs is peeling and chopping garlic. To the extent that we hardly even use it any more. True: we both waited so patiently that we forgot garlic even exists. But haste, the wheels have turned, the waters of change have….changed and (insert cliché here). Savora sent me a snazzy McSnazzy garlic press to use to my garlic-pressing delight. Sweet Janet, Chrissy and Jack, I've been a garlic pressing fool! And, and aaaaaaand….they sent me an ice cream scoop too!
They came all neat and tidy in boxes that open and close with Velcro. SAAAAWEET! Sleek. Colorful. Useful. Ergonomic.
The first thing I did when I de-velcroed my garlic press box (after all the ooh-ing and ahh-ing) was…wait for it, wait for it…I made salad dressing! Garlic Ginger Sage Cumin salad dressing…..whoooo knows what to call that?
I thought it'd be real neat to sauté the garlic, ginger and sage in order to soften the zing and get some flavor going. So I pressed my garlic, I sautéed, and believe you me, the dressing came out great! I had a sighing (that's Australian for ripening) head of kale and a hankering for veggies so I made a southwest kale salad and doused it in the dressing. And that, my friends, is how you lose the dinner waiting game.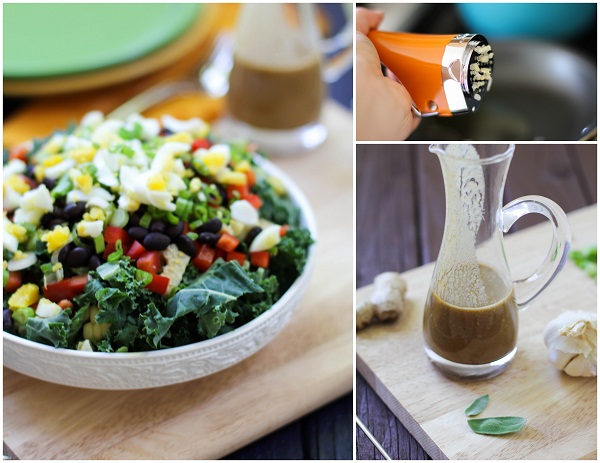 Thank you, Savora for the sexy press and scoop. And for bringing garlic back into my kitchen. Now if you'll excuse me, I need to put on my I-don't-care-about-dessert face so that love hunk goes and makes dessert.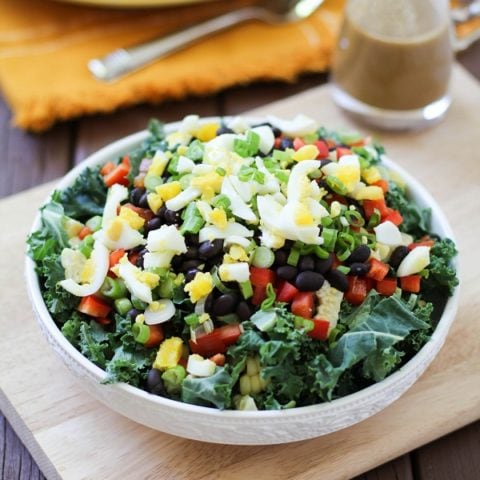 Southwest Kale Salad with Cumin Ginger Sage Dressing
A majorly flavorful kale salad loaded with goodies and flavor!
Ingredients
For the Dressing:
1- inch piece ginger, grated
8 cloves garlic, minced
8 leaves fresh sage, chopped
½ cup + 2 tablespoons grapeseed or olive oil
¼ cup apple cider vinegar
¼ cup balsamic vinegar
3 teaspoons ground cumin
1/2 teaspoon salt or to taste
For the Southwest Kale Salad:
2 large heads kale, stems removed, chopped
1 can black beans, drained and rinsed
1 ear corn, cooked
1 red bell pepper, chopped
3 stalks green onion, chopped
1 ripe avocado, diced
2 hard boiled eggs
Instructions
To Make the Dressing:
In a small skillet, heat 2 tablespoons of grapeseed oil or olive oil over medium heat and saute the minced garlic, ginger, and sage. Cook 2 minutes then add the ground cumin. Saute until very fragrant, another 2 minutes, stiring constantly.
Add the garlic/ginger/sage to a blender with the remaining dressing ingredients and blend until completely smooth.
Refrigerate until cold before serving.
To Make the Southwest Kale Salad
Add water to a saucepan and gently place the eggs inside (ensuring they're covered with water). Cover the pot, bring water to a boil then immediately remove pot from heat. Allow eggs to sit in hot water for 10 to 12 minutes. Immediately transfer to a cold/ice water bath so that shells are easy to peel. When cool enough to handle, peel off the shells and chop the hard-boiled eggs.
Bring a large pot of water to a boil and add the shucked ear of corn. Cook about 5 to 8 minutes until corn is puffy, sweet and delicious. Allow corn to cool enough to handle then carefully cut the kernels off the cob.
Wash the kale well and pat it dry.
Remove the leaves from the stems. You can save the stems for a smoothie or discard them. Chop the leaves well and add to a large mixing or salad bowl.
Add the remaining ingredients and toss together with salad dressing.
Nutrition Information
Serving Size

1 grams
Amount Per Serving
Unsaturated Fat

0g