Never have I ever felt this way about beets.
These brownies. You will never look at beets the same way again.
GAH, they are so fudgy!
Here's what you need to know about these beetroot brownies: they are…paleo, vegan, sugar-free, dairy-free, beet-infused, high protein, made in a blender for crying out loud, chewy, fudgy, rich, decadent, moist, orgasmic. I'd hate to say you can't taste the beets…but you can't taste the beets. I know. It makes you cry real tears.
You know how pasta is a million times better the next day? The same is true with these brownies. Don't get me wrong – fresh out of the oven, these brownies taste like angels have anointed your taste buds with all the holy spirits, but when you leave them in the refrigerator over night, they're like all Sylvester Stallone movies exploded in your mouth. But, gently.
Have you ever received vegetables in the mail? I mean, there's just nothing like it. A couple of weeks ago, Melissa's Produce sent me Baby Vegetables in a Carton, most of which I made into hearty vegetable soup. Included in the box of goodies were these adorable little beets, which I roasted up for these brownies.
Once the beets were finished roasting, I simply added all of the ingredients to a blender and badda bing, badda boom: brownie batter. I baked the brownies in my super easy-to-clean Super Square Baker, which is a part of Revol's new collection curated by Chef Elizabeth Karmel, called Elizabeth's Everyday Essentials. This new U.S. exclusive collection is comprised of five serving and five entertaining pieces, and is designed to give consumers everything they need to cook and entertain at home.
Some serious notes about this recipe:
1.) They are super fudgy…like they practically are fudge…In point of fact, I almost named the recipe, "Beet Fudge", but I resisted because the recipe includes almond meal, and it just seem strange to call something fudge when there are floury ingredients involved. Ya feel?
2.)  The brownies won't test clean when you stick a fork in them, because: fudge. Let them rest for a long time (30 minutes-ish) before cutting into them in order to give them a chance to set up. You don't need to worry about these being "under-cooked," because they're vegan…as in no eggs…as in you won't get sick…so no excuses, drink the batter.
3.)  Upon freezing these sonsofbeehives, they turn into fudgesicles. I shit you not. Legit fudge popsicles. You may as well make a triple batch of the beetroot brownies and "test" them when they're a.) hot b.) chilled c.) frozen.
4.) Channing Tatum approves.
Best consumed in marathon fashion while marathon watching Blacklist.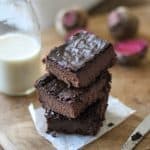 Fudgy Paleo Beetroot Brownies
Print
Instructions
Preheat the oven to 375 degrees F, and lightly oil an 8" x 8" baking dish.

In a small bowl, stir together the water and flax meal (this process makes two vegan flax "eggs"). Allow it to sit and thicken for about 10 minutes, stirring occasionally.

Add the chopped roasted beets to a blender. Blend for a few seconds to chop/puree the beets.

Add the flax mixture ("eggs") and the remaining ingredients to the blender. Blend very well until completely smooth.

Pour the brownie batter into the prepared baking dish and smooth it evenly. Place on the center wrack of the oven and bake for 45 to 55 minutes.

Allow brownies to cool 30 minutes before slicing into them. Store in the refrigerator or freezer.
Recipe Notes
*You can replace tapioca starch with corn starch.