Vegan Sourdough Banana Bread made with gluten-free all-purpose flour. While this recipe isn't completely gluten-free, it is very low in gluten. It can also be made with regular all-purpose flour for those who aren't sensitive to gluten.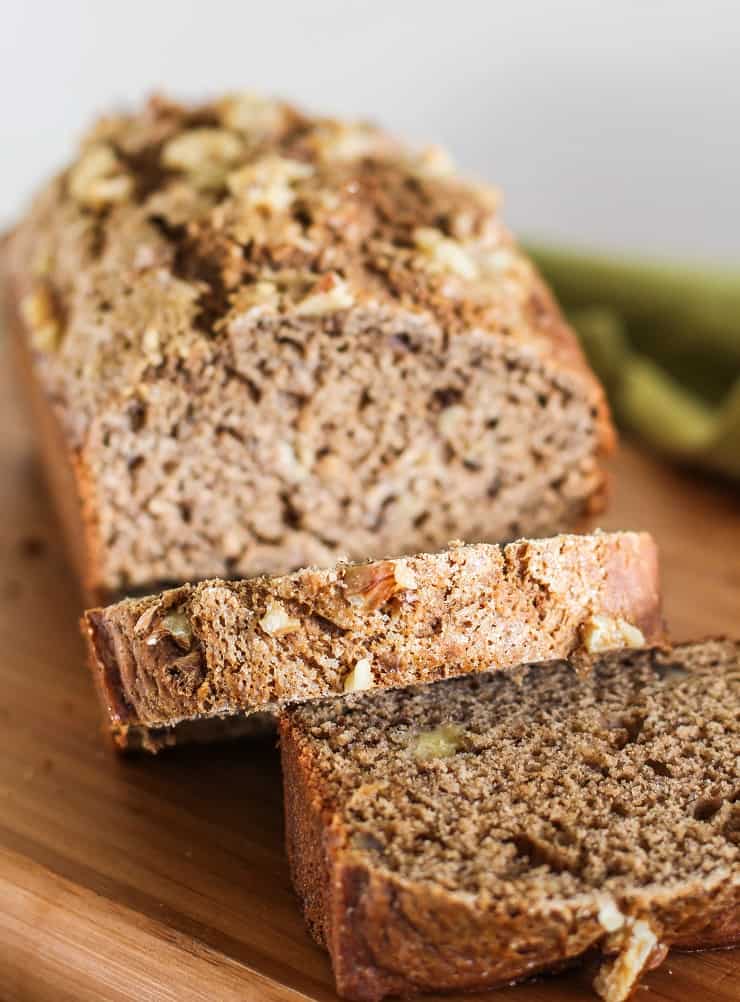 Remember when I told you all about my dear friend Stephie from Stephie Cooks? I gabbed about her when I posted my Buckwheat Cherry Sourdough Pancakes a couple of weeks ago. She's not only a wonderful human being, but is a damn good cook, excellent baker, and even though we live across the country from one another, I have tied myself to her hip. I wwwuuuuuuv her. Stop it.
I followed Stephie's Vegan Sourdough Banana Bread recipe exactly how she shows it, except I traded out the regular all-purpose flour for a gluten-free flour blend, added some cinnamon to the batter, used walnuts instead of pecans only because my freezer is full of them.
She mentions sprinkling nuts and sugar on top of the bread before baking, so I followed suit. It's a real game changer!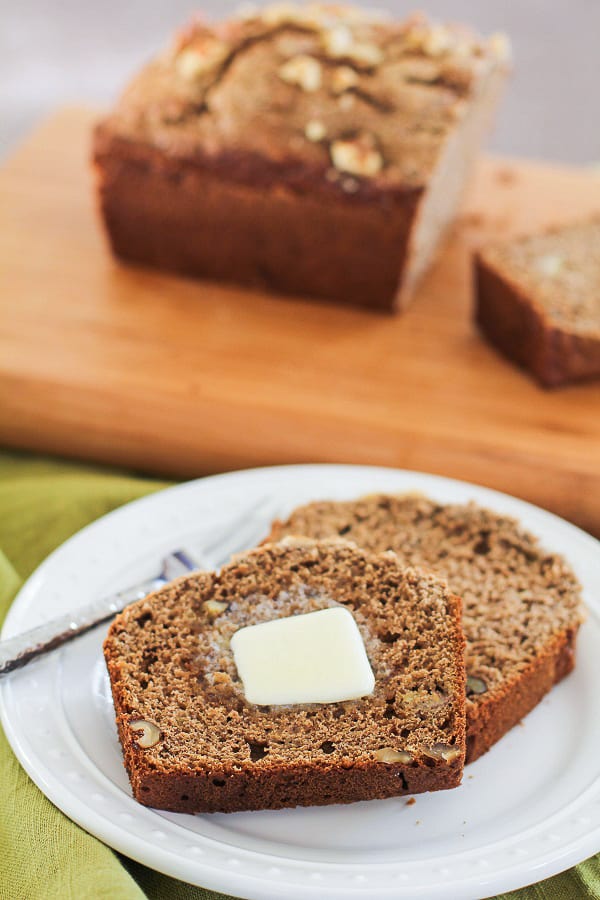 Let's talk sourdough.
Is Sourdough Gluten-Free?
The short answer is no. Many folks with gluten sensitivity report they can eat sourdough without issue, as the fermentation process does something wacky to the gluten which makes it easier to digest. I'm not a health expert, so if you want to learn more about the subject, read Is Sourdough Bread Gluten-Free from Healthline.
The way fermentation works is very similar across the board. You have a bacteria or a yeast (or both), and they need something to munch on. Sugar. This sugar comes in the form of either true sugar (such as sucrose or fructose), or carbohydrate, typically from a grain such as wheat, barley, or rice.
Because sourdough starter can feed off of non-wheat based carbohydrate, I make my sourdough recipes with gluten-free flour blends. It works like a charm! My go-to GF blend is Bob's Red Mill 1-to-1 Gluten-Free Baking Flour.
So in essence, I make my sourdough bread recipes gluten-light 😉
You can absolutely make this recipe using regular all-purpose flour (or a combination of whole wheat flour and all-purpose flour).
Let's bake a loaf!
How to Make Vegan Sourdough Banana Bread:
Preheat the oven to 350 degrees F and spray a 9″ x 5″ loaf pan with cooking spray or line it with parchment paper.
Make the flax "egg!" Stir together 1 tablespoon of ground flax seed with 3 tablespoons of water in a small bowl. Allow the mixture to sit and thicken for about 10 minutes. During this time, you can prepare the rest of the recipe.
In a mixing bowl, combine the flour, sugar, baking soda, sea salt, cinnamon and walnuts and stir well.
In a separate mixing bowl, mash up the bananas, then mix in the flax "egg", oil, vanilla extract, and sourdough starter.
Add the dry ingredients to the mixing bowl with the wet and stir until well-combined.
Pour the banana bread batter into the prepared loaf pan and bake on the center rack of the preheated oven 50 to 60 minutes, or until it tests clean. Note: you can sprinkle bread dough with additional chopped walnuts prior to baking if you'd like!
Allow bread to cool before turning it out onto a cutting board. Cut thick slices and serve with butter and pure maple syrup.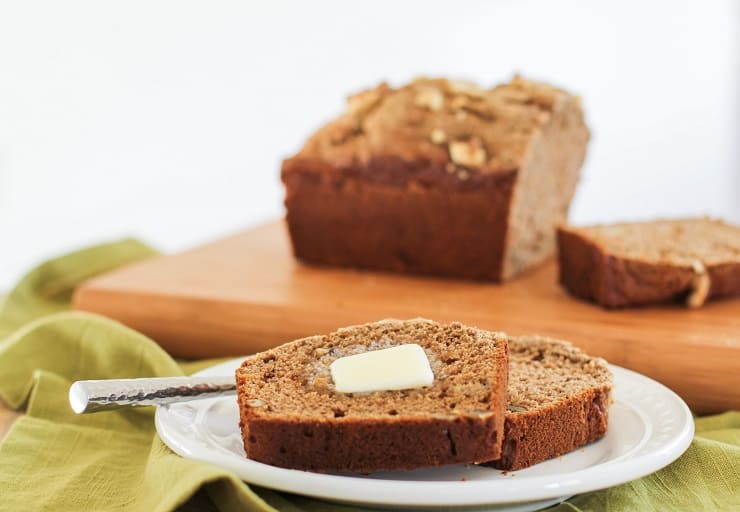 This bread makes the perfect breakfast and snack. It's not overwhelmingly sweet, which I like, and is glorious with melted butter and pure maple syrup (or honey if you aren't vegan).
You can definitely taste some sourdough flavor, which makes the bread taste rich and unique. Like in an I'll-never-eat-normal-banana-bread-again sort of way.
Recipe Adaptations:
If you aren't vegan, you can swap the flax "egg" for a regular chicken egg.
Use regular all-purpose flour instead of gluten-free all-purpose flour.
Swap brown sugar for the coconut sugar.
Get up on it, you's! Get on your banana loaf!
My cookbook,
Paleo Power Bowls
, is now available! CLICK HERE to check it out. Thank you for your support!
If you make this recipe, please feel free to share a photo and tag @The.Roasted.Root on Instagram!
Vegan Sourdough Banana Bread
Vegan banana bread made with sourdough starter and gluten-free all-purpose flour.
Instructions
Preheat oven to 350 degrees F. Lightly spray a 9" x 5" loaf pan with cooking oil

In a small bowl, stir together the ground flax seed with the water. Set aside for 10-15 minutes, stirring occasionally, until thickened to the consistency of a beaten egg.

In a large bowl, combine the flours, baking soda, salt, and cinnamon.

In a medium bowl, whisk together the starter, mashed banana, flax seed mixture, vanilla, oil, and coconut sugar. Add to the dry ingredients and stir until just combined. Gently fold in the walnuts.

Pour the batter into the prepared loaf pan. If desired, sprinkle the top generously with extra walnuts. Bake for 50-60 minutes, until bread tests clean.

Allow bread to cool before removing from the pan, then set on a rack to cool completely.
Nutrition
Serving:
1
of 10
|
Calories:
215
kcal
|
Carbohydrates:
33
g
|
Protein:
3
g
|
Fat:
9
g
|
Fiber:
3
g
|
Sugar:
18
g