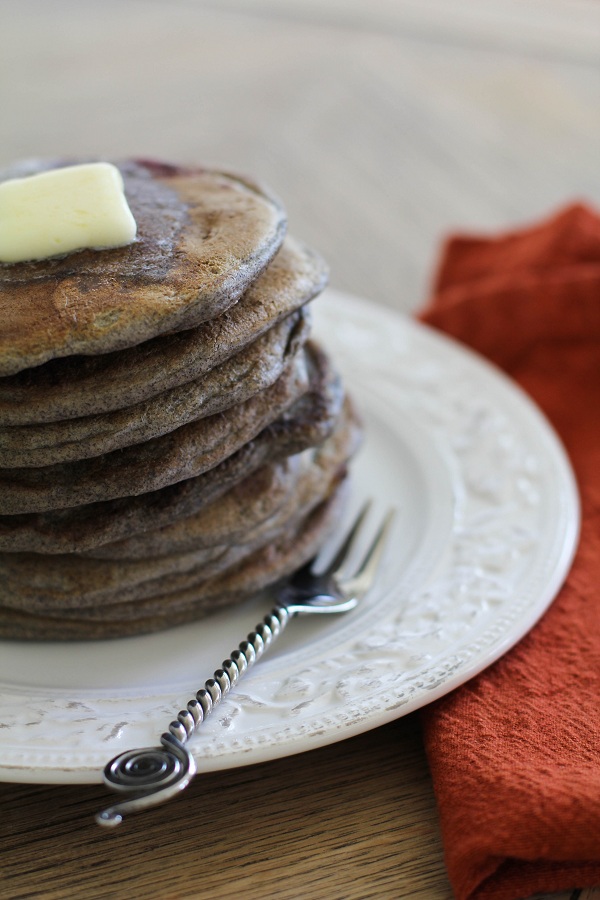 One of my favorite games as a kid was telephone. I can't tell you how much enjoyment I got out of sitting in a circle in grade school and waiting patiently until the person next to me whispered the telephone message in my ear. Because I'm hard of hearing (no joke…just ask anyone), I'm about 85% sure that the true message ended with me every time. Yes, I may have been responsible for breaking numerous telephone games (by no fault of my own). What would begin as, "the white cat sat on the porch" turned instantly into "stingrays pee in the ocean."
Sourdough starter reminds me of a great game of telephone. It can be passed along for generations and it changes slowly over time. You may already know I absolutely love edibles that are cultured, fermented, and alive. Sourdough fits the bill! Where did One of my co-workers asked me if I wanted sourdough starter and I hopped, skipped and jumped at the offer.
I had been meaning to bake sourdough bread ever since I heard it contains less gluten than regular bread. The active culture in sourdough starter feeds off of the gluten in flour, rendering it lower in gluten (though not gluten-free!). My co-worker got his starter from a friend who got it from a friend who lives in San Francisco, the sourdough capital of the U.S.
I'm not sure where my sourdough starter's point of origin is, but ever since I acquired my starter, I've been dreaming up tales of where it came from, where it has gone, and the exact route it took to get in my hands. I wonder about its sourdough brothers and sisters. I wonder if they will ever meet at a bake sale. I certainly hope so.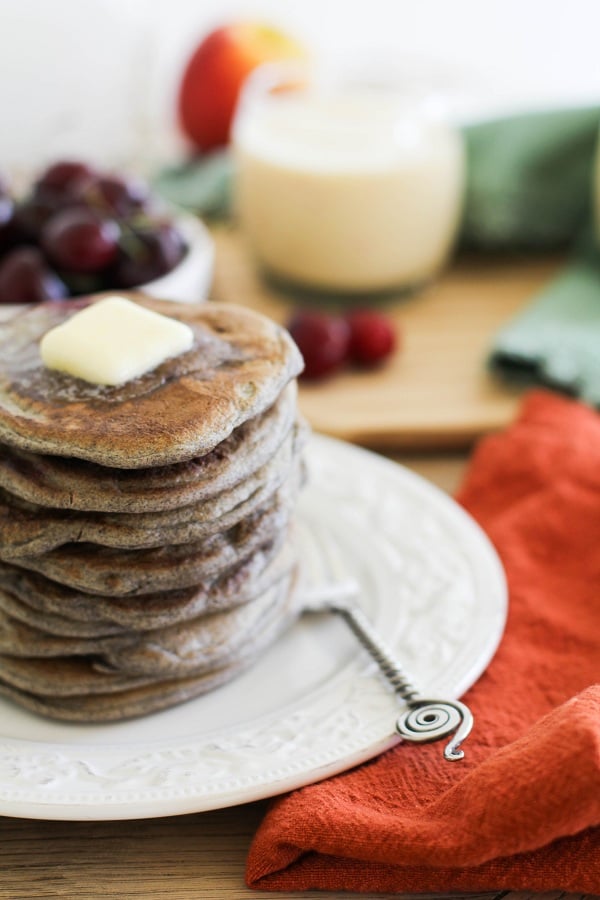 You don't need to have a co-worker with a bounty of sourdough starter in order to get your sourdough on. You can follow Stephie's instructions from Eat Your Heart to make your own sourdough starter and also check out all of her delicious sourdough recipes! If you're new to sourdough, I highly recommend reading Stephie's sourdough posts – the girl knows her stuff!
Given my love for pancakes, the very first thing I did with my sourdough starter (before even feeding it) was make sourdough pancakes with fresh cherries. I used mostly buckwheat flour for the pancakes to keep the level of gluten low, and they turned out great (albeit not as fluffy as you would get if you used all-purpose flour)! They have a nice sourdough flavor and the cherries caramelize while the batter is cooking, making these hotcakes all sorts of wonderful. Now go ferment yourself some batter!
Buckwheat Cherry Sourdough Pancakes
Delicious buckwheat pancakes made with sourdough discard and a cherry compote for a unique and tasty breakfast.
Servings:
12
medium-sized pancakes
Ingredients
1

cup

sourdough starter

1

egg

½

teaspoon

pure vanilla extract

1

tablespoon

agave nectar

optional, or sugar

¼

teaspoon

salt

½

cup

buckwheat flour

¼

cup

all purpose flour

¼

teaspoon

baking soda

¾

cup

cherries

pitted and quartered
Instructions
In a mixing bowl, whisk together the sourdough starter, egg, coconut milk, vanilla extract and agave nectar.

Add in the salt, buckwheat flour, all-purpose flour and baking soda. Stir until the batter is smooth.

Allow the batter to sit for a couple of minutes in order to allow the sourdough starter to react.

Fold in the chopped cherries.

Heat a large skillet to medium and add enough oil/butter to coat the bottom.

Measure ¼ cup of batter and pour it on the hot skillet (depending on the size of your skillet, you should be able to cook 2 or 3 pancakes at a time).

Cook until the sides of the pancakes firm up and bubbles rise to the top.

Flip and cook an additional minute or two until pancakes are cooked all the way through.

Serve with butter and pure maple syrup or agave or honey.