Creamy vegan buttermilk salad dressing made with all whole food ingredients. This healthy dairy-free take on salad dressing is easy to prepare in your blender and is paleo friendly!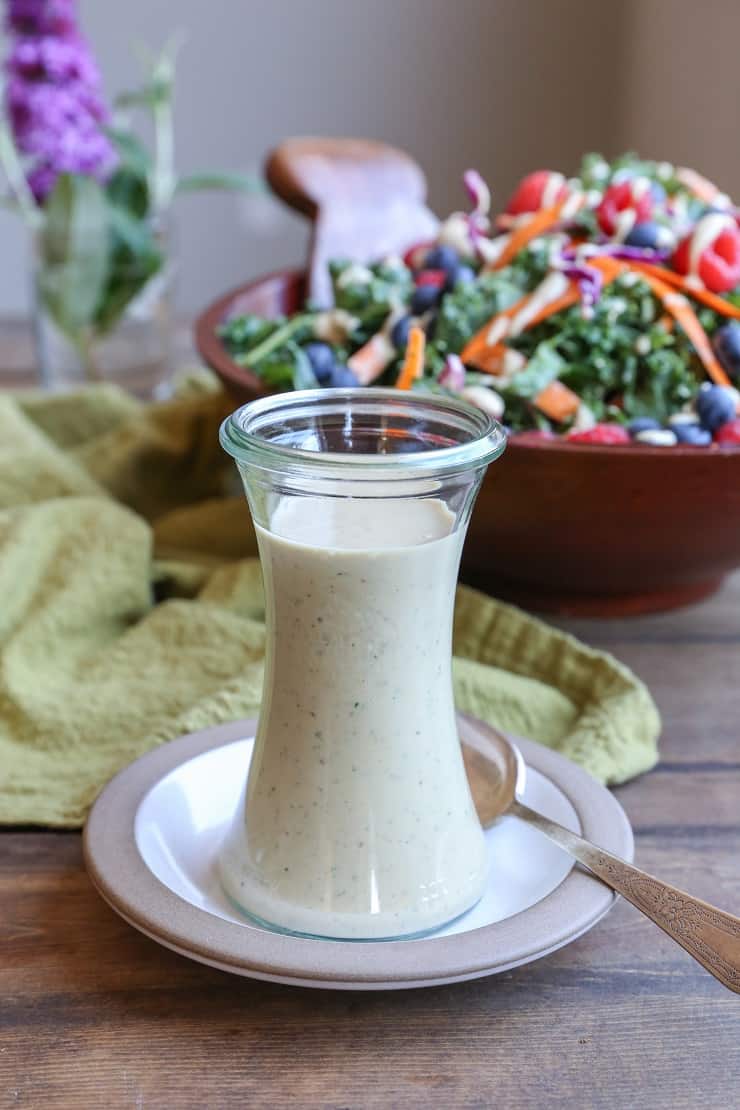 Last weekend, the boyf and I visited his family for his niece's first birthday. It was a BBQ/pool party with tons of amazing healthy food, and one of the dishes was a kale salad with a creamy buttermilk dressing. I was hooked on the salad, to the extent that the first thing I made when we got home was – you guessed it – that very salad.
…With one small change, though…the dressing. While I'm not intolerant of dairy, I do try to limit it, so I decided to fashion up a creamy vegan "buttermilk" dressing in lieu of the original. Have you ever made a homemade vegan buttermilk? It's actually super simple…basically, all you need is a non-dairy milk and lemon juice (similar to making regular buttermilk). In order to make a buttermilk salad dressing, you incorporate the non-dairy milk and lemon juice with a few additional ingredients to make it thick and flavorful.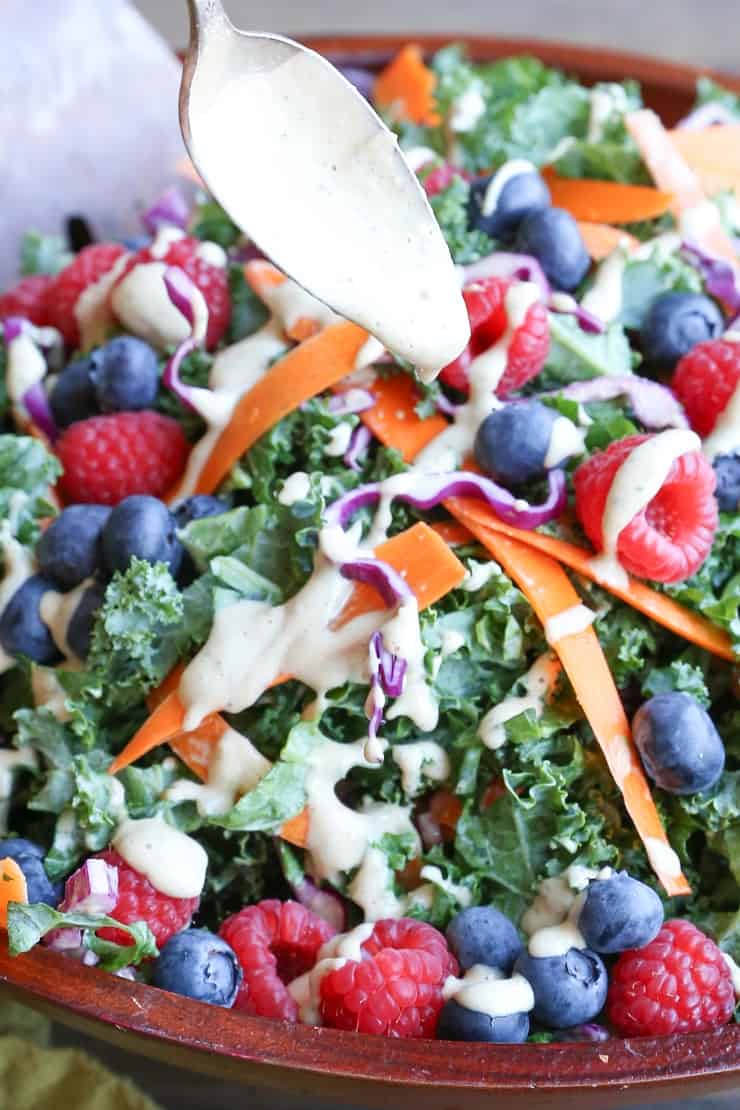 When I was researching vegan buttermilk dressings on the internet, I surprisingly didn't find a plethora of recipes, so I figured I had better fashion one up and share. I did find one recipe that called for soaked cashews, and as fate would have it, the grocery store I normally attend was out of raw cashews, so I used the same replacement I've been using quite a bit lately: sunflower seed butter.
Using almond milk, lemon juice, sunflower seed butter, stone ground mustard, garlic, and fresh parlsey and chives, you end up with a super flavorful creamy vegan dressing that you'd never in a million years guess is dairy-free.
If you're all about going the soaked cashew route, feel free! You'll need one cup of raw cashews, which you'll soak for at least 3 hours. Simply drain the cashews once they've been soaked and proceed with the recipe as normal.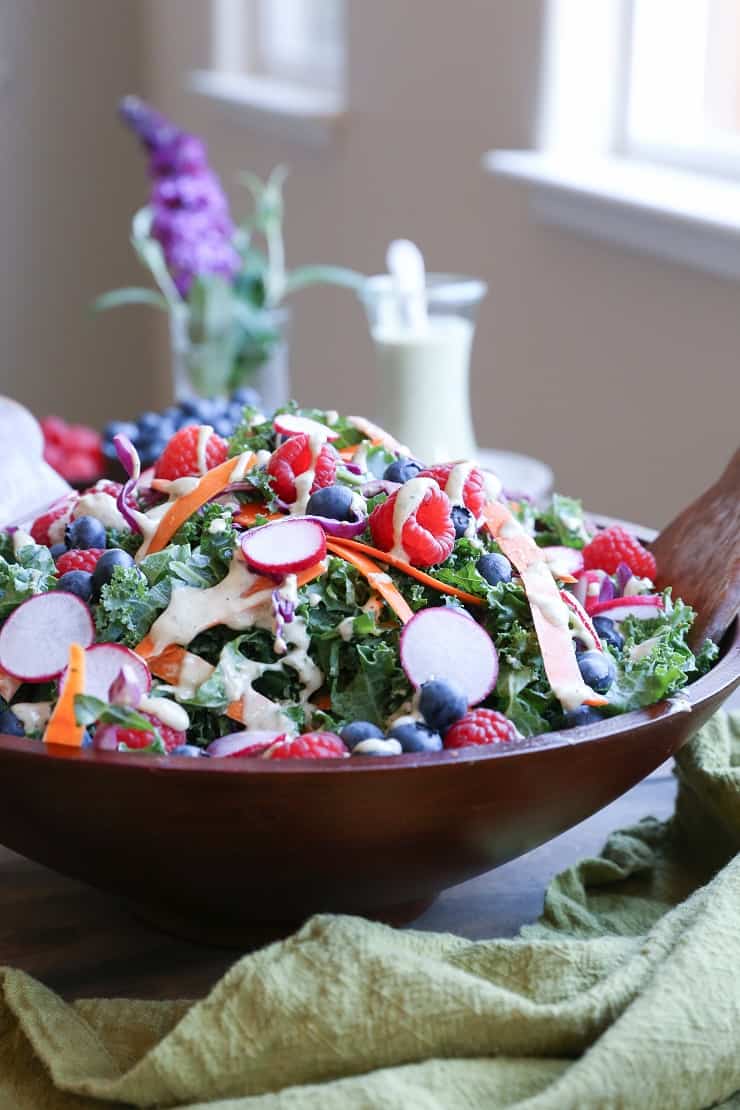 You can also look at this as a vegan green goddess salad dressing, as if I were compelled to make a vegan green goddess, I'd honestly use this exact recipe.
So there you have it: some straight-forward ingredients, your blender, and a few minutes of time is all you need. Use this on any of your favorite salads – it goes great with my Kale and Blueberry Salad!
Vegan Buttermilk Salad Dressing
Dairy-free buttermilk dressing is incredible on any salad!
Ingredients
3/4

cup

unsweetened almond milk

see note*

1/3

cup

unsweetened sunflower butter

see note**

3

tablespoons

lemon juice

1

tablespoon

stone ground mustard

or dijon mustard

1

teaspoon

pure maple syrup

optional

1

small clove garlic

1/4

cup

fresh parsley

chopped

1/4

cup

fresh chives

chopped

1/2

teaspoon

sea salt
Instructions
Add the ingredients for the vegan buttermilk dressing to a blender and blend until completely smooth. Taste the dressing for flavor and add sea salt to taste. Store in an airtight container for up to 1 week in your refrigerator, and use on your favorite salads!
Notes
*You can use any non-dairy milk you'd like in place of almond milk
**Replace the sunflower butter with 1 cup of raw cashews - soak the cashews for at least 3 hours, drain them, and follow the rest of the recipe as normal.
Nutrition