Sweet and refreshing protein smoothie with turmeric, kiwi, banana, and yogurt. This delicious shake is a marvelous meal-on-the-go.
This post is sponsored by Svelte.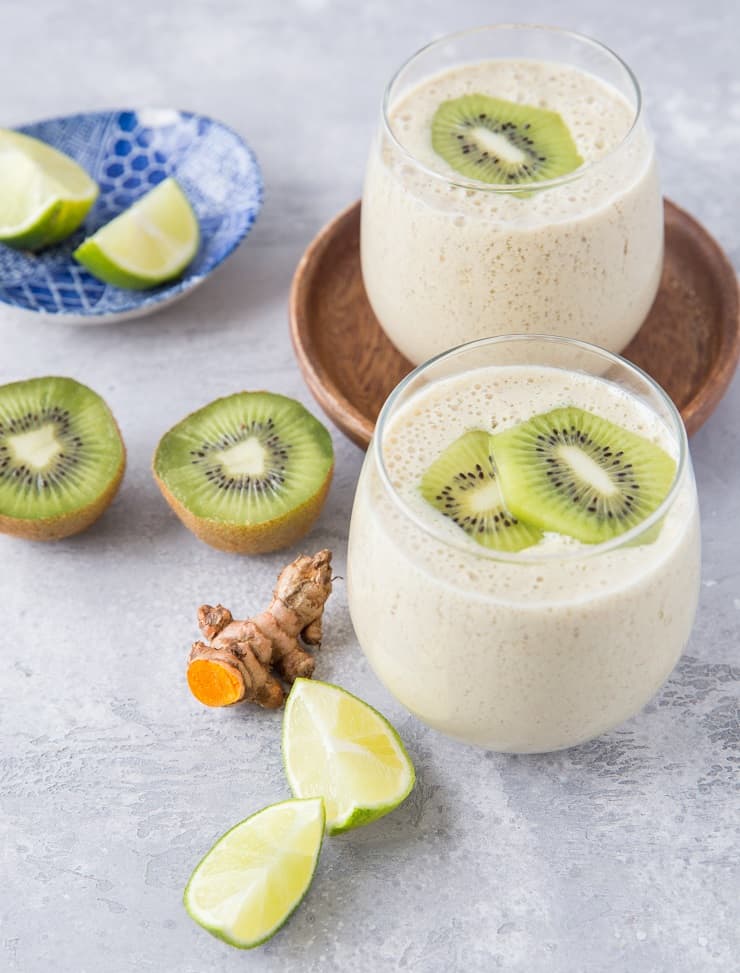 My mealtimes all revolve around protein. If you follow me on Instagram, I probably sound like a broken record, as I have mentioned many times in the past, I take a but first, protein approach to food. I make sure I get at least 20 grams of protein at every meal, and in the event that I snack between meals, I make sure my snacks are protein-centric as well.
In addition to making sure I get adequate protein throughout the day, I also tend to drink a smoothie for either breakfast or lunch. That may seem like a pretty light meal, but my smoothies are typically on the higher calorie end in the way of smoothies, and have a pretty decent macro profile.
I've found that having one liquid meal per day also helps with digestion – simply put, liquid is far easier for your body to process than solid food. In this sense, protein smoothies are currently a big deal in my life, as I usually drink them after I workout to replenish muscle glycogen and feed my broken down muscle fibers with protein.
All of this said, I've been crushing on this particular smoothie lately. It is made with kiwi, banana, fresh turmeric root (you can also use dried turmeric), yogurt, and a bottle of Svelte French Vanilla Organic Protein Shake.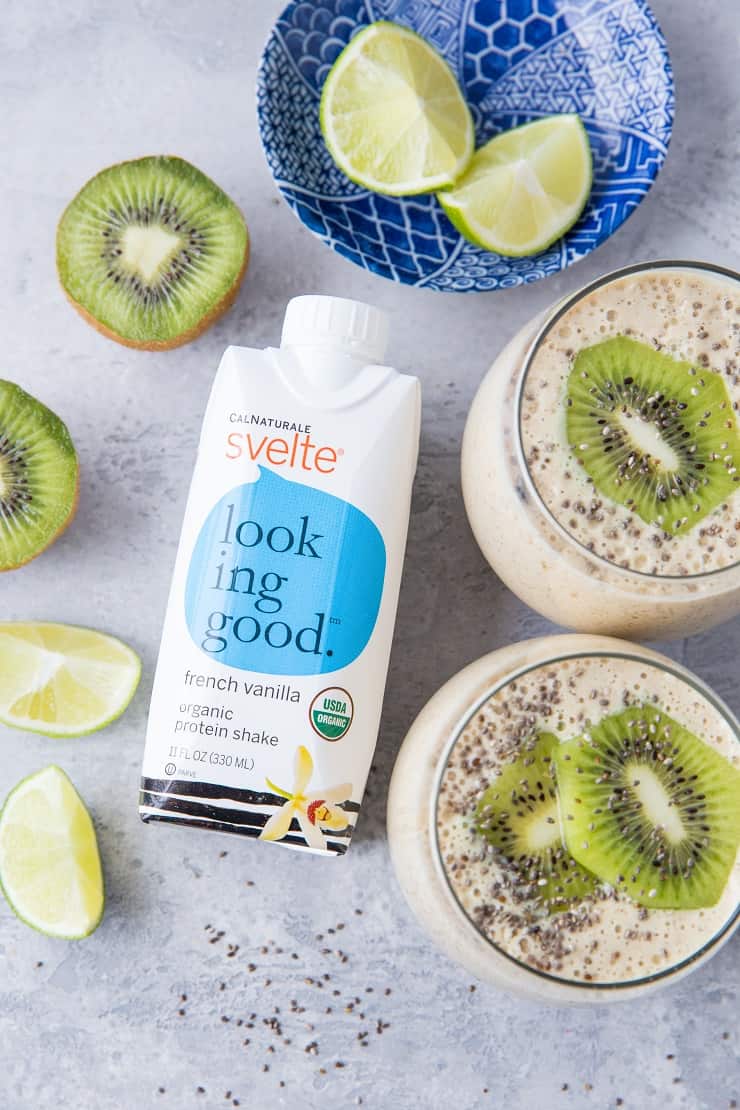 Svelte is a non-dairy organic protein shake that contains 11 grams of protein and only 6 grams of sugar. While the beverage is super tasty on its own, I enjoy using it as the liquid in smoothies to add more protein to the smoothie. In this case, the Svelte protein shake plus the yogurt yields 22 grams of protein – that's pretty stellar for a smoothie!
Svelte also comes in other delicious flavors: cappuccino, spiced chai, banana creme, and chocolate. If you'd like to give them a whirl, check out their store locator to choose the best option for you!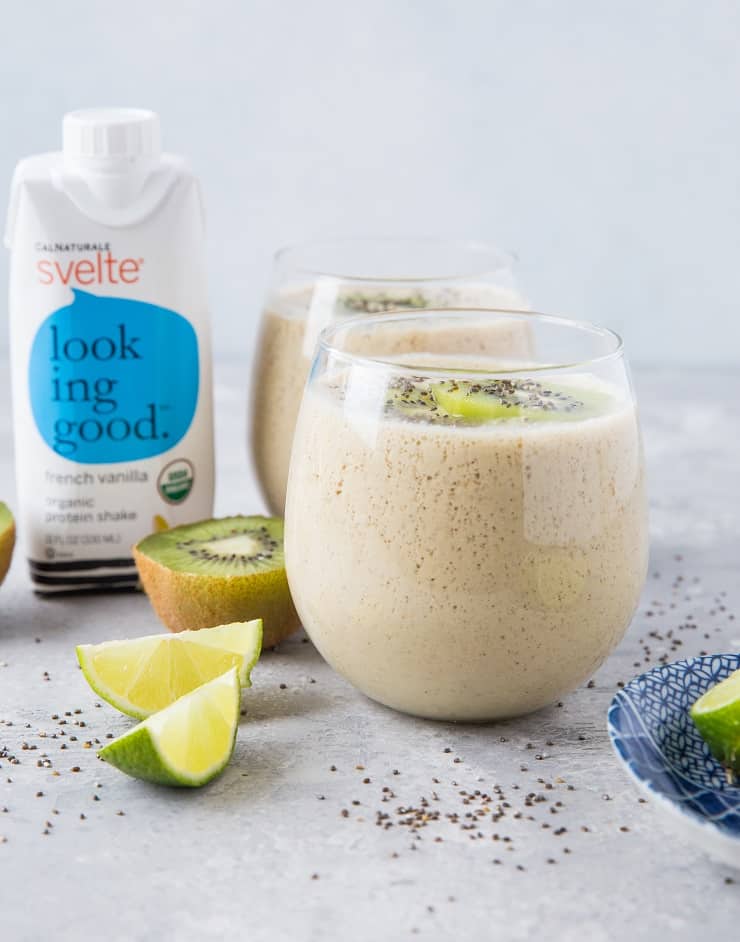 This smoothie is a marvelous meal in a glass – it's great as a post-workout recovery snack or a great meal-on-the-go.
Did you know kiwi is a good source of vitamin C, potassium, and folate? It is also full of antioxidants (Vitamins E and K) and also aids in digestion.
In addition, turmeric is a powerful antioxidant and anti-inflammatory, making this smoothie a powerhouse from a health benefit standpoint. Throw in some baby spinach and you've got everything you need in one glass!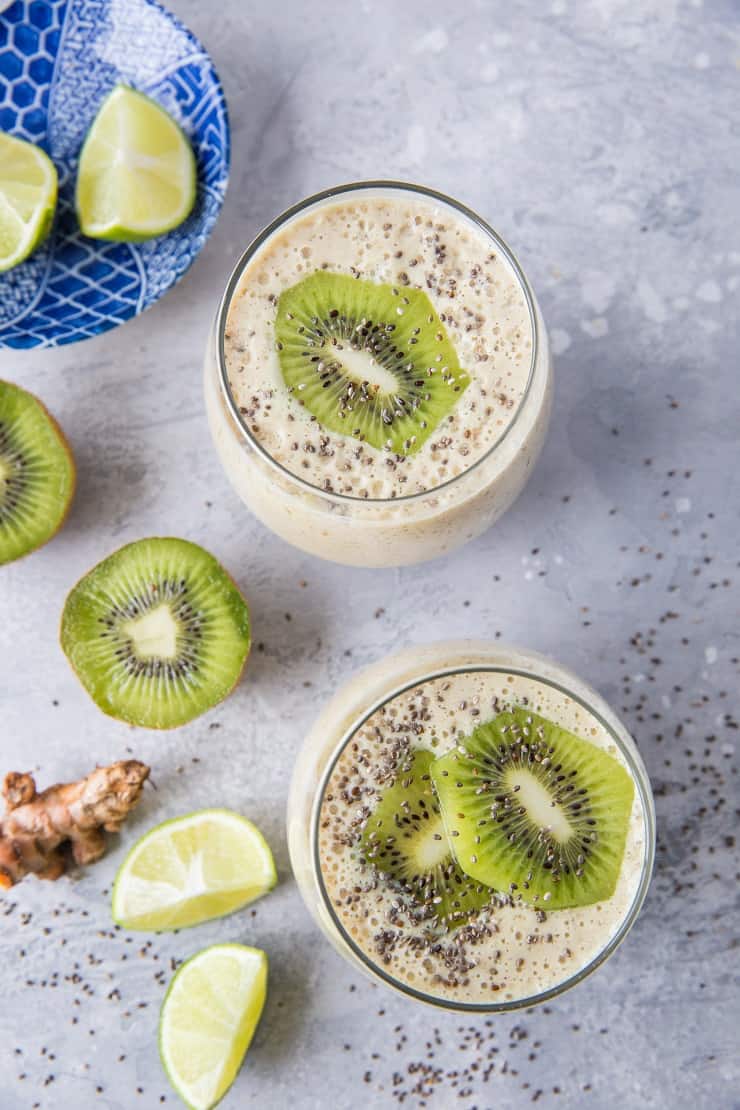 If you don't eat yogurt but still want the protein punch, you can replace the yogurt with almond milk and add a scoop of your favorite protein powder, or a few tablespoons of almond butter.
Drink up!
Turmeric Kiwi Protein Smoothie
A delicious way of taking in your protein! This anti-inflammatory smoothie recipe is an easy way to take in a great deal of nutrients.
Servings:
1
large smoothie
Ingredients
1

11-ounce bottle Svelte French Vanilla Organic Protein Shake

1/2

cup

plain Greek yogurt

1/2

banana

peeled and frozen

2

whole kiwifruit

peeled

1

1/4-inch nub turmeric, peeled

1

lime

zested

1

handful ice
Instructions
Add all ingredients to a high-powered blender and blend until smooth. Pour into a large glass and sip!
Nutrition