More stuffed vegetables!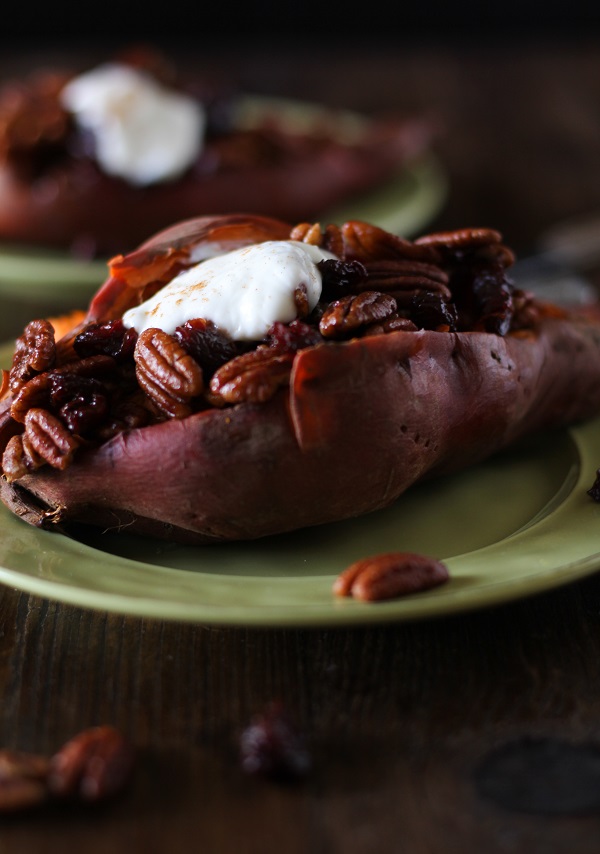 'Tis the season for stuffing things. And 'tis the season for sweet potatoes!
If there's one thing that's more cozy than a big carby vegetable, it's a big carby vegetable stuffed with other food items. Roasted sweet potatoes are one of my favorite veggie go-to's. Stuffing them in either a sweet or savory manner makes for a good hearty side dish or a meal in and of itself. Throw some maple candied pecans and cranberries in your roasted sweet potato, and you're looking at a healthy holiday side dish.
Oh hey, here's one for ya: what's the difference between a yam and a sweet potato?
Prepare for your mind to be blown.
Yams and Sweet Potatoes are both in the root vegetable family, but they are not one and the same. As it turns out, we've been using the two terms interchangeably, even though we don't even see many yams here in the U.S.. Let's discuss. Purple yams have bright purple flesh with a tough deep purple-y black peel, and are used widely in African cuisine. Chinese yams can grow to be up to 3 feet long (I kid you not), and have a hairy pale beige-colored peel with dark spots. So, candied yams? Yeaaaah, those are, in actuality, sweet potatoes. I'd show you a picture of a yam, but I've never even laid eyeballs on one in real life.
I can, however, show you sweet potatoes. They are like so: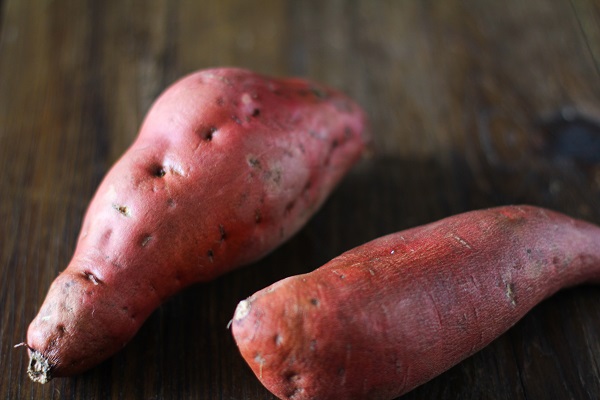 Sweet potatoes also come in a white variety, which I showed you in my Beer Bacon Cheddar Apple Celeriac Sweet Potato Soup post. I prefer orange sweet potatoes better for baking because they have a softer texture they taste sweeter. White sweet potatoes are great for soups because they have a mild flavor and are very starchy.
Want to know more about the Yam v. Sweet Potato saga? There's a back story as to why we've been calling sweet potatoes "yams," so if you're as curious about root veggies as I, you will find this article on the Difference Between Yams and Sweet Potatoes from the Huffington Post to be absolutely scintillating.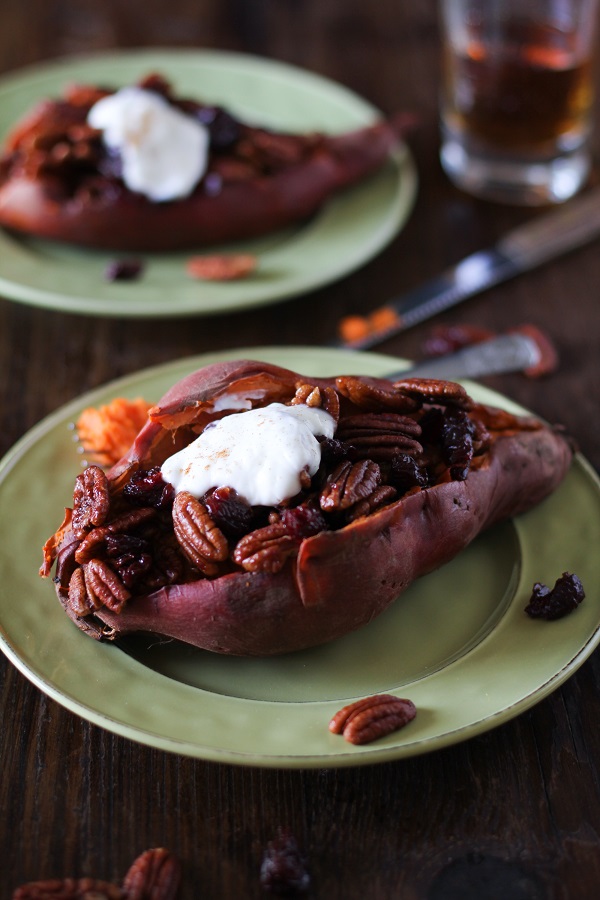 These stuffed sweet potatoes are real simple. While your sweet potatoes are roasting in the oven, you candy up some pecans and dried cranberries in cinnamon, maple syrup, and bourbon. Bourbon, people! Have you ever had bourbon-infused nuts? That's a train you don't wanna miss. On their own, the nuts and cranberries are packed with fall flavor. The recipe makes enough to stuff 3 large sweet potatoes, but if you end up with leftover nuts, you can add them to salads, put them on top of your favorite pumpkin-y dessert, stick them in your morning yogurt, or simply snack on them.
Stuff them yams…err…I mean, sweet potatoes.
Stuffed Sweet Potatoes with Bourbon Maple Candied Pecans and Cranberries
An epic side dish or light dinner, these Stuffed Sweet Potatoes with Bourbon Maple Candied Pecans and Cranberries are loaded with flavor and texture!
Instructions
Roast the sweet potatoes.
Preheat the oven to 400 degrees F.

Wash the sweet potatoes well and pat them dry.

Poke them several times with a fork and wrap them in aluminum foil.

Place potatoes on a baking sheet and roast them in the oven for 50 to 60 minutes, or until juices are seeping out and flesh is very soft (note: depending on the size and thickness of your sweet potatoes, the bake time will vary).
Prepare the Bourbon Maple Candied Pecans and Cranberries
Add all of the ingredients for the candied pecans to a small non-stick skillet and heat to medium.

Allow nuts to cook, stirring frequently, until most of the liquid is absorbed, nuts have darkened, and are coated in thick syrup, about 5 to 8 minutes. Note: be sure you monitor the nuts the entire time they are on the stove, because they burn easily!

Remove the nuts from the heat and set aside until ready to use.
Stuff the sweet potatoes:
When potatoes have cooled enough to handle, un-wrap them from the foil. Cut a long slit length-wise down the center, and stuff them with desired amount of candied pecans and cranberries.

Serve with a dollop of whipped cream, sour cream, or plain Greek yogurt.
Notes
If you are gluten-intolerant, omit the bourbon, as bourbon is made using wheat, barley, and/or rye.
Nutrition