Beer Bacon Cheddar Apple Celeriac Sweet Potato Soup is a magically unique and hearty creamy soup packed with delicious flavor for the fall and winter months.
And it's creamy!
Can we check in? How was your weekend? Did you watch some football?
Did you roast things in your easy bake oven? Eat some cheese or potatoes, slash cheesy potatoes? Drink a beer or twelve? Have a slice or six of bacon? Wish to yourself that you could blend all those things together and slurp them through a straw simultaneously?
Alright, enough about you. In the words of Toby Keith, I wanna talk about me.
Kidding. I just wanted to quote Toby Keith. It won't never happen again. Until it does.
Please don't unsubscribe from my mailing list.
Soup, you guys. Get it!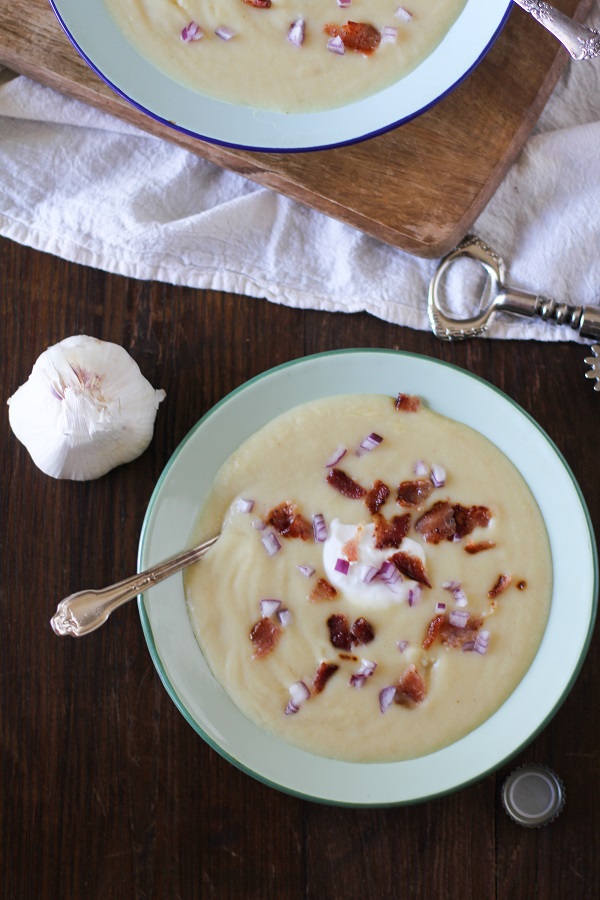 There is nothing that is not in this soup. This soup is your everything, ya dig?
It's your beer soup (gluten free), your cheese soup (white cheddar), your apple soup (honeycrisp), your celeriac (celery root) soup, your sweet potato soup (the white kind), your dipping soup, your slurping soup, your comfort soup, your all-around good soup soup.
Have I mentioned that anything you could possibly want (short of a cheeseburger with fries and chocolate milkshake) is in this soup?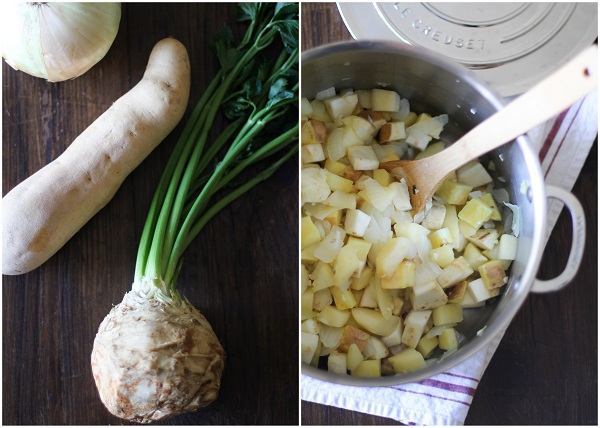 This soup is THICK. And creamy! Like, I actually put half and half AND cheese in it. Which, as you know, never happens.
It's like the wind blew a certain way last Tuesday, and I was all, "maaaw ffff it, I'm just gonna put ee'erythang in this gawwforsaken soup." So I did. And that included dairy. And bacon. And beer.
What was I saying?
Oh yes, soup consistency. It's thick. If you prefer a thinner creamy soup, simply add more chicken broth…or cream or beer or both or all three. This soup's your oyster. Actually, it's not. Like, I wouldn't get to adapt-y with this soup, lest you end up with a stock pot of whatthecrap? Nobody likes a stock pot of whatthecrap.
So what I'm trying to say is, if you make this soup. Pretty please follow the recipe for reals. UNLESS you believe your soup is too thick, in which case, you can add some more chicken broth. But not too much more beer. You wouldn't want this soup to taste like IPA…cause that shit's disgusting. Just saying.
Why am I still talking?
BEER SOUP!
Beer Bacon Cheddar Apple Celeriac Sweet Potato Soup
Beer Bacon Cheddar Apple Celeriac Sweet Potato Soup is a unique, flavorful soup recipe for fall and winter.
Ingredients
4

strips thick-cut bacon

1

large yellow onion

chopped

1

large celery root

peeled and chopped

1

large white sweet potato

jewel yam, chopped

1

large honeycrisp apple

peeled, cored, and chopped

5

cloves

garlic

minced

1 12-

ounce

gluten-free beer*

3

cups

low sodium chicken broth

separated, or vegetable broth

½

cup

half and half

or full-fat coconut milk

1-1/2

cups

shredded white cheddar cheese**

2

teaspoons

kosher salt

or to taste
For Serving:
Plain Greek yogurt or sour cream

Red onion

finely chopped
Instructions
In a large stock pot or Dutch oven, cook bacon over medium heat until it reaches desired level of crispiness. Using tongs or a slotted spoon, remove the bacon (leave the drippings), set bacon on a plate, and save it for serving.

Add the chopped yellow onion to the pot with the bacon drippings and sauté, stirring frequently, until translucent, about 5 to 8 minutes.

Add the chopped celery root, sweet potato, and apple and continue to cook, stirring occasionally, until vegetables have softened, but are still al dente, about 10 minutes.

Add the beer and 2 cups of the chicken broth. Cover and bring to a full boil.

Reduce the heat to a simmer and continue cooking 5 to 8 minutes, until veggies are cooked through.

Transfer everything from the pot to a blender and blend until smooth.

In a small bowl, whisk together the half and half, flour, shredded cheddar cheese, and remaining 1 cup of chicken broth until all the flour clumps are out.

Add the half and half mixture into the empty pot and heat over medium, stirring until the cheese has melted and the mixture has thickened, about 3 minutes.

Add the blended soup back into the pot with the cheesy mixture and stir to combine. Serve soup hot with a dollop of greek yogurt or sour cream, chopped red onion, and crumbled bacon.
Notes
*I used Redbridge gluten-free beer, which was great in the soup but not great for drinking (just my opinion, folks, just my opinion). If you use a different beer, I wouldn't recommend using anything too hoppy, like an IPA. Hops do not a good soup make. The end.
**I used Organic Valley raw milk cheddar
Nutrition
Serving:
1
Serving
|
Calories:
334
kcal
|
Carbohydrates:
31
g
|
Protein:
12
g
|
Fat:
18
g
|
Fiber:
3
g
|
Sugar:
9
g