Make Spring rolls a meal with these fresh, vibrant spring roll bowls with sunflower butter sauce – easy-to-prepare, nutritious, and fun, these bowls can be prepared any night of the week.
This post is sponsored by SunButter®.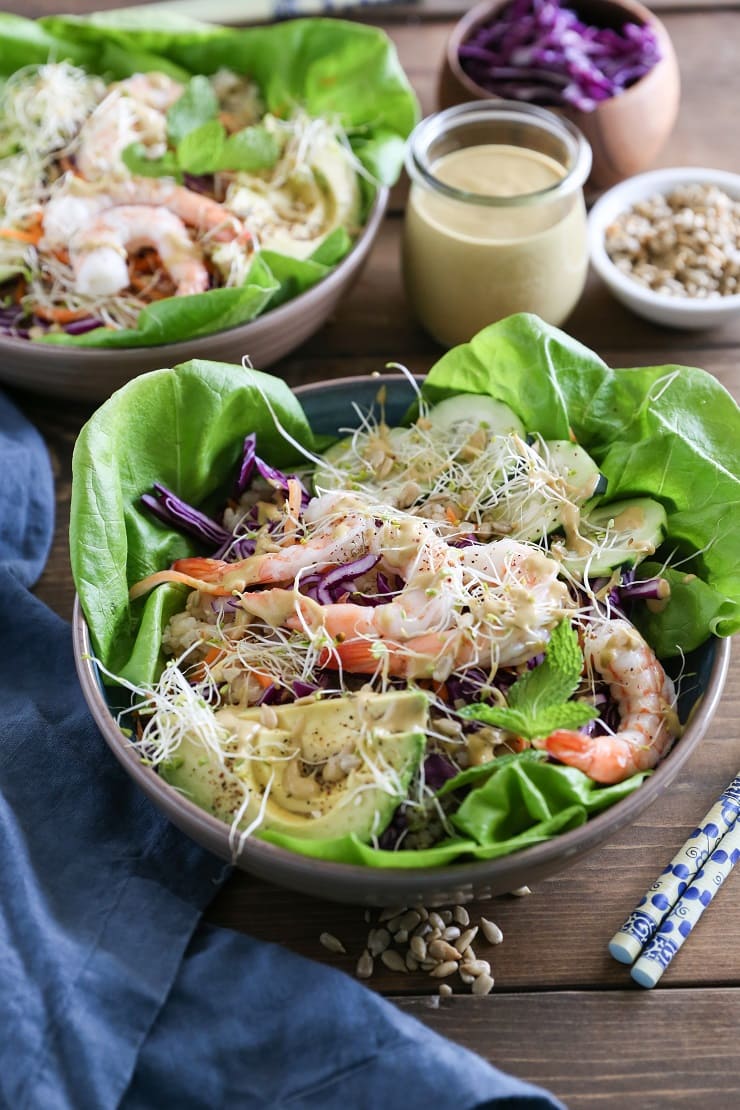 Happy St. Patrick's Day, and happy almost Spring!
Have I ever told you about my mega obsession with Spring rolls? It's there. Every time we go out for Vietnamese or Thai food (or virtually any restaurant that offers Spring rolls), I order them. I'm always sad once my portion of the spring rolls has been depleted, and as a result, I've been known to intentionally make a full meal out of them.
I've even made homemade Spring Rolls a time or two, and I must say it's a fun process, but it can also be time-consuming and frustrating. For those of you who, like me, have trouble getting the rice wrappers to – oh, I dunno…not collapse upon themselves – Spring roll bowls are the next best option! Plus they're designed to be an entree, so you don't have to worry about running out of Spring roll before you're ready.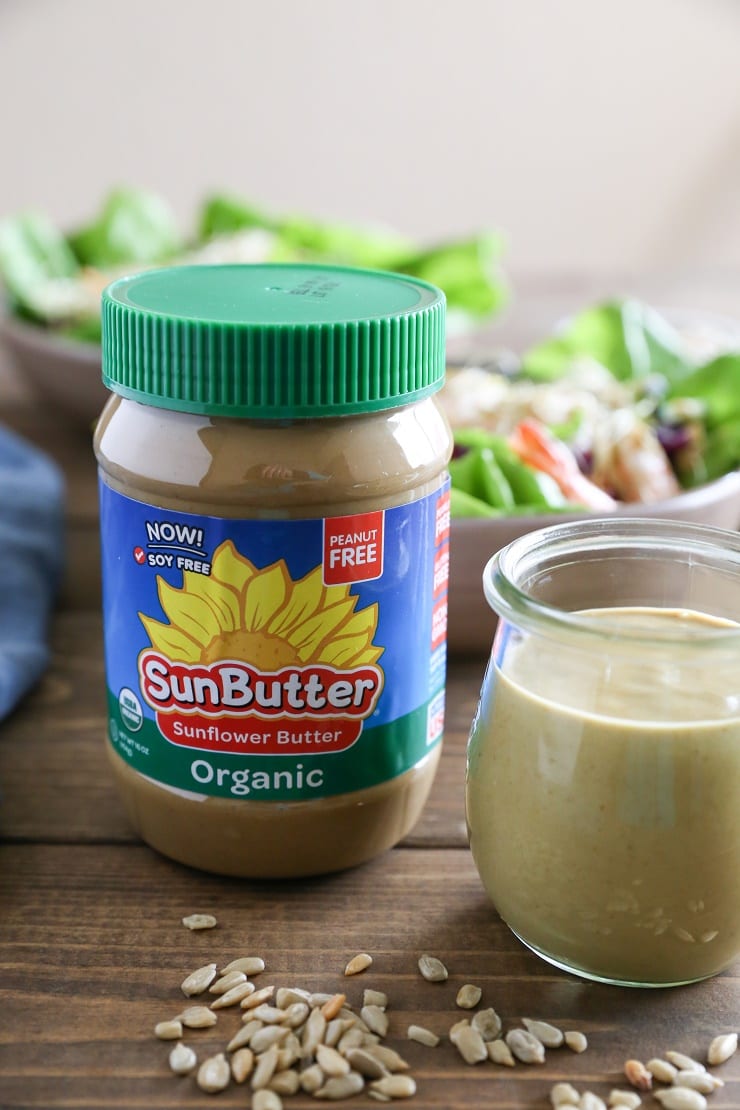 Did you know March is National Nutrition Month? I'm always a big proponent of balanced eating, but I love the idea of re-committing and focusing on nutrition during the course of the month. So many of us need a little extra inspiration to maintain a conscious effort at eating nutritious meals, and in the same regard, so many of us have food intolerances we may or may not be aware of.
Keeping with the theme of National Nutrition Month, I designed these Spring Roll Bowls to be healthful using a variety of fresh seasonal vegetables, as well as be allergy-free (minus the shrimp if you have a shellfish allergy). Rather than making a peanut sauce to drizzle over the bowls, I created a sunflower butter sauce using SunButter's Organic Sunflower Butter.
Made entirely with sunflower seeds, the protein-packed butter works marvelously for all sorts of allergy-free recipes, including raw or baked treats (remember that Maple Walnut Vegan Fudge I showed you a few months ago using SunButter? My mouth still waters when I think about it), sauces, dressings, etc.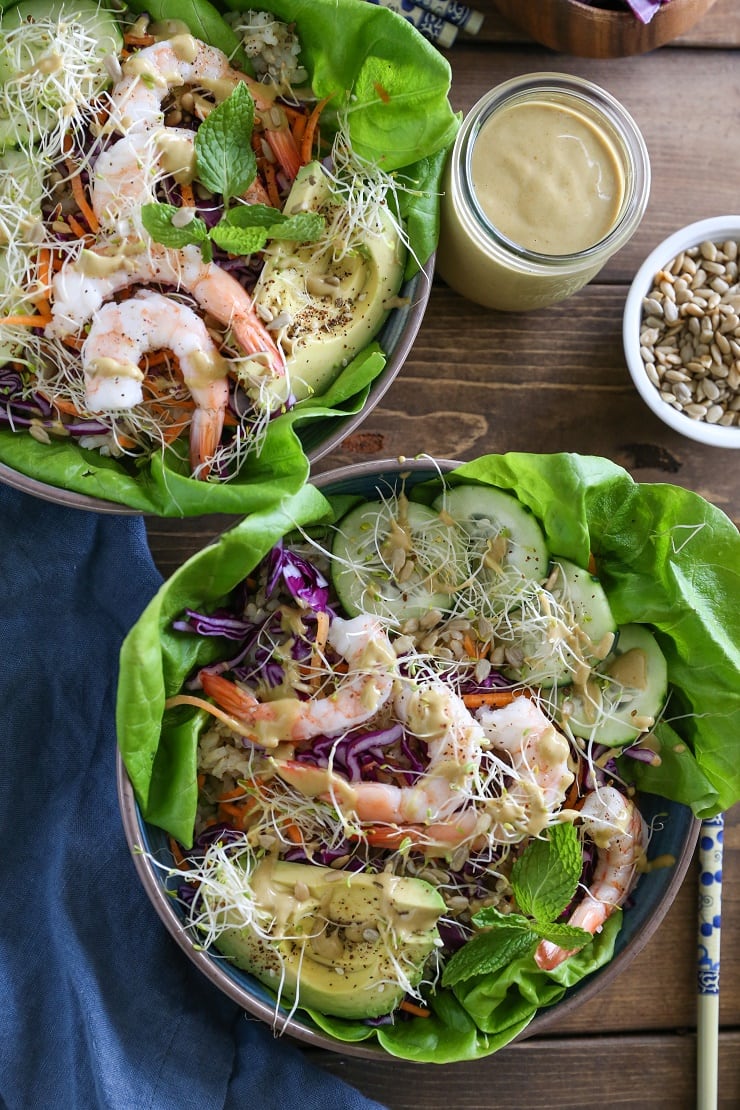 This sauce is perfect for those who are intolerant or allergic to peanuts (or any of the top 8 food allergens including tree nuts, soy and wheat, etc.), those who are following a Paleo or Whole30 lifestyle, and for those like me who love delicious food and try to keep it on the nutritious end of the spectrum. Plus, sunflower butter offers more nutritional benefits than most other nut butters including, 1/3 less saturated fat and more vitamins & minerals such as magnesium, Vitamin E, zinc, and iron.
And the sunflower butter sauce for dipping/drizzling/spoon-feeding? Absolutely addicting! I've already used it to drizzle on a plethora of rice and veggie bowls, as well as Thai turkey lettuce wraps, and I'd be lying if I didn't eat it straight from the spoon a time or twelve. In summary: I recommend this sauce for basically any of your bowl saucing needs.
Options for Recipe Adaptations:
Make it Paleo: Cook up cauliflower rice instead of brown rice
Make it Vegan/Vegetarian: Omit the shrimp and add tofu or beans of choice
Use cooked chicken in place of shrimp, or leave the bowls vegan
Use rice noodles in place of brown rice for a noodle bowl
I like to quick pickle my cucumbers by soaking the cucumber slices in rice vinegar with a touch of sugar prior to adding them to the bowl – the pickling ramps up the flavor of the bowl! If you have time, I always recommend doing the quick pickle.
Add delicious ingredients like mango, pickled ginger, bean sprouts, microgreens, etc.
And that's a wrap! Or should we say, that's a bowl!
Spring Roll Bowls with Sunflower Butter Sauce
Spring rolls deconstructed into a delicious bowl are delicious! Make a meal out of your favorite spring rolls!
Ingredients
SPRING ROLL BOWLS
1

head butter leaf lettuce

2

cups

uncooked brown rice

1

pound

cooked shrimp

1-1/2

cups

red cabbage

thinly sliced

1-1/2

cups

carrot

peeled and grated

1/2

large cucumber

thinly sliced

2

ripe avocados

sliced

1 4-

ounce

container alfalfa sprouts

4

sprigs fresh mint

chopped
Instructions
Add all of the ingredients for the Sunflower Butter Sauce to a blender and blend until completely smooth. Refrigerate until ready to use.

Cook the rice according to package instructions. Layer 4 bowls with butter leaf lettuce, cooked brown rice, shrimp, shredded cabbage, grated carrot, cucumber slices, and avocado. Top with fresh mint or basil and desired amount of Sunflower butter sauce. Serve and enjoy!
Nutrition