Spinach, Mushroom, and Sun-Dried Tomato Omega-3 Omelette is a blast of flavor and an omega-3 infusion! Begin your day with this high-protein, healthy fat breakfast!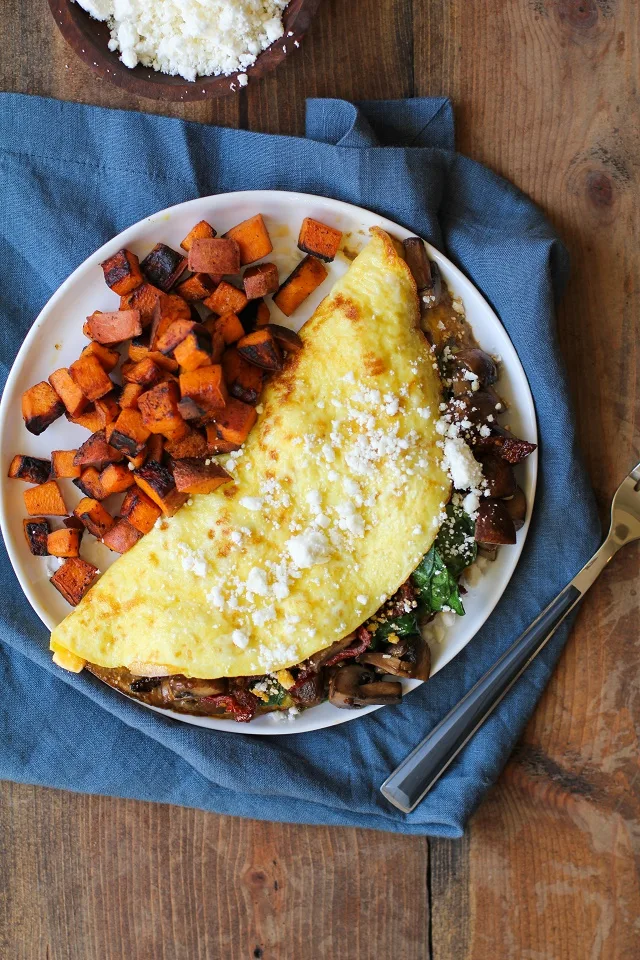 While I rarely stray from my much coveted routinal Sweet Potato, Bacon, and Spinach Scramble, sometimes a girl's got to change it up a time or two with a delicious omelette. You know, get the breakfast wiggles out…walk on the wild side…really let the hair down.
When it comes to omlette stuffings, I've got preferences.
I like to go the high-octane veggie route by including a leafy green (such as spinach, kale, or arugula) a hearty vegetable (such as mushroom, broccoli, or sweet potato) and a cheese (such as feta, pepper jack, or gruyere).
All facets combined lands you on a filling omelette that packs a mean nutrition punch to fuel you for the day.
Way I see it, this omelette is perfect for any meal – breakfast, lunch or dinner.
It's well rounded with protein, fiber, and healthy fat. Plus, that feta and sun-dried tomatoes give it an extra zing to really whet your whistle.
I recently learned that aside from being essential for healthy brain function, omega-3 and omega-6 fatty acids are also great for your stomach lining.
For those of you who suffer from any digestive ailments, getting a good boost of omegas can help rebuild healthy digestion.
You can give your omelettes an omega infusion by using omega-3 eggs and whisking hemp, flax, or chia seeds in with the eggs. You can also sprinkle them on top of the finished product. I tend to use about 1 tablespoon of hemp seeds per omelette.
Are you a two or three-egg omelette-er?
I tend to stick with two eggs, but for a more filling breakfast and a thicker omelette shell (if you will), go with the three.
If you're concerned about your fat intake, you can easily turn this sucker into an egg white omelette, no big thang.
This recipe makes omelettes for two people, but you can adjust the ingredients up or down as necessary.
Serve the omelettes with Sweet Potato Home Fries for the chillinist illinist breakfast evah!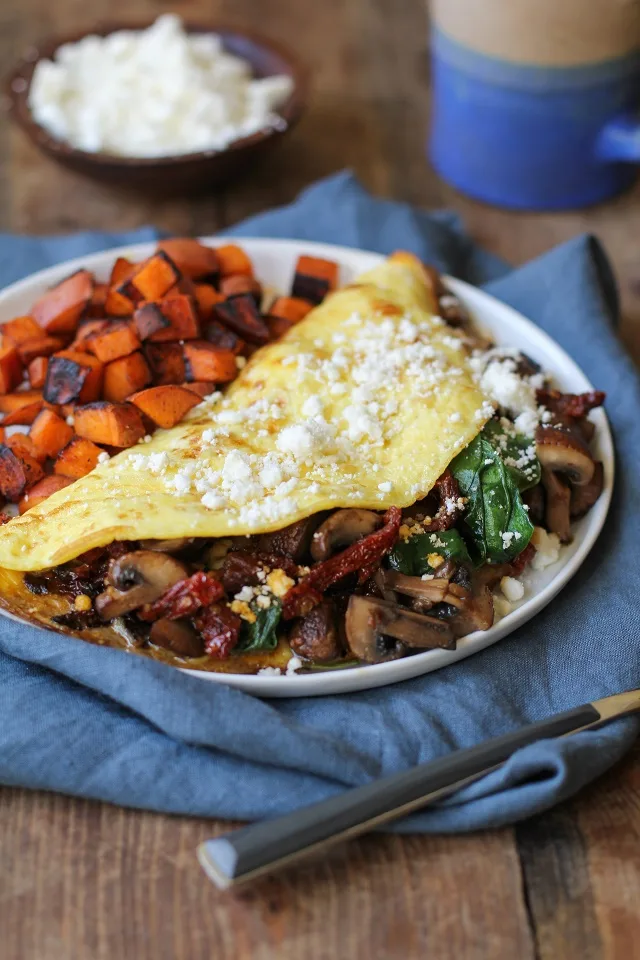 Make deez bomblets!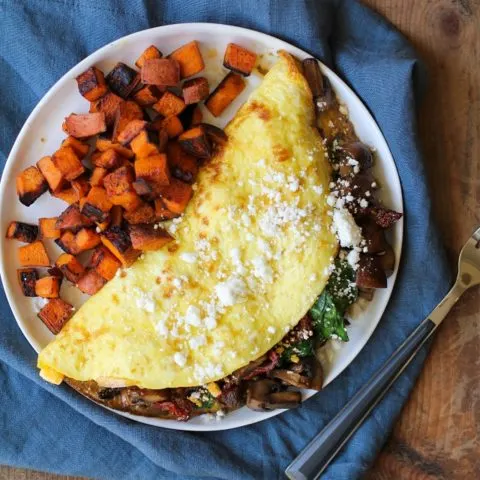 Spinach, Mushroom, and Sun-Dried Tomato Omega-3 Omelette
Spinach, Mushroom, and Sun-Dried Tomato Omega-3 Omelet are a flavorful, nutrient-dense way to start the day!
Ingredients
2 tablespoons olive oil
8 ounces mushrooms, sliced
2 cloves garlic, minced
¼ cup sun-dried tomatoes, drained
4 cups baby spinach
1/4 teaspoon sea salt, to taste
2 tablespoons unsalted butter
4 to 6 eggs
3 tablespoons half & half, optional, or milk
2 tablespoons hemp hearts, optional
1/3 cup feta cheese
Instructions
Add 2 tablespoons of oil to a large skillet, and heat over medium-high. Add the mushrooms and saute, stirring occasionally until they have browned, about 5 to 8 minutes. Add the garlic, sun-dried tomatoes, and baby spinach, cover and cook until spinach has wilted, about 2 to 3 minutes. Add the salt, and then set these aside until ready to use.
Beat 2 to 3 eggs in a bowl with 3 to 4 tablespoons of half & half (optional), and 1 tablespoon of hemp seeds until well-beaten. If you'd like, you can blend the eggs in a blender.
Add 1 to 2 tablespoons of butter to a small to medium-sized skillet (10-inch works great for a 3-egg omelette). Heat to medium-high, and spread the butter over the full surface of the skillet.
Pour the beaten egg and hemp seed mixture into the hot skillet. Allow it to cook until the sides firm up and the center has set, about 3 to 5 minutes.
Add half of your sauteed vegetables to one side of the omelette. Use a spatula to fold the omelette in half.
Serve with hot sauce or salsa. You also can sprinkle crumbled feta cheese inside the omelette or instead add jack or cheddar cheese for a gooey omelette.
Repeat the process for the second omelette.
Nutrition Information
Yield

2
Serving Size

1 omelette
Amount Per Serving
Calories

410
Total Fat

38g
Unsaturated Fat

0g
Carbohydrates

10g
Net Carbohydrates

6g
Fiber

4g
Sugar

6g
Protein

23g