A flavor-blasted take on the classic Spinach Onion Dip. Caramelize the onion for an ultra amazing appetizer for your parties and gatherings.
Did you know it's been almost twelve years since I graduated high school? Eight years since I graduated with my undergrad degree, and five years since I earned my Master's. It's insane to me how quickly time flies. Seems like it was only yesterday, I was in grade school swinging during recess, thinking about how I couldn't wait until I was an adult and could have mature (said like matoooor) conversations with like-minded individuals. <- I may have been a late bloomer, but by golly was I an old soul as an eight-year-old.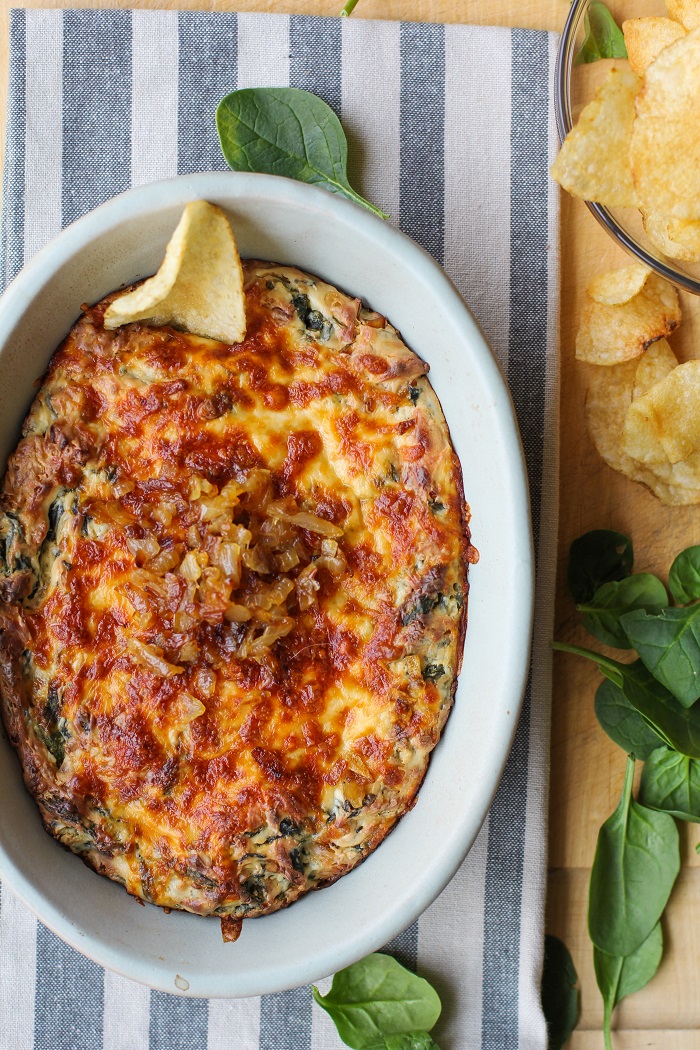 Looking back, there are moments I wish I were still in school. I always loved the academic setting, with motivated, dream-filled students and knowledgeable professors, eager to pass on information. If I could do it all over again, I'd do it the exact same way…except with more parties, chips and dip.
With graduation around the corner, it's time to think of celebratory foods. When it comes to appetizers, I'm completely defenseless against warm, creamy, cheesy dips. When the classic onion, spinach or spinach-artichoke dip is present, it's like staring at the face of addiction.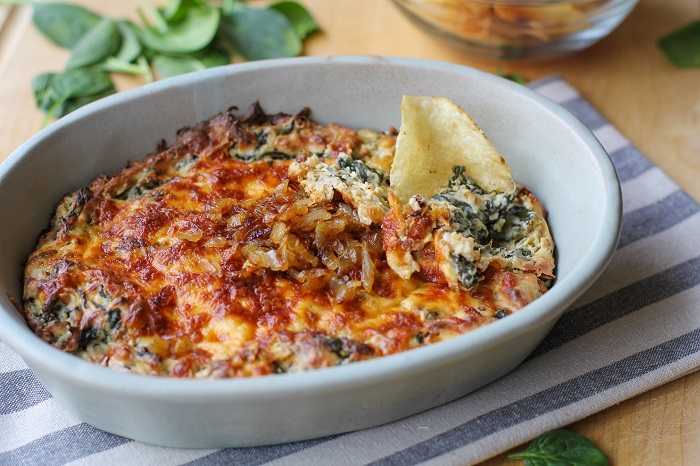 Recently, it dawned on me that I needed a homemade onion dip in my life. And then it hit me – why stop at onion? Why not caramelize it? And while we're at it, why not do a hybrid spinach-onion shebang? Yeah, let's do it!
Preparing the dip is a multi-part process, but nothing too complicated. I start by caramelizing the onions, which is a fairly hands-off step, so I can do it while preparing other things. Once the onions are caramelized, I wilt the spinach and mix the rest of the ingredients in with the veggies. Transfer the mixture to an oven-safe dish, give it a sprinkle of cheese and bake it up. Serve hot and enjoy!
Serving options? I love using sea salt potato chips for dipping into this sort of flavor fest. They're super crunchy and sturdy so you can load them up with as much dip as your mouth can take and not worry about them breaking. There's nothing like a satisfactory dipping experience.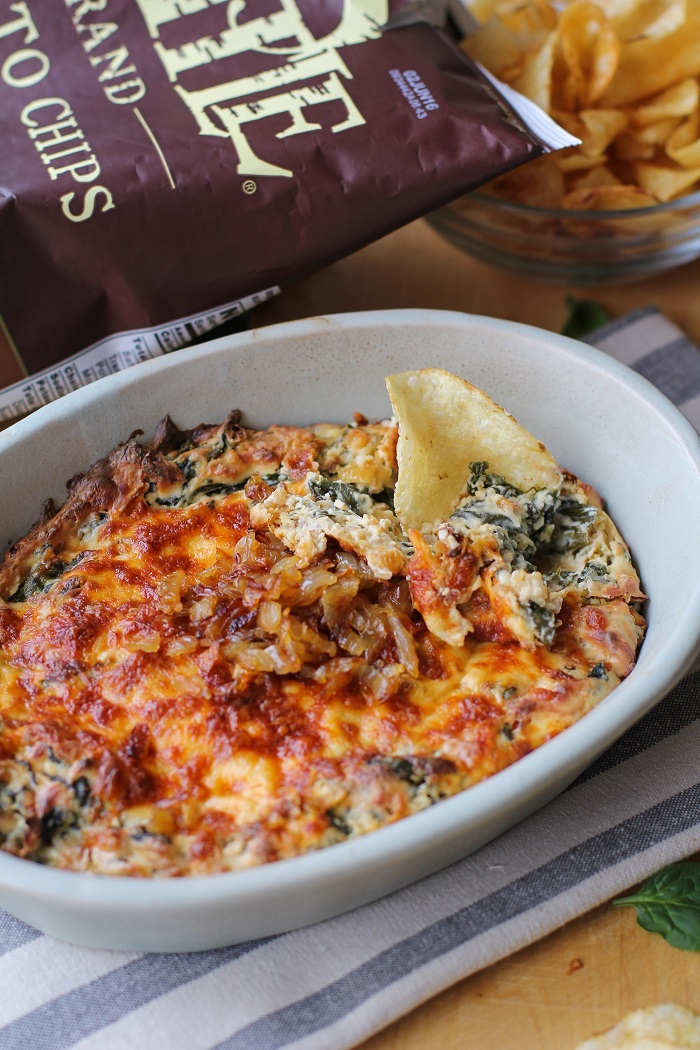 This dip can also be served cold. To serve it cold, simply skip the baking process and refrigerate the dip until chilled.
Dig in!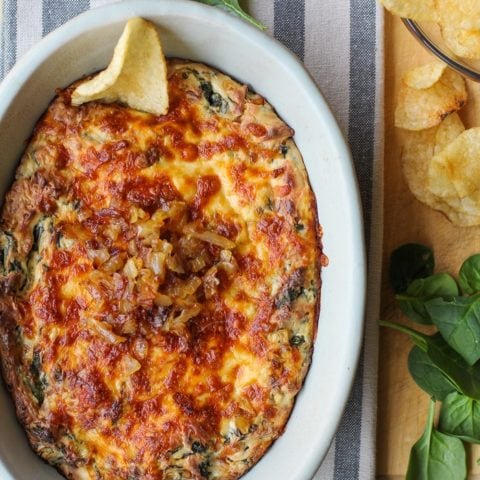 Spinach & Caramelized Onion Dip
Cook Time:
1 hour
30 minutes
Spinach & Caramelized Onion Dip is an incredible crowd-pleaser to all who delight in it. Serve it up with chips, pita bread, crackers, and/or raw veggies.
Ingredients
3 Tbsp . olive oil
2 small yellow onions, finely chopped
5 oz . baby spinach
1 oz package cream cheese, 8 .
1/3 cup half-and-half or milk
2 cloves garlic, minced
1 cup mozzarella cheese
½ cup Parmesan cheese
Instructions
Heat the olive oil in a medium-sized nonstick skillet over medium-high heat. Add the onions and sauté, stirring occasionally, until the onions begin to sweat, about 5 minutes.
Decrease the heat to medium and continue cooking, stirring occasionally, until the onions begin to turn deep brown, about 25 minutes.
Add a couple of tablespoons of water to deglaze the pan and decrease the heat again to medium-low. Continue cooking until onions are deep brown in color and caramelized, about 20 more minutes. Set aside until ready to use.
Preheat the oven to 425° F. Add the spinach to a pot and cover it. Heat over medium, stirring occasionally until wilted, about 3-5 minutes.
Once the spinach is cooked, add the remaining ingredients (except for ½ cup of the mozzarella cheese) to the saucepan. Stir and heat until it's all well-combined, about 5-8 minutes.
Transfer the hot dip to a small oven-safe casserole dish and sprinkle it with the remaining cheese.
Bake for 20-25 minutes in the preheated oven, or until the cheese is golden-brown and the dip is bubbly. Serve with potato chips, and enjoy.
Nutrition Information
Serving Size

1 grams
Amount Per Serving
Unsaturated Fat

0g
This content was created in partnership with Kroger Family Stores using free products provided by Kroger. For more delicious recipes, visit Kroger's Inspired Gathering.