Southwest Black Bean, Corn, and Avocado Salsa with bell pepper. Because everything tastes better with a little southwestern flair.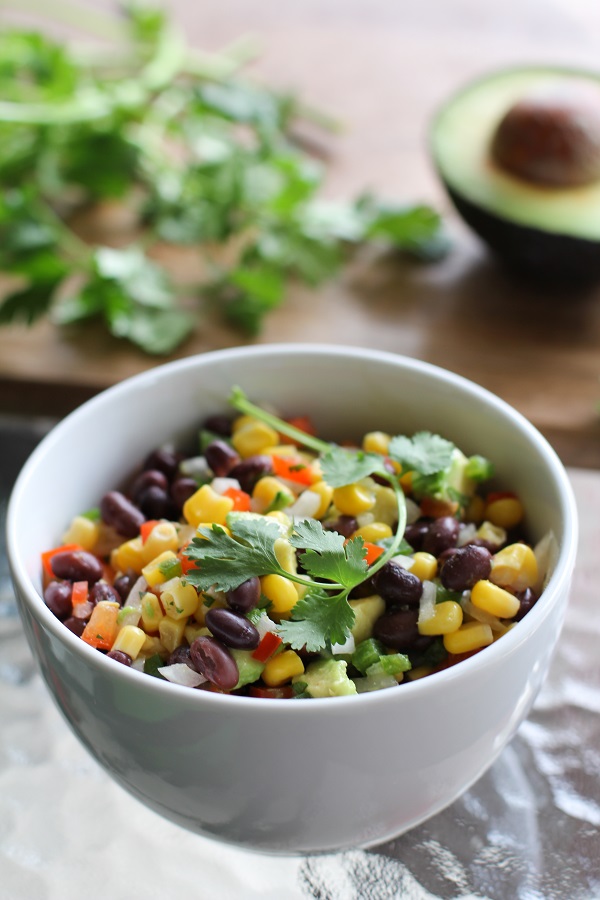 Story of my life: all the ingredients are laid out on the counter for cooking up a complete meal involving some form of protein, lots of vegetation, and a mystical carbohydrate source that by no stretch of the imagination will affect my hips or the comfortability of my jeans after The Feeding, and yet the whole meal compilation process comes to an abrupt halt.

For no reason other than the salsa. Because once made, the salsa becomes the meal. And the meal becomes the salsa. All of a sudden, The Feeding is reduced to a condiment. Why? Due to…
1.) The ease with which salsa goes into your mouth via spoon or chip.
2.) Your violent nature when ravenous. Instead of pistol whipping an innocent bystander, you choose salsa before anyone gets hurt. This is the definition of emotional intelligence.
3.) The fact that hunger-induced tunnel vision happens to pick up corn salsa with the clarity of the Hubble Space Telescope. Meaning all you see is the salsa.
4.) The security of there always being more. Provided you run a comb through your hair, change your shirt, which smells like a well-seasoned cast iron skillet, and go to the store to re-gather all of the ingredients. There will be more, and you needed to get out of the house anyway.
5.) It's real good.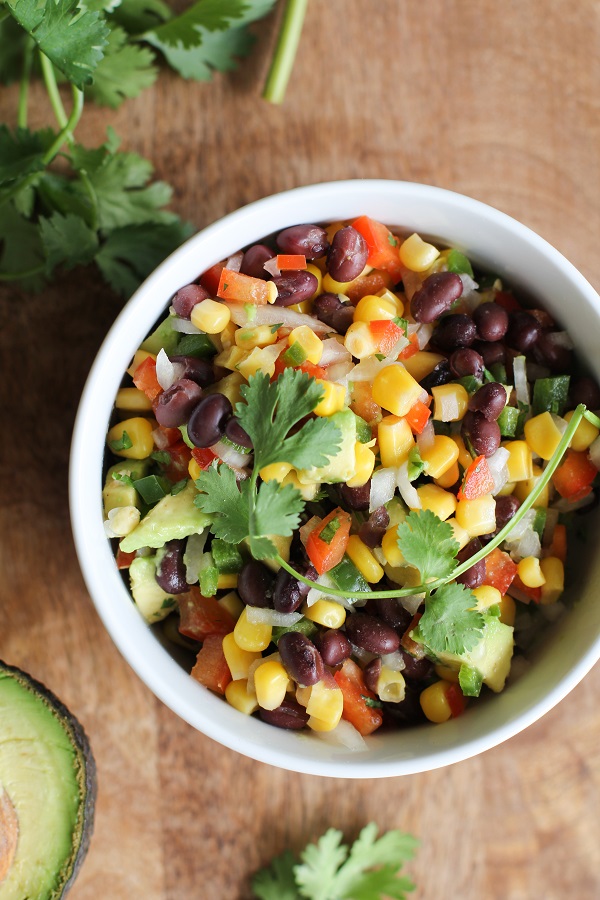 This is what I would like to refer to as, "eating salsa." Meaning you should just eat it. Sure, you can put it on a chip for a festive snack, or stick it in all of your tacos, burritos, scrambled eggs, and salads, but why would you do that when you can…just. eat it? This salsa is your dinner. And that is okay.
Brief aside: I'll be eating my words tomorrow when I show you a recipe involving this salsa. End aside.
What's not to love about a pile of corn, beans, bell pepper, onion, jalapeño, and avocado all snappy and bright in your bowl? All of these ingredients combined with some fresh lime juice and just the slightest bit of cilantro makes for a zesty spunky salsa, but the real clincher is the ground cumin. Cumin sets the salsa apart from all the other salsas. Hmm…what's that flavor I'm picking up? It's the cumin. It makes mountains out of mole hills.
Oh here you go, I made you dinner!
Southwest Black Bean and Corn Salsa
A fresh, delicious summer condiment! This black bean corn salsa can be served on top of or alongside anything!
Ingredients
1

14-ounce can black beans, drained and rinsed

2

ears corn

cooked and kernels removed (or 1 14-oz can corn kernels, drained and rinsed)

½

large red bell pepper

chopped

½

cup

white onion

finely chopped

1

clove

garlic

minced

1

jalapeño

seeded and finely chopped

2

tablespoons

fresh cilantro

finely chopped

¼

teaspoon

kosher salt

to taste

½

teaspoon

ground cumin

2

limes

juiced

1

ripe but firm avocado

peeled and diced
Instructions
In a mixing bowl, combine the first eight ingredients.

Toss everything together with the lime juice. Carefully fold in the diced avocado.

Keep salsa refrigerated until ready to use.
Nutrition