Southwest Steak Salad with Creamy Avocado Dressing is a Tex-Mex inspired dinner recipe that is fresh, filling, and delicious! An amazing healthy entre salad recipe.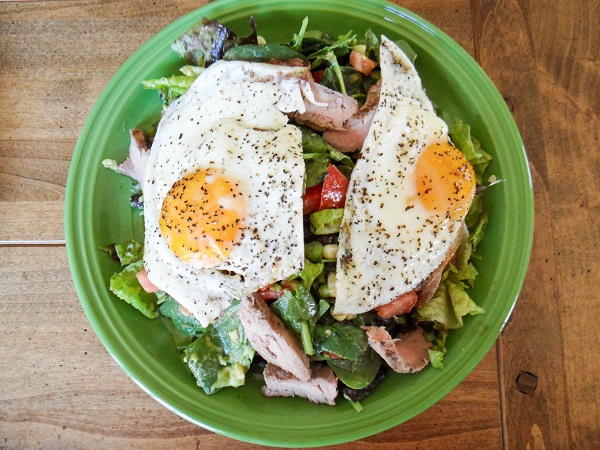 The creamy avocado dressing….you'll want this. It's like your salad took a nice relaxing swim through a bowl of guacamole. Except the salad stays light and you don't think to yourself, "I'm eating guacamole"…you think to yourself, "I'm consuming pure awesomeness. "
The dressing may seem thick to you when you make it. Don't worry about this. All it takes is a little extra tossing (insert poor-taste joke here) and the dressing ties everything together like Jeff Bridges's rug on The Big Lebowski.
Chances are you have some lovely leftovers from the 4th of July. Chances are you have leftover steak from the 4th of July.
G's family barbecued up steak for the holiday and sent the boys home with a ton of leftovers. The steak has wonderful smoky barbecue flavor, which is perfect for spicing up a hearty salad. Cold steak sandwiches and salads are my favorite use for leftover beef and this southwest-style salad will no doubt be repeated until the remaining steak is consumed, it's just that good.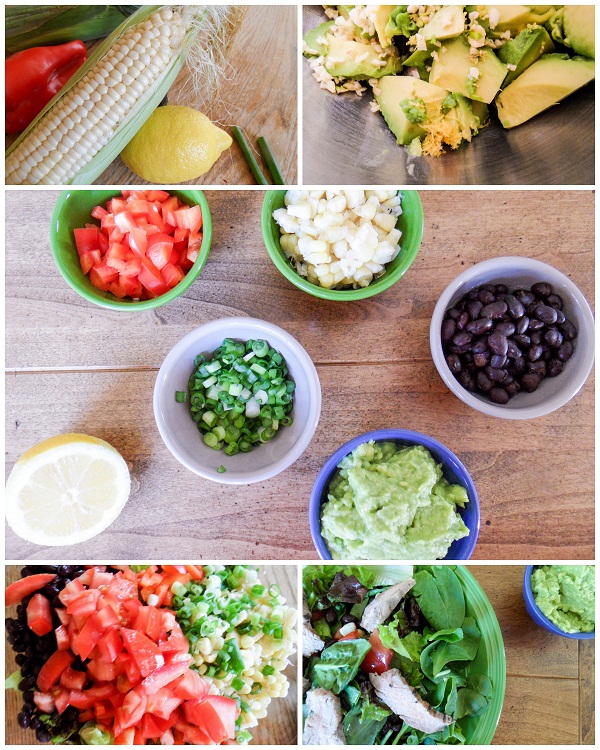 G had the brilliant idea of adding sunny-side up eggs on top of the salad for added flavor and creaminess. If you aren't a runny egg kind of person, it is easy to approach this salad with haste but I assure you, the egg is fabulous. Letting the yolk mix in with the creamy avocado dressing is pure heaven!
Ingredients:
For the Creamy Avocado Dressing
1 ripe avocado
2 cloves garlic, minced
1 tablespoon fresh lemon juice
Zest of 1 lemon
1 teaspoon apple cider vinegar
1 tablespoon plain yogurt
¼ teaspoon salt (or to taste)
For the salad
5 handfuls baby spinach
6 leaves red lettuce, washed and chopped
¼ red bell pepper, chopped
½ tomato, chopped
2 stalks green onion, finely chopped
1 ear corn, shucked, boiled and kernels removed and cooled
1 cup black beans, cooked and cooled
BBQ Steak, sliced
3 eggs, sunny-side up
Cracked black pepper
Optional toppings: shredded cheese, your favorite salsa, sour cream, tortilla chips
To Make:
Prepare the creamy avocado dressing. In a mixing bowl, combine all ingredients. Using a fork, mash the avocado and stir everything until smooth.
Heat the beans on medium in a saucepan until bubbling and hot. Remove from heat, pour into a bowl and place in the refrigerator to cool. Bring a large pot of water to a boil. Place whole corn in the boiling water and allow it to continue to boil. Cook about 10 minutes. Using tongs, remove corn from the hot water, allow to cool then carefully cut the kernels off the cob with a knife. Refrigerate kernels until ready to compile salad.
In a large salad bowl, combine all the ingredients for the salad except for the sunny side up egg. Using salad prongs or wooden spoons, add the creamy avocado dressing a third at a time, tossing between thirds. Make sure all ingredients have a coating of the thick dressing. Heat a skillet to medium, add butter or oil and gently crack three eggs into skillet. Cook until yolk is bright yellow, whites have set up but yolk is still runny and creamy, about 7 to 8 minutes. Gently slide egg onto tossed salad. I like to poke the yolk and mix the yolk in with the salad for added flavor and creaminess.