Southwest Grilled Tequila-Marinated Chicken wraps are perfect for your summertime backyard barbecues.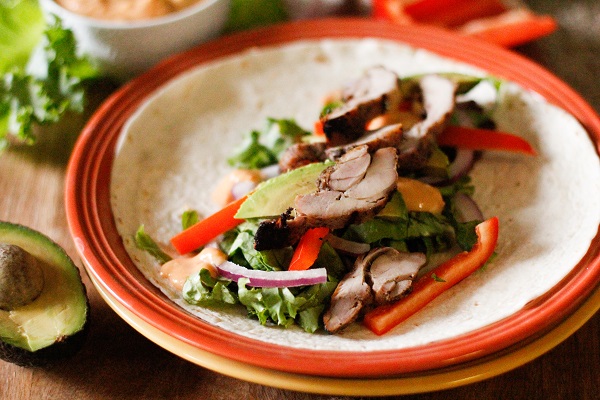 This post is sponsored by Pacific Foods.
If I were to summarize my idea of the quintessential summer barbecue with friends, it would look a lot like this…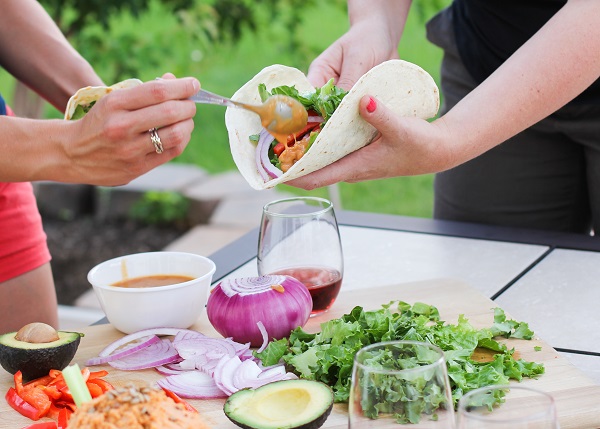 Okay, it would look exactly like this. Yeah, it would be this.
Warm weather, great company, and grilling in the backyard is my idea of the perfect get-together. And of course, there's bonus points for delicious easy eats. Extra bonus points: bundling said delicious easy eats in an over-sized tortilla and washing it all down with a crisp glass of vino.
I brought my Pacific Foods's Refried Black Beans, Salsa con Queso, and Roasted Red Pepper Hummus to enjoy at a barbecue with friends. We grilled up some tequila-marinated chicken and made southwestern-style wraps using refried black beans, and salsa con queso, lettuce, bell pepper, and avocado. Just.Yum!! While we were grilling, we enjoyed the roasted red pepper hummus. The hummus would have also been great in the wraps!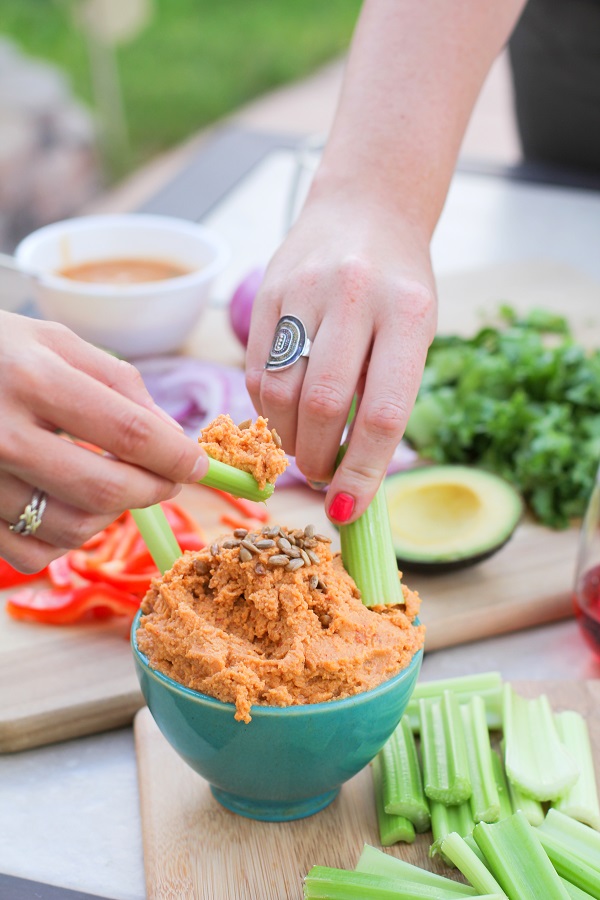 Have you ever marinated chicken with tequila? I highly recommend it. I combined olive oil, tequila, and liquid aminos (which you can substitute for low-sodium soy sauce), and marinated two pounds of chicken overnight. The depth of flavor in the chicken was amazing, and the smoky char from the grilling added flair as well.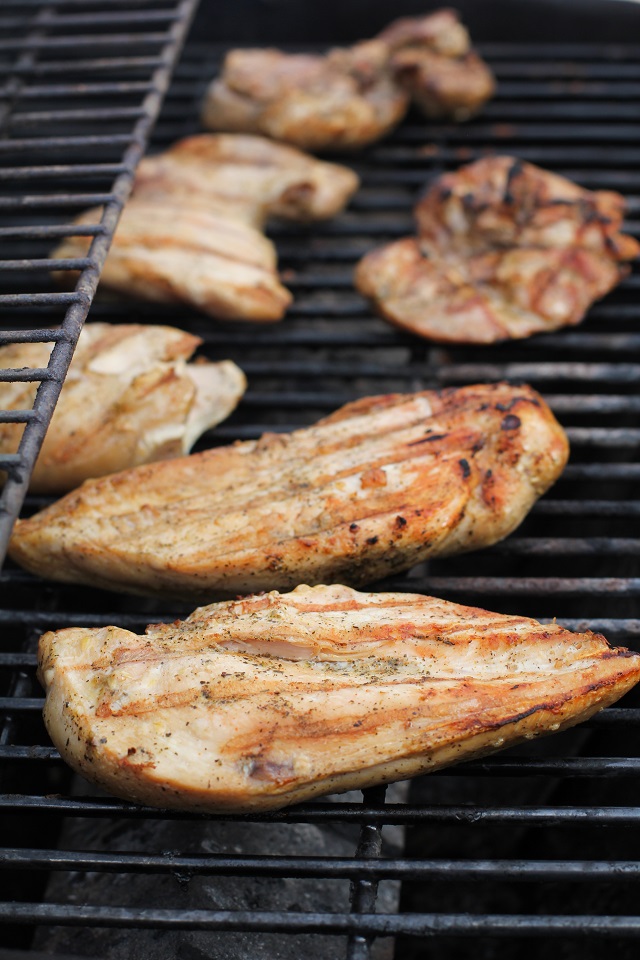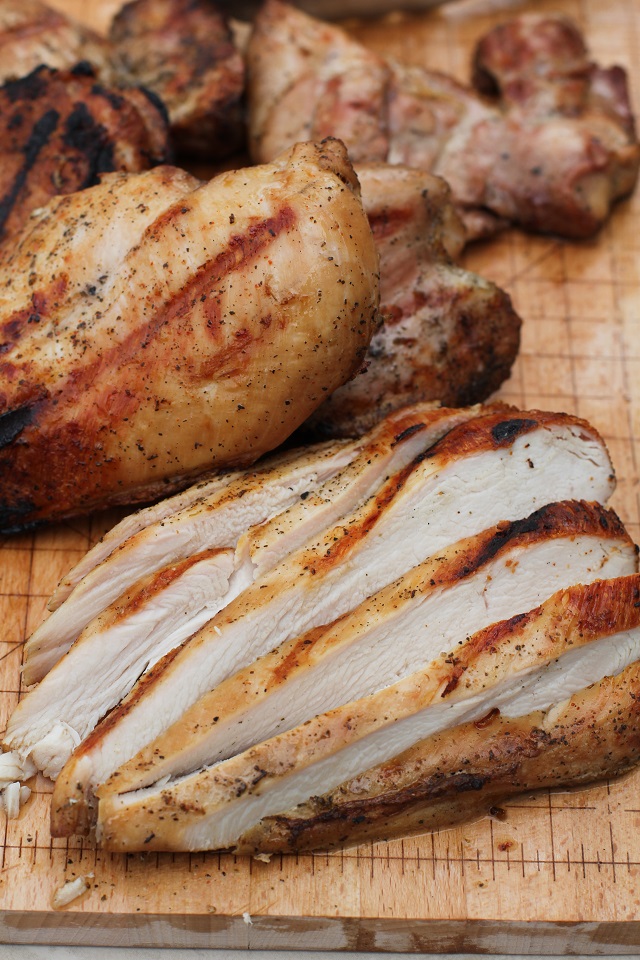 Between the boozy chicken, refried black beans, salsa con queso, avocado, red bell pepper, and onion, these wraps were the ultimate southwest fiesta in your mouth. The refried beans and salsa made the meal satisfying and so simple to prepare. All we did was heat the two up on the stove while the chicken was grilling and then everyone made their own wraps. The whole thing took very little time to make, which made for a relaxing summer's eve.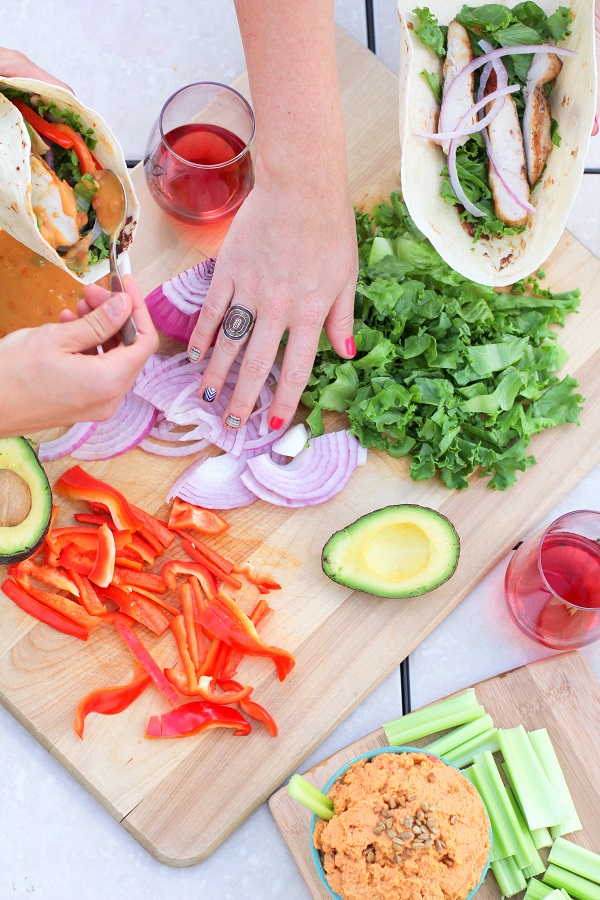 Just look at these things…ugh, they're so fresco!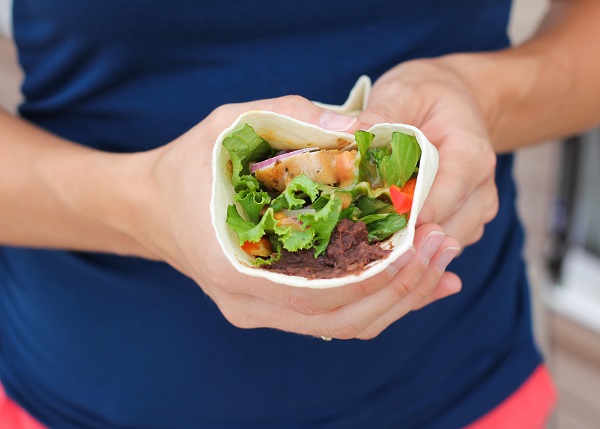 Whether you're having a relaxing meal after work or hosting a barbecue with friends, you can sink your teeth into these fresh southwest-style wraps.
Southwest Grilled Tequila Chicken Wraps
Tequila marinated chicken makes for an insanely delicious grilled treat! Turn it into wraps for a delicious meal!
Ingredients
¼

cup

olive oil

¼

cup

liquid aminos*

¼

cup

tequila

1-1/2

teaspoons

dried basil leaves

1/2

teaspoon

dried oregano

¼

teaspoon

ground cayenne pepper

1/8

teaspoon

salt

2

pounds

boneless skinless chicken breasts and/or chicken thighs
For Serving
Refried Black Beans with Green Chiles

Salsa con Queso

Green Lettuce

chopped

Red bell pepper

cut into match sticks

Red onion

thinly sliced

Avocado

sliced

Large tortillas**
Instructions
Prepare the Chicken:
In a small blender, add the first 7 ingredients and blend until completely smooth and well-incorporated.

Place the raw chicken in a large ziplock bag and pour the marinade into it. Seal the ziplock and place in the refrigerator overnight, or for at least 2 hours.

Heat the grill to medium-high. Place the chicken breasts on the grill and cook until edges are firm, about 3 to 5 minutes.

Flip to the other side and cook an additional 3 to 5 minutes, or until the chicken is firm when poked and is cooked through (Internal temperature should be about 165 degrees F).

Once cooked, place the chicken pieces on a cutting board and cut into strips.
Make the Wraps:
Heat the refried black beans and salsa con queso in separate pots on the stove until they're both hot.

Heat the tortillas in the microwave or oven.

Load up your tortillas with desired amount of refried black beans, lettuce, red bell pepper, red onion, avocado, grilled chicken, and salsa con queso. Wrap like a burrito and enjoy!
Notes
*You can replace liquid aminos with low-sodium soy sauce. If you choose to do so, don't add any salt to the marinade, as the soy sauce will be saltier than the liquid aminos
**You can use regular flour tortillas or gluten-free tortillas of choice.
Nutrition