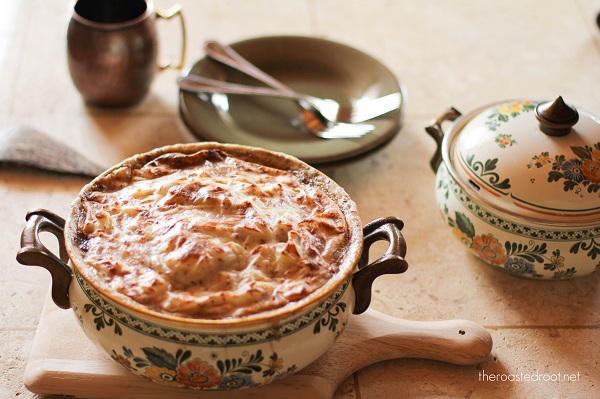 Any holiday that celebrates beer is my kind of holiday! Saint Patrick's Day is coming up, so if you're anything like me, planning stout-infused comfort food is a source of excitement. Meat, veggies and potatoes, the color green, rabble rousing, feasting and beer beer beer! Yes, St. Paddy's Day is my every day kind of day.
The only thing better than one Shepherd's Pie is twwwwwwwwo Shepherd's Pies! Sooooo…I have a special treat for you! Shepherd's Pie TWO (dos deux zwei) ways! Shepherd's Pie has been a favorite of mine ever since I could mash a tater. I made a Vegetarian Shepherd's Pie Recipe for Food Fanatic and then two days later, I made a Turkey Shepherd's Pie. Both delicious. Both satisfying. Both stout-infused. MMM!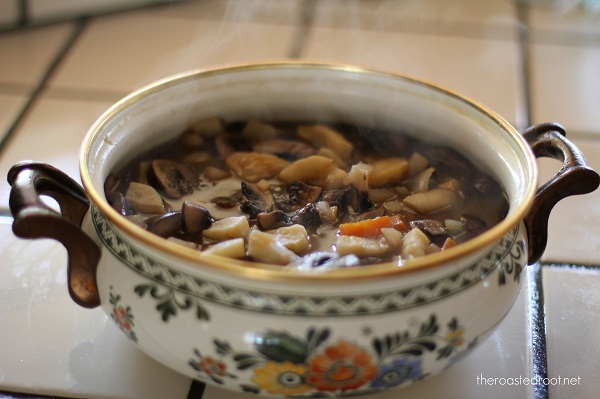 The Vegetarian Shepherd's Pie is made with root veggies and mushrooms for a hearty, filling meal. I adapted the recipe from Feasting at Home's Vegan Shepherdless Pie, which calls for sun chokes. Unfortunately, there was not a sun choke in town, so I replaced them with turnips.
In order to yin the yang, I made a meat-filled Shepherd's Pie for my lovekin and his family two days later and the whole thing (save for a small corner of the casserole dish) was devoured, snippety snap. In short: delicious.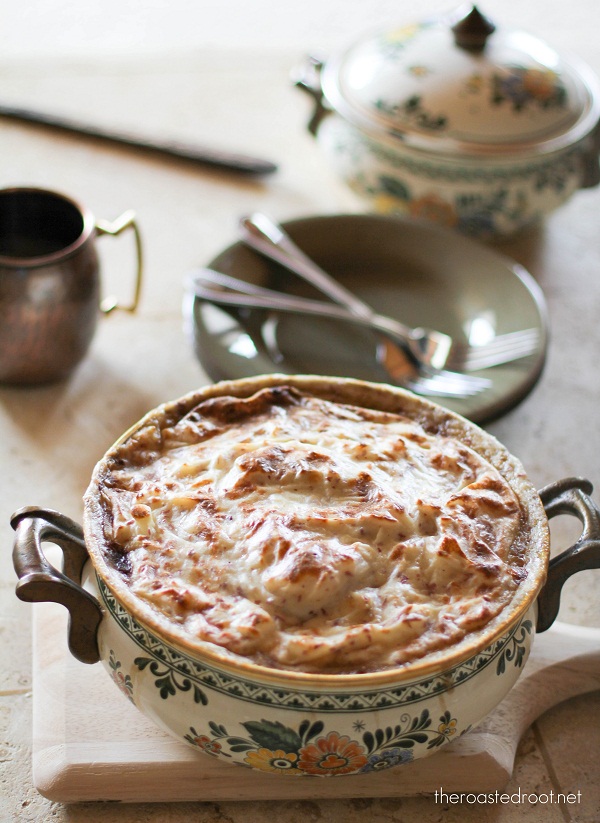 No Saint Patrick's Day would be complete without Irish Soda Bread. Try my recipe for Gluten-Free Cheese & Herb Irish Soda Bread! So easy, so yeast-free, so crusty, everything a great bread should be.
Hop over to Food Fanatic for my Vegetarian Shepherd's Pie Recipe.
Annnnd for the Turkey version, see my recipe below!
Turkey Shepherd's Pie
Rich, flavorful Shepherd's Pie made with ground turkey is a healthy yet flavorful spin on the classic.
Ingredients
2

tablespoons

olive oil

1

large yellow onion

chopped

2

carrots

peeled and chooped

6

cloves

garlic

minced

2

celery stocks

chopped

2

cups

green beans

or peas

6

leaves

rainbow chard

chopped (about 4 cups, packed)

1

pound

ground turkey

or lamb

1

cup

Guinness

2

tablespoons

balsamic vinegar

4

tablespoons

butter

3

tablespoons

brown rice flour

or regular flour

3

cups

low-sodium chicken broth

6

red potatoes

1

tablespoon

olive oil

1

cup

parmesan cheese

grated

½

cup

aged white cheddar cheese

grated

Salt to taste
Instructions
Chop the red potatoes in half, leaving the peel on (peel-in mashed taters are wunderbar!).

Bring a full pot of water to a boil and add the 6 red potatoes. Allow potatoes to cook until they're tender yet still firm when poked with a fork, about 10 to 15 minutes.

Strain the water off the potatoes and allow potatoes to cool slightly.

Place the potatoes in a large bowl and mash them with a potato masher. I like leaving the potatoes chunky for shepherd's pie, but if you prefer smooth potatoes, you can also do this process in a blender. Add the olive oil and cheese and mash to incorporate. Salt the potatoes to taste. If the potatoes are too dry, add some milk to reach your desired consistency.

Set potatoes aside.

In a large pot, sauté the onion in 2 tablespoons of olive oil over medium heat until it begins to turn translucent, about 5 minutes.

Add the carrots and sauté until onion begins turning brown, about 8 minutes.

Add the garlic and continue to sauté about 2 minutes before adding the celery and green beans.

Cook about 3 to 5 minutes before adding the ground turkey. Push veggies to the sides of the pot and add the ground turkey. Allow the turkey to brown but avoid cooking it all the way through just yet. (You can also brown the turkey in a separate skillet if there is not enough room in the pot to adequately brown the meat).

Add the Guinness and balsamic vinegar and allow the mixture to come to a gentle boil.

Make a roux in a small separate saucepan. Heat the butter over medium until it's melted. Add the brown rice flour and whisk it into the butter until completely smooth. begin adding the chicken broth a little at a time (about 1/8 cup), allowing the mixture to thicken and bubble between adds. Continue adding the chicken broth and keep the mixture at a gentle boil, whisking constantly until all the broth is all incorporated. The mixture should be thick and creamy.

Add the roux in with the meat/vegetables. Stir to incorporate and allow the mixture to return to a gentle boil.

Add in the kale leaves and cook until the vegetables are all soft (but not mushy!) and the turkey meat is cooked all the way through. This took me about another 10 minutes, but depending on the size of your veggies, this could take longer!

Preheat the oven to 375 degrees

Pour the stew into a casserole dish.

Spread the mashed potatoes over the stew evenly.

Bake in the oven until the stew begins to bubble and the potatoes crisp up on the tops, about 30 to 40 minutes.

Remove from the oven and serve in bowls with a hearty slice of Irish Soda Bread!
Nutrition