Sex food, guys!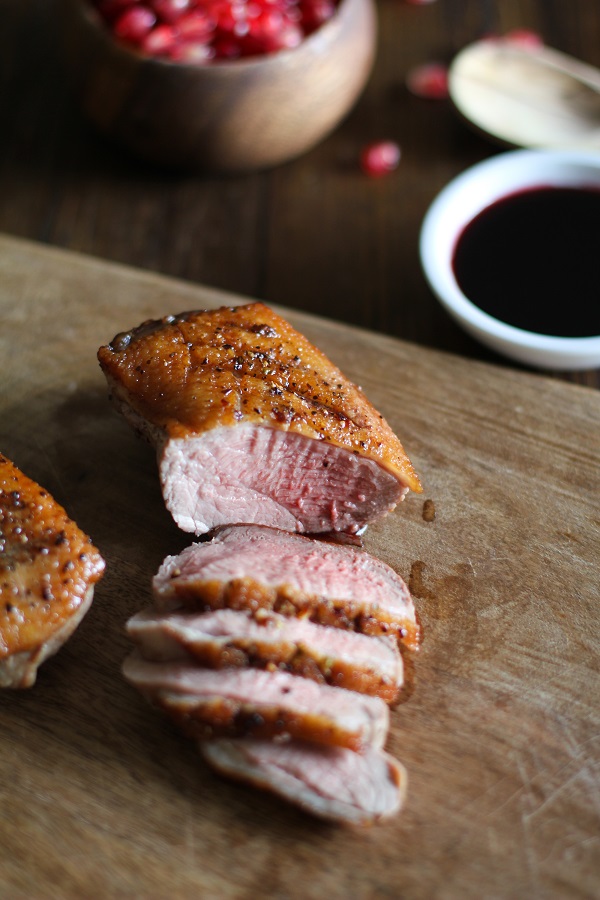 That's probably the least sexy way I could have begun this post. It's like going to the Grand Canyon, and being like, "Look at that canyon! Oh mylanta, do you SEE those rocks?! Now that's a canyon. Bravo, well played, GC, well I'll be."
Buuut cereal…this is real sexy food. And mark my words, there is totally a difference between sexy food and un-sexy food.
For the sake of argument:
Tuna noodle casserole? Un-sexy (delicious, but just about as sexy as cinder block). Lamb shanks? Sexy. Chocolate beet cake? Sexy. Oatmeal cookies? Un-sexy (addicting across all solar systems, but the sex appeal of argyle socks). Jager bombs? Un-sexy (and disgusting). Hot toddies? Sexy. Burritos, fancy macaroni and cheese, kale salad, Ethiopian food, fried calamari? Strangely and surprisingly sexy. You agree, non? Oui? Oui oui? Voulez-vous boire une bouteille de vin avec votre whisky? Moi aussi.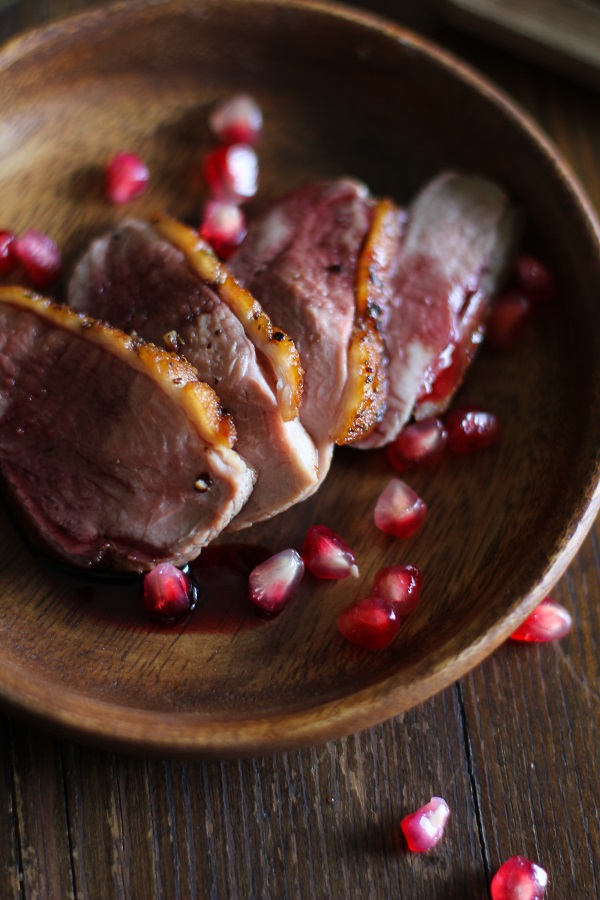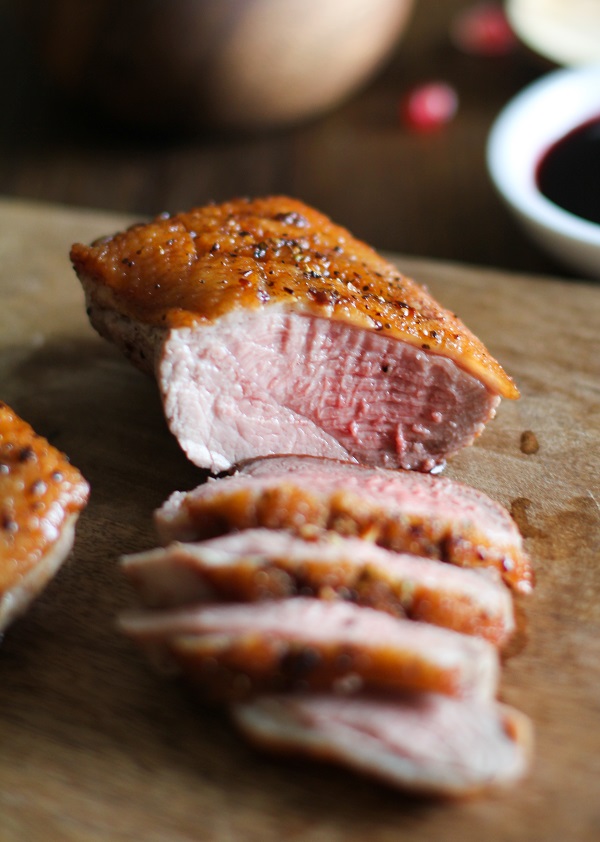 Have you ever made duck before? Duck is one of those foods you would think takes a lot of preparation, time, and consternation. But it really doesn't! No consternation at all! It's just as easy as preparing your run-of-the-mill chicken, beef, or fish recipe. Actually, it's easier to prepare than lean meat because it comes with a hefty layer of fat, which means it's pretty impossible to mess up because it comes with a flavor and liquid lube package deal. Like, the hefty layer of fat is liquid lube for the meat while it's cooking, keeping the breast nice and moist for optimal tenderness. Fat. It's reaaaal good.
As I was saying:
Seared duck breast makes for an incredibly sexy meal. And if you're going to get wet, you may as well swim, so you absolutely need to make a pomegranate reduction (or a fruit-based sauce of greater or equal sex value) to go with it. If you like your meat alive and kicking (as in rarer than pictured), simply cook the thang for less time by eliminating the roasting portion of this recipe.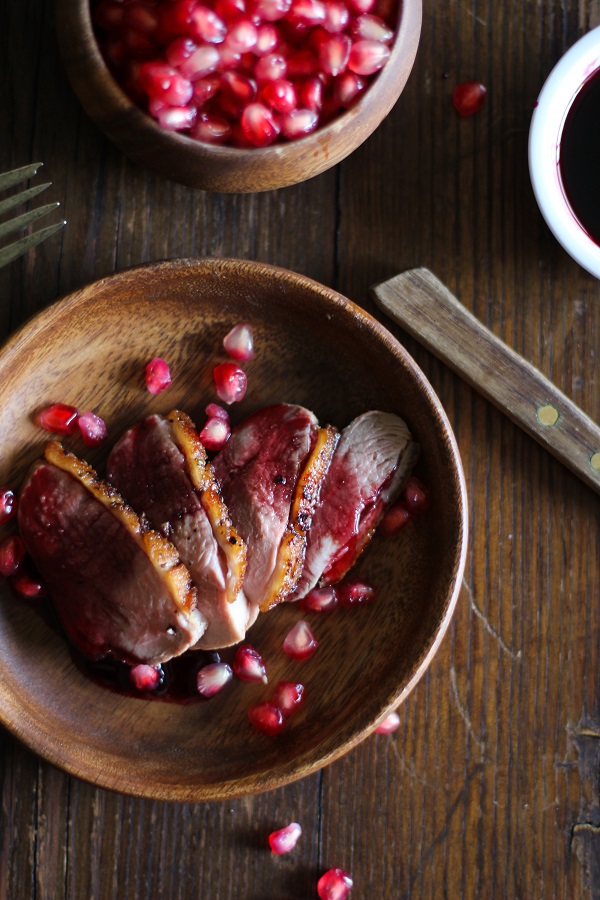 Get on wit yo' bad self!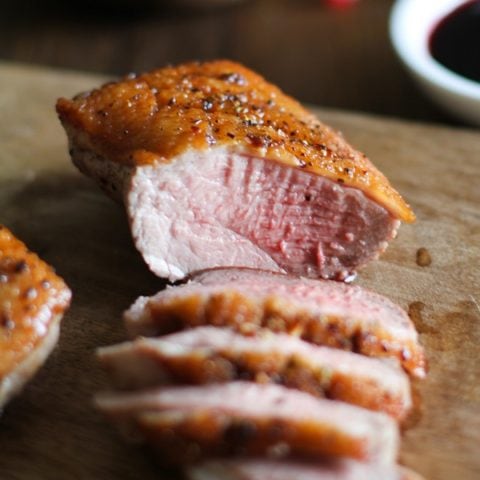 Seared Duck Breast with Pomegranate Reduction
An easy go-to method for cooking duck breast in a cast iron skillet, this simple recipe results in delicious crispy skin and tender meat.
Ingredients
2 duck breasts
Salt and pepper
2 tablespoons grapeseed oil, or high temp cooking oil of choice
For the pomegranate reduction:
1 8- ounce bottle pure pomegranate juice
1 tablespoon pure maple syrup
Pinch cinnamon
1/8 teaspoon kosher salt
Instructions
Prepare the pomegranate reduction:
Add all ingredients for the pomegranate reduction sauce to a small skillet and bring to a full boil.
Allow mixture to boil, stirring occasionally, until the mixture has thickened and reduced to a third of its starting volume, about 30 to 40 minutes.
Pour pomegranate reduction into a small bowl or pitcher and set aside until ready to use.
Sear the Duck Breasts:
Preheat the oven to 350 degrees F.
Using a sharp knife, score the skin of the duck breasts with several lines going cross-wise at a 45-degree angle, creating deep diamonds in the skin. Note: Be careful not to cut too deep, as you don't want to cut into the flesh of the meat.
Sprinkle both sides of the meat with salt and pepper.
Heat a cast iron skillet to medium-high and add just enough oil to coat the surface of the pan (about 2 tablespoons).
Once the skillet is completely hot, carefully place the duck breasts on the hot skillet skin-side down.
Cook duck breasts for 5 minutes, or until the skin has browned and turned crispy. Carefully flip to the other side and cook an additional 2 to 3 minutes.
Immediately remove the skillet from the heat, cover with aluminum foil, and place on the center wrack in the oven. Note: The skillet will be very hot, so be sure you use an oven mitt when handling it.
Bake for 5 minutes, then remove from the oven and immediately remove the aluminum foil.
Use tongs to place duck breasts on a cutting board.
Using a sharp knife, cut thin strips of duck diagonally. The duck should be medium-rare to medium*
Drizzle desired amount of pomegranate reduction sauce on the sliced duck breasts and serve with your favorite side dishes.
Notes
*For a rarer piece of meat, skip the oven process and serve immediately after searing the duck.
Nutrition Information
Serving Size

1 grams
Amount Per Serving
Unsaturated Fat

0g