Seafood paella with chicken, sausage, shrimp, and mussels – the perfect impressive dish to make when serving a lot of guests.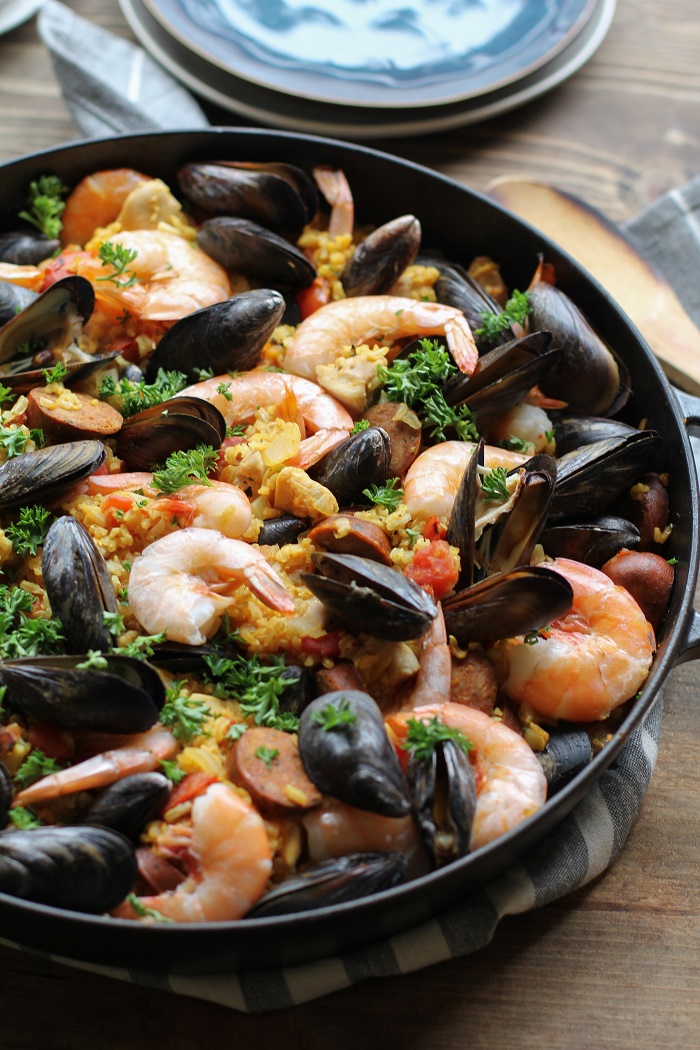 When it comes to party planning and entertaining guests, my skills are lacking to say the least.
Don't get me wrong, I love having people over and feeding their faces, but I'm the worst when it comes to giving notice ahead of time.
My friends are more likely to receive a text from me saying, "OY! Last minute, but do you want to come over in 5 minutes and help me eat this smogasbord of food I made today?" than one reading, "On 20 July, 2016, I humbly invite you to take part in an evening of wining, dining, and Cards Against Humanity with great company and all the food you can fit inside your existence."
Planning is not my strong suit, people. But stuffing my friends and family on a whim? That I can do.
Which brings me to the focal point of this post: seafood paella.
Face stuffer extraordinaire.
A few years ago, I posted an Easy One-Pot Seafood Paella recipe.
I thought I'd revisit the topic, because have you had paella? It's bangarang. I only make paella once or twice a year, if that, because it does require a time and financial investment plus an occasion to feast.
This classic Spanish dish typically includes a variety of animal proteins: chicken, sausage, shrimp, mussels, and/or clams.
While paella is an awesome dish to serve as an appetizer/tapas to many, I tend to serve it as an entrée for a few…and by, "a few," I mean 6 easily because holy crap, this recipe makes a ton of food.
Not only does this recipe yield a hefty volume, but it's also packed with flavor, and is super filling.
How to Make Seafood Paella:
The order of operations here is to sauté the onion, brown the chicken thighs, add the rice, cooked sausage, broth, and seasoning and allow the rice to cook.
After most of the water is absorbed, we arrange the seafood all pretty-like and continue cooking until the dish is ready to serve.
True story, this dish requires more time to prepare than I usually input into my meals, but it's definitely worth it – especially if you're looking for street cred among your friends and family.
To speed up the cook time, you can use 4 to 5 cups of cooked rice, and add about 1 to 2 cups of liquid, rather than going through the full water absorption process.
I find rice takes much longer to cook when there are other ingredients (in this case, chicken, sausage, and onion) mixed in, versus cooking it on its own; however, you'll end up with a more cohesive and flavorful dish if you do prepare it the traditional way using uncooked rice.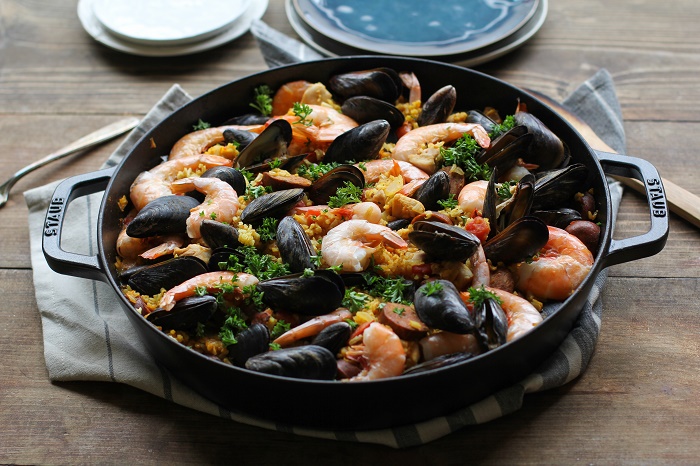 I like using already cooked chicken chorizo, which decreases the cook time slightly and lightens up the dish a bit, but you can definitely incorporate your favorite chorizo of choice.
Often clams are included in seafood paella, but the grocery store was fresh out when I went to purchase ingredients, so I skipped them.
I found the mussels and shrimp made for enough seafood, but you can add an additional pound of clams, and/or substitute any combination of seafood you'd like.
Seafood Paella
An easy recipe for seafood paella that results in the freshest most delicious paella ever! The best paella recipe for serving guests for special occasions!
Ingredients
3

Tbs

avocado oil or olive oil

1

yellow onion

chopped

4

chicken thighs

chopped

3

cloves

garlic

minced

1 1/2

cups

arborio rice*

1

28-ounce can diced tomatoes

½

teaspoon

ground turmeric

Pinch

saffron threads

optional

4

cups

low-sodium chicken broth

1/2

teaspoon

sea salt

to taste

1

bay leaf

1

pound

raw shrimp

peeled and de-veined

1

pound

chorizo links

sliced

1

pound

mussels

scrubbed
Instructions
Heat the oil in a large paella pan (or wok or skillet) to medium-high. Add the onion and sauté, stirring occasionally, until the onion is translucent, about 5 to 8 minutes. (Note: you can also use a large wok, Dutch oven, or skillet if you don't have a paella pan).

Add the chopped chicken thighs to the skillet with the onion, along with the minced garlic. Cook, stirring every couple of minutes until the chicken is browned, but not cooked through.

Add the rice, diced tomatoes, turmeric, and saffron, and stir to combine, cooking about 2 minutes.

Add the chicken broth, sea salt, and bay leaf, and bring to a full boil. Reduce the heat, cover, and simmer until much of the liquid has been absorbed, about 30 to 40 minutes.

Remove the cover from the pan and arrange the raw shrimp and mussels in the paella mixture. Replace the cover and cook until shrimp has turned plump and pink and mussels have opened, about 15 to 20 minutes.

Give the paella a big stir and taste for flavor. If necessary, continue cooking the paella if the rice isn't fully cooked. Add sea salt and seasonings to taste. Serve with freshly chopped parsley, lemon wedges and hot sauce.
Notes
*You can also use any rice of choice, but arborio rice yields the creamiest texture
Nutrition
Serving:
1
of 8
|
Calories:
382
kcal
|
Carbohydrates:
20
g
|
Protein:
32
g
|
Fat:
19
g
|
Saturated Fat:
5
g
|
Polyunsaturated Fat:
1
g
|
Monounsaturated Fat:
3
g
|
Cholesterol:
192
mg
|
Sodium:
1190
mg
|
Potassium:
472
mg
|
Fiber:
2
g
|
Sugar:
5
g
Kitchen tools I used to prepare this recipe: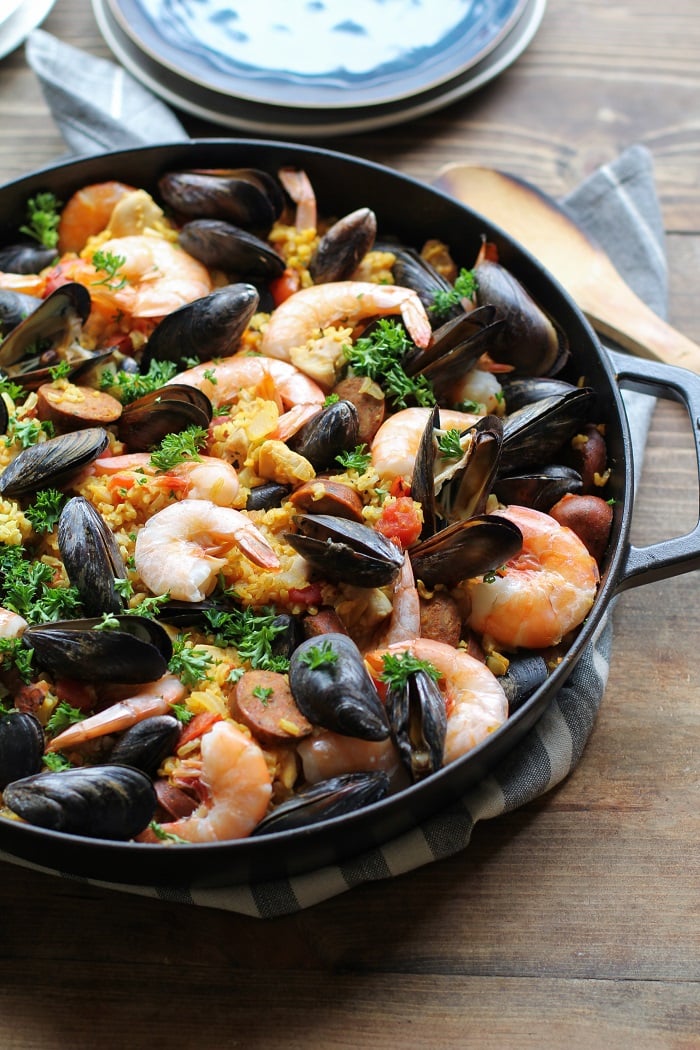 My tutorial on How to Make Seafood Paella, complete with a photo tutorial and recipe is available at eHow.com!