A seafood paella recipe, plus a rioja wine and tapas pairing to create a match made in heaven.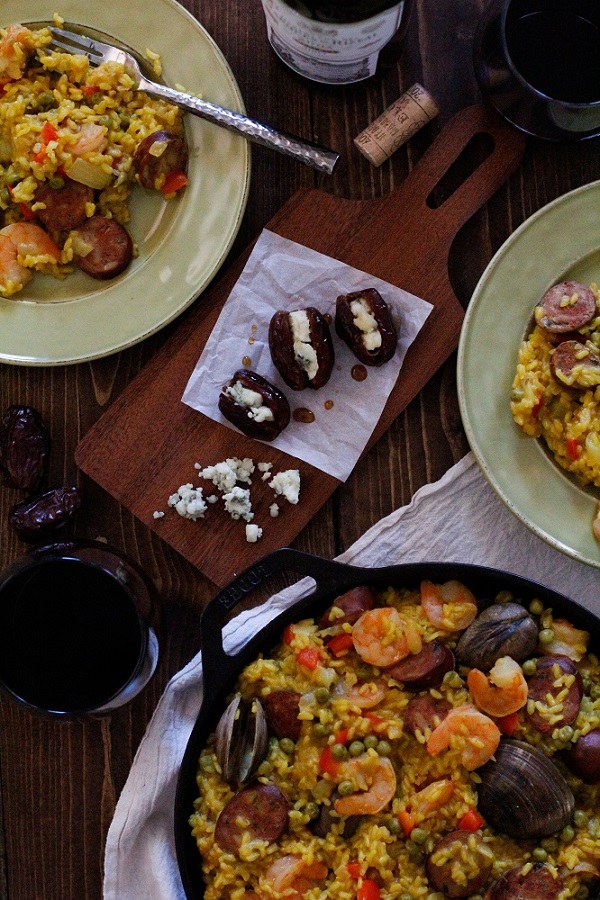 This post is sponsored by Rioja Wine but all opinions are my own.
Over the years, I've been pretty forthcoming about how much I enjoy a good swig of wine. While I'm not going to turn down a glass just because it doesn't pair perfectly with a meal, I certainly do love a well-matched wine and food experience. Honest Cooking and Rioja Wine partnered up for a Match Made in Heaven campaign, and asked if I was interested in telling you folks all about Spanish rioja wine. I didn't think twice before shouting a resounding "yeeeeees!" from the mountain tops.
If you've never heard of or tried rioja wine, you're not alone! Let's take a hot minute to fun-fact this out!
Rioja 101
Originates from the Rioja region in Spain. In order to be a true rioja, the wine must have been produced in this region.
Comes in white, red, and rosé blends.
Red blends are typically 60% Tempranillo, 20% Garnacha, with a small amount of Graciano and Mazuelo.
White blends predominantly include Viura grapes, as well as Malvasia, and Garnacha blanca grapes.
Rosé blends are blushed with red Garnacha grapes.
Most wines are barrel-aged in either French or American oak.
Winemakers age their blends before release so that they are ready to drink as soon as you buy them – you don't need to lay these wines down, although you certainly can!
Rioja blends are food-friendly! They can be paired with a large range of meats, vegetables, cheeses, and fruits.
I was given free-reign to select the type of rioja I wanted to use for this post, so I went with Marqués de Riscal Reserva. This is a red wine, which is barrel-aged in oak for at least one year and then bottle-aged for at least two years before it's released. It has a sweet, yet peppery flavor. My Rioja Pairing Chart informed me this varietal would be excellent with seafood paella, as well as lamb dishes, mushroom risotto, barbecue beef brisket, ratatouille, and moo-shoo pork. In essence, it pairs well with all the delicious foods.
When choosing what food to partner with my wine, seafood paella jumped out at me, since it's a dish I've never made at home. I have also had a hankering for stuffed dates lately. Tapas and wine anyone? Don't mind if I do!
Because I was working with a red wine, I was concerned goat cheese wouldn't stand up to the flavor, so I stuffed the dates with blue cheese, and drizzled them with honey. Can these bundles of joy be wrapped in bacon? mmmmhmmmm! Most definitely! Because my rioja wasn't overwhelmingly bold (I mean, hey, it paired just fine with a seafood dish), I think goat cheese would have worked great for the stuffed dates as well.
And the paella? Ugh, don't get me started. Okay, but do. Just look at it, will ya?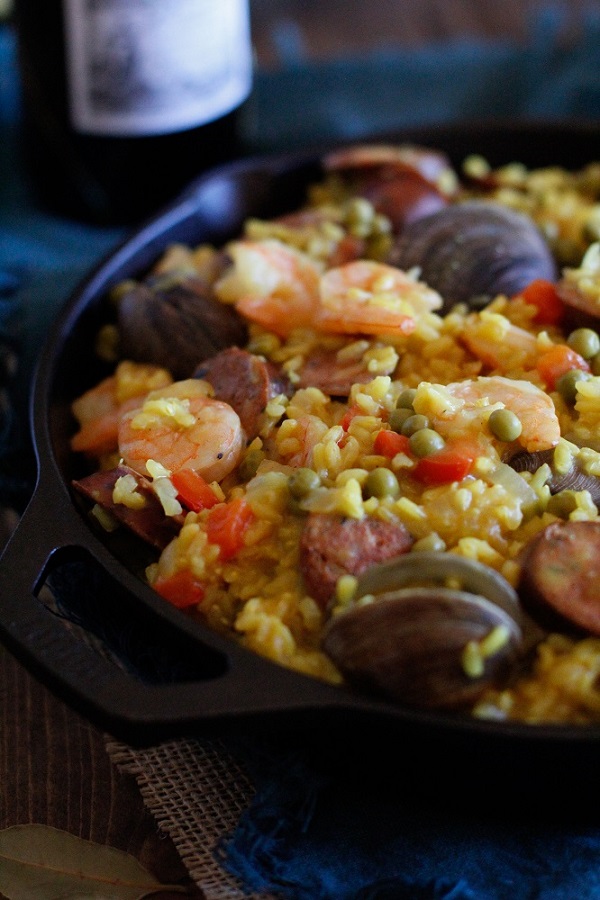 I have procrastinated making paella for four score and eleventy billion years because I assumed it would require a lot of time and and an overwhelming amount of effort to make. False. I found the easiest paella recipe ever from Taste (a blog by Williams-Sonoma) and followed it almost to the T (which neeeeeever happens with me). It was easy, affordable, feeds a ton of people (especially if you're serving tapas-sized portions), and above all: magically delicious. PLUS, the rioja and the paella paired very nicely. Wham bam.
If you're looking to feast on some tapas with your friends, rioja is a great wine to bring into the equation. Whether you select a white, red, or rosé, you can be assured that the wine will be a great accompaniment with all of your tapas.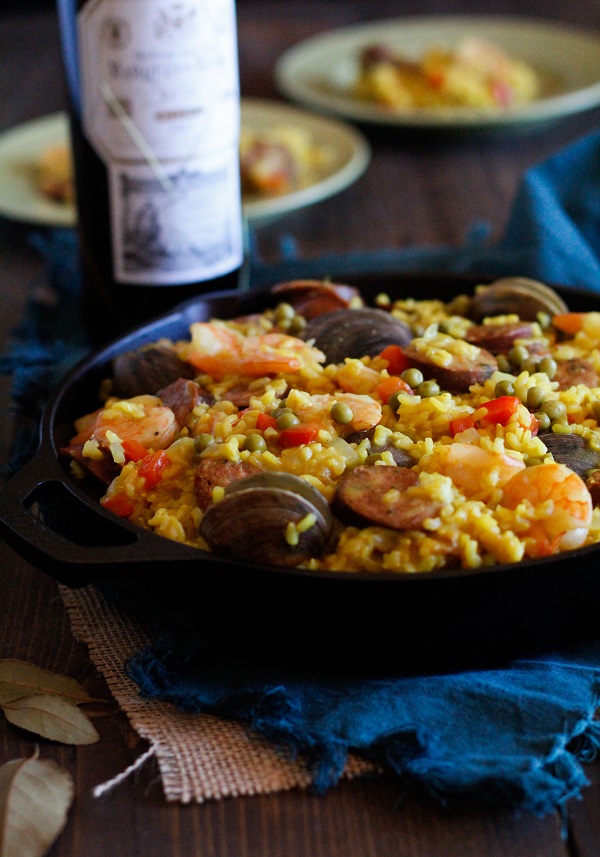 Here's how you make magic happen:
Seafood Paella
A classic Spanish paella recipe that will surely please all who try it!
Ingredients
2

tablespoons

grapeseed or olive oil

1

yellow onion

chopped

1

red bell pepper

chopped

2

cups

brown rice

½

teaspoon

ground turmeric*

4

cups

low-sodium chicken broth

1

teaspoon

kosher salt

or to taste

1

bay leaf

1

cup

canned peas

drained

1

pound

raw shrimp

peeled and deveined

1

pound

chorizo links

sliced**

1

pound

clams

scrubbed
Instructions
In a large pot or paella pan, heat the oil over medium and sauté the onion until very fragrant, about 5 minutes.

Add the chopped red bell pepper, uncooked brown rice, and turmeric and continue sautéing until vegetables have softened, about 3 to 5 minutes.

Add thelow-sodium chicken broth, salt, and bay leaf and bring to a full boil.

Reduce the heat and cover. Allow the rice and veggies to simmer until much of the liquid has been absorbed, about 30 minutes.

Add the peas, shrimp, and chorizo and mix. Place the clams, hinge-side down into the paella and cover the pot. Cook for an additional 8 to 10 minutes, or until chorizo is heated, shrimp is cooked through, and clams have opened.

Discard any clams that refuse to open.

Serve with your favorite wine!
Notes
*You can use ½ teaspoon saffron threads in place of ground turmeric, if desired.
**I used pre-cooked chorizo links. If you use Spanish dry-cured chorizo, it will need to be cooked and you can sauté it with the onion and bell pepper after they have softened up a bit.
Nutrition