Rutabaga Hash with Chiles and Bacon is a marvelous nutritious breakfast.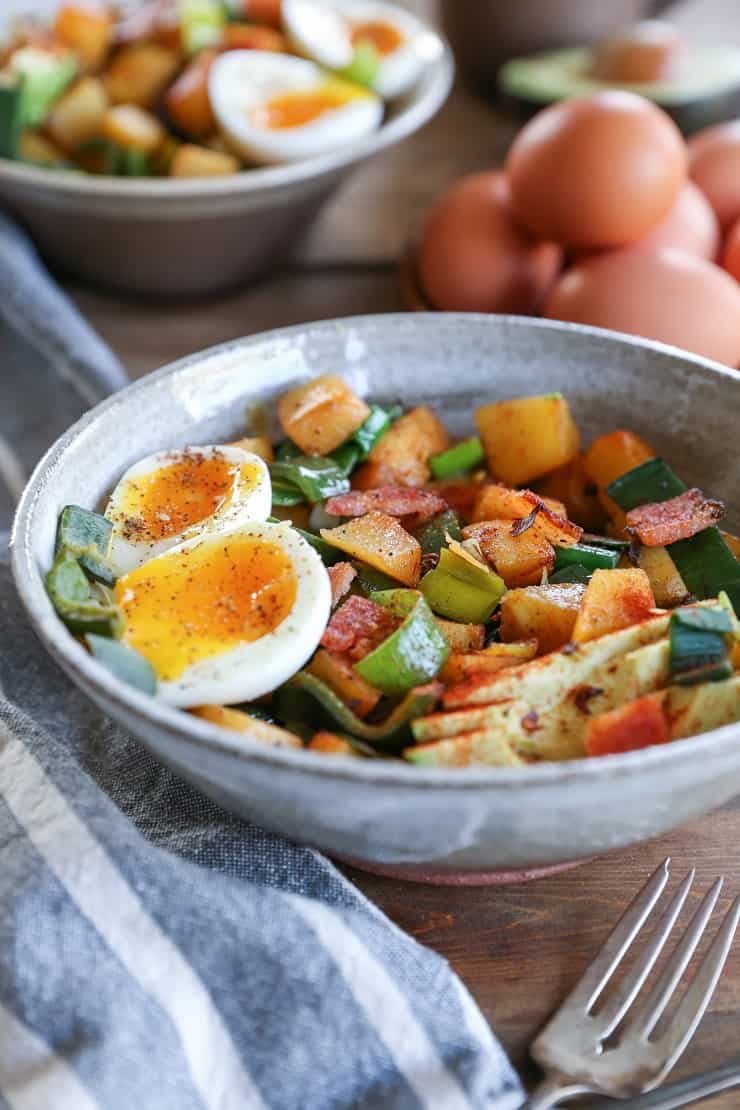 Just kidding. More bacon. BUT, even better: more bacon with roots.
I've shown you a tremendous amount of bacon over the last week. To my vegan and vegetarian friends: you've been incredibly patient with me through my smattering of bacon recipes. I promise there will be no more bacon. Until there's more bacon.
For Root Vegetable Monday, I'm bringing rutabagas into the limelight. I've always used rutabagas in conjunction with a barrage of other vegetables, so I figured it was high time I let them be the star.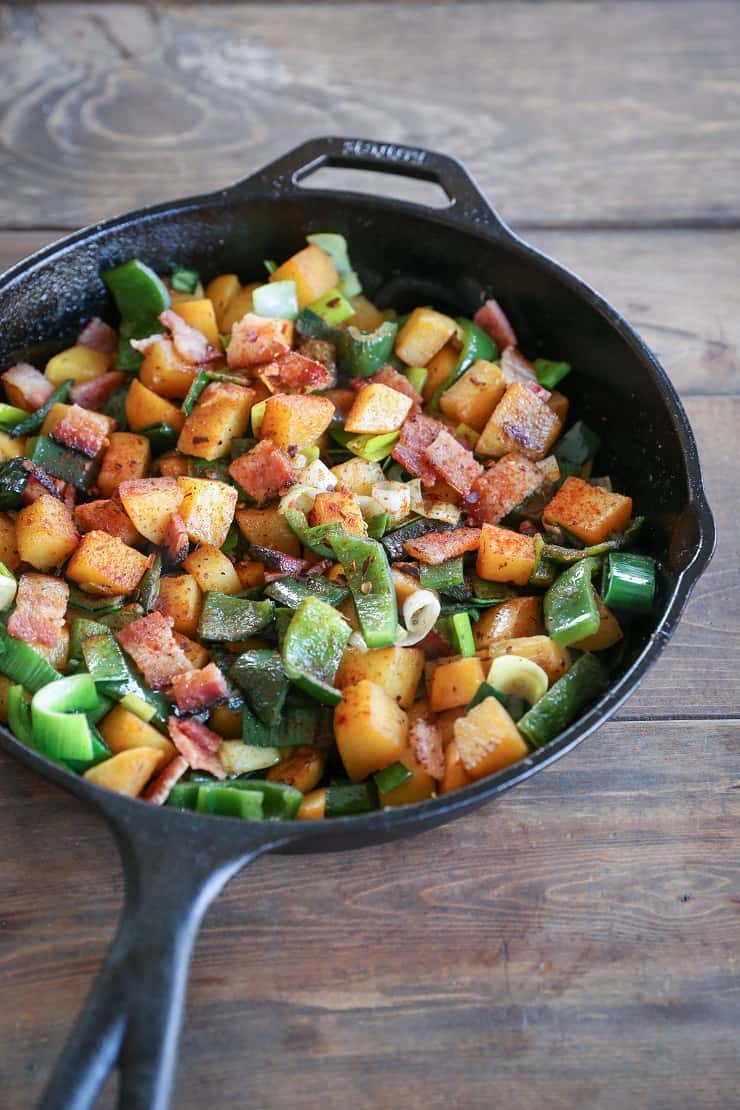 A few months ago, I purchased a cookbook by Diane Morgan, called Roots. I am so in awe of this book. Not only is it a complete guide to every root vegetable, but it has 225 amazing recipes. Plus, the book got the James Beard Award. It's pretty much a manual on how to be good at life. Dear Diane Morgan, you're my root sensei.
After months of ooh-ing and aww-ing over the book, I am finally showing you a recipe from it. I changed up the recipe a bit, but the general idea is the same: rutabaga + chiles +bacon = amazeballs hash.
Let's have a chat about rutabagas.
Rutabaga 101:
What does a rutabaga look like?: Rutabagas look very similar to turnips, but they're larger and have yellow and purple thick skin.
What does a rutabaga taste like?: The flavor of a rutabaga is very mild and somewhat earthy, much like the flavor of turnips. Because they are starchy, rutabagas can be compared to potatoes, although they require more cook time and tend to stay more firm than potatoes. Because their flavor is very subtle, it is easy to cook with rutabagas using any spice or herb blend.
What are the health benefits of rutabagas?: Full of Vitamin C, zinc, potassium, and fiber, which makes them fabulous for your immune system, metabolism and digestive system. They are also full of glucosinolates, which help protect your body against cancer.
How do you prepare rutabagas?: First, peel your rutabaga with a potato peeler. Because rutabagas are dense and hearty, they need to be shredded or julienned if you're using them in their raw form. If you are looking to cook rutabagas, I find slicing roots into thick rounds then cubing them is the way to go. This way, you end up with equally-sized chunks to ensure even cooking.
This is how I chop all round root vegetables: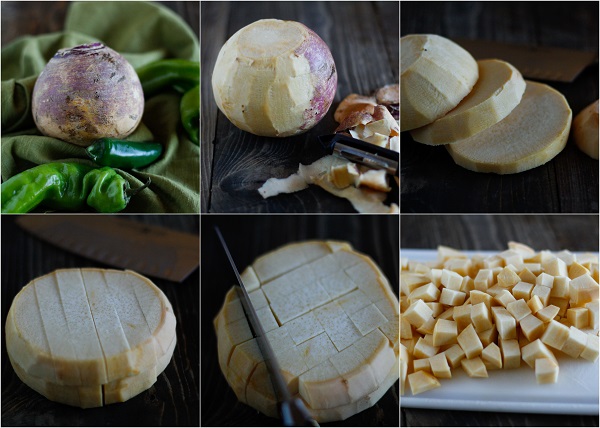 Once chopped, rutabagas can be steamed, roasted, or sautéed – like this hash!
Ooooooooh rutabagaaaa < – Sang like Heart's Barracuda.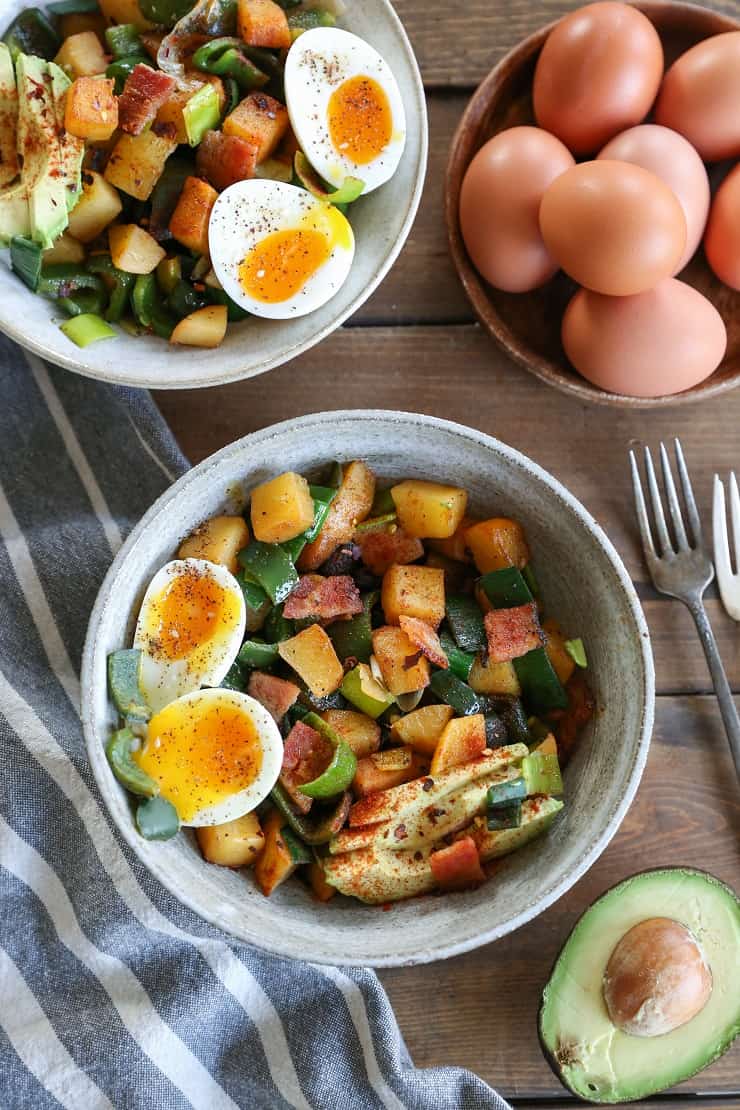 I enjoyed the hash with sliced avocado and hot sauce, but you can also serve it with eggs, toast, or stick it on a tortilla and call it a breakfast taco.
In the name of bacon, eat this!
Rutabaga Hash with Chiles and Crispy Bacon
Rutabaga Hash with Chiles and Crispy Bacon is a nutritious breakfast recipe that is packed with flavor.
Ingredients
4

slices

thick-cut bacon

1 2-

pound

rutabaga

peeled and diced

1

small yellow onion

diced

2

hatch chiles

seeded and chopped

1

jalapeno chile

seeded and finely chopped

1

teaspoon

garlic powder

1/2

teaspoon

kosher salt

1/2

teaspoon

cracked black pepper
Serving Options:
Avocado

Hot Sauce

Fried or Scrambled eggs
Instructions
In a 10 to 12-inch skillet, cook the bacon over medium heat, until it reaches desired crispiness. Place the bacon on a plate, leaving the bacon drippings in the skillet.

Place the skillet back on the stove and add the rutabaga. Saute, stirring occasionally until the rutabaga begins to soften, about 5 minutes.

Add the remaining ingredients and sautée, stirring consistently for 5 minutes.

Cover the skillet and allow veggies to steam for 7 to 10 minutes, until the veggies have reached desired done-ness.

Chop the bacon and add it back into the hash.

Serve hash with sliced avocado, hot sauce, and eggs.
Nutrition