Healthy plant-based collard wraps with cauliflower rice and roasted sweet potato. This nutritious meatless meal is an easy go-to for work lunches or dinners!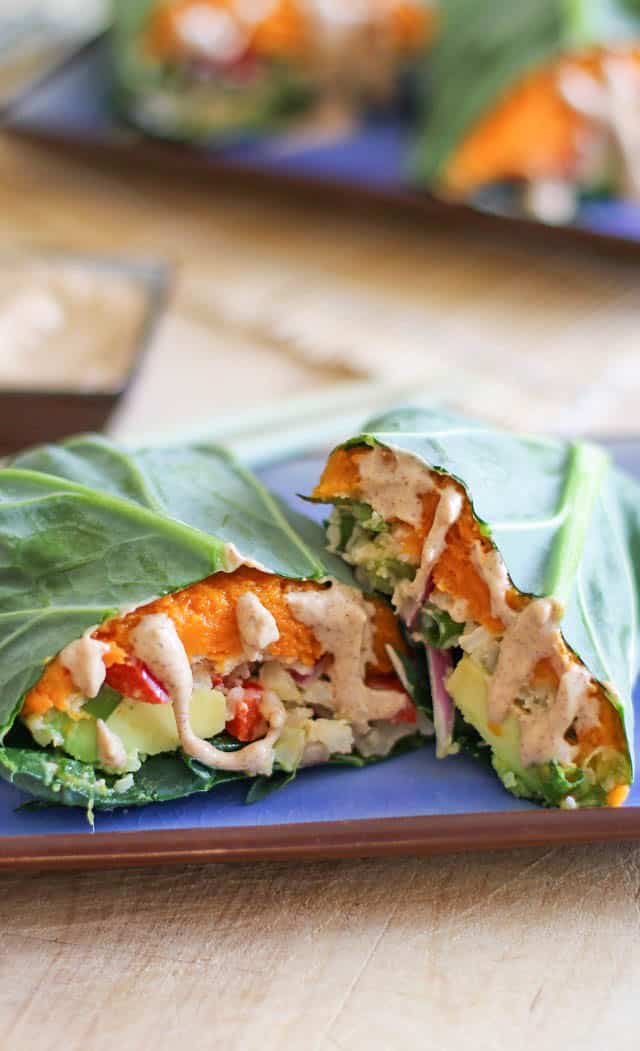 Lately, I've been craving burritos like crazy.
Not the mamby pamby faux burritos that are wrapped in silly things like collard greens leaves, but the large and in charge can't wrap your mouth around it cheese, meat, guacamole, sour cream, and salsa exploding all over the place burrito.
With eruptions of piñatas and horchata fountains, because this is my fantasy, and my fantasies are nothing if not authentic.
Which is why it totally makes sense that I tried to quench said burrito craving with these collard greens wraps.
In an effort to feed my burrito thirst but not get myself into trouble, I decided to wrap up a bunch of healthy eats using collard greens and see where that would take me.
I can tell you, these wraps are super satisfying, fun to eat, and a nice change up from the norm, but they will quench a burrito craving by no stretch of the imagination, so there is that.
But you guys, do make!
They may not be made out of carne asada and refried beans, but they certainly will put a smile on that face of yourn.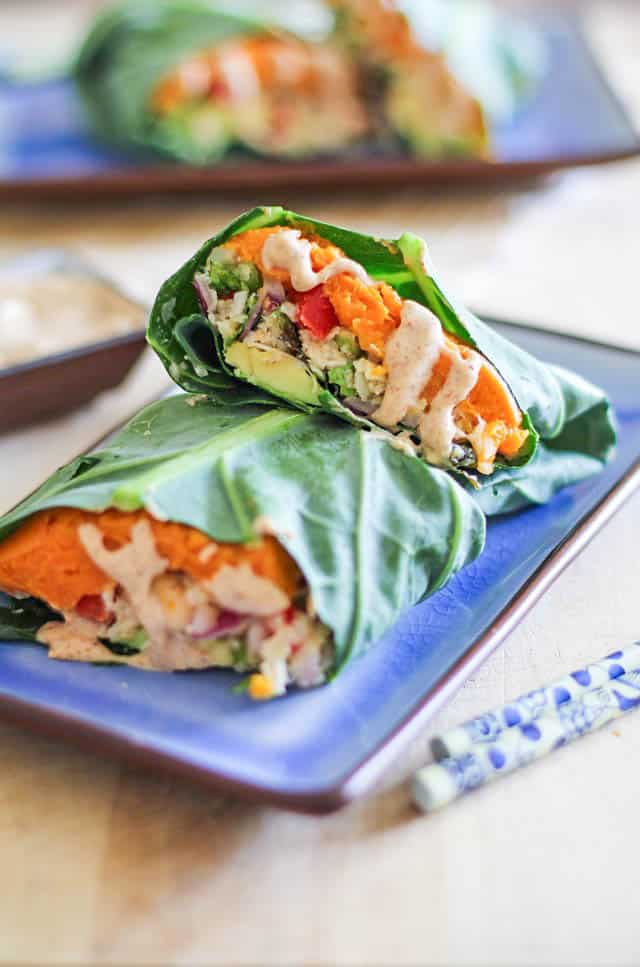 You can get all sorts of frisky with collard wraps, incorporating your favorite rice, veggies, shoot – even beans, why the heck not? – and spreads/sauces.
I went the Thai-inspired route by using the Thai Cauliflower Rice I showed you yesterday for these wraps, but you can use any cauli rice of choice. I made gingery almond buttery sauce for the drizzling/dipping, which you don't necessarily have to make, but guys, you have to make it.
How to Make Wraps with Collard Greens:
In case you've never made a collard wrap, it's simple!
Slice the stem and part of the bottom off each leaf, then carefully trim the thick stem so that it is close to flush with the leaf, like so: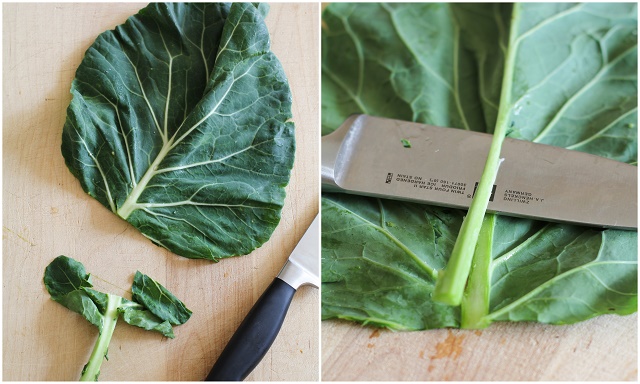 Once your leaf is ready for the stuffing, fill 'er up and roll 'er up just like you would a normal burrito.
Just be a little more careful than you would be with a tortilla, because: leaf.
Get up close and personal.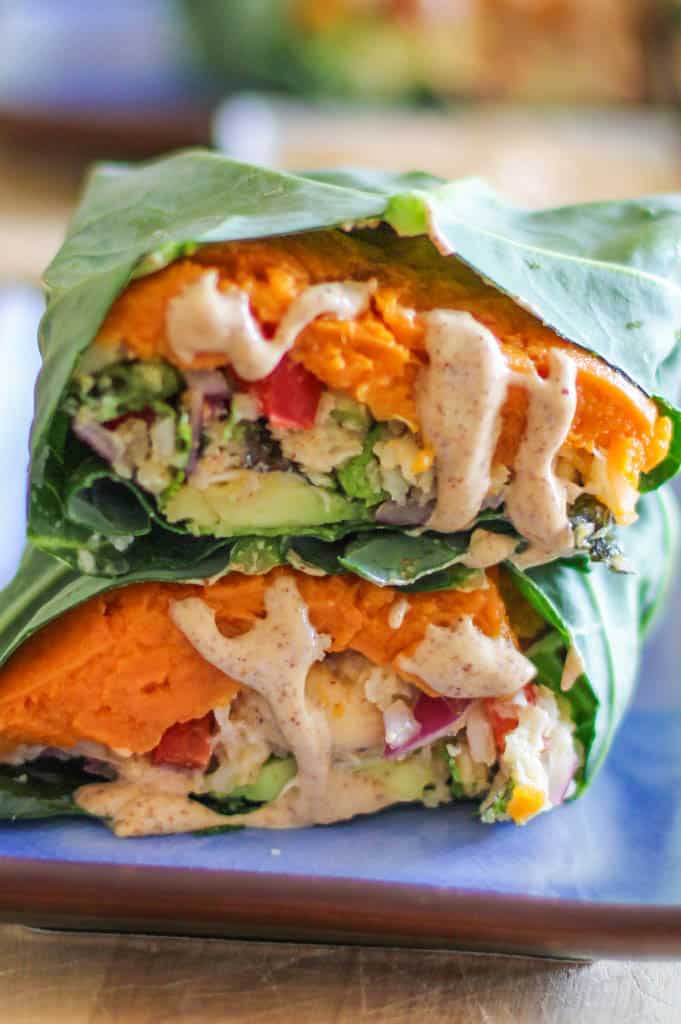 Mash up a roasted sweet potato, throw in some cauliflower rice, and slice up some avocado and that's all's you need for these healthy, vibrant wraps.
You know what would be brilliant for some additional protein? Scrambling up a couple of eggs or grilling up some chicken – those sources would do your body good.
Collard wraps. They're no burrito, but they certainly are something.
Roasted Sweet Potato and Cauliflower Rice Collard Wraps
Roasted Sweet Potato and Cauliflower Rice Collard Wraps are a crazy unique hippy meal. 😉
Servings:
4
collard wraps
Ingredients
For the Collard Wraps:
1

large sweet potato

roasted and mashed

1 1/2 to 2

cups

Thai Cauliflower Rice

or cauliflower rice of choice

1

ripe avocado

peeled and sliced

4

large collard leaves

trimmed and shaved
Ginger Almond Butter Sauce:
¼

cup

creamy unsalted unsweetened almond butter

2

teaspoons

pure maple syrup

1/2

cup

light coconut milk

1

tablespoon

lime juice

1

tablespoon

fresh ginger

peeled and grated

pinch

sea salt
Instructions
In a small bowl, whisk together the ingredients for the Ginger Almond Butter Sauce until well combined, thick, and creamy. Set aside until ready to use.

Prepare your collard leaves by chopping off the rough stem and shaving it down so that it's flush with the leaf.

Add desired amount of mashed sweet potato to the center of each leaf, followed by about 1/3 to 1/2 cup cauliflower rice and desired amount of sliced avocado.

Fold in the edges of the collard leaf, creating a burrito. Carefully slice in half using a sharp knife and serve with ginger almond butter sauce (Note: you can also add the almond butter sauce to the inside of the wrap).
Notes
Cook time is estimated assuming the cauliflower rice and sweet potato have already been cooked. In order to roast a sweet potato, wash it, pat it dry, poke holes in it using a fork, and wrap it in foil. Roast it in a preheated oven at 400 degrees for 60 to 90 minutes (depending on size), until very soft.
Nutrition
Serving:
1
Wrap
|
Calories:
380
kcal
|
Carbohydrates:
46
g
|
Protein:
20
g
|
Fat:
18
g
|
Fiber:
28
g
|
Sugar:
5
g
Also check out these
Teriyaki Tofu & Beet Collard Wraps
I made for Love Beets!: