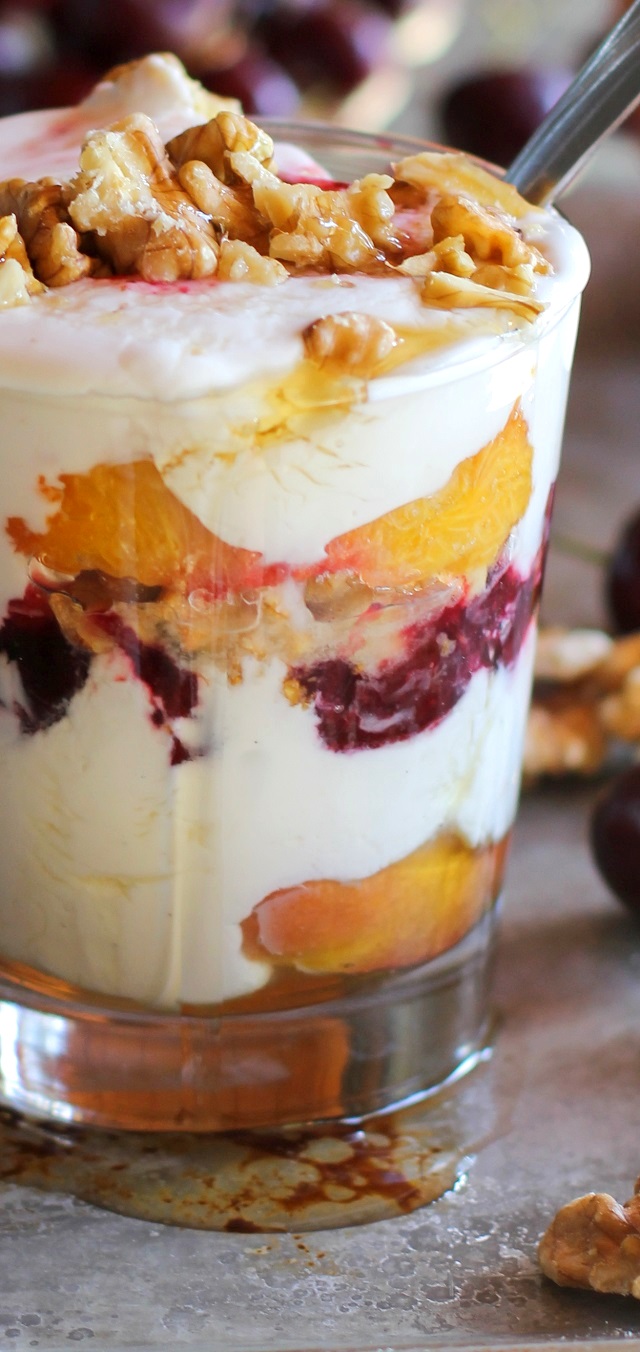 ^^^
I know, right?
Juuust look at all that goo.
In my produce fantasy, ripe drippy peaches and sweet tart cherries would be available year-round, but what is real is that they have one foot out the door. For this reason, I've been eating them, roasting them, grilling them, freezing them, cheesecake-ing them, etc.ing, like crazy in order to get my fill.
A few leisurely Saturday mornings ago, I was flipping through the July Cooking Light and spotted this recipe for Roasted Plum Breakfast Parfaits. In that very moment, I was too disheveled, bespectacled, under-caffeinated, and morning hair-ed to go to the grocery. So instead, I utilized what was already in my icebox, which were – you guessed it – peaches, cherries, and walnuts. I threw them in the oven with some coconut oil, roasted 'em off, waited for them to cool, then stuck them in a glass with yourt (lately, Siggi's Icelandic-style vanilla yogurt has been my fave). With a drizzle of honey. Dreams do come true.
All put together, these parfaits were a joy to consume. It's as though you're eating dessert for breakfast with sweet, tangy, creamy, crunchy decadent flavors, but it's oh so healthful.  You can use your yogurt of choice – lemon or strawberry, anyone? Plain's great, too!  You can even top with homemade or store-bought granola for some extra fiber.
Roasted drippy peaches, tart n sweet cherries, creamy thick yogurt, crunchy nutty roasted walnuts? Steezy McSteeze with a side of hella goodness.  This idea of a decontsructed smoothie – parfait style – could easily replace my same ol', same ol' banana-blueberry-almond milk smoothie. Since we're taking parfaits and figs are coming into season, I'm also jonesing to make this Roasted Fig and Walnut Parfait I showed you a couple of years back.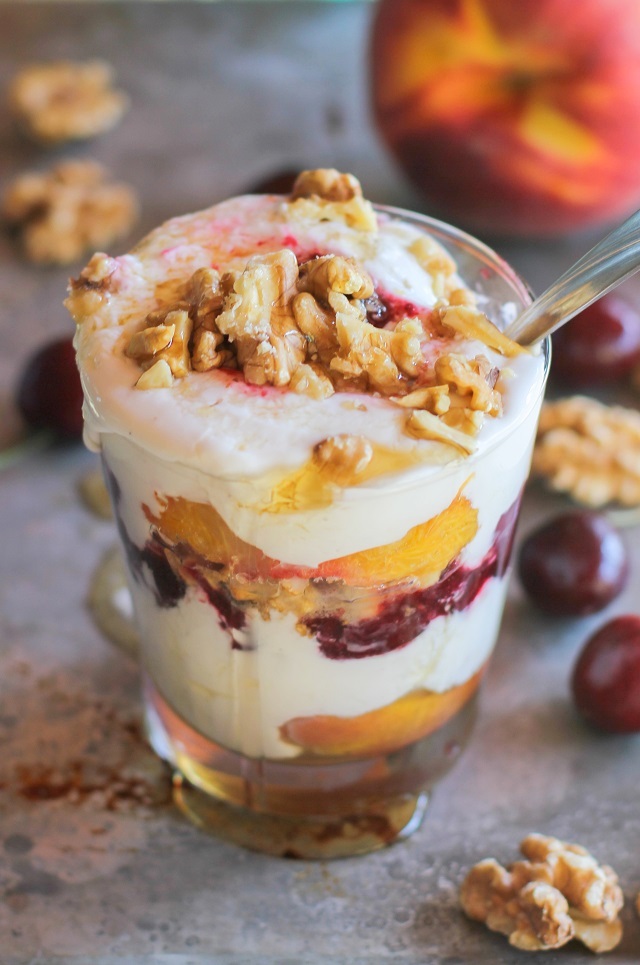 eeeeets pairfaitooooooo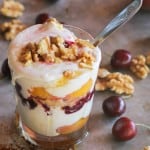 Roasted Peach, Cherry, and Walnut Yogurt Parfaits
Print
Ingredients
Roasted Peaches:
2

large ripe peaches

pitted and chopped into sixths, but firm

1

tablespoon

coconut oil

melted
Yogurt Parfaits:
3-3/4

cups

Vanilla Greek Yogurt*

30 ounces

1

cup

walnuts

roasted
Instructions
Preheat the oven to 400 degrees F.

Place the cherries in a small casserole dish, along with 1 tablespoon of coconut oil, and one tablespoon of coconut sugar. Toss ingredients together until coated

Add the peaches to a separate casserole dish and drizzle with coconut oil. Stir to be sure all sides of peach slices are coated in oil

Roast the cherries and the peaches for 20 to 25 minutes, stirring once half-way through. The peaches may need slightly longer than the cherries.

About 10 minutes before the fruit is finished roasting, spread the walnuts on a baking sheet and roast for 5 to 8 minutes, or until golden and crispy.

Remove the fruit and nuts from the oven and allow everything to cool to room temperature. If desired, chill fruit in the refrigerator until completely cold.

Prepare the parfaits by adding alternating layers of yogurt (I used about 5 ounces of yogurt per parfait), roasted peaches, roasted cherries, and roasted walnuts to a glass. Serve with a drizzle of honey and enjoy.
Recipe Notes
*Also try Icelandic or Aussie-style yogurt