Cheesy, comforting, delicious parsnip gratin makes for a great side dish to share with others.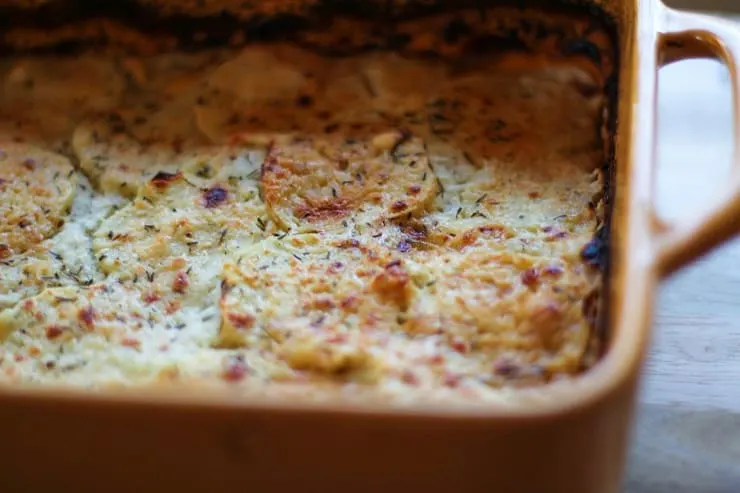 If a parsnip could talk, it would speak words of wisdom and read Robert Frost poems.
It would teach you about the past so that you could understand the present and you'd silently absorb everything the little root had to say. Don't be surprised if parsnip smokes a pipe and wears loafers as parsnips enjoy simple comforts.
Personifying the parsnip may be new to you but given its calm, oaky, knowing voice, you'll beckon parsnip to continue its intoxicating fables.
Parsnip gratin is a confident, sophisticated dish with warm, earthy, herby flavor and an un-expecting ease. It does its own thing. Parsnips have a naturally nutty, somewhat cinnamon flavor, which is not for everyone as it is certainly different from the neutral potato.
Out of a successful pinning session, I found a recipe for Parsnip Gratin with Gruyere and Thyme from Feasting at Home. I was instantly intrigued and was excited to finally make it, although I did make some modifications to the recipe.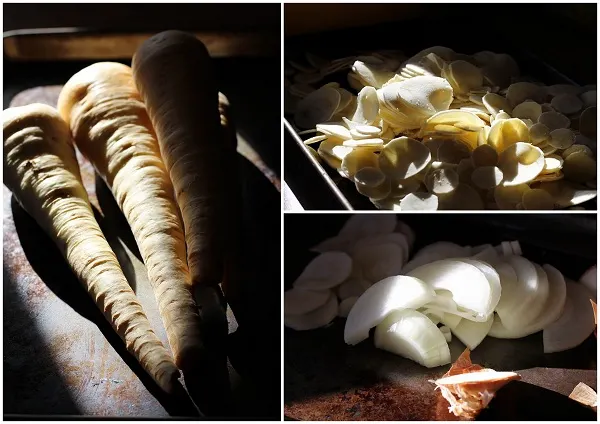 I used aged white cheddar cheese instead of gruyere only because gruyere skipped town the day I went to the grocery store. As opposed to using heavy cream, I blended up steamed cauliflower (cauliflower's the new black in case you haven't noticed) with 2% milk and an egg for extra nutrients and less fat. While I am absolutely sure heavy cream would be delicious in the parsnip gratin, I did not feel as though it was the dish was lacking it.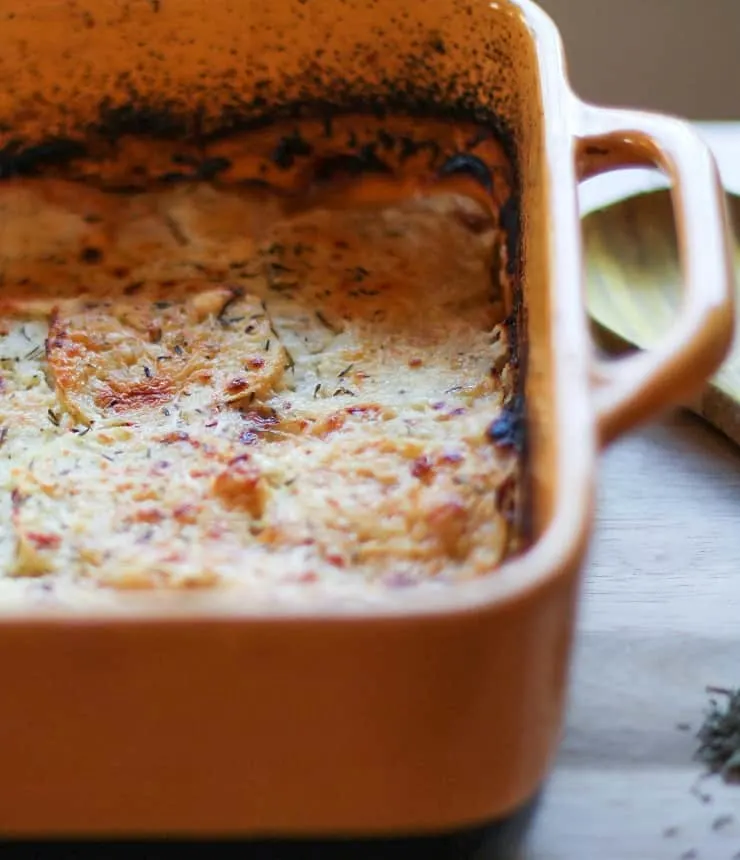 This dish encourages you to slow down and slip into the fuzziest socks you own and enjoy the process of connecting with real ingredients. It is happy to join you while the sun descends and won't get bent out of shape if you share a bottle of wine and light hearted chatter with it over some calm tunes.
If you have not tried parsnips before, I would recommend starting with a simpler and less time intensive recipe before taking the plunge. If you're a seasoned root eater, you're welcome!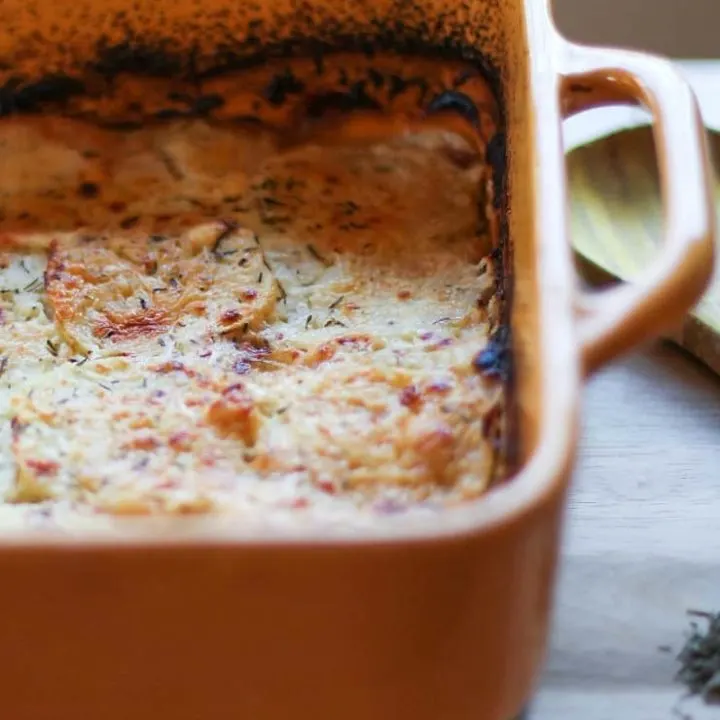 Parsnip Gratin
Total Time:
1 hour
20 minutes
Creamy parsnip gratin is an amazing unique take on potatoes au gratin for a tasty side dish.
Ingredients
2.5 cups cauliflower, chopped and steamed
2 1/2 pounds parsnips, peeled and very thinly sliced (1/8" thin or thinner)
1/2 medium yellow onion, finely chopped
2 teaspoons olive oil or avocado oil
2 cups 2% milk, or whole milk, see note*
2 tablespoons gluten-free all-purpose flour**
1 teaspoon sea salt
¼ teaspoon ground nutmeg
1 tablespoon dried thyme leaves
2 large eggs
7 ounces aged white cheddar, shredded, or gruyere or other good quality cheese
½ tablespoon butter for greasing a casserole dish
Instructions
Steam half a head of cauliflower until soft when poked with a fork (about 5 to 8 minutes). Drain the cauliflower and set aside to cool.
Peel the parsnips and slice them thinly using a mandoline slicer or simply slice them very thinly (and carefully)with a sharp knife.
Over medium heat, sauté the sliced onion in a couple teaspoons of oil until fragrant and beginning to turn translucent, about 5 minutes.
Once the cauliflower is cool, combine the steamed cauliflower, milk, flour, salt, nutmeg and thyme in a blender. Blend until combined
Crack the egg into the cauliflower/milk mixture and blend just enough to combine (this should make just over 3 cups worth of mixture).
Preheat the oven to 400 degrees.
In a well buttered 9" x 13" casserole dish, lay down slices of parsnip, completely covering the bottom (it's okay to overlap slices). Layer a third of the sauteed onion on top, sprinkle with cheese, and spread 1/3 of the cauliflower mixture over the layer. Repeat this process with the remaining parsnips, onion, cheese, and sauce, with a sauce and cheese layer on top.
Cover the casserole dish with foil and bake for 50 minutes. Remove the casserole dish from the oven, discard the foil.
Put the casserole dish back in the oven (uncovered) and bake an additional 15 to 20 minutes or until golden brown. Allow the dish to sit 10 minutes so before you serve.
Notes
Original recipe from Feasting at Home: http://www.feastingathome.com/2012/11/parsnip-gratin-with-gruyere-and-thyme.html
*or use full-fat canned coconut milk
**Or brown rice flour or regular all-purpose flour
Nutrition Information
Yield

10
Serving Size

1 of 10
Amount Per Serving
Calories

197
Total Fat

11g
Unsaturated Fat

0g
Carbohydrates

7g
Fiber

1g
Sugar

4g
Protein

19g