Paleo Pumpkin Brownies made with almond flour and pure maple syrup. These healthy treats are sinfully delicious while still on the healthy end of the spectrum. I've included two recipes – one vegan version, and one with eggs.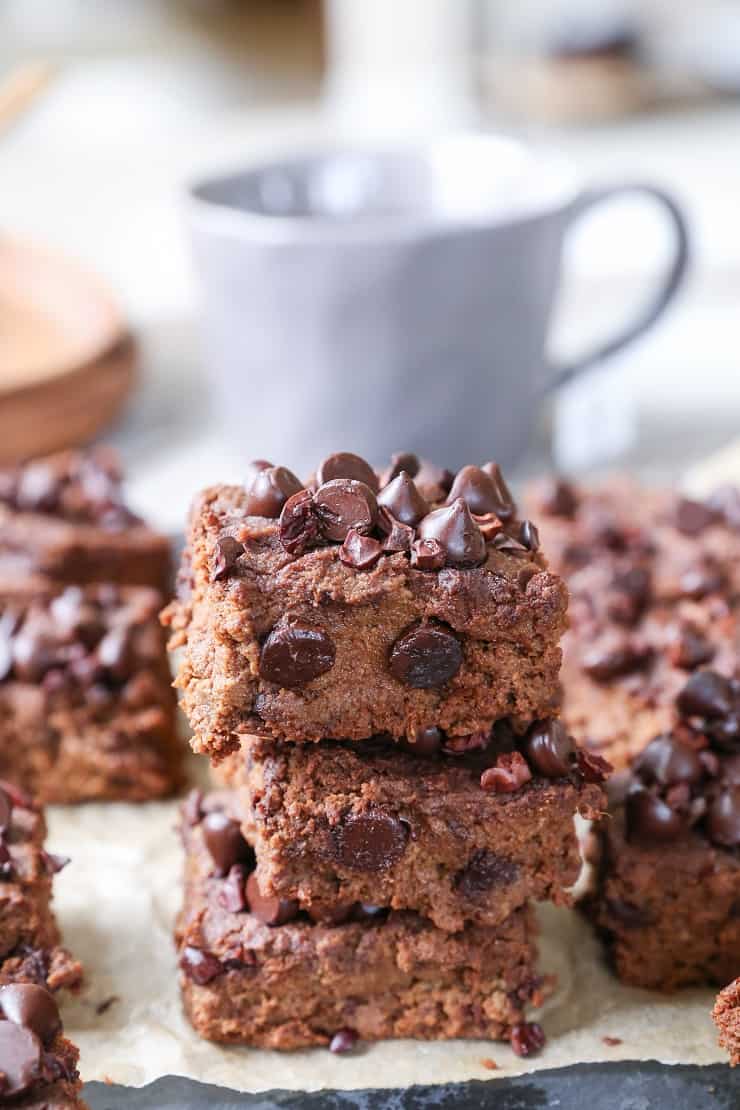 Oh hey, I made us veggie brownies!
Of the fudgey pumpkin varietal!
In two different ways!
Both ways are grain-free and naturally sweetened.
One version is paleo, and the other's paleo/vegan! Two ways to get your pumpkin, chocolate, and brownie fix. Better start preheating that oven right meow!
After making Paleo Sweet Potato Fudge Brownies, Fudgy Paleo Beetroot Brownies, and now these paleo pumpkin brownies, I'm beginning to think I prefer vegetable-based brownies over all others!
Sure, you don't get that beautifully flaky top with that crispy edge and buttery splooge of molten glutenous bliss, but I'm amazed at how tasty these veggie brownies are!
Okay, so the two different recipes here – one calls for eggs and the vegan version incorporates sunflower seed butter.
I see some major benefits to both versions.
The egg-inclusive version has a more pronounced pumpkin flavor and a more brownie-like texture, where the sunflower butter version packs a nice lil' protein punch and turns out on the softer/fudgier end of the spectrum.
I can do some serious damage to these pumpkin brownies year-round, pumpkin naysayers be darned. I love that the main ingredient is a vegetable, because it makes me feel like I'm doing something useful for my body in addition to treating it.
The pumpkin flavor isn't overpowering since we're still going for that brownie vibe, so my guess is you can feed these to your friends and family and most of them won't even be able to taste the pumpkin essence.
More likely they'll ask you what's going on with the je ne sais quoi of the dern thing. Have trouble getting your kids to eat their veggies? You're welcome.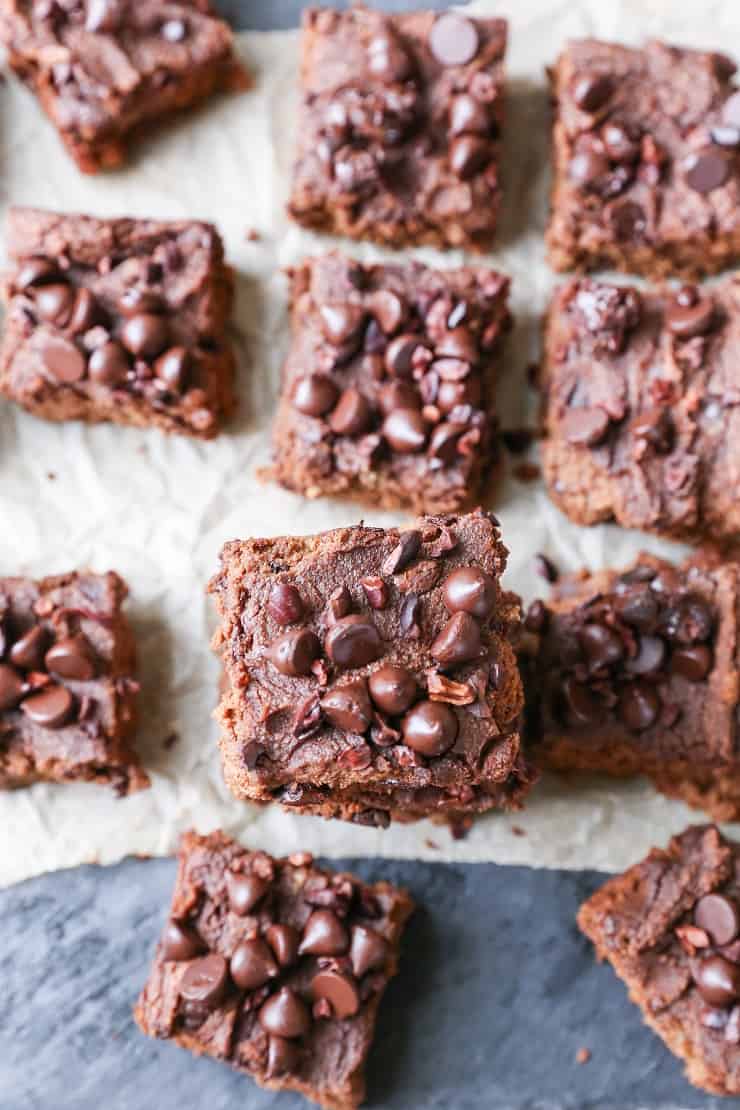 These brownies are on the softer/fudgier side, and they freeze really well!
Not gonna lie, I frozen both batches almost immediately after I made them to avoid the temptation to over eat them. I've been pulling them out and eating them frozen each day!
The recipe card below is for the paleo version. Read the notes for the vegan version! Enjoy!
Paleo Pumpkin Brownies for life!
Paleo Pumpkin Brownies
Grain-free pumpkin brownies are a delicious celebration of fall!
Servings:
1
batch brownies
Instructions
Preheat the oven to 350 degrees F. Line an 8" x 8" baking pan with parchment paper.

Add everything but the chocolate chips and cacao nibs to a blender and blend until combined.

Fold half of the chocolate chips into the batter, reserving the other half for topping. Transfer the brownie batter to the baking pan and smooth into an even layer. Top with remaining chocolate chips and cacao nibs.

Bake on the center rack of the preheated oven 30 to 35 minutes, or until center and sides have set up. Turn the oven off and leave the brownies in the warm oven for an additional 5 minutes. Allow brownies to cool 1 hour before cutting into them.
Notes
For the vegan version:
1.) Omit the eggs, and add 1/2 cup of sunflower butter or cashew butter (you can use a different nut butter but will likely be able to taste it).
2.) Use 2 tablespoons of coconut oil instead of 5.
3.) Leave everything else the same.
Nutrition
Serving:
1
of 12
|
Calories:
164
kcal
|
Carbohydrates:
15
g
|
Protein:
3
g
|
Fat:
11
g
|
Fiber:
3
g
|
Sugar:
11
g