Gluten-Free Pumpkin Squares are a moist grain-free dessert recipe that tastes like pumpkin cake. Healthy and delicious.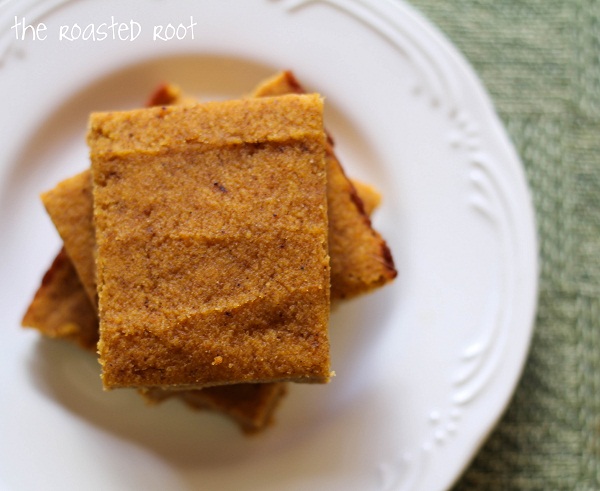 It is raining here in the California foothills, and that means something beautiful: snow in the mountains!
There is typically a teaser storm every October, followed by a full month or two of varied weather before winter comes full force.
I snag the teaser and wear my comfort sweatshirt like it's not coming off until May. I huddle in the foothills as though I'm huddling in the mountains. Wool socks, fuzzy boots, hot cup of tea, grabbing that teaser like it is the biggest storm on record.
Thick squash and warm spices paired with a comfort sweatshirt and a cup of tea is stellar. Adding in music from your favorite band from high school, putting a twinkle in your toes and heating up the air with aromas is plenty of familiarity to calm whatever ache that hurts.
Calm aches and twinkle toes. You've got it…one teaser storm at a time.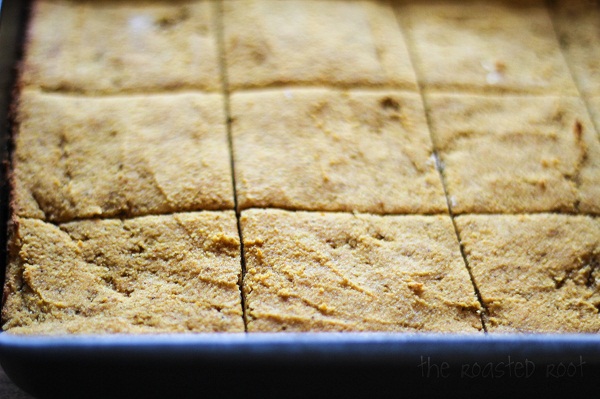 I brought these gluten free pumpkin squares to a dinner at Sweetpea's parent's house. His mom said the squares are like eating pumpkin pie filling and it's true. They're dense and sweet and the pumpkin flavor is there from start to finish – it doesn't get lost in flour.
Coconut flour is tricky to bake with but when you get the liquid-to-flour portion down, it makes for a unique treat. Even if you aren't into gluten-free baking, I would suggest trying the pumpkin squares out.
They're full of fiber, protein, and vitamins; if you prefer your treats sugar-free, you can sub out the cane sugar for ½ a cup of honey or agave. Best consumed while wearing a comfort sweatshirt.
Gluten-Free Pumpkin Squares
Instructions
Preheat oven to 350. Lightly oil an 8x8" baking dish or line it with parchment paper.

In a bowl or mixer, combine the pumpkin puree, eggs, vanilla extract, lemon juice, grated ginger and coconut sugar. In a separate bowl, add the remaining ingredients and sift/whisk to combine. Incorporate the dry ingredients into the pumpkin mixture and mix just until all ingredients are incorporated.

Pour the pumpkin bar batter into the baking dish. Spread all the way to the edges of the baking dish to ensure there is an even layer. Use a knife to spread the batter smooth; since this recipe includes coconut flour only, the batter will stay in the same position throughout baking that you put it in (it will not enlarge or rise).

Bake 20 to 23 minutes until edges are golden brown. Allow to cool 15 minutes before serving.
Notes
Use sugar-free sweetener to make these pumpkin squares low-carb.
Nutrition
Serving:
1
of 12
|
Calories:
97
kcal
|
Carbohydrates:
19
g
|
Protein:
2
g
|
Fat:
2
g
|
Fiber:
2
g
|
Sugar:
16
g