Paleo Instant Pot Pulled Pork made with only a few simple ingredients! This easy recipe includes a recipe for paleo barbecue sauce, but you can easily use your favorite store-bought or homemade BBQ sauce of choice.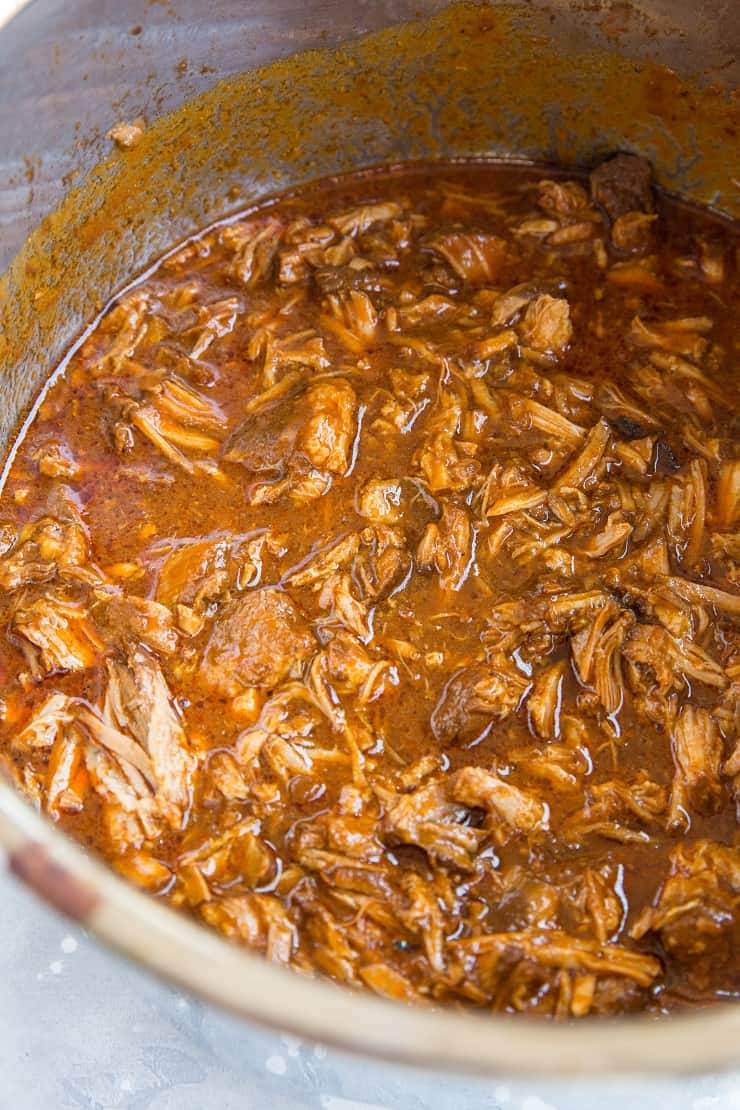 Instant Pot recipe #2 comin atcha! If you all checked out my Instant Pot Chicken Teriyaki, you know I'm an Instant Pot newbie.
True to my addictive form, I dove right into the lovely world o' Instant Pot and have been making up for lost time by preparing meal after meal in the thing.
I have even learned some Instant Pot dos and don'ts, which you probably already encountered 17,000 years ago. #progress.
At any rate, this Paleo Instant Pot BBQ Pulled Pork was an instant (buhdumching) favorite.
Of course, it was probably one of the easiest recipes I've ever made so that factor in addition to it being completely mouth-wateringly tasty makes it a home run in my book.
Shall we talk BBQ sauce?
I should have qualified my aforementioned statement about this being easy with the fact that if you make your own BBQ sauce, this suddenly becomes not the easiest recipe to ever hit the 'webs…however, using store-bought sauce is what makes it a cinch.
Because I have multiple thoughts, feelings, and opinions about my BBQ sauce, I prefer using homemade. I included my go-to paleo-friendly BBQ sauce recipe in this post. It is very similar to the Maple Bourbon BBQ Sauce recipe I posted several years ago. You can use your favorite homemade or store-bought Q. Paleo people: there are even purchase-able paleo options for BBQ sauce now, so there is that.
How to Make Instant Pot BBQ Pulled Pork:
1.) Acquire a 3 to 4-pound pork shoulder roast and chop it into cubes.
2.) Pour broth and BBQ sauce into the instant pot, add the pork cubes and stir. Set the Instant Pot to the high pressure cook setting and cook for 60 minutes.
3.) Once the Instant Pot naturally releases its pressure/steam (which takes about 10 minutes), you can open the lid and transfer the cubed pork to a cutting board.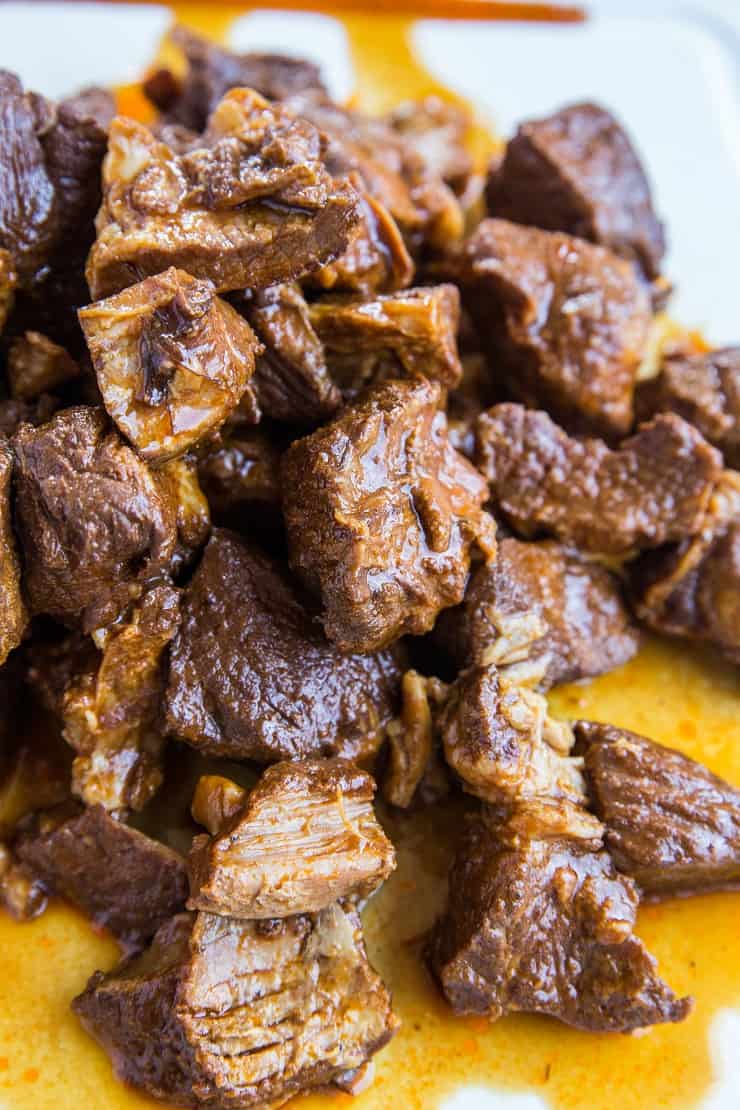 4.) Use two forks to shred the pork. The pork should be so tender that you can just mash it with a fork to shred it.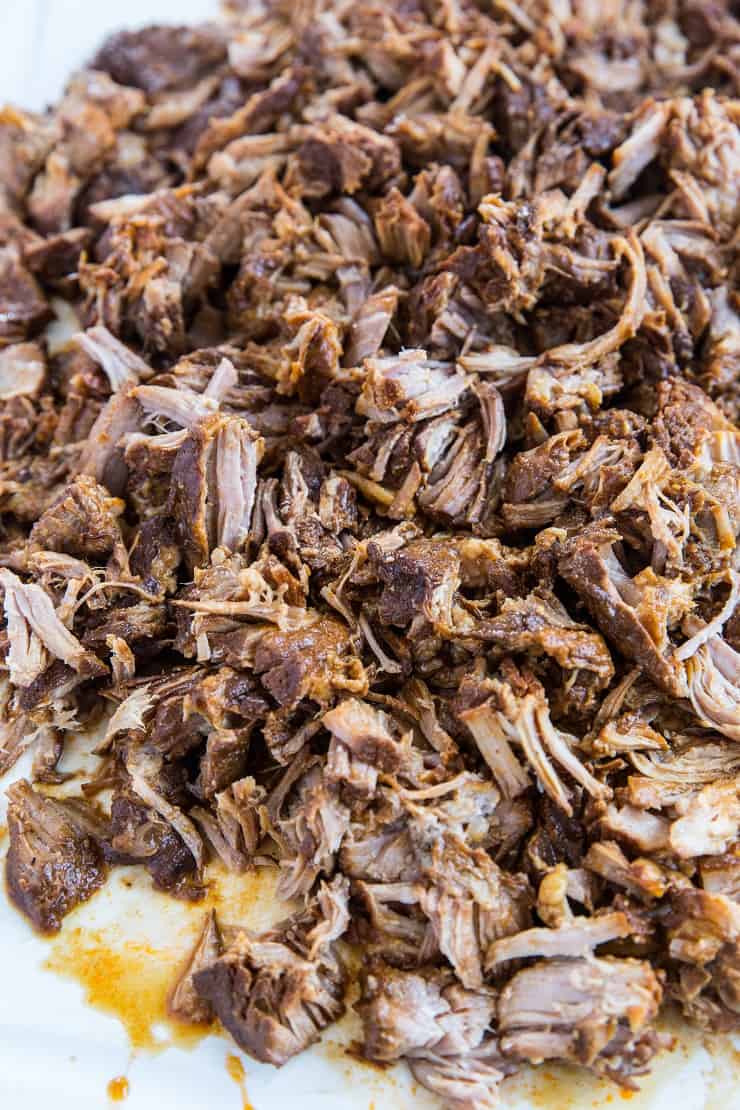 5.) Place the shredded pork back into the Instant Pot and cover with the lid (the Instant Pot should be powered off or on the Keep Warm setting at this point) so that it absorbs the juices and becomes more flavorful. I usually allow the meat to sit for a minimum of 1 hour (preferably longer), but you can widdle this down to 10 minutes if necessary.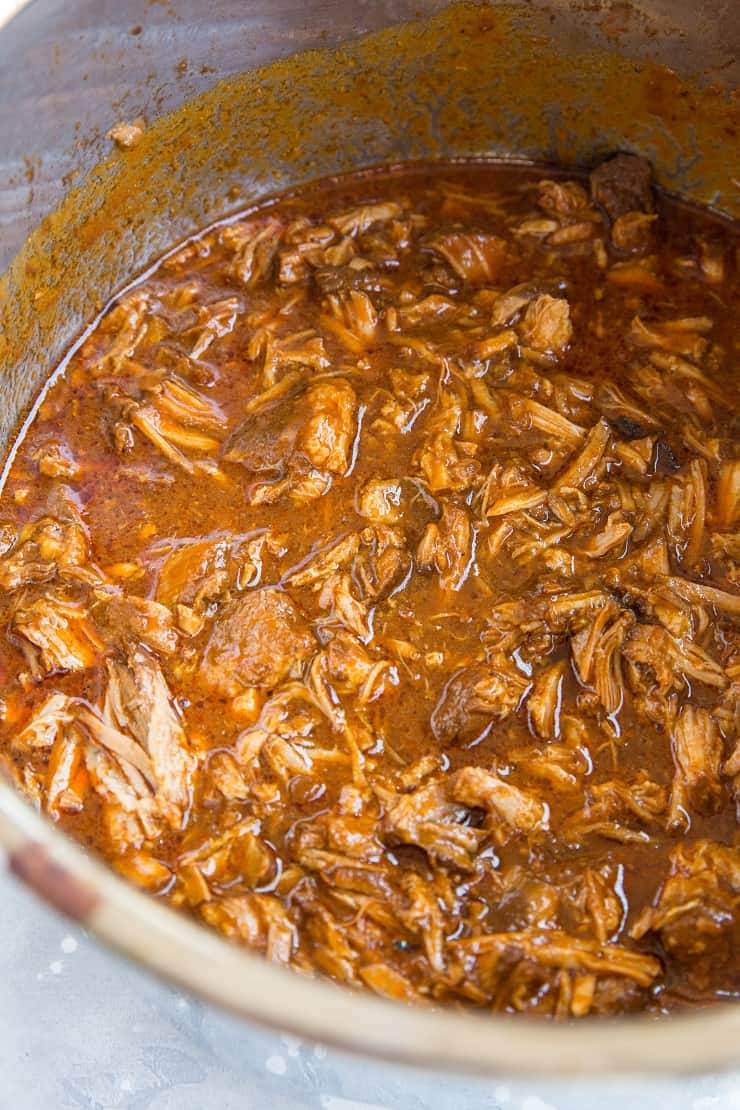 6.) When you're ready, serve it up how you'd like!
Let's talk serving options.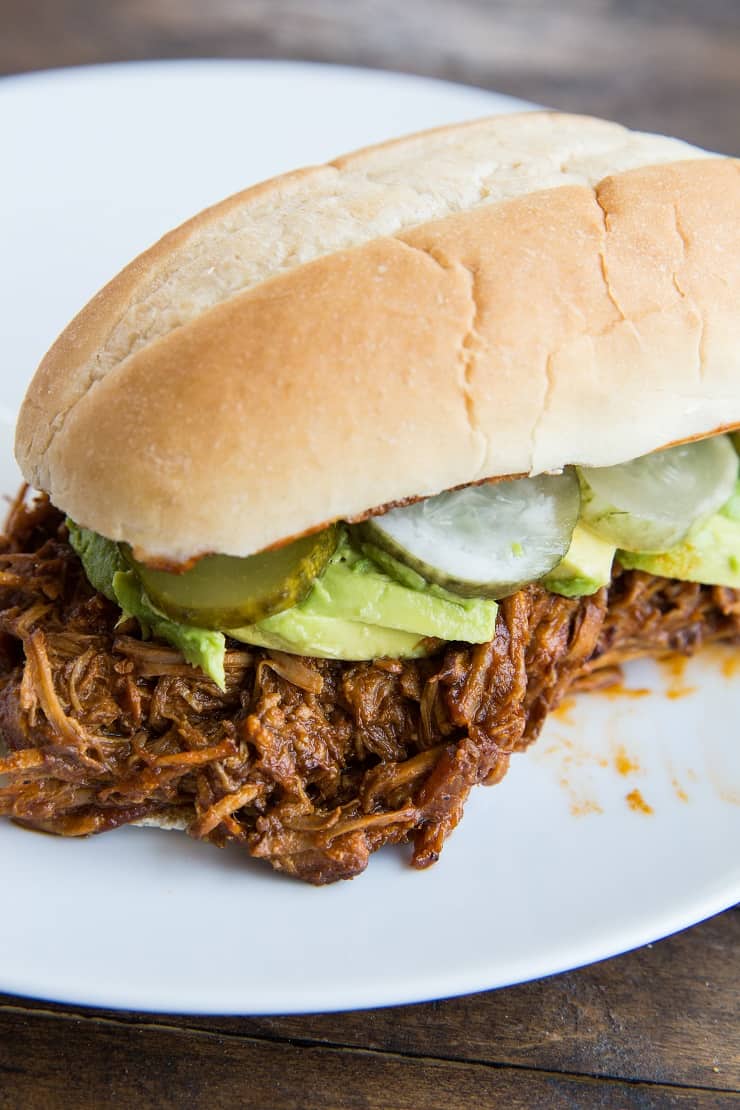 You can absolutely serve your BBQ pulled pork as a sandwich; however, BBQ pulled pork is AMAZING in bowls…of every kind. It's awesome with rice, quinoa, roasted vegetables…heck, it's even great on salads.
Use any leftovers to make BBQ Pulled Pork Enchiladas!
One of my go-to eating methods for this round of BBQ pulled pork was on top of spaghetti squash with fresh dill pickles and an additional drizzle of BBQ sauce.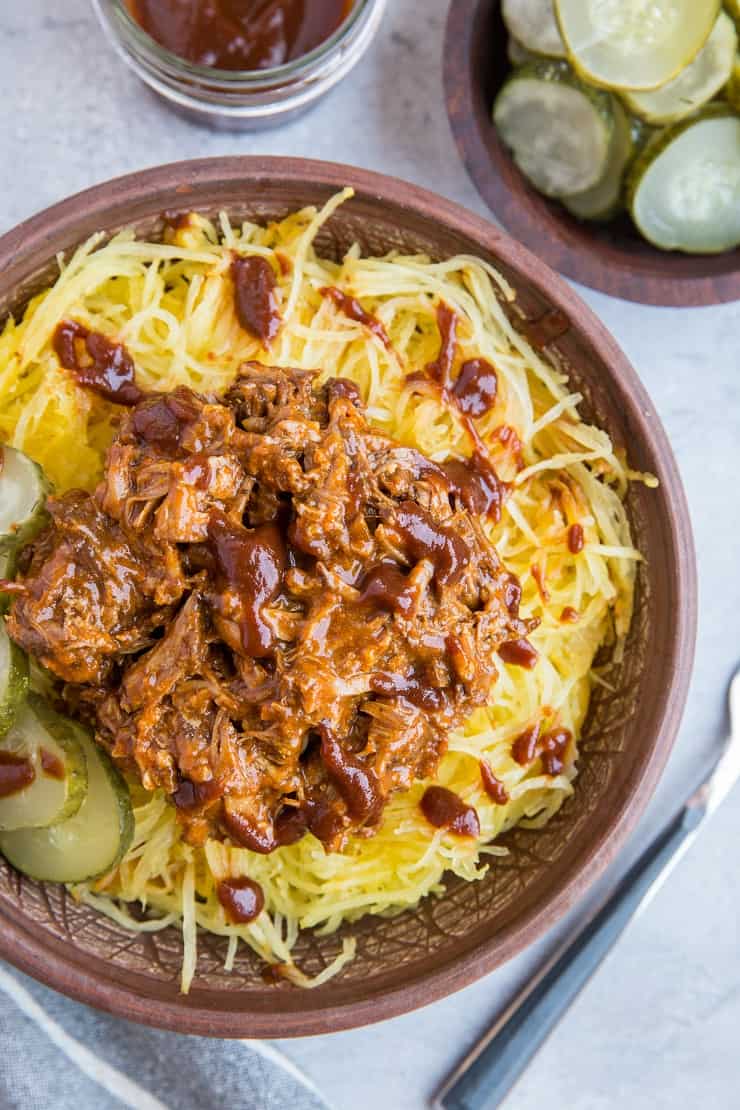 The point is, you can get creative with your serving options.
This is how leftovers suddenly become interesting to those who like no repetition. This is how a single recipe can become a staple when it fits so easily into your diet and lifestyle.
If you're familiar with the lovely world of slow cooking and Instant Potting, you already know this, but I thought it worth mentioning that this Paleo Instant Pot BBQ Pulled Pork is even better the next day (and days 3-7). It just soaks up so much flavor for that ultra YUM tender meat experience.
Now go get it!
My cookbook,
Paleo Power Bowls
, is now available! CLICK HERE to check it out. Thank you for your support!
If you make this recipe, please feel free to share a photo and tag me at @The.Roasted.Root on Instagram!
Paleo Instant Pot BBQ Pulled Pork
The easiest barbecue pulled pork recipe made in the pressure cooker results in incredibly tender and flavorful shredded pork!
Servings:
8
to 10 servings
Ingredients
BBQ Pulled Pork
1

4-pound pork shoulder roast

1

cup

beef broth

2

cups

Paleo BBQ Sauce

recipe above

1

tsp

sea salt

to taste
Instructions
Prepare the BBQ Sauce:
Add all ingredients except for the whiskey to a large saucepan. Whisk to combine and heat over medium. Bring to a full (but controlled) boil. Reduce the heat and allow sauce to simmer, stirring occasionally, for 20 to 30 minutes, until thick.

Remove saucepan from heat and allow it to cool. The sauce will continue to thicken as it cools. Transfer sauce to a sealable container and refrigerate until ready to use. Sauce will keep for up to 3 weeks.
Prepare the Pulled Pork:
Remove the webbing from the pork shoulder roast and place on a cutting board. Chop the roast into 2-inch cubes and trim off any excess fat.

Add 1 cup of the BBQ sauce and the broth to the Instant Pot and stir well. Add the cubed pork and stir until pork is well-coated. Sprinkle with sea salt.

Secure the lid of the Instant Pot and turn the vent lid to "sealing" Turn the Instant Pot on the High Pressure Cook setting for 60 minutes. Once the time is up, allow the vent to naturally release.

Open the lid and using a slotted spoon, transfer the pork meat to a cutting board. Use two forks to shred the meat, then transfer it back to the Instant Pot. Secure the lid (turn the Instant Pot off or put it on Keep Warm) and stir well. Let meat sit for at least 10 minutes (up to 2 hours) to allow the meat to absorb the juices.

Serve pulled pork as a sandwich, bowl-style with your favorite ingredients, or on top of a green salad.
Nutrition