Moist, rich, decadent Paleo Chocolate Cake with super sinful chocolate ganache. This cake is perfect for birthdays, Valentine's Day, and/or any special events.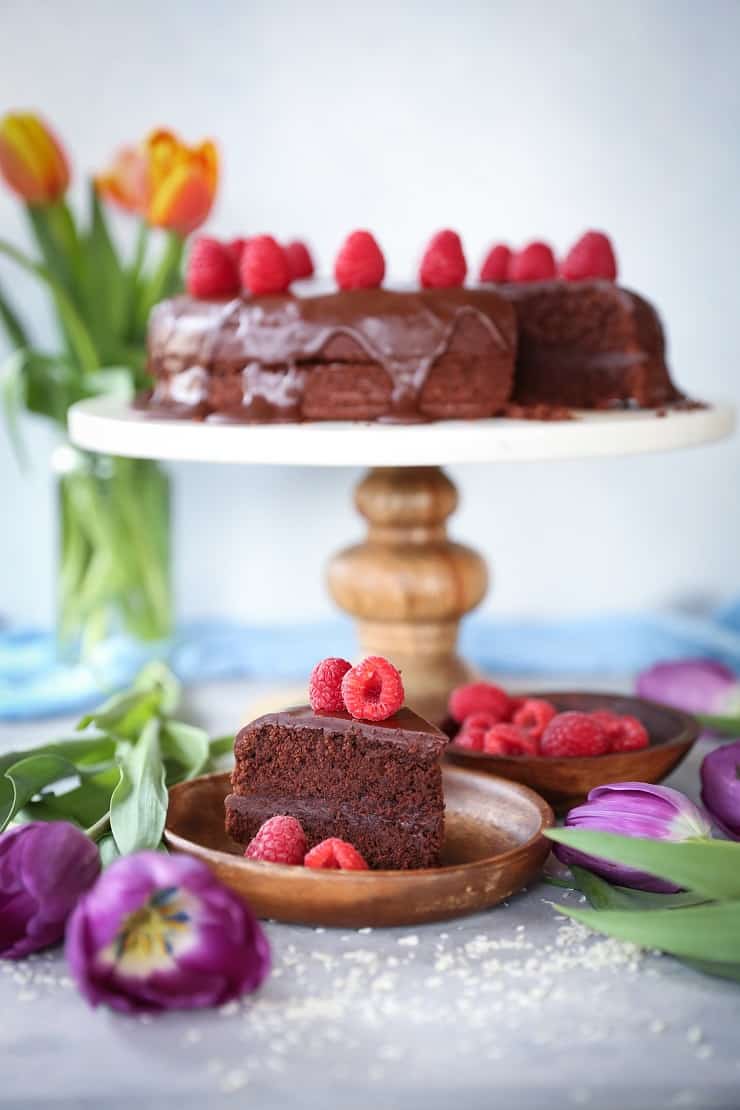 We made it past January, and with Valentine's Day coming up, we're in the Safe to Discuss Cake Zone.
I'm happy to offer up this paleo chocolate cake recipe, which is a cleaner option made with almond flour, coconut oil, and pure maple syrup to keep your cake a bit more health-conscious and tolerable for those of you with food intolerances.
Some back history for you: A very similar chocolate cake recipe made its debut on this blog a number of years ago.
I posted my Gluten-Free Chocolate Cake recipe and it dawned on me a couple weeks ago I haven't made it ever since I first posted it.
I love going back to my older recipes to test them out and see if anything needs to be changed, so I made a few tweaks and baked up this super rich beauty just in time for Valentine's Day.
Let me just tell you, this moist, sultry, decadent slice of heaven is a beautiful experience to share with others.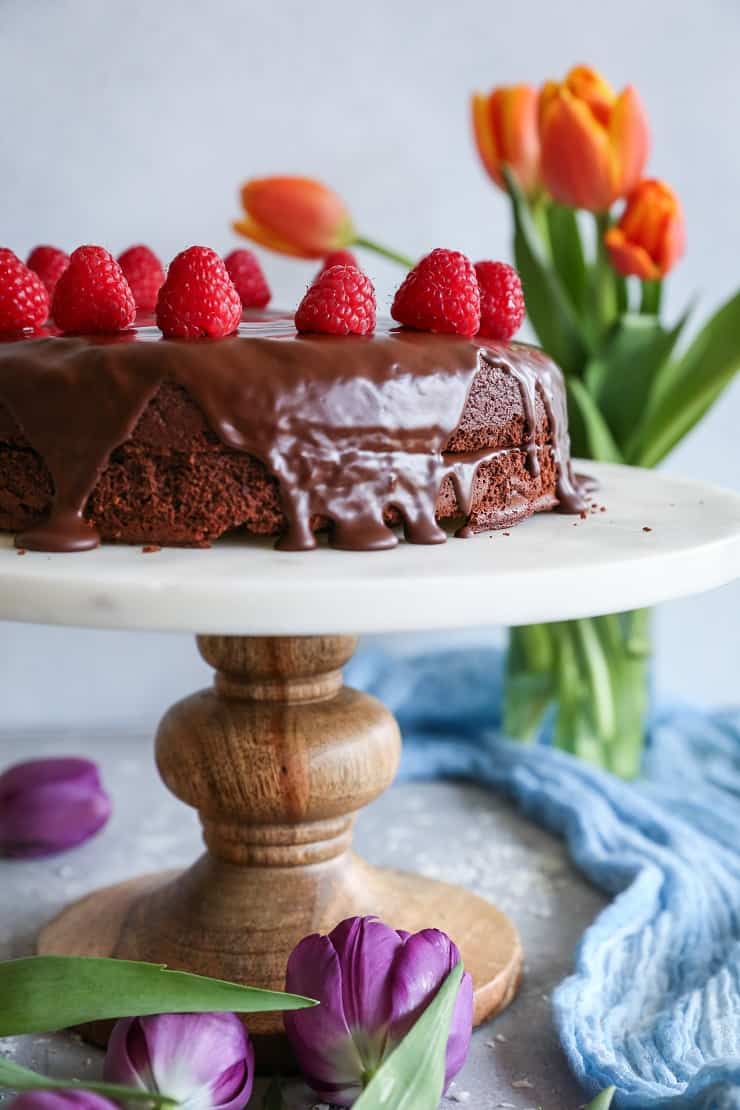 The cake itself is a true fluffy delight, and when you add a silky, mouth-melty topping, it has a tendency to turn your whole world upside-down.
Which brings me to my next point:
To ganache or not to ganache? My personal opinion? Ganache it up!
But first, let's address the elephant in the room.
I used store-bought dark chocolate chips to make the ganache, which include both dairy and cane sugar (Enjoy Life makes dairy-free chocolate chips for those of you who are lactose intolerant or vegan).
While I still haven't seen paleo-friendly chocolate chips in the grocery stores in my area, I did find these paleo chocolate chips on amazon, so if you want to truly stick to your paleo guns and have your ganache too, they may be the best option (do note, I haven't tried them yet).
All this to say, the ganache technically un-paleos this recipe if we're looking at it from a fundamental standpoint.
There are other paleo-friendly frosting alternatives, or you can keep this cake nude and go frosting-less.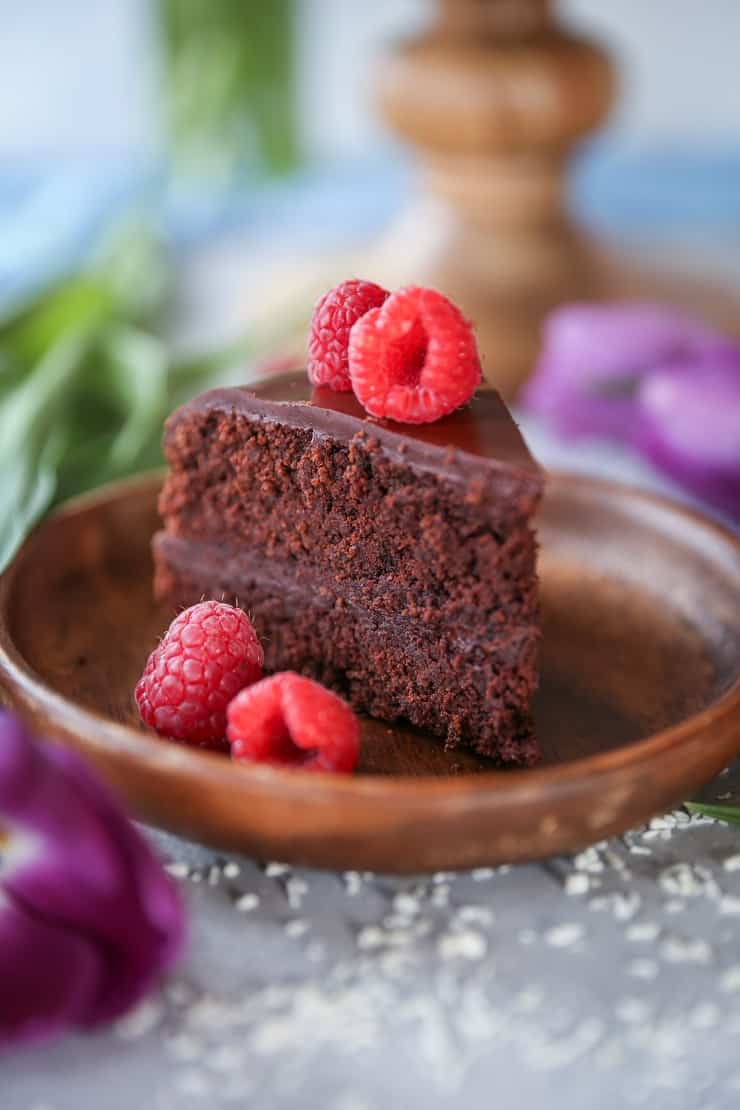 Let's talk presentation.
I made this cake a 2-tier adventure, but if you'd prefer to not dabble in the risky business of cutting a cake in half to fill the middle, you can absolutely keep the cake 1 tier.
In addition, there's plenty of ganache to frost the whole cake, though I like the look of the drippy ganache.
I love the fresh fruit and/or chopped nut topping on top of the ganache, but as always, you can choose your own adventure here.
One more note before I launch you into the lovely world of paleo chocolate cake.
If you're looking for that supremely rich and fudgy cake that is ULTRA dense and sinful, take a look at my Flourless Chocolate Cake recipe, as that one fits the bill to a T.
For a sugar-free version, make my Flourless Keto Chocolate Cake.
But for your fluffy-meets-fudgy situation, here's your jam!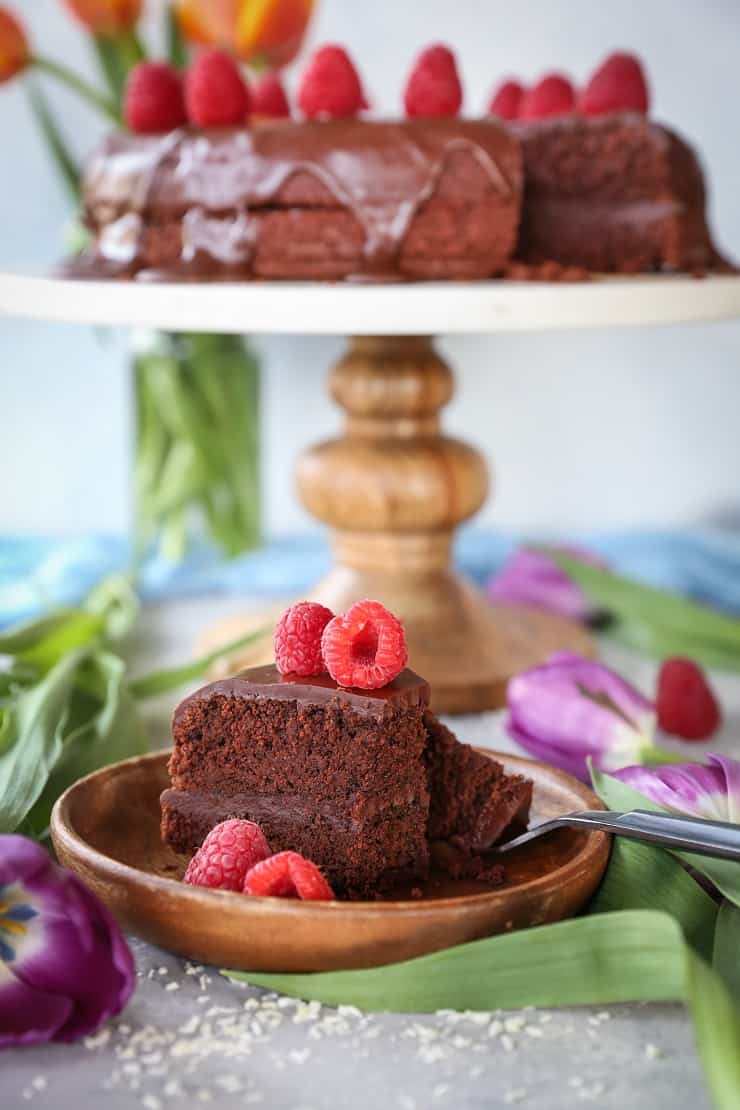 That paleo chocolate cake life!
Paleo Chocolate Cake
Insanely rich and flavorful Paleo Chocolate Cake is amazing for any occasion!
Instructions
Prepare the Chocolate Cake:
Preheat the oven to 350 degrees F and line an 8-inch spring form pan with parchment paper.

Add all ingredients for the chocolate cake to a high-powered blender. Blend until completely smooth (avoid over-blending). Pour cake batter into the prepared baking pan and smooth into an even layer. Bake on the center rack of the oven for 30 minutes. Turn off the oven and leave cake in the warm oven another 5 minutes.

Remove cake from the oven and allow it to cool completely, about 1 hour.
Prepare Chocolate Ganache:
When you're ready to frost the cake, add the chocolate chips and ghee to a microwave-safe bowl and microwave for 20-second increments, stirring well between, until chocolate chips have melted and ganache is well-combined, about 40 to 60 seconds total.
Assemble the Cake:
Release the chocolate cake from the spring form pan and turn it out onto a cutting board. Use a long, sharp knife to cut the cake in half horizontally (hamburger bun-style).

Place the bottom half of the cake on a serving plate or cake stand. Pour 1/3 of the chocolate ganache onto the cake and smooth into an even layer. Place top half of the cake on top and pour remaining ganache over the cake and spread evenly over the cake. Allow ganache to cool and harden before slicing and serving.
Notes
*Use Paleo Chocolate Chips or chop up your favorite paleo chocolate bars to keep this recipe entirely dairy-free and refined sugar-free
Nutrition
Serving:
1
Slice
|
Calories:
384
kcal
|
Carbohydrates:
31
g
|
Protein:
5
g
|
Fat:
29
g
|
Fiber:
2
g
|
Sugar:
23
g