Butternut squash hash with apples, sausage and kale is a nutritious filling breakfast. It's a wish granting factory.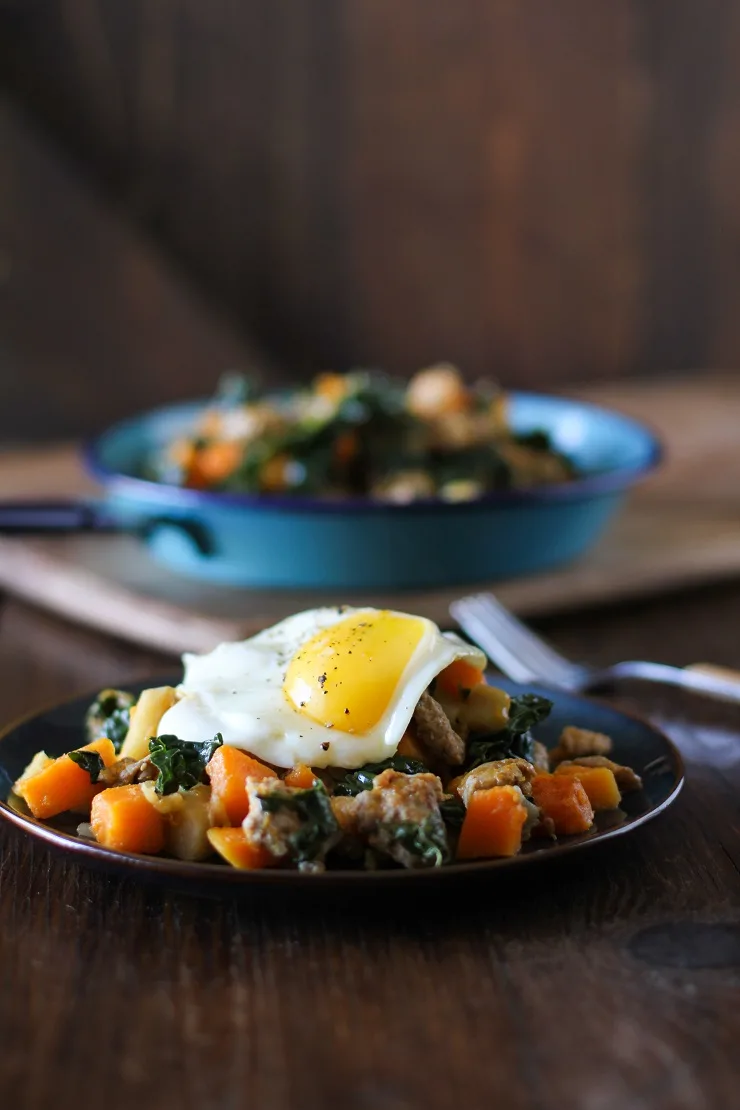 Anyone else having a real rough go at it this week?
Are you high fiving and fist bumping Alexander and his terrible, horrible, no good, very bad day and saying things like , "Dude, Alexander. I getchya, smalls. Give me some skin," even though it's kind of strange (yet strangely gratifying) to high five/fist bump any person – fictional or otherwise – for having a crap day/week?
Blame it on the four day weekend. Blame it on the holidays. Blame Murphy's Law. Blame Montezuma's revenge. Blame Canada. <- inappropriate and erroneous.
Anyhoo, the struggle is real after tasting freedom for four days.
We may have gum in our hair, but we can take extreme measures to make things right again. Like put four pounds of pork butt in the crock pot and.just.walk.away, bake every single Christmas cookie plus all the cookies that aren't Christmas-esque, eat six breakfasts, add extra butter to our bulletproof coffee, and when things get real dark: Muse Pandora Radio.
It's okay to cry in public.
Just sayin'.
Friends, I did have every intention of baking you paleo cranberry sauce bread to continue the Recycle Thanksgiving Leftovers saga, but I epic failed at it.
Like, I began baking the bread at 5:30am-ish yesterday (foolhardy, I know), realized halfway through that it just.wasn't.going.to.work, began adding ALLTHETHINGS to try to fix the situation, and ended up with a chocolate gingerbread moosh with cranberry undertones/overtones/what-the-eff-tones, that really just tasted like gaaaaahbage.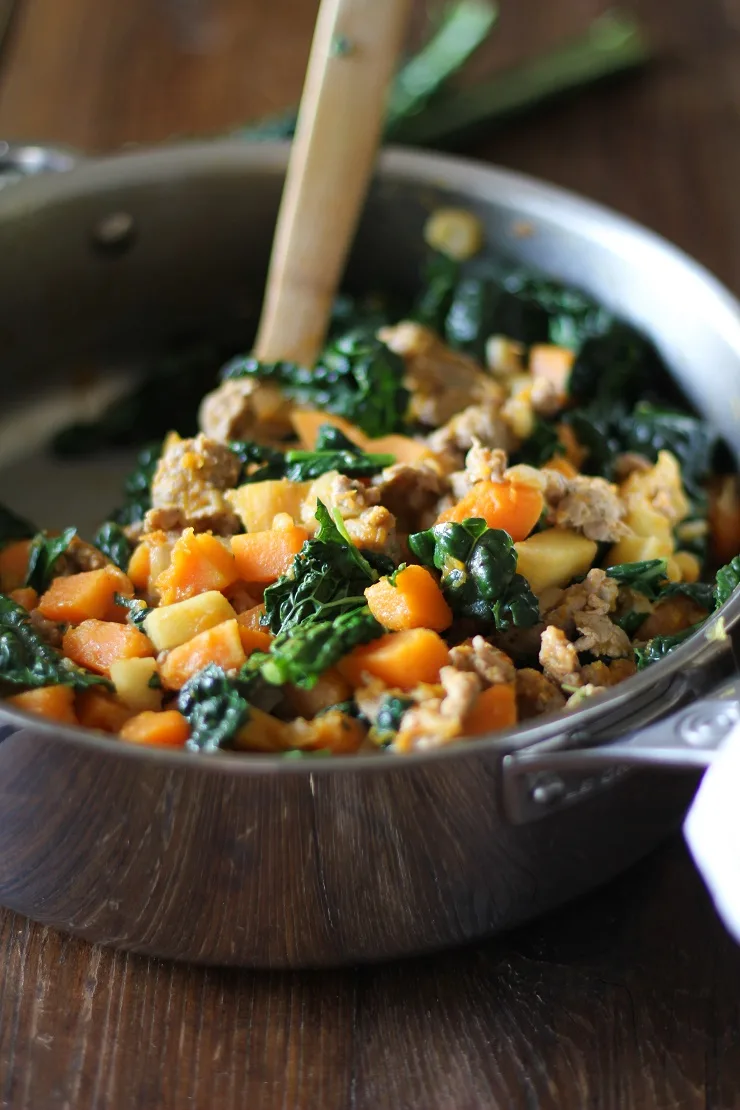 That's what you get when you bake at the devil's hour after a four-day freedom fest. Ohhhh I didn't throw the bread away, pshaw, no, no. I put it with all the other epic paleo bread fails: in the freezer…never to be seen again…because that's what you do when you don't want to take ownership of waste.
You freeze it.
So I encourage – nay, implore – you to imagine cranberry sauce bread and how it would taste like sweet, sweet, tangy, sweet surrender.
Are you imagining it? Are you eating the bread right next to Peter Pan and the Lost Boys with the rest of the imaginary foods? Good…cause I ain't re-making it. Sorry.
BUT YOU GUYS enough of the doom and gloom talk, because we're fixing all the things by eating six breakfasts (slash Muse Pandora radio), and this hash easily, comfortably feeds 6 to 100.
So just eat the whole dang thing.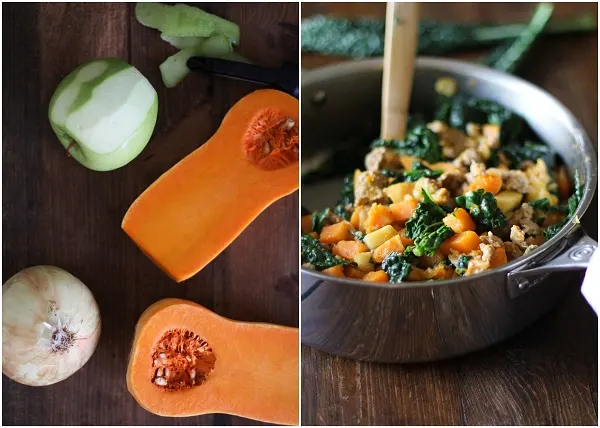 I'm pretty fond of breakfast hashes.
They're an excellent mosaic of meat and vegetables on your breakfast plate, and you can runny yolk them to high heaven if you please.
The butternut squash and apple combination has been slapping me silly this year. I love it.
Which brings me to my next point: apples in our hash. It may sound odd, but you guys, it just works!
I used turkey breakfast sausage and added kale to this, because…well…I'm me.
Hash on this with a side of imaginary cranberry sauce bread.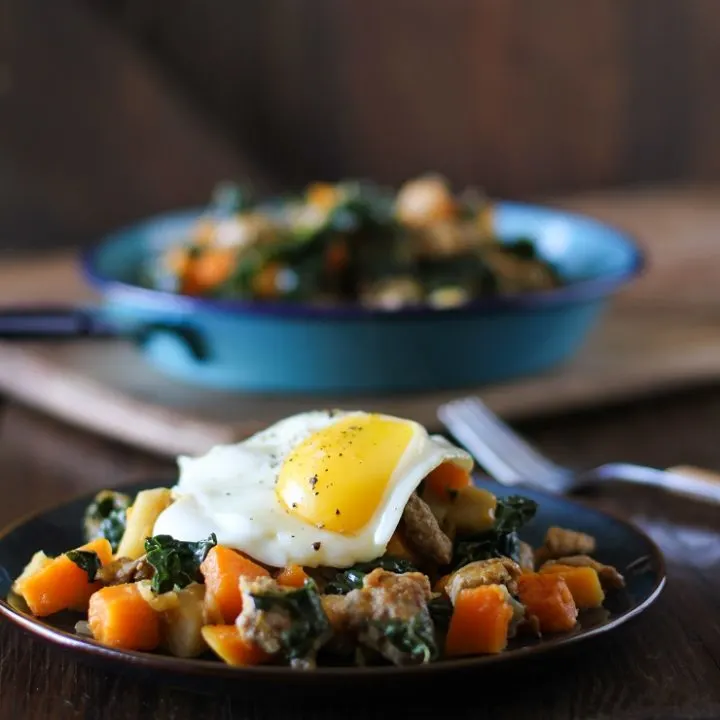 Butternut Squash Hash with Apples, Sausage and Kale
Butternut Squash Hash with Apples, Sausage and Kale a nutritious and easy to prepare breakfast
Ingredients
1 yellow onion, chopped
1 medium-sized butternut squash, peeled and chopped
1 granny smith apple, peeled, cored, and chopped
¼ cup unsweetened apple cider
1 teaspoon kosher salt, or to taste
1 pound ground turkey breakfast sausage
1 head lacinato kale, chopped
6 to 12 eggs for serving
Instructions
Add olive oil to a large saute pan and heat to medium-high. Add the yellow onion and butternut squash and saute for 8 minutes. Add the chopped apple, apple cider, and salt, and sauté for 5 minutes, stirring occasionally.
Move veggies over to one side of the skillet in order to make room for the sausage. Add the sausage and allow it to brown for a few minutes before chopping it up with a wooden spoon and incorporating it into the veggies. Cover the pan and continue cooking about 5 minutes.
Uncover the skillet, add the chopped kale on top of the hash and cover the skillet again, allowing the kale to steam on top for 1 to 2 minutes. Remove the lid and stir everything together until well incorporated. Cook until the veggies have softened to desired done-ness, and sausage is cooked through.
Serve hash with fried egg on top.
Nutrition Information
Yield

6
Serving Size

1 of 6
Amount Per Serving
Calories

232
Total Fat

10g
Unsaturated Fat

0g
Carbohydrates

21g
Fiber

6g
Sugar

9g
Protein

18g