An easy tutorial on how to make pickled peppers at home. This fun and simple recipe is perfect for those who are new to canning and enjoy a little spice.
Once upon a time, I wrote A Guide to Hot Sauces for Oh My Veggies, which was (and continues to be) quite the spicy episode.
I procured an armful of hot sauces and chilies so that I could snap photos for the post, which resulted in…lots of hot sauce…and chilies.
Because hot sauce keeps for all of eternity and I use it frequently, I experienced no scratching-of-the-chin, what-will-I-do-with-all-the-hot-sauce befuddlement. It's hot sauce. Drink it.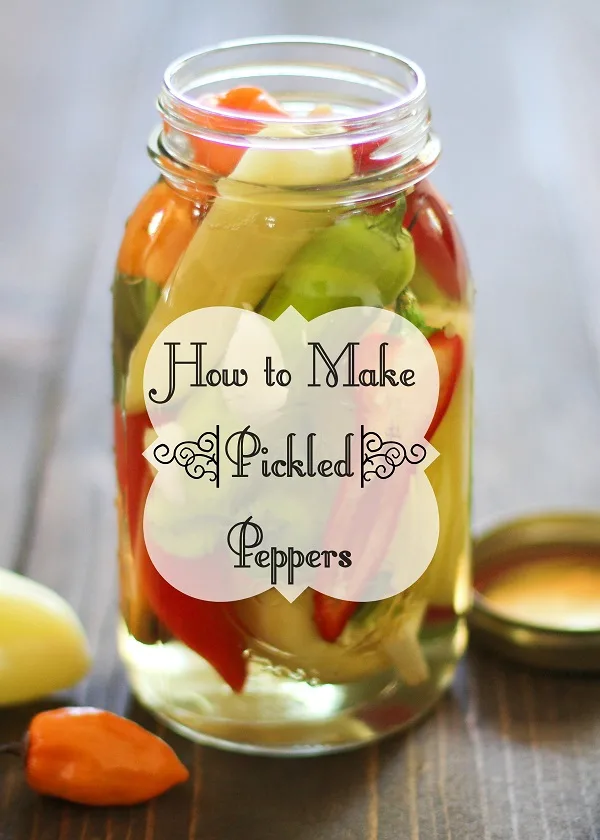 I did, however, wonder what to do with all the chilies. Stuff them? What about the habaneros? What'll I do with the habaneros?
While I had many-an-option for all of my chilies, I came across this recipe from Cooking Light for Hot Pepper Vinegar. "I could go for some hot pepper vinegar," I said to myself. But moreover, I could always go for some pickled peppers. So follow the instructions, I did.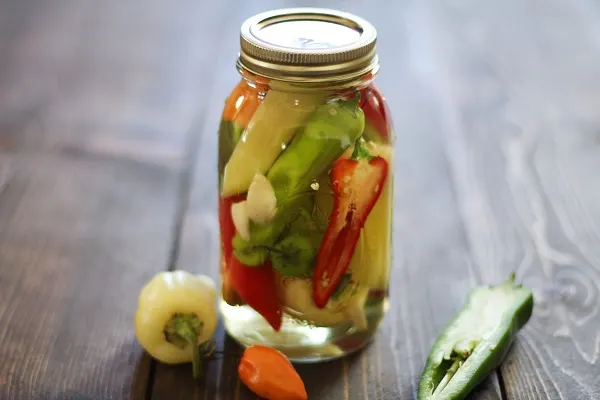 How to Make Pickled Peppers:
Pickling peppers is easy! Choose which chilies you want pickled (jalapeños are always fantastic) and snag the white vinegar and sugar out of the pantry.
If you want a spicy vinegar to use in your cooking, slice some of the peppers in half. For less spice, remove the seeds.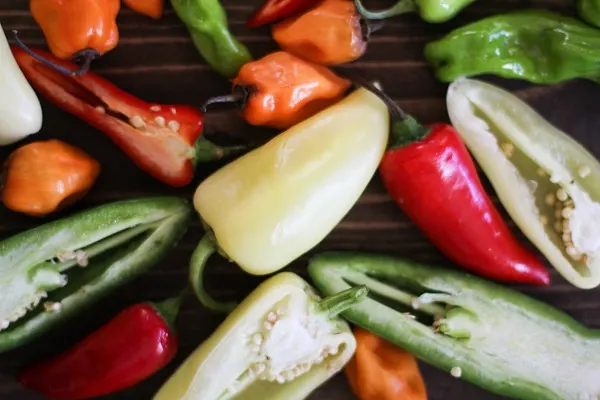 To open up the flavor of the chilis and ensure they soften up during the pickling process, sauté them first. To do so, heat 1 to 2 tablespoons of oil in a skillet over medium heat. Add the sliced chilis and sauté, stirring occasionally, until they begin to soften, and the skin begins to turn brown.
As an alternative, you can roast the chilis in the oven on a baking sheet at 400 degrees F for 20 minutes.
While you can pickle the peppers raw, I don't recommend this as they will stay very snappy and the flavor won't be quite as developed.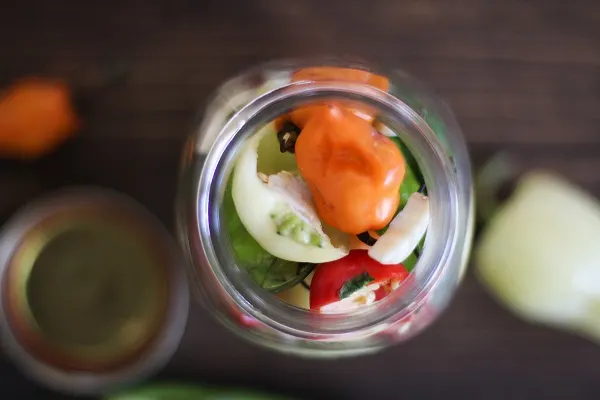 Pickled habaneros. Everyone's doing it. 😉
Pour your vinegar mixture over the peppers, seal the hatch, then refrigerate.
The longer you allow the pickled peppers to sit in the refrigerator, the softer they become.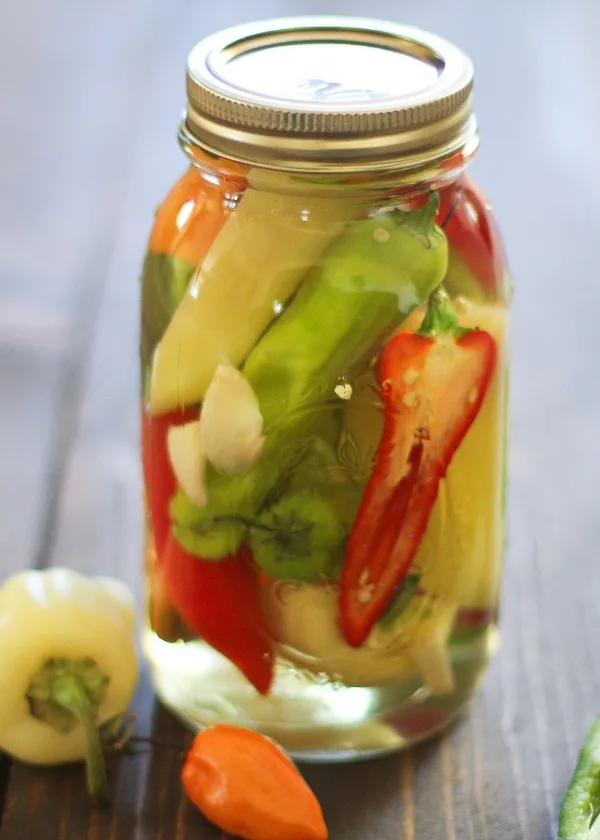 How to Store Pickled Peppers:
Make sure you're using a sanitized jar (or jars) for pickling the peppers. Once the peppers are in the jars with the pickling liquid and are nice and sealed, you can store them in the refrigerator for several months un-opened, or up to 1 month if you continuously open the jar to use the peppers.
This recipe is a bare bones pickled pepper recipe, but there is plenty of room to add seasonings.
What to Do with Pickled Peppers:
I used pickled peppers almost exclusively for sandwiches because I find them to be so tasty on a good sandwich! Here are some more ideas for what you can do with your pickled peppers:
Chop them up and put them in a quesadilla, burrito, or taco.
Blend them with other ingredients such as fresh tomatoes and onion to make salsa.
Chop them up and put them on pizza or flatbread.
Add them to a salad.
Make your own hot sauce.
Recipe Adaptations:
Add 1 tablespoon of a store-bought pickling spice blend, or any combination of the following: 1 tsp whole cloves, 2 tsp whole mustard seed, 2 tsp coriander seed, 1 bay leaf, 1/2 tsp red pepper flakes.
You may also add more sugar for sweeter pickled peppers or omit the sugar altogether. You can also replace the sugar with coconut sugar or pure maple syrup.
Sauté up an onion for a two-in-one pickled pepper and pickled onion fiesta.
Omit the garlic if you don't have any on hand
Add a few nubs of fresh ginger.
Let your hair down and enjoy the pickling process! Whatever tickles your pickle. <- Couldn't resist.
My cookbook,
Paleo Power Bowls
, is now available! CLICK HERE to check it out. Thank you for your support!
If you make these Pickled Peppers, please feel free to share a photo and tag me at @The.Roasted.Root on Instagram!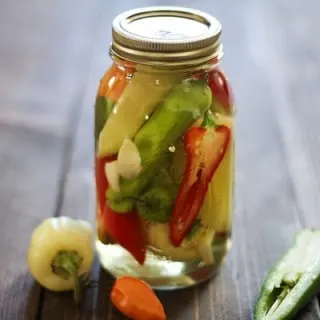 How to Make Pickled Peppers
An easy tutorial on how to make pickled peppers. Use this recipe to can peppers from your garden to keep them fresh for months!
Ingredients
12 ounces chilies of choice, about 4 cups
4 cloves garlic, sliced in half
1 3/4 cup white vinegar
3/4 cup water
1 tablespoon sugar, **
½ teaspoon salt
You Will Also Need:
Optional Add-Ins:
1 bay leaf
1 to 2 tsp whole coriander seed
1 to 2 tsp cloves
1 to 2 tsp peppercorns
1 to 2 tsp whole cumin seed
Instructions
In a large skillet, heat the oil over medium-high and add the chilies and garlic. Sauté, stirring frequently until softened, about 5 minutes. Allow the chilies to cool enough to handle.
Add the chilies and garlic to a sanitized 1-quart sized jar (or 4 smaller mason jars).
Note: If desired, slice some of the chilies in half length-wise in order to infuse the vinegar with chili spice and flavor.
Heat the vinegar, water, sugar and salt in a small saucepan until sugar and salt is dissolved.
Pour the water/vinegar mixture over the chilis and allow the contents of the jar to cool to room temperature. Seal the jar and refrigerate. Pickled peppers will stay fresh in an air-tight jar for up to 1 month.
Notes
*Replace the olive oil with avocado oil or grapeseed oil.
**If you don't do cane sugar, you can use coconut sugar or pure maple syrup.
You can also leave the chilies raw and skip the sautéing process, but they will come out more firm.
Nutrition Information
Yield

8 servings
Serving Size

1 of 8
Amount Per Serving
Calories

15
Total Fat

0g
Unsaturated Fat

0g
Carbohydrates

3g