Low-FODMAP veggie stir fry with broccoli, bell pepper, parsnip, carrot, brown rice, ginger, and wasabi-ginger sauce. This flavor-packed clean dinner recipe is easy to prepare in less than 30 minutes.
I acknowledge that this is the least sexy title for a recipe ever! I promise it tastes much sexier than it sounds.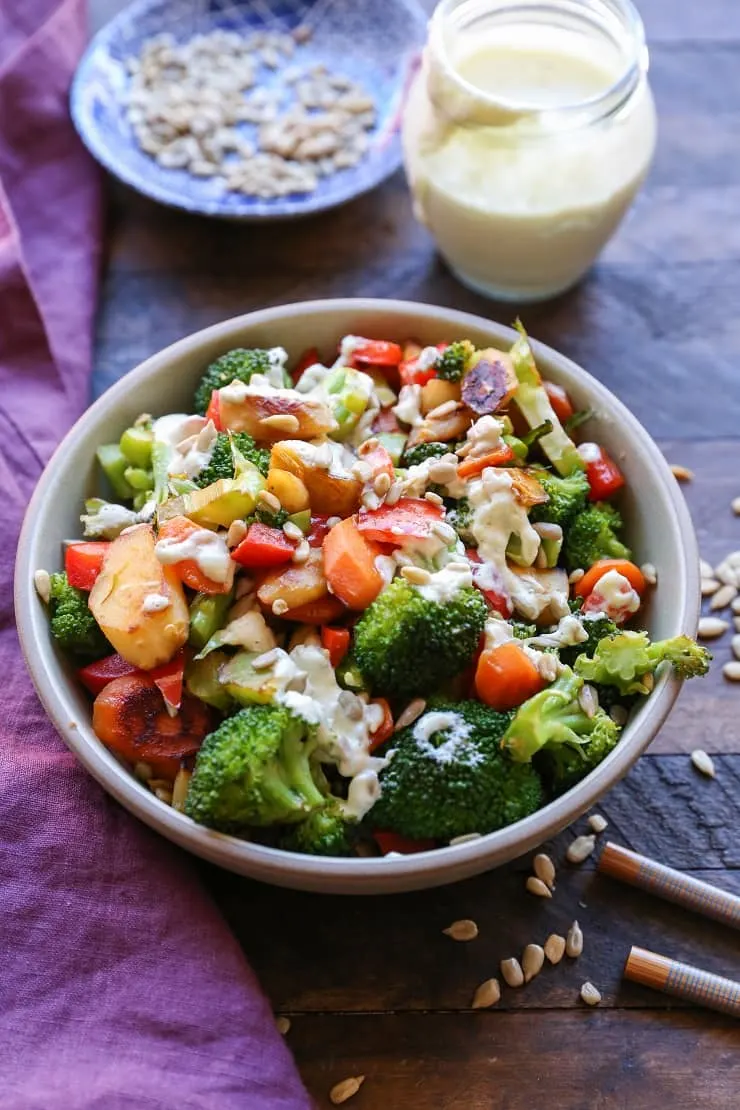 You may be wondering what the hell a FODMAP is and how it relates to you.
The quick version is FODMAPs are Fermentable Oligosaccharides Disaccharides Monosaccharides And Polyols.
These are short chain carbohydrates and sugar alcohols found in natural whole foods, and can be difficult for some people to digest (particularly those with Irritable Bowel Syndrome).
Foods that are high in FODMAPs (see the full chart of high and low-FODMAP foods here) can cause painful symptoms such as gas, bloating, distention, fatigue, and irregular bowel movements.
Those who have digestive issues typically find relief in lowering their intake of high-FODMAP foods.
If this sounds relatable to you, I encourage you to keep read My Journey with Gut Health, because learning about FODMAPs legit changed my life.
Okay, so that's the very basic jist on FODMAPs.
Because I'm sensitive to high-FODMAP foods, particularly onions and garlic, I've been making all my meals without them.
At first, I thought food would be completely void of flavor without onions and garlic (especially my much coveted stir fry), but such is not the case.
I've been able to adjust easily, and I simply use other ingredients that are big on flavor to replace them.
Which brings us to this recipe!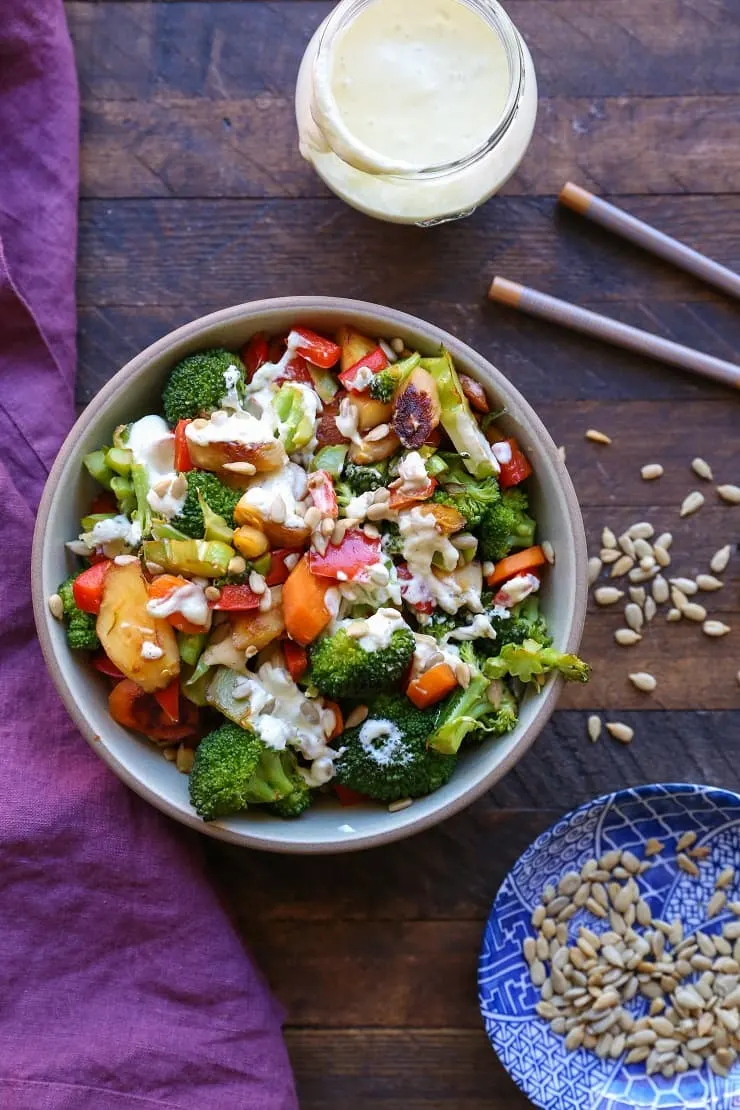 The idea behind this stir fry is super simple.
It's an easy-to-prepare squeaky clean meal that I intentionally designed to be low-FODMAP. Most stir fry recipes include onions, garlic, and soy (because: delicious), but you'd be surprised how tasty stir fry can be without them!
My choice replacement for garlic has been ginger.
I love big flavor…something to make my veggies sing, and for me, ginger does the trick.
Plus, ginger is very soothing on your digestive system, making it a double win. My choice replacement for soy?
Coconut aminos. Coconut aminos yield a very similar flavor, and the combo of ginger and coconut aminos in stir fry is an instant win.
Not only is this version of stir fry easier on my belly, but I find it so easy to prepare at a moment's notice. In fact, I make it for lunch all the time!
I find many people use store-bought sauces, such as teriyaki, szechuan, etc, for their stir fry, but simply eliminating the use of these sauces makes the meal far more nutritious!
Periodically, I make a big batch of wasabi sauce to drizzle over meals like this, as I'm all about tang and heat.
The sauce is certainly not necessary, especially if you enjoy your food on the milder side, but I love it for stepping up the flavor profile to keep things fiery.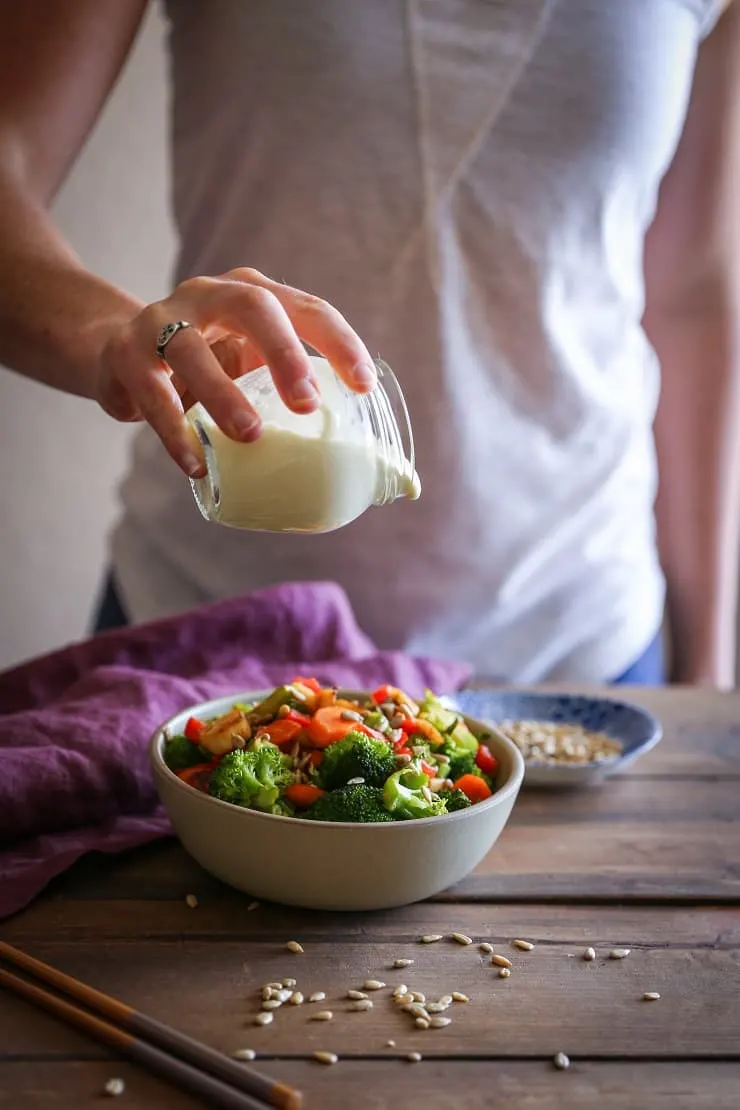 Simply cook up some rice, sauté the veggies, whip up a tasty wasabi sauce (if you so choose), and you have yourself a filling meal that will make you feel like a million bucks.
If you'd like to add animal protein, go for it!
If you're not sensitive to beans and want to keep this vegetarian, garbanzo or black beans would be a great addition for more protein.
Also check out my 46 Low-FODMAP Dinner Recipes!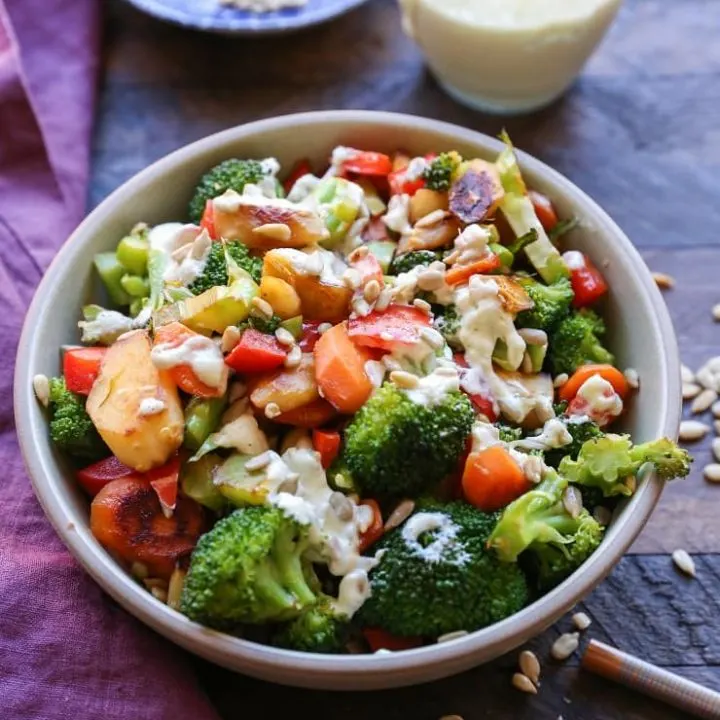 Low-FODMAP Veggie Stir Fry
Delicious vegetable stir fry made Low-FODMAP for folks who have troubled digestion or IBS
Ingredients
Low-FODMAP Veggie Stir Fry
2 Tbsp olive oil , or coconut oil
2 medium carrots, peeled and chopped
1 large parsnip, peeled and chopped
1 large crown broccoli, chopped into florets
1 medium red bell pepper, cored and chopped
2 teaspoons fresh ginger, peeled and chopped
2 Tbsp coconut aminos, to taste](http://amzn.to/2q8L99h)
sea salt to taste
Wasabi-Ginger Sauce:
1/4 cup grapeseed or olive oil
2 tsp tahini
1 Tbsp rice vinegar
2 tsp pure maple syrup
1 teaspoon fresh ginger, peeled and grated
1 to 2 teaspoons wasabi paste, to taste
1/4 teaspoon sea salt, to taste
Instructions
Wasabi-Ginger Sauce:
Add the ingredients for the wasabi-ginger sauce to a small blender and blend until creamy and well-combined. Refrigerate until ready to use.
Prepare the Stiry Fry:
Heat the olive oil in a large skillet over medium-high. Add the chopped carrots and parsnip. Cover and cook, stirring occasionally, 2 minutes.
Add broccoli and bell pepper and stir well. Cover and cook, stirring occasionally, until vegetables have softened and begin turning golden-brown, about 8 minutes. Add the ginger and coconut aminos and stir well. Continue cooking until ginger is fragrant, about 2 minutes.
Serve veggie stir fry over cooked brown rice with a drizzle of wasabi-ginger sauce.
Nutrition Information
Yield

4
Serving Size

1 of 4
Amount Per Serving
Calories

257
Total Fat

22g
Unsaturated Fat

0g
Carbohydrates

15g
Fiber

4g
Sugar

9g
Protein

4g