Tender shredded chicken stuffed sweet potato skins with goat cheese, pecans, and bacon. A comforting appetizer to share on game day!
This post is sponsored by the American Pecan Council.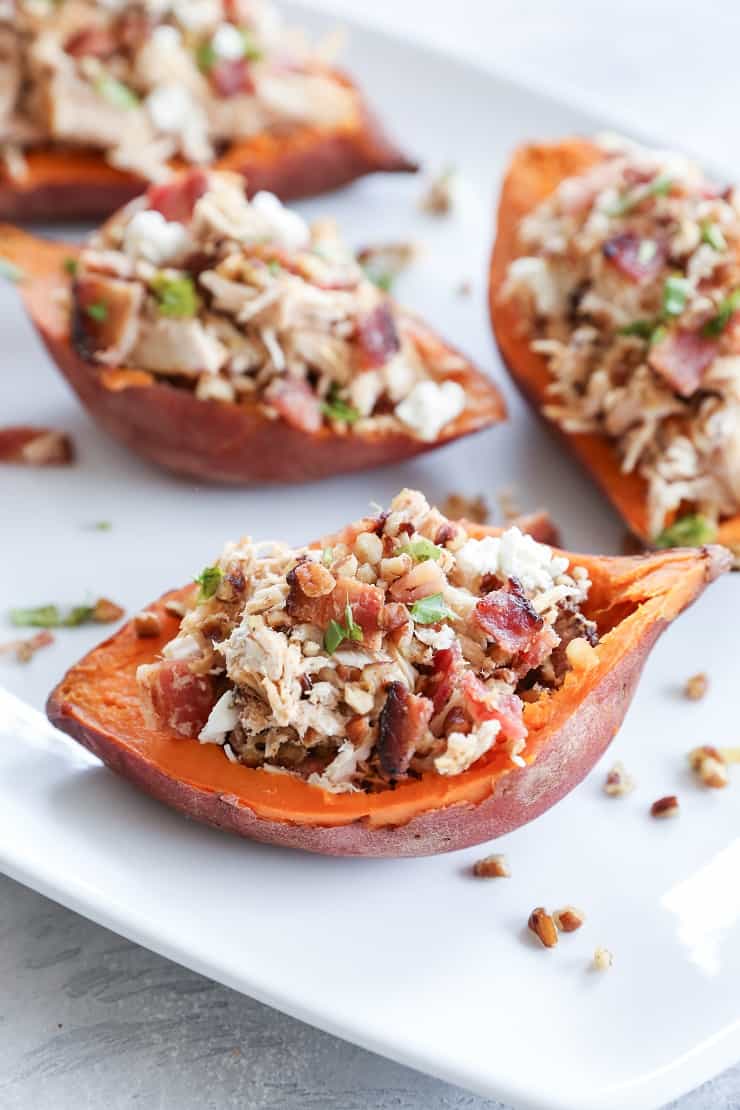 The way I see it, these tasty potato skins are perfect for serving at your Game Day party, or really any gathering! They're just the right amount of filling to help tide your friends over on game day, and they're also straight-forward to prepare.
In order to prepare the shredded chicken filling, we slow-cook a couple chicken breasts in the crock pot, shred them up, and mix the shreds with goat cheese, bacon, and pecans. The flavors and textures combined are out of this world! The goat cheese lends a nice creamy tang, where the bacon gives that meaty essence without making the potato skins overly heavy, and the pecans bring a marvelous nutty flavor and crunch to round out the whole experience.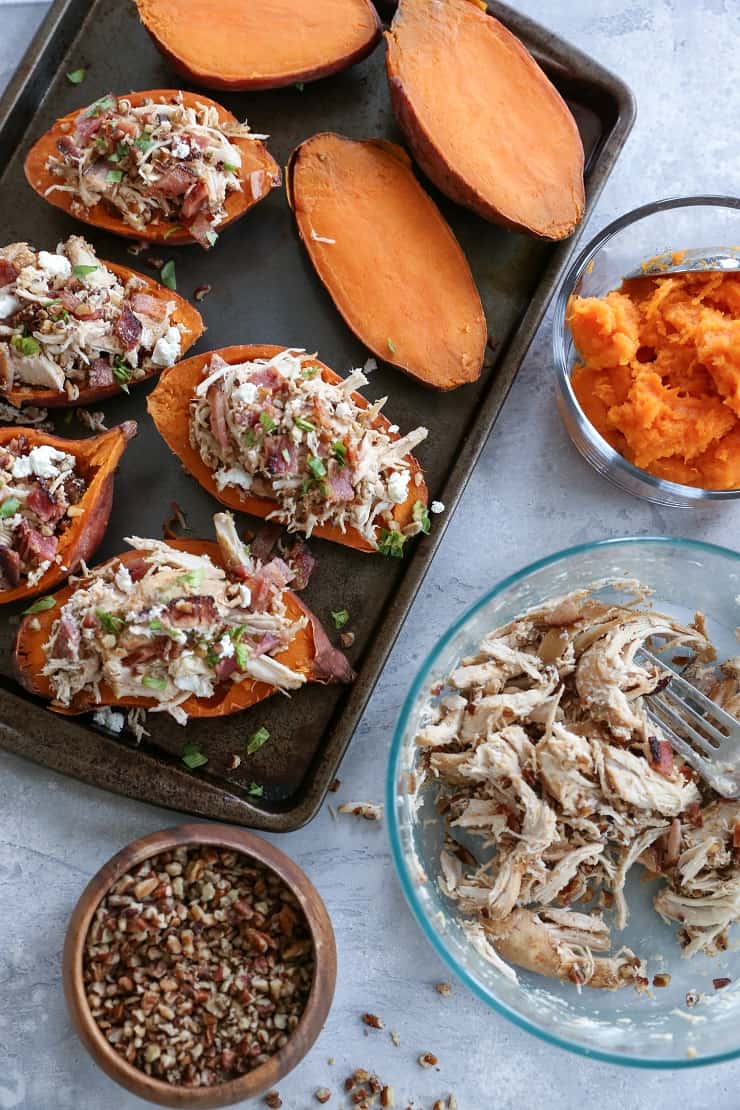 Speaking of pecans…
We discussed pecans briefly a few weeks ago in my Roasted Butternut Squash Kale Salad recipe, and now we're back at it. Did you know pecans are the only tree nut indigenous to North America? In fact, we grow 80% of the world's pecans right here in the U.S.
Pecans are quite the superfood, as they contain unsaturated fats, plant sterols, fiber and flavonoids, which when added together help promote a healthy heart. According to the U.S. Food and Drug Administration: Scientific evidence suggests but does not prove that eating 1.5 ounces per day of most nuts, such as pecans, as part of a diet low in saturated fat and cholesterol may reduce the risk of heart disease. One serving of pecans (28g) has 18g unsaturated fat and only 2g saturated fat. It's easy to make one serving happen daily since pecans are so versatile – they're not only magnificent on their own (and in pie…duh 😉 ), but they can be added to so many dishes to bring flavor, texture, and nutrition benefits to the table.
So now that we're becoming well-versed in the magical world of pecans, we can circle back to these sweet potato skins.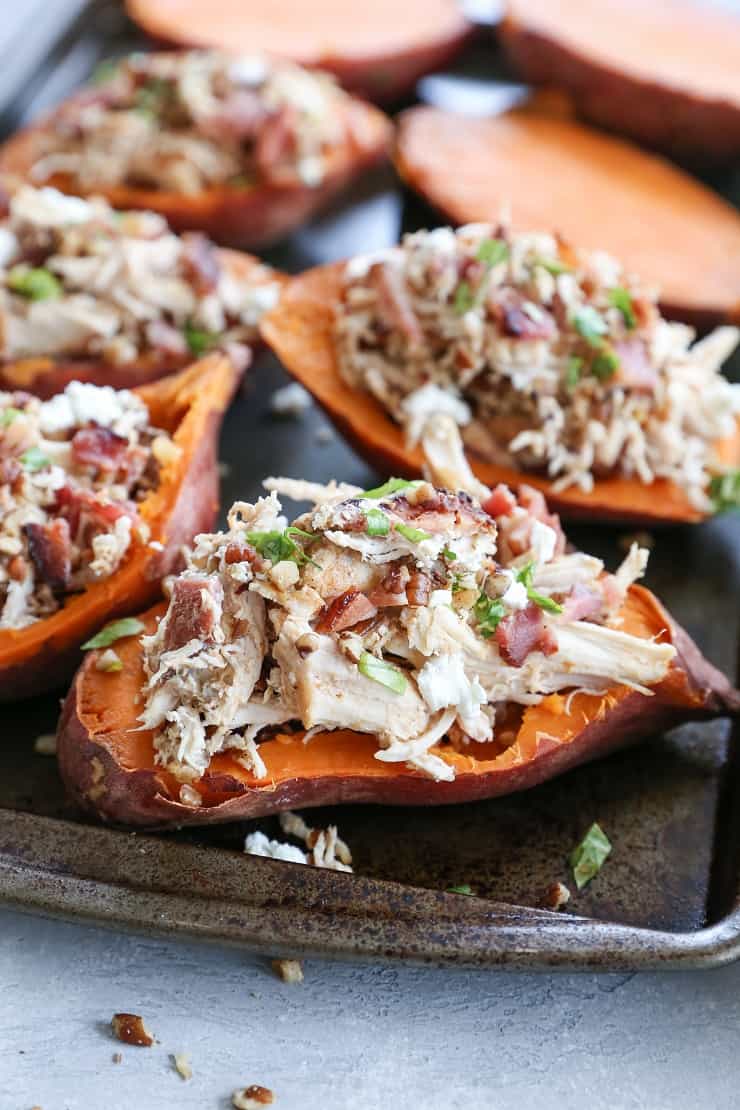 You can make this recipe in parts by roasting the sweet potatoes ahead of time, cooking the chicken, and/or making the shredded chicken filling in advance. If you're under a time crunch and don't have time to slow-cook the chicken, you can season the breasts and bake them for 35 to 40 minutes at 350 degrees in the oven (until the internal temperature reaches 160 degrees F). If you're a fan of poached chicken, you can go that route as well!
Okay, now let us address the elephant in the room. What if we're wanting this experience to become more than just an appetizer? Feeling like turning these potato skins into a meal? Get after it! In fact, these sweet potato skins made for an ultra-satisfying lunch for the boyfriend and I for a couple days in a row. The macronutrient quality of them is pretty epic, with "good" fats, a nice protein punch and very few carbs. All you'd need for a complete meal is toss in a side salad.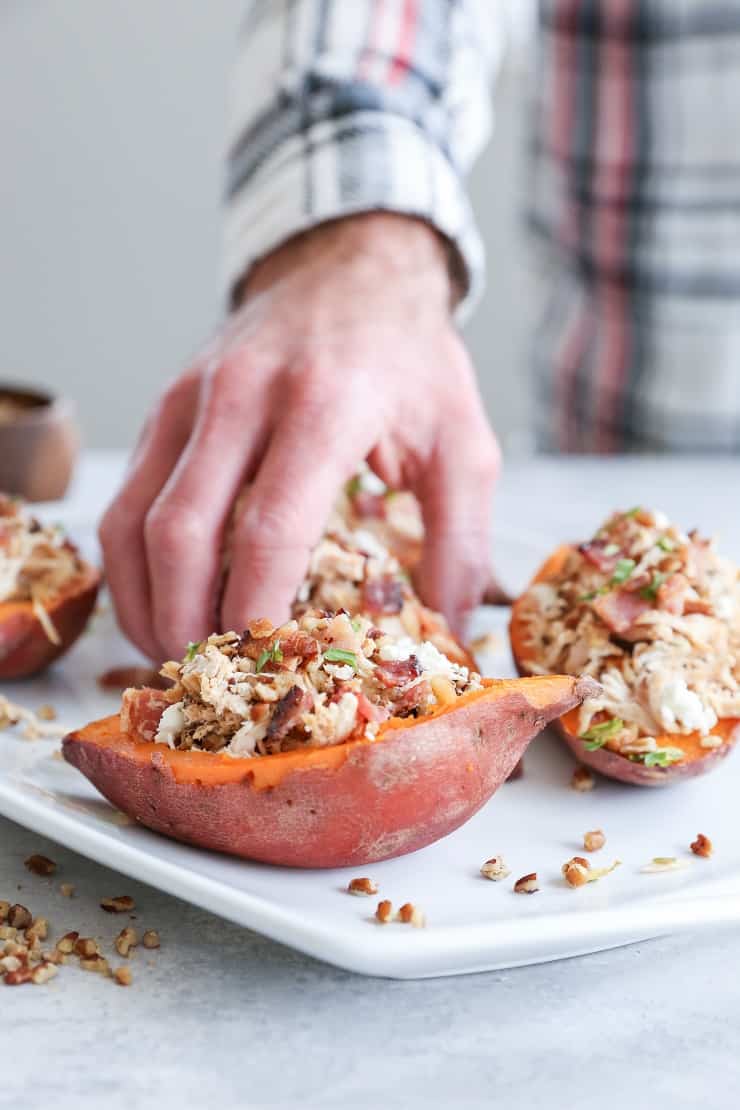 Load them up!
Loaded Sweet Potato Skins with Pecans and Chicken
Stuff roasted sweet potatoes with chicken and bacon for a clean dinner or side dish for serving guests!
Ingredients
For the Slow-Cooked Chicken:
1.3

pounds

boneless skinless chicken breasts

1.5

cups

chicken broth

2

teaspoons

chili powder

1/2

teaspoon

sea salt

to taste
For the Sweet Potato Skins:
4

small sweet potatoes

3

slices

thick-cut bacon

cooked, see note*

4

ounces

goat cheese

1/2

cup

raw pecan pieces

1

tablespoon

fresh oregano or parsley

chopped

1/2

teaspoon

sea salt

to taste
Instructions
Add the ingredients for the shredded chicken to a crock pot or slow cooker. Secure the lid and cook on low for 3 to 4 hours, or until the chicken is cooked through and shreds easily. Transfer chicken to a cutting board and use two forks to shred it. Place shredded chicken in a mixing bowl.

While chicken is cooking, roast the sweet potatoes. Preheat the oven to 400 degrees F. Poke each sweet potato several times with a fork and wrap each potato in foil. Bake for 45 to 60 minutes (depending on the size of the potatoes), until very soft when poked with a fork. Remove potatoes from the oven and allow them to cool.

Add the cooked bacon, bacon drippings, goat cheese, pecans, oregano, and sea salt to the mixing bowl with the chicken. Stir everything until well-combined. Taste the filling mixture for flavor and add more sea salt to taste.

Slice each sweet potato length-wise and scoop out some of the flesh to make room for the shredded chicken filling. (Note: Use the sweet potato flesh for mashed sweet potatoes, or a side dish (or dessert of choice)).

Stuff the sweet potato skins with the chicken filling and serve (Note: you can leave the potato skins in the warm oven until guests arrive and you're ready to serve).
Notes
*save the bacon drippings! You'll be using the grease to mix with the chicken
Nutrition