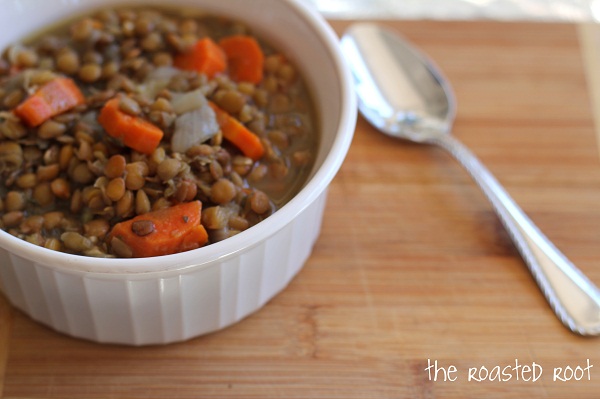 A few days ago, something  happened that everyone in the Lake Tahoe basin has been waiting for: a storm came in. It lasted three days and ski resorts got a total of between 3 and 4 feet.  This winter has been uncompromisingly dry, so the snowfall was welcomed by even those who could care less about the white fluff because the environment simply needs the moisture.
Dying to catch some of the powder at its finest, we stayed with my mom and Carlo in Tahoe and hunkered down for the duration of the storm, jumping at the chance to play around in the new blanket of snow.  The official snow report: yup, there's enough snow for snow activities but said snow activities include periodically hitting rocks and foliage. When life gives you lemons…you go snow mobiling on them…uh… you get the point.
Number three on my list of favorite things about winter in the mountains: getting cooped up inside and making food. In point of fact, I love this so much that I wish it would snow in the summer time as well, just for a day or two, so that I can coop up and not feel weird about it.  For the most part, we made use of the ingredients we had at my mom's place in lieu of going to the store (which is a half mile away…but a long half mile when you lazily glance at the snow that would have to be removed from your windshield before driving, shrug, and go back inside), so out of this arose one of Carlo's specialties: lentil soup.
I used the recipe Carlo goes by with only two changes: instead of using a ham hock, I used a smoked Diestel turkey thigh and I added some lemon zest.  One of the things Carlo and I have in common is we could eat soup every day of our lives.  We discussed this while snow was falling outside and we were dishing up large bowls of hot lentil soup; Garrett, Carlo and I staring at each other after marathon computer sessions…"soup even in the summer time?" I asked. "Gazpacho", Carlo said.  And I said, "you're right."
This simple soup can (and should) be made in bulk. It is inexpensive, takes very little attention span and hits the spot on a cooped up day. What a winner!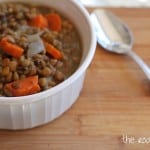 Lentil Soup with Smoked Turkey
Print
Ingredients
4

carrots

peeled and chopped

1

yellow onion

chopped

5

cloves

garlic

chopped

1

tablespoon

olive oil

1-2

smoked Diestel Turkey thighs

or 2 ham hocks

3

cups

green lentils

6

cups

water

3

cups

chicken stock

1

bay leaf

6

sprigs thyme

2

teaspoons

salt

Black pepper to taste

Zest of 1 lemon

parmigiano reggiano for sprinkling on top
Instructions
In a large stock pot, heat the olive oil over medium-low heat. Add the onion and garlic and sauté until translucent, about 4 to 5 minutes.

Add the carrots and sauté for another 2 minutes

Add the lentils and sauté everything together about 3 minutes until lentils are glistening.

While ingredients are sautéing, bone the Diestel turkey thighs. Chop the meat into bite-sized pieces.

Zest the lemon and add zest to the pot

Add the water, chicken broth, salt, pepper, bay leaf, thyme sprigs and the bones from the Diestel turkey thighs to the pot. Bring to a boil. Reduce heat to low and simmer 30 minutes.

Check the lentils to see level of "doneness" – they should be soft, but should maintain their shape. Allow soup to cook an additional 15 minutes so that the lentils can sop up more liquid.

10 minutes before serving the soup, add the chopped meat. Remember it is smoked so it is already cooked all the way through – we are simply heating it up.

When lentils are fully cooked and the flavors have come together, remove the thigh bone, bay leaf and the sprigs of thyme; serve in large heaping bowls.