This quick and easy loaded turkey chili recipe is a filling and healthful meal – perfect for sharing with your friends and family during the cold fall and winter months!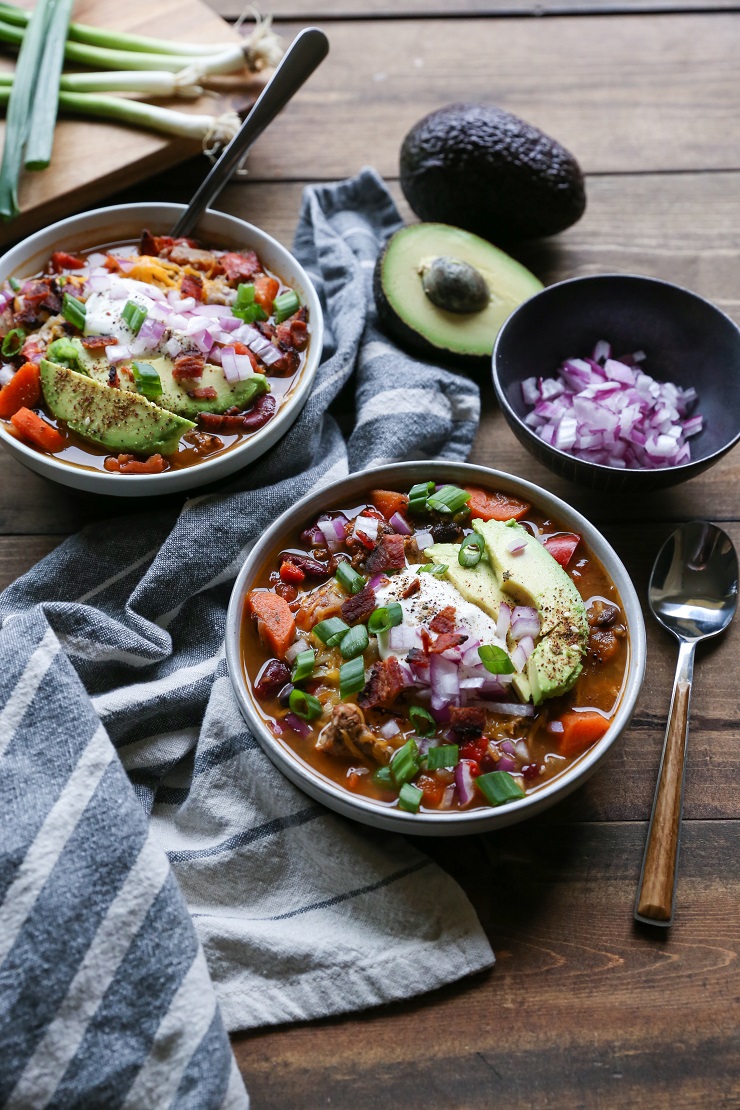 Topping chili is a fine art, do you agree?
The forethought and execution of said endeavor may be the most important thing you do all day. When it comes to pimping out your chili, the more pieces of flair, the better.
The flavors and textures you add to the top are just as crucial to the final outcome as what goes in the actual chili.
I love the bacon-cheddar-sour cream trifecta…and with red onion and green onion… there's just no other comparable flavor combination.
Avocado? Major bonus.
If I may be so bold, I'd say a three-topping minimum is a must, but if you can get to that five topping mark?
You've achieved a true level of badassedness, and deserve a mega gold star emoji.
If I had to choose one meal to eat for the rest of my days, it would be liver and onions. Just kidding, I just wanted to see if you were awake. It would be chili, guilty as charged.
I know, I know, I posted that Crock Pot Boozy Bison and Sweet Potato Chili a couple weeks ago, but the way I see it, there's no such thing as too much chili, and revisiting the subject can never come to early.
The manacle and I have made this chili three times over the last month (in fact, it was dinner last night!). It's been the go-to whenever we're
a.) lazy and just want to toss together a straight-forward one pot meal
b.) hangry and in need of something cozy and guaranteed to fill, and/or
c.) we're mid blizzard and don't feel like going to the store but have a pantry stocked with what we need.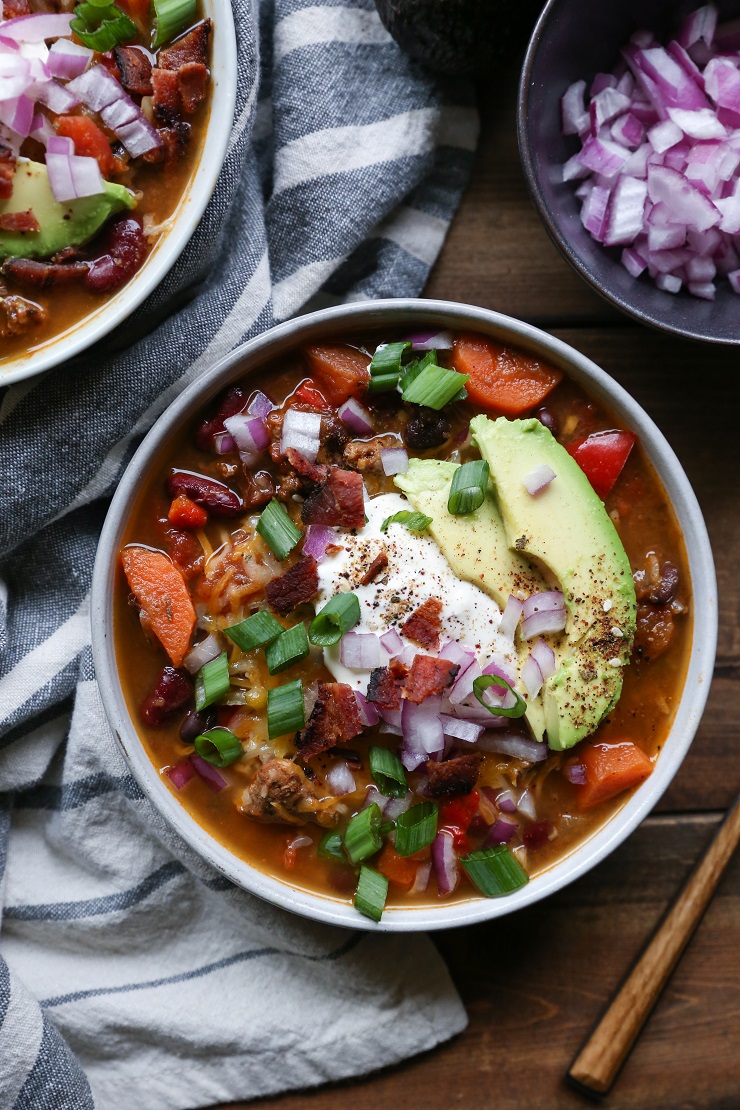 There's really just nothing that can beat a well-constructed chili!
Truthfully, I always go back for seconds…and then thirds…and then I scold myself in a state of over-stuffed glee for that third bowl.
But it's such a satisfactory hurts-so-good type of situation that I just can't bring myself to finally learn the lesson.
Another lesson I should pony up and learn is to double the recipe for a larger volume of leftovers.
Both of us eat large portions, and it's always sad to see the bottom of the stock pot.
If you have a big family, and/or are as big of a fan of leftovers as I, do consider the recipe doubleage.
New to me this year: fresh tomatoes in chili.
I used to only do diced, but mid chili assemblage a few weeks ago, I discovered two ripe tomatoes in my fridge that needed to get used up, so in the chili they went.
And while I pride myself in not being too opinionated, I now feel very strongly about fresh tomatoes in chili. Simply put, they add freshness and also beautiful texture.
I could talk your ears off for days about how profoundly I recommend fresh tomatoes.
This basic recipe may just be the only turkey recipe you'll ever need.
It's a great foundation for the classic meal, but you can also tweak it to your heart's delight.
Use any bean combo, turn it into a beef chili, add a splash of beer or bourbon, some cocoa powder for richness, an extra chili for heat, etc.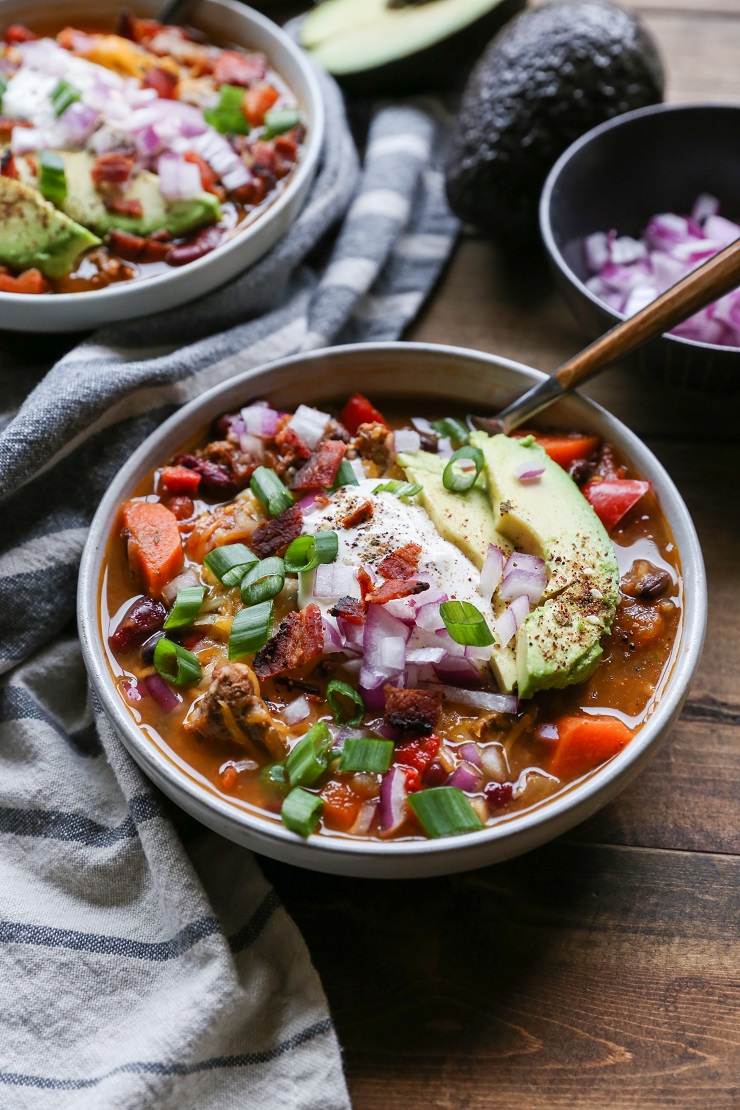 In terms of chili thickness (<- important subject alert): I go back and forth when it comes to the consistency I go back and forth on my preference depending on the day.
Sometimes I want my chili to be thin and zesty, where sometimes there's not enough thickness in the world to satisfy my thick craving, you know?
For those of you who love a thin chili, be sure to add more broth to the recipe.
If you prefer your chili thick, you can cook it down longer to achieve that thickness, or even add a little bit of flour (the roux situation has its place in chili for sure!).
The chili thickens (and becomes more flavorful) the longer it sits, so if you can, make the recipe one day ahead of time and allow it to marinate in the refrigerator before consumption.
One final thought before I let you go get on with your loaded turkey chili-filled weekend: If you're going to be partaking in any sort of Super Bowl activities slash general football gathering apparatus in the near future, this recipes marvelous for sharing. Just be sure to bring a minimum of three toppings. Winky face.
Load 'er up!!
Loaded Turkey Chili
The only turkey chili recipe you'll ever need!
Ingredients
2

tablespoons

olive oil

1

medium yellow onion

diced

1

red bell pepper

chopped

1

jalapeno

seeded and finely chopped

1

large carrot

peeled and chopped

4

cloves

garlic

minced

1

pound

ground turkey

3

tablespoons

chili powder

2

teaspoons

dried parsley

2

teaspoons

dried thyme

2

teaspoons

sea salt

1

teaspoon

ground cumin

1/2

teaspoon

red pepper flakes

optional

2

vine-ripened tomatoes

seeded and diced

1

14-ounce can diced tomatoes (no salt added recommended), undrained

3

cups

low-sodium chicken broth

1

14-ounce can black beans, drained

1

14-ounce can kidney beans, drained
Instructions
Heat the olive oil over medium-high in a large stock pot or Dutch oven. Add the chopped onion and saute, stirring occasionally, until translucent, about 5 to 8 minutes.

Add the bell pepper, jalapeno, and carrot. Cover and cook, stirring occasionally, until vegetables have softened but are still al dente, about 5 to 8 minutes.

Push the vegetables off to one side of the pot to clear a space for the ground turkey. Place the ground turkey on the hot surface and allow it to brown untouched for 2 minutes. Use a spatula to flip the meat and allow it to brown on the other side for 1 minute. Break up the meat into large chunks and stir it into the vegetables. Don't allow the turkey to cook through just yet.

Add the garlic and all of the seasonings (chili powder through red pepper flakes). Continue cooking, stirring occasionally, until very fragrant, about 2 minutes.

Add the chopped tomatoes, diced tomatoes, chicken broth and beans. Bring the chili to a full boil. Reduce the heat to low, cover, and cook at a gentle boil for 20 to 30 minutes. Remove the cover and cook at a gentle boil for 10 minutes uncovered (if necessary, increase the heat).

Taste chili for flavor and add sea salt and/or additional chili powder to taste. Serve heaping bowls of chili with cooked bacon (thick-cut recommended), cheddar cheese, sour cream, avocado, red onion and green onion.
Notes
Serving suggestions:
chopped red onion
chopped green onion
bacon
avocado
sour cream
cheddar cheese
Nutrition