Kiwi Strawberry Açaí Bowls are a nutritious and delicious vegetarian breakfast.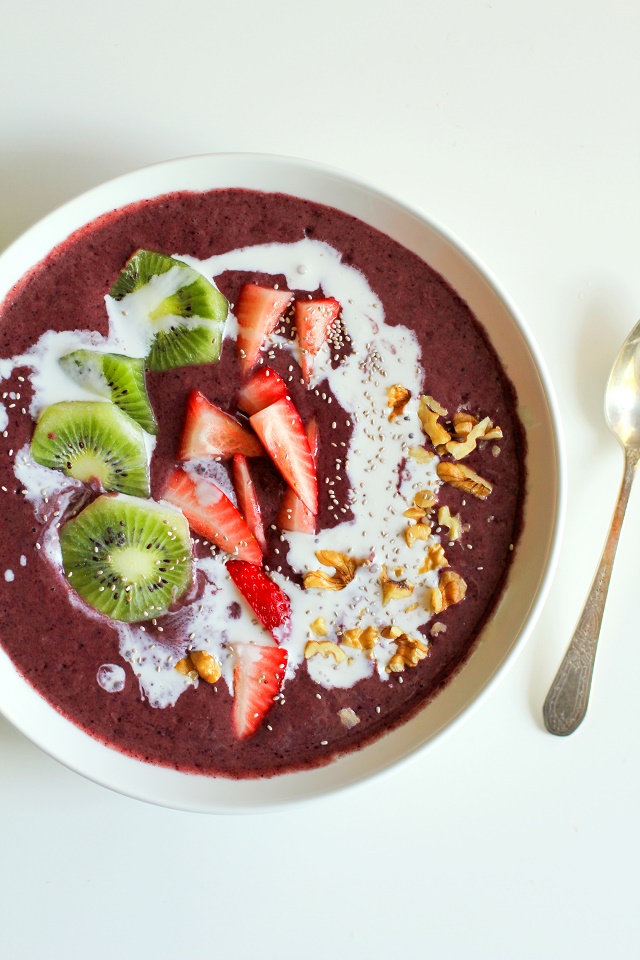 I've been going through a sizeable bout of FOMO (fear of missing out) these last few weeks.
As in, I want to do, be, see, say, cook, experience, feel, learn, know allthethings. It feels like there's just not enough time in the day nor funds in the world to be this epically perfect person carrying around all the epic stories to share with all the people in every nook and cranny of the world.
You know how this FOMO thing works…your friend buys a house (or a second house), gets the cutest dog that you just want to squish against your face, quits his/her job and books flights across the world for a year-long travel extravaganza, or gets a stellar promotion with stock options, royalties, and dividends and is jettisoned face-first into responsibilityhood. And you just feel like you're being left in the dust. With Val Kilmer in Tombstone.
You go to a deep dark place…
…and then yank yourself out of the FOMO hole by reminding yourself of all the things that are going right, as opposed to focusing on what you're missing. Like having amazing friends and family, enjoying a simple life, having your health, and being on the path you've chosen, no matter how far down that path you've gotten thus far.
Last week, my FOMO came to a head and I had to take a step back and go "WHOA.
"…Get this girl a smoothie."
The expectations I've been body slamming upon myself had been slow cooking inside me and were just about to boil over when all of a sudden, I snapped out of my tunnel vision and put myself on timeout.
And you know what I did? I made this açaí bowl.
It sounds lame, but smoothies, smoothie bowls, and açaí bowls have this incredible calming power over me. Show me a pissed off person who is drinking a smoothie. Said person does not exist. You just can't be angry while nourishing your body with exactly what it needs.
From a scientific standpoint, that "healing power of smoothies" thing is probably just the result of raising my too-low blood sugar. But from a metaphysical standpoint, I like to believe there's more to it than that. The simple act of getting a great deal of nutrients efficiently through a vibrant açaí bowl gives you an appreciation for the manner in which you take care of yourself.
And you guys, they're so freaking good!
If you weren't present for the Fruit & Nut Açaí Bowls I posted a few months back, I'll give you a quick recap: açaí berries are nutrient-packed superfruit full of antioxidants, omega fatty acids, B vitamins, vitamin K, and fiber. You can pick up packages of frozen açaí berries from your local natural food store, or do as I do and use açaí powder. Simply blend up the ingredients like a smoothie and serve that sucker up with your choice of fresh fruit, nuts, chia seeds, and a drizzle of full-fat coconut milk.
Because we're nearing the end of kiwi season, and strawberries have been so sweet and juicy, I chopped up the two for enjoying atop my smoothie bowl. Did you know kiwifruit are alkaline? This is especially good news for someone like me who eats almost nothing but acidic food (errr…cough cough pots of coffee cough choke ahem) They are also full of Vitamin C, Vitamin E, fiber, and antioxidants (more about the health benefits of kiwi here).
And strawberries? We don't think of them as an astoundingly great-for-you fruit since they taste so dang good, but you guys, they're grrrrreat for you! Also chock full of Vitamin C, antioxidants, and a natural inflammation reducer, strawberries are known for fighting cancer, promoting healthy skin, and regulating blood pressure.
Don't get me started on walnuts. Okay, do. Protein, omegas, antioxidants, done!
Shoo! In essence, you're looking at a de-stresser, de-bloater in a bowl, and a tang scrumptious meal. They may not dissolve all of your FOMO, but they'll be there for you when you need to take a deep breath, exhale, dance it out to Ellie Goulding and Calvin Harris, and take a chill pill.
Kiwi Strawberry Açaí Bowls
Kiwi Strawberry Açaí Bowls are a fun, nutrient-dense breakfast.
Ingredients
1

large ripe banana

½

cup

light coconut milk

1

cup

frozen blueberries

3

tablespoons

açaí powder*
For Serving:
1

ripe kiwi

peeled and sliced

2

large ripe strawberries

chopped

2

raw walnut halves

chopped
Instructions
Add the banana, coconut milk, blueberries, and açaí powder to a high-powered blender. Blend until smooth. Pour into a bowl and serve with chopped strawberries, kiwi, walnuts, and a drizzle of full-fat coconut milk and chia seeds.
Notes
*You can replace the acai powder and blueberries with 1 3.5-ounce packet Sambazon pure acai berries, thawed slightly.
Nutrition