Nutrient-dense gut healthy prebiotic and Probiotic Power Bowls with roasted beets, cauliflower, dandelion greens, brown rice, sauerkraut, walnuts, and an orange cider vinaigrette. A happy gut meal perfect for making a part of your weekly routine.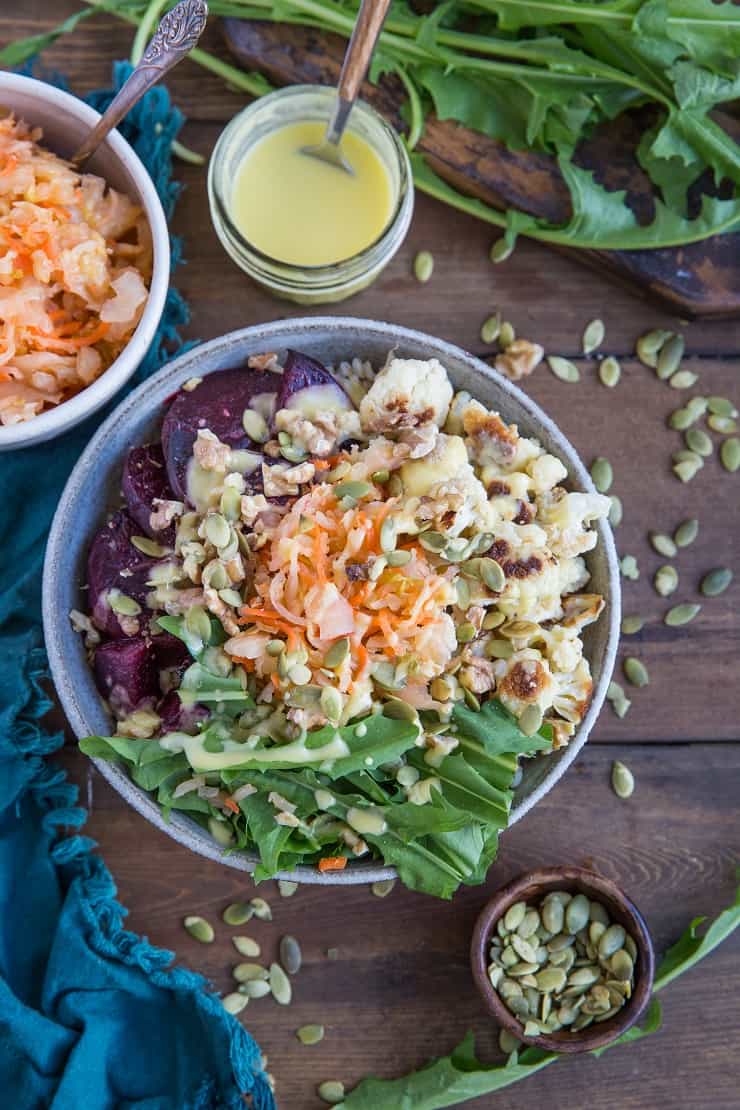 What is the state of affairs in your gut lately?
I designed these bowls to be gut healthy for those of us with troubled GI systems and also for anyone who simply loves a nutritious meal.
For those of us with gut issues, it can be a constant battle to maintain a healthy microbiome.
I find my gut health is at its best when my stress is under control (we'll call it a managed boil 😉 ) and I'm careful with both my food intake and level of exercise.
I've also found paying attention to my hormones in addition to gut health keeps both systems functioning properly.
There are a ton of tools we can employ to manage gut health and hormone health. Lately, some of my most powerful tools have been taking a magnesium supplement (if you're unfamiliar with the role magnesium plays in your health, read this blog post, Should You Take a Magnesium Supplement? from Stupid Easy Paleo), adding collagen to my morning bulletproof coffee or matcha, taking shots of apple cider vinegar (I drink 1 tablespoon twice per day before meals), lowering my sugar consumption (including natural sweeteners), and dry brushing (which stimulates your endocrine system).
I also take a probiotic and a multivitamin daily, and as you can imagine, I'm very careful with my food intake.
For those of you who haven't beaten around The Roasted Root bush a time or two, I eat a fairly strict paleo diet.
Because I exercise daily, I have a difficult time going entirely grain-free, so I do incorporate rice into my diet from time to time (I don't eat rice daily, just when I need to ramp up my car intake).
These Gut Healthy Probiotic Power Bowls are an example of what I eat following a run or workout to replenish my glycogen levels as they are dense in complex carbohydrates.
As you can see, I kept them vegan, but depending on my protein needs, I broil up some salmon or bake a chicken breast to add to the bowl for some animal protein.
If you like the idea of staying meatless, you can also add chickpeas or black beans for plant-based protein (assuming you can tolerate beans).
Okay, lettuce discuss what it is about these bowls that make them gut healthy and probiotic-rich.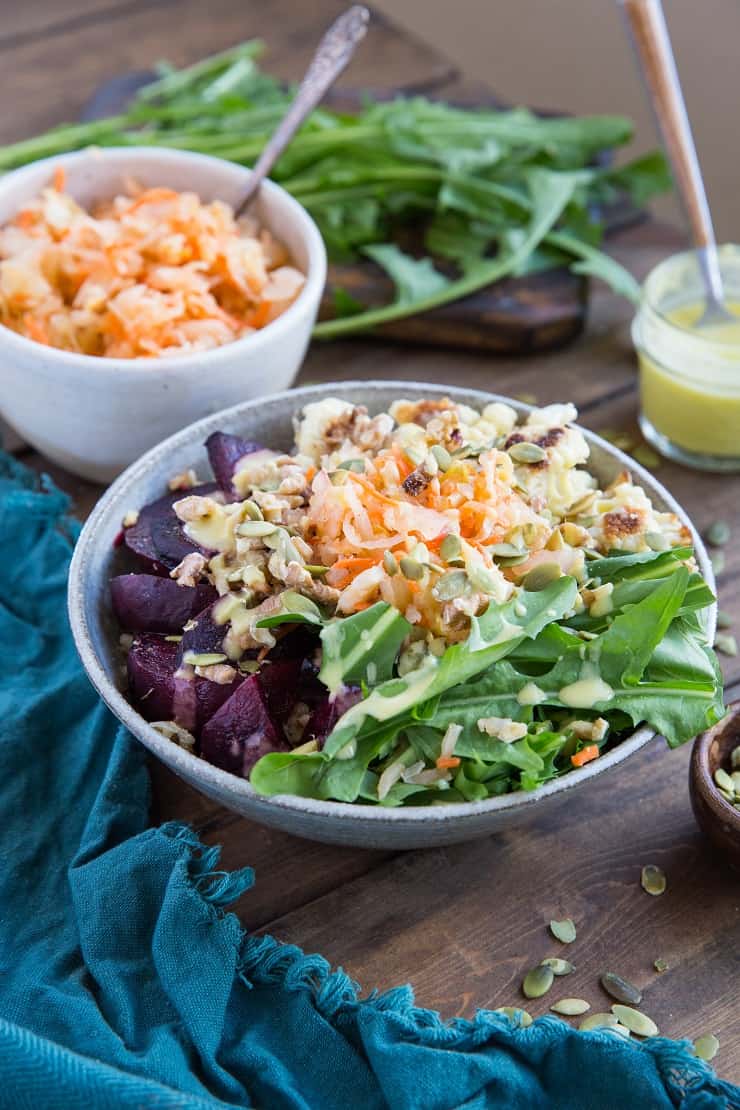 Gut Benefits of This Bowl:
What makes these bowls attractive to your gut?
A mixture of prebiotic food and naturally fermented probiotic food.
Prebiotics help feel the good bacteria living in your gut, and probiotics simply add to that population.
Eating a combination of prebiotic and naturally fermented probiotic food (like yogurt, sauerkraut, kimchi, fermented pickles, etc) ensures your gut microbiome favors good bacteria, thereby keeping your immune system strong.
Beets, cauliflower, dandelion greens, and onions are potent prebiotics so very-well received by your healthy gut bacteria.
The dressing is made with ginger (fabulous for healthy digestion and easing any digestive pain), apple cider vinegar (make sure you use the kind with active cultures for a probiotic infusion), orange juice (because: flavor), and garlic (another prebiotic).
I add a heaping portion of sauerkraut to these bowls, which is packed with probiotics to help replenish the good bacteria in your gut.
If you're savvy in the fermentation department, you can absolutely make your own sauerkraut (or kimchi) at home. In fact, if you're interested in making sauerkraut, you can follow my recipe for Homemade Sauerkraut .
As an alternative, you can buy sauerkraut from the store – just be sure to read the label to see if there are active and live probiotic cultures within.
I will say, if you're experiencing IBS symptoms, these bowls are not a stellar choice until you can get your symptoms under control, as fermentable carbohydrates in prebiotic-rich foods like beets, cauliflower, dandelion greens, and garlic, can cause an IBS flair, as they feed all the bacteria in the system – both good and bad.
If you follow me on Instagram you know I have partnered with Inspo Network to create recipe videos for you all! I'm thrilled to bring you the video for these Probiotic Power Bowls in partnership with Culturelle Probiotics!

A big thank you to Culturelle for partnering with me in creating the video for these Probiotic Power Bowls.
Recipe Adaptations and Meal Prep:
Roast the vegetables up to 3 days ahead of time, and cook the rice up to 4 days ahead of time. Prepare the dressing up to 1 week in advance.
Change out the beets or cauliflower for any of your favorite roasted vegetables, such as sweet potato, carrots, butternut squash, zucchini, etc.
Add feta cheese if you tolerate dairy
Serve with hard-boiled egg for a vegetarian option, beans for a vegan option, or choice of animal protein for a meat lover's option.
If you love these bowls, also check out my Healthy Gut Smoothie and my Prebiotic and Probiotic Macro Bowls.
So there you have it: a mega flavorful, nutrient-dense bowl o' gut bliss to start your week off in the forwardly direction. I hope you enjoy these bowls as much as I do!
Probiotic Power Bowls
Roasted vegetables, probiotic-rich sauerkraut, fresh greens and delicious sauce make for a nutritious meal!
Ingredients
Probiotic Power Bowls
4

cups

cooked brown rice

1

large red beet

roasted and chopped

1

small head cauliflower

roasted

3

cups

dandelion greens

chopped

1/4

small red onion

thinly sliced, optional

1

cup

sauerkraut

2

tablespoons

raw pumpkin seeds

1/4

cup

raw walnuts

chopped
Instructions
Make the Dressing:
Add all ingredients for the dressing to a small blender and blend until completely smooth and thick. Set aside or refrigerate until ready to use.
Make the Power Bowls:
Divide the cooked rice between 3 or 4 large bowls. Top with roasted beets, roasted cauliflower, dandelion greens, green onion, sauerkraut, pumpkin seeds, and raw walnuts. Drizzle the dressing over each bowl and serve.
Notes
Nutrition facts are calculated without the dressing
Nutrition
Serving:
1
of 4
|
Calories:
307
kcal
|
Carbohydrates:
50
g
|
Protein:
12
g
|
Fat:
9
g
|
Fiber:
7
g
|
Sugar:
7
g