What are you doing this weekend? Tailgate on these guacamole bacon turkey burgers with roasted poblano peppers and queso fresco!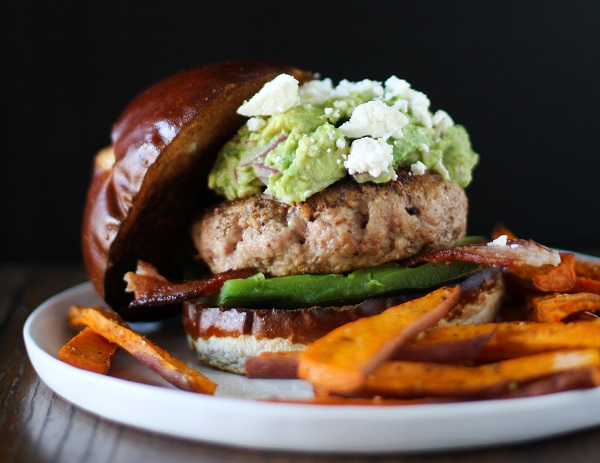 Last night, I had a dream that I was on an all-girls football team, and we were on our way to play the 49ers.
Every woman's fantasy, right? Wrong. In my dream, I was the quarterback, and it didn't hit me until the bus ride to the stadium (which happened to be on The Magic School Bus, mind you), that I don't know the rules of football. What is Kaepernick going to think? This is the gradeschool equivalent of showing up to class with no snack, nothing to show or tell, partially dressed with last year's fashion, and a few wads of gum in your frizzed-out bed head of hair, which is so messy that no teal scrunchie can fix it.
As I sat and on the MSB and googled "how to play football," on my iPhone and contemplated alternative ways of wooing Kaepernick other than skooling him at football, I had the sinking feeling that I needed to be anywhere but upon the Magic School Bus. Just as I was about to tuck and roll out of the bus while no one was looking – because, let's face it: avoidance behavior is the best kind of behavior these is – Ms. Frizzle put the bus on autopilot, sat beside me, and learned me the game of football in sing-song format.
And then I woke up.
Which is a shame, because I was very curious to know who would win – the 49ers, or an all-girls team with me (and my 2-minute Ms. Frizzle run-down of football knowledge) as quarterback.
Oh hey, who here loves tailgating food?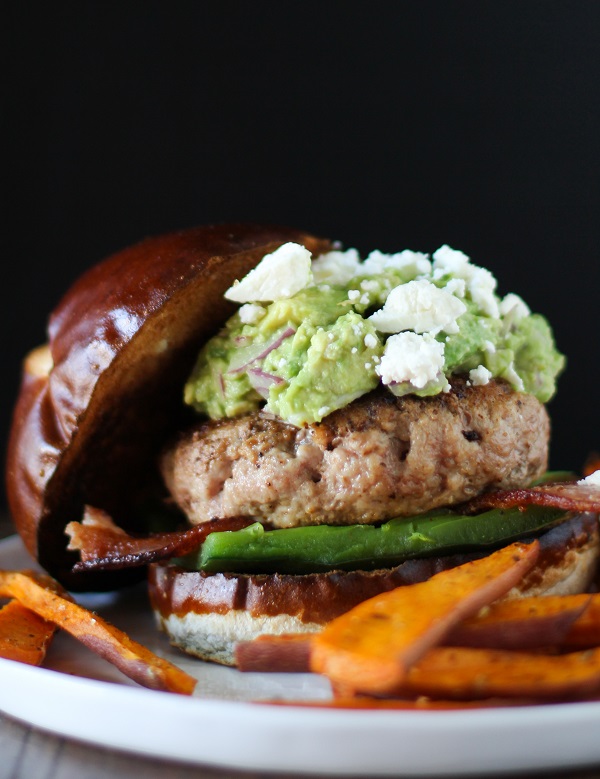 In spite of the fact that "watching football" for me is really just "watching football players," I do enjoy all things tailgating food. The way I see it, tailgating must involve a hearty slab of burger with all the toppings. And of course, the meat should be cooked to perfection because no one likes an over-cooked burger.
Which brings me to my next question:
Who here uses the finger-poke in order to determine whether or not meat is finished cooking?
You and me both, sisters and brothers…you and me both. While the finger-poke-to-determine-meat-readiness could possibly be a scientific unit of measurement, it isn't always entirely accurate. Plus, sometimes you don't want your friends to witness you poking their food. Because: manners.
I recently got to try a neat little kitchen instrument that takes all the guesswork, finger-poking and prodding out of meat preparation. Let's discuss. Volk Enterprises Cook'd Right™ Sensors are single-use thermometers that are specific to each type of meat. The 165-degree sensor is used to determine whether poultry, pork, and hamburger have reached the optimal 165-degree temperature. For fish and medium-rare pork, use the 145-degree sensor. For steak, use the 3-point sensor, which indicates whether the meat is rare, medium, or well done.
You simply insert the appropriate thermometer into the thickest part of the meat, leave it in for 5 to 10 seconds, and if the meat has reached the optimal temperature, the sensor will come out red, like so:
If you pull the thermometer out and the sensor isn't red, simply continue cooking the meat and try again. Boom! Tailgating made easy.
Ask your local butcher or grocery store about Volk Enterprises Cook'd Right™ Sensors and try them at home! Also, for a free sample of the 165-degree sensor (for use with hamburger, pork, beef and poultry) simply fill out this form! The first 50 readers to fill out the form will receive one 165-degree sensor per household! To learn more about the sensors, check out Volk Enterprise's website, and stay connected on facebook, pinterest, and twitter.
Deez burgerz. They're a mouthful. Here's what Guy Fieri would say about them: "mmmm…mmmooohmygod! Mm. Nice and juicy turkey burger..full of flavor, which I was not expecting…cooked to perfection. The salty crispy bacon really brings the whole thing home and the heat from the roasted poblano pepper gets you right there in the back…then the creamy guacamole balances everything out, and good call on that pretzel bun, man…this is one seriously killer burger. Mmuah! That's a good burger!"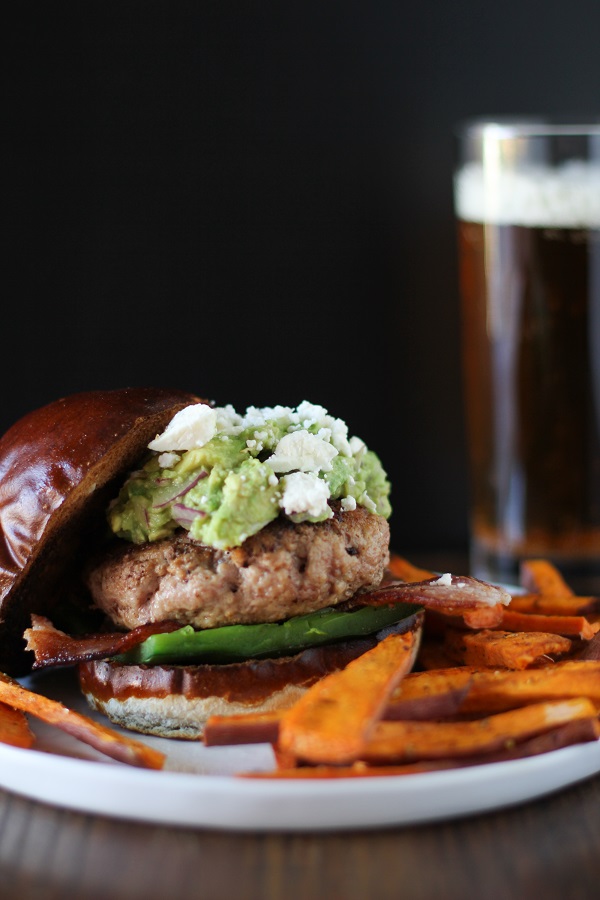 P.S. That beer is gluten-free.
P.P.S. That pretzel bun is not.
Sink your teeth into some tailgating food!
Guacamole Bacon Turkey Burgers with Roasted Poblano Peppers
Bacon Guacamole Burgers are everything you love in life in one solid burger! Serve it up with Sweet Potato Fries for an amazing meal!
Ingredients
1

pound

ground turkey meat

1

tablespoon

grapeseed or olive oil

1

tablespoon

Worcestershire sauce

2

cloves

garlic

minced

2

tablespoons

red onion

finely chopped

½

cup

Jack cheese

shredded, or cheddar

½

teaspoon

kosher salt

2

teaspoons

Italian seasoning
For the guacamole:
2

avocados

pitted and peeled

3

tablespoons

fresh lemon juice

1

clove

garlic

minced

1

jalapeño

seeded and finely chopped

3

tablespoons

red onion

finely chopped

1/8

teaspoon

kosher salt or to taste
For Serving:
3

or 4 burger buns of choice

2

poblano peppers

roasted

Queso Fresco

3

slices

to 6 thick cut bacon
Instructions
Roast the Poblano peppers:
Preheat the oven to 400 degrees F.

Lightly coat the poblano peppers with olive oil, sprinkle with salt and pepper, and place them on a baking sheet.

Roast peppers in the oven for 8 to 10 minutes, until fragrant, then flip to the other side and roast an additional 8 to 10 minutes, or until the skin turns golden brown and begins to pull away from the flesh.

Place peppers on a cutting board to cool. Remove the tops and innards, and chop the peppers in half. Set aside until burgers are ready.
Prepare the Guacamole:
Add all ingredients for the guacamole to a bowl and use a fork to mash everything together. You can leave the guacamole chunky, or continue mashing it until it's creamy.
Make the Burgers:
Combine all ingredients for the burger patties in a mixing bowl and use your hands to mix everything together until well combined.

Form three or four burger patties (depending on your desired burger size) and place them on a plate.

Heat your grill to medium high, or heat a skillet to medium with enough oil to coat the bottom of the pan.

Place burger patties on the grill or skillet and cook until sides begin to turn color and firm up, about 5 to 6 minutes. Flip and cook until burgers reach 165 degrees in the center.

Place burger patties on a toasted bun along with a hunk of roasted poblanos, 1 or 2 slices of cooked bacon, desired amount of guacamole, and queso fresco.

Serve with sweet potato fries, and enjoy!
Nutrition
This post is sponsored by Volk Enterprises, and all opinions in this post are my own.