Spiced Ground Beef Tacos with seasoned roasted sweet potatoes and cashew-based vegan queso are a delightfully simple yet flavor-blasted taco for any night of the week.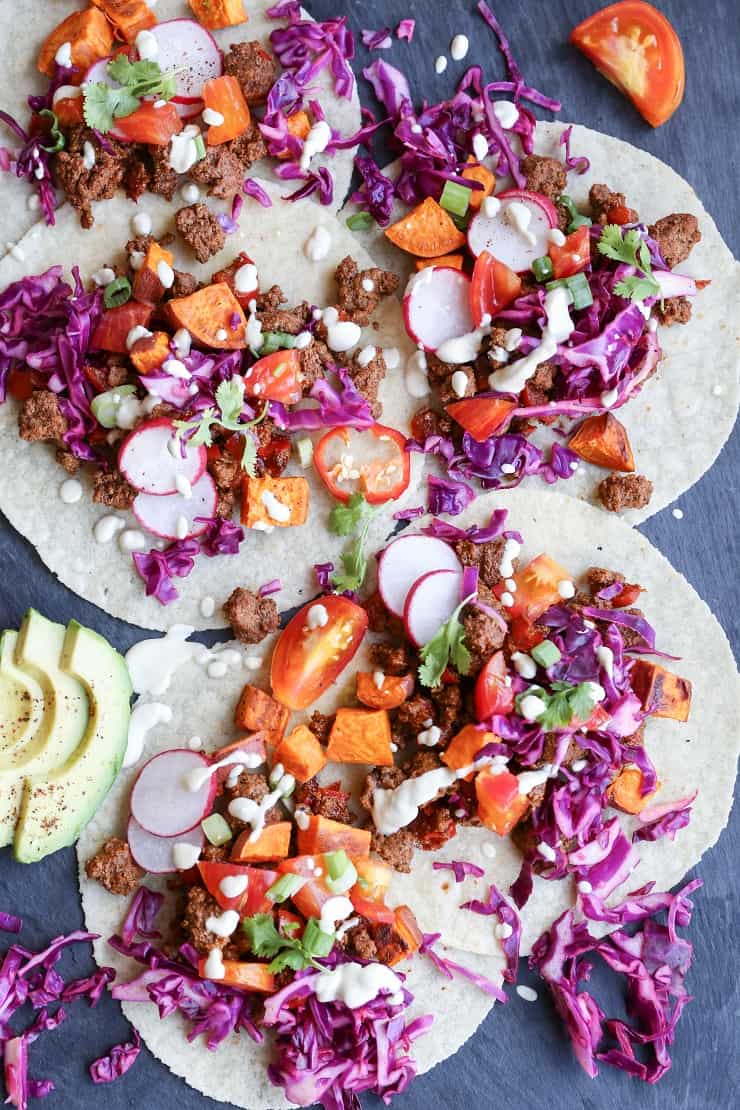 Taco Tuesday!
Did you know I've never actually posted a taco recipe on a Tuesday? Rebellious, I know.
I've been waiting on sharing this recipe for months and realized I had better hop to it, because I really feel you all need some tacos for your Super Bowlapalooza this Sunday.
Truthfully, the Super Bowl is the only football I watch every football season (and sometimes we just go snowmobiling instead, because: priorities); however, I dug this little ditty out of my file folders specifically for your football chowing enjoyment. De nada.
These tacos are so silly simple, you're going to blow a gasket.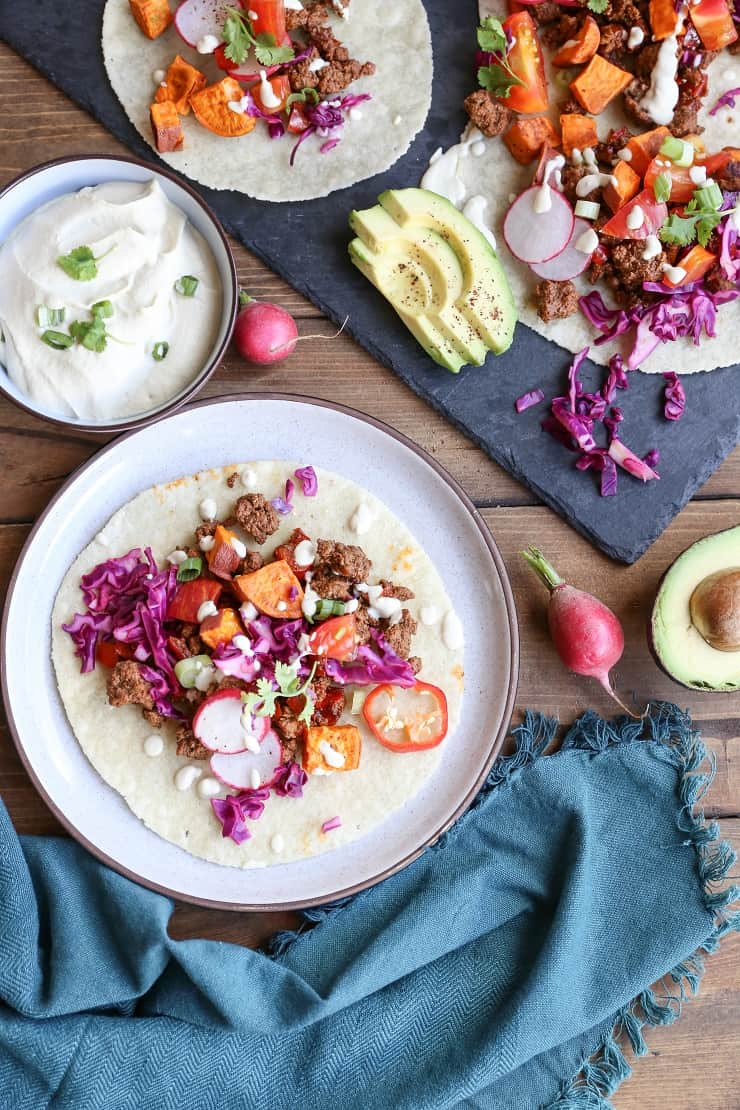 Spiced ground beef (I like using grass-fed), sweet potato, vegan queso (we'll cross that bridge in a second), grain-free (paleo-friendly) tortillas. BOOM! Magnificence.
The cashew-based vegan "queso," guys…definitely a must make if you have a moment of free time! I used inspiration from my Paleo Sour Cream and Onion Dip to come up with a non-dairy "cheese" sauce, because let's face it, tacos are amazing, but tacos that come with some sort of homemade salsa and/or sauce spritz are next level amazing, can we all agree?
You'll want to soak the cashews for at least a few hours (it's better if you soak them overnight), so a little pre-planning will go a long way.
Alright, alright, truth be told, you really don't need to make the dip/queso in order to have a mighty fine time with these tacos, but just note, it is quite the addition, and a brilliant cheese replacement for my friends who are intolerant of (or choose to avoid) dairy.
If you're feeling colorful and zesty, you can whip out a quick cabbage slaw (basically cabbage and lime juice massaged together) and toss in some fresh cherry tomatoes, green onion, cilantro, sliced radishes, and avocado. Topping selections are up to you, my friends!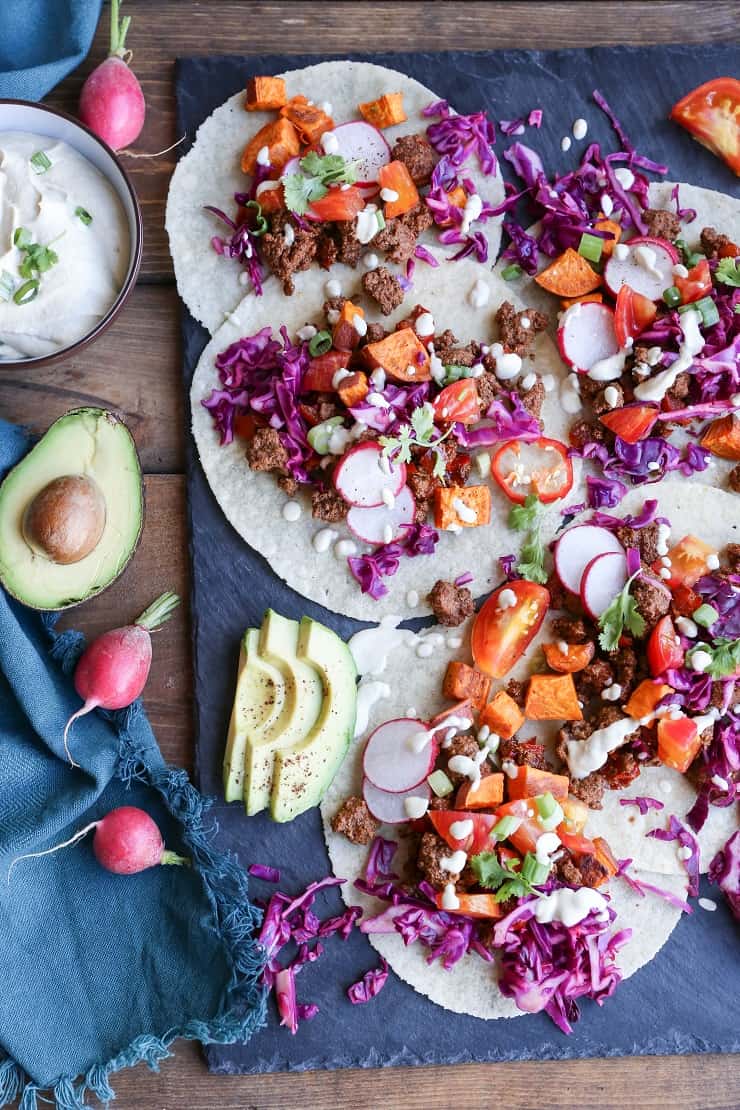 How to Make Ground Beef Tacos with Roasted Sweet Potatoes:
As I mentioned earlier, I used store-bought grain-free (paleo-friendly) tortillas for these ground beef tacos, making them a pretty clean dinner option. You can use any tortilla your heart desired depending on your dietary needs!
You can easily make this a meal prep situation for work lunches or weeknight dinner.
Make my Ground Beef Taco Meat or my Vegan Cheese Sauce for these tacos if you'd like!
Simply cook up the spiced ground beef and roast up some sweet potatoes ahead of time and make tacos (or taco bowls/burrito bowls!) for days! For some bowl action, consider brown rice, avocado, and a quick cabbage slaw for your additions.
Tacopalooza!
Ground Beef Tacos with Roasted Sweet Potatoes
Deliciously flavorful and easy ground beef tacos with sweet potatoes makes for a nutritious, vibrant meal!
Ingredients
Instructions
Make the Spiced Ground Beef:
Heat the olive oil in a large skillet over medium heat. Add the onion and cook, stirring occasionally, until onion turns translucent and begins to brown, about 5 to 8 minutes.

Add the garlic and bell pepper and continue cooking until bell pepper begins to brown, about 5 minutes.

Add the beef, seasonings and sea salt, breaking up the beef into desired sized chunks. Cook, stirring occasionally, until beef is cooked through, about 5 to 8 minutes.
Roast the Sweet Potato:
Preheat the oven to 400 degrees F.

Spread the chopped sweet potato on a large baking dish and drizzle with oil and sprinkle with chili powder and sea salt. Use your hands to toss everything together until the sweet potato chunks are well-coated in oil and seasoning.

Roast 25 to 30 minutes, turning half-way through, or until golden-brown and soft on the inside.
Cabbage Slaw
Add ingredients for the cabbage slaw to a medium-sized mixing Bowl. Massage the cabbage assertively with your hands until it begins to soften, about 3 minutes. Taste for flavor and add more sea salt to taste. Refrigerate until ready to use.
Make the Tacos:
Heat the grain-free tortillas on the stove-top (or in a microwave). Load them up with desired amount of spiced ground beef, roasted sweet potatoes, avocado, cabbage slaw, tomatoes, green onion, queso fresco, and cilantro. Enjoy!
Nutrition
Serving:
1
taco
|
Calories:
334
kcal
|
Carbohydrates:
20
g
|
Protein:
16
g
|
Fat:
21
g
|
Fiber:
3
g
|
Sugar:
4
g