Gluten-free oatmeal cookies made two ways. These perfectly crispy on the outside, soft on the inside cookies are refined sugar-free and healthy enough for breakfast.
This post is Sponsored by Bob's Red Mill. Check out more delicious healthy recipes, snag coupons and find stores near you at BobsRedMill.com!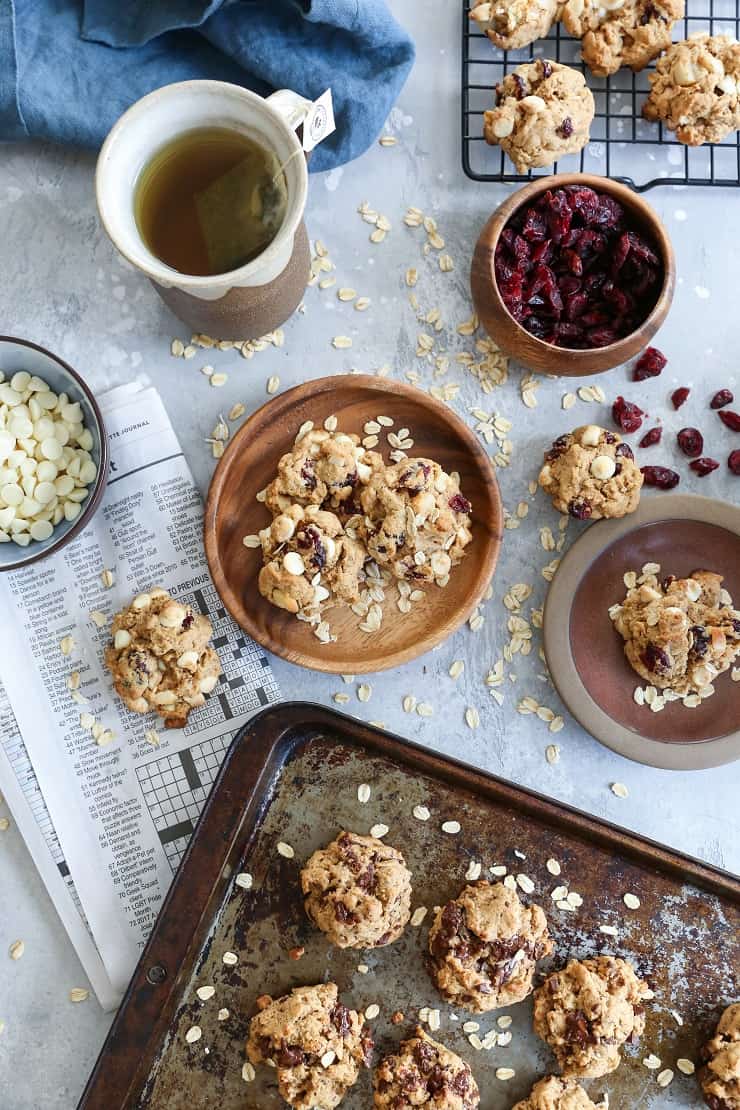 Oatmeal cookies are one of those foods about which everyone seems to have a strong opinion. If you're an oatmeal cookie purist, you may feel they must come with raisins and only raisins. If you're cool with the hybrid cookie, you may chocolate chip-ify it. And if you live on the wild side, you may add all sorts of goodies, like white chocolate chips, macadamia nuts, and dried cranberries.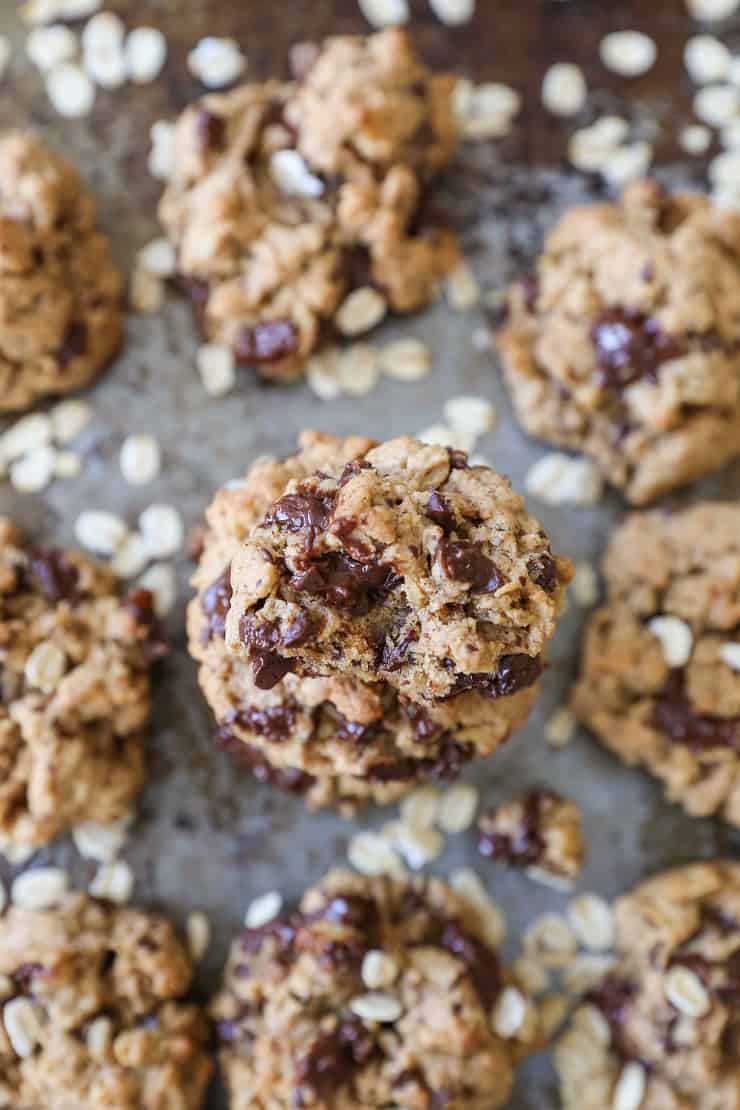 I put a pole out to my Instagram following to ask which type of oatmeal cookie everyone preferred and the result came back with a near even split down the middle. I felt with a clear result like that, I couldn't possibly just focus on one flavor, so I instead went with the two.
I have included the recipe for both options in this post – you can make an entire batch of one flavor, or you can halve the cookie dough and make both versions. If you go this route, just be sure you halve the add-in ingredients (for example, use 1 cup of chocolate chips instead of 2 cups, and so on).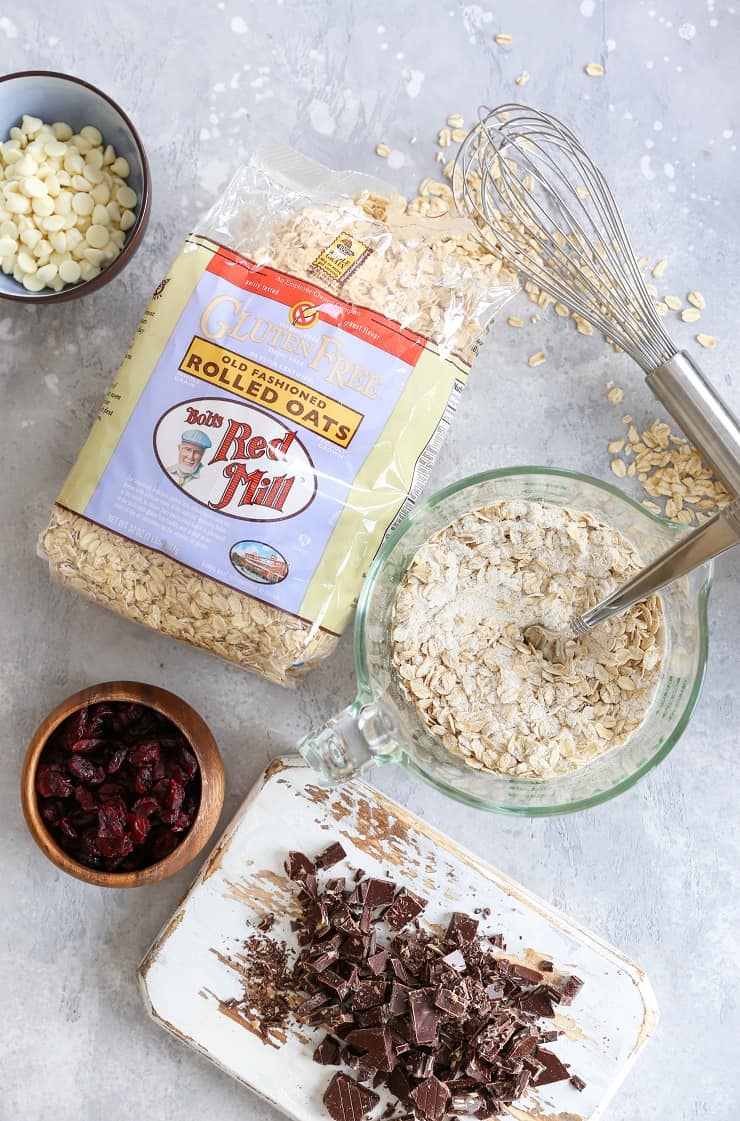 The ingredients I use in the recipe are pretty basic – you may already have everything you need on-hand! Made with unsweetened creamy almond butter, pure maple syrup, rice flour, and oats, these cookies are gluten-free, refined sugar-free, and make for a healthy breakfast or snack.
I used Bob's Red Mill's Gluten-Free Old Fashioned Rolled Oats to make these cookies, which is what I use for all of my oat-ing needs. They add that comforting oaty flavor to the cookies along with magnificent texture.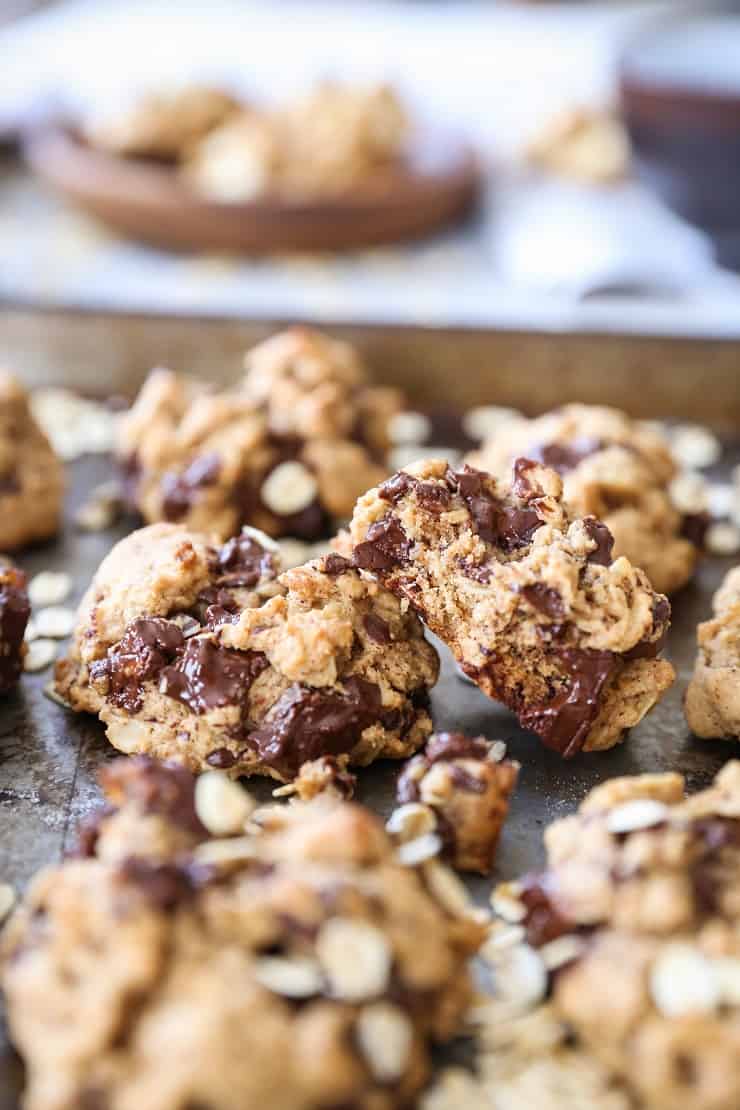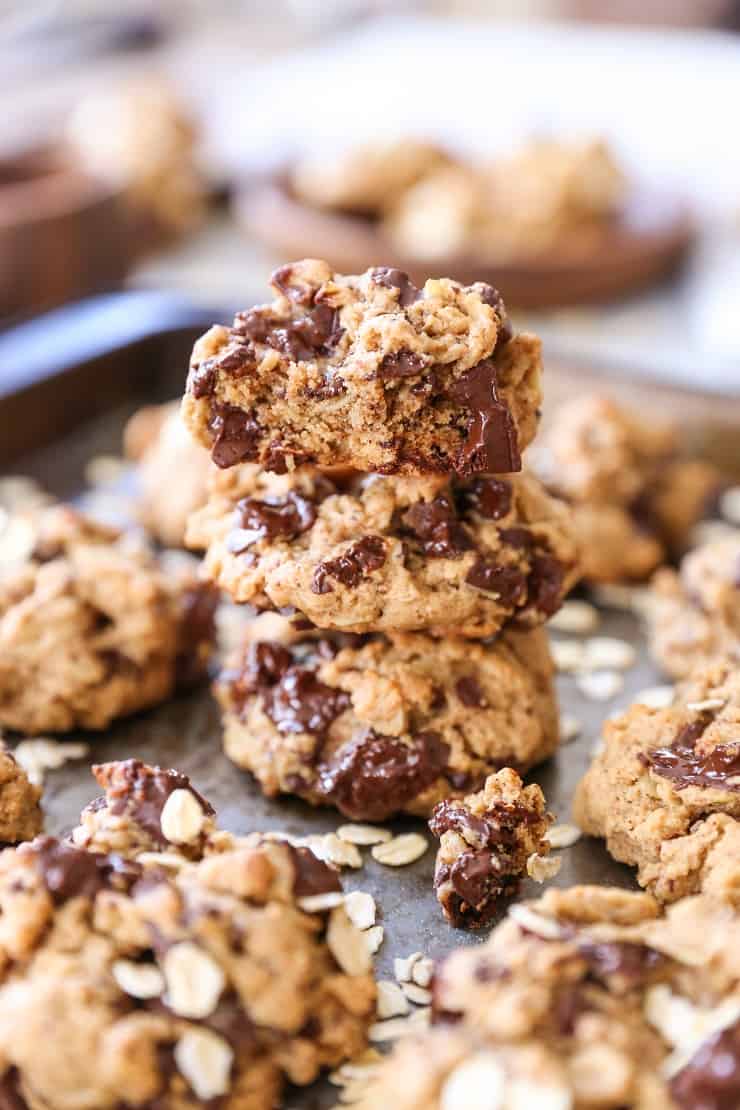 When pressed to divulge which flavor of these gluten-free oatmeal cookies I enjoy better, I'd be hard-pressed to pick a favorite. They're just different on so many levels, each satisfying a specific craving. The goo factor of the chocolate is enough to make you swoon, but the nutty-tangy-sweet trifecta of the white chocolate macadamia nut version is pretty hyper-palatable as well.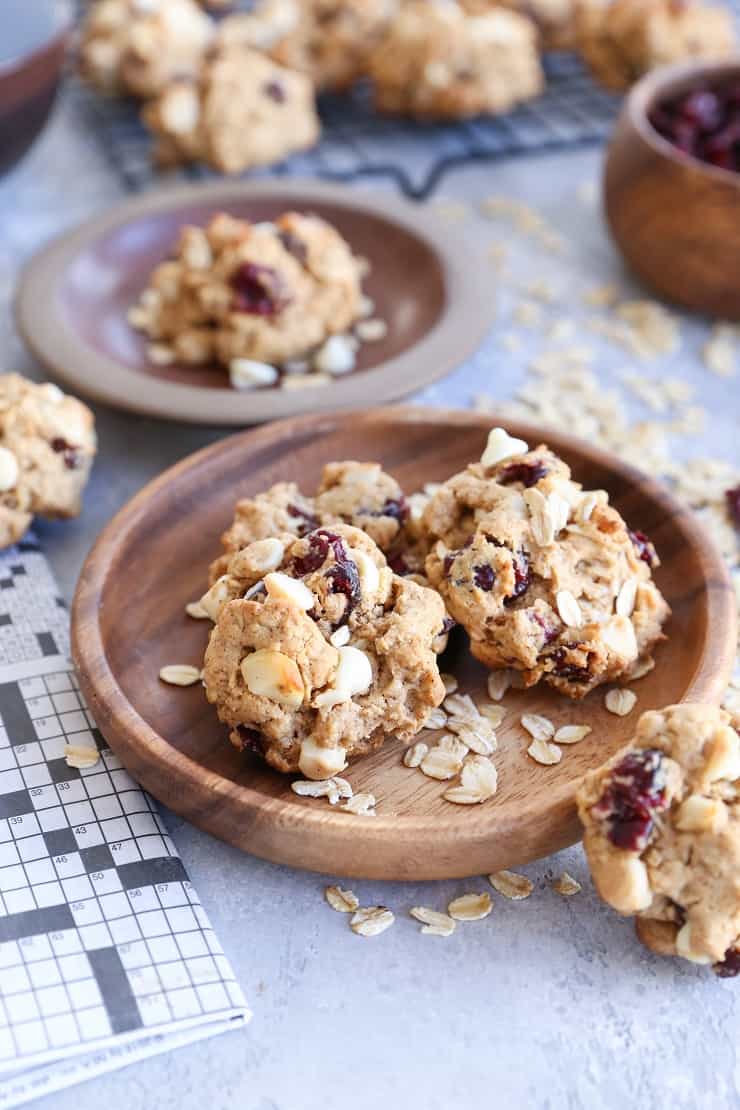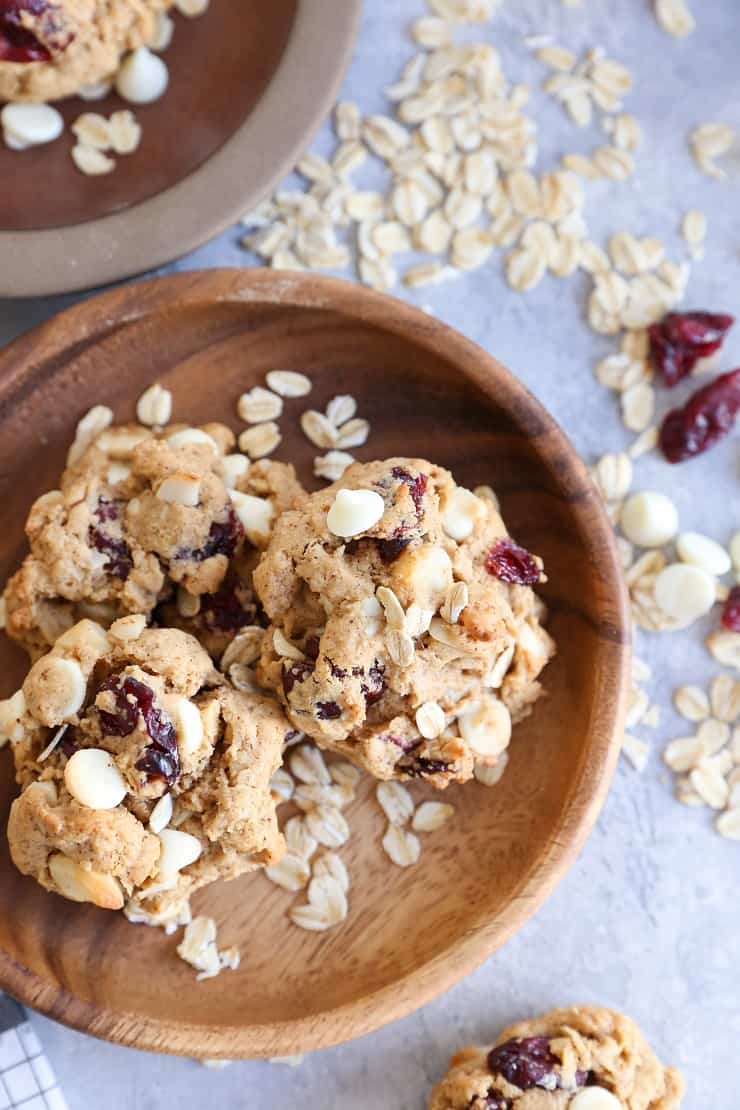 Because two is better than one…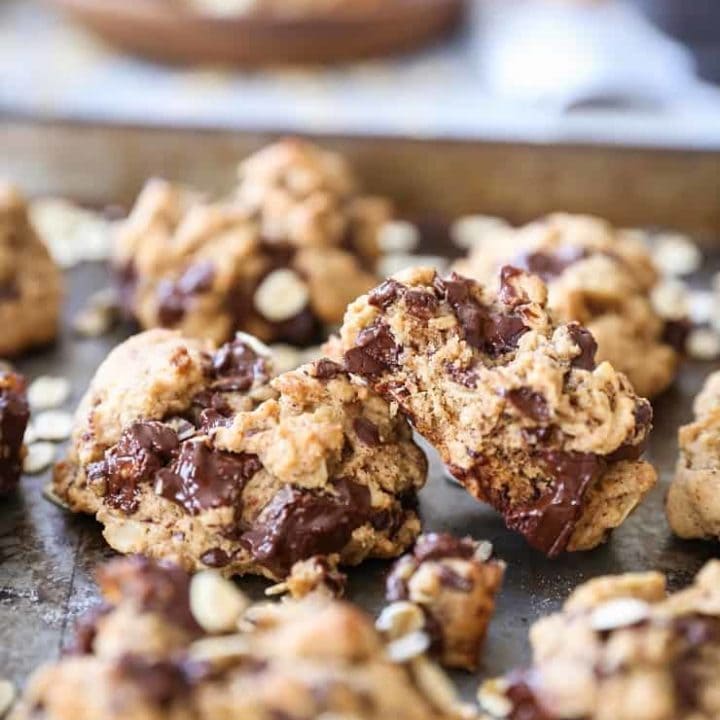 Gluten-Free Oatmeal Cookies (2 Ways)
Insanely delicious oatmeal cookies with two different flavor options?! These recipes are basically all you need in life 😉
Ingredients
1/2 teaspoon baking soda
2/3 cup unsweetened creamy almond butter
1/4 cup unsalted butter, melted
1 large egg
1 teaspoon vanilla extract
Chocolate Version:
White Chocolate Macadamia Nut Version:
2/3 cup macadamia nuts, chopped
Instructions
Preheat the oven to 350 degrees F.
Stir together the first 6 ingredients (rice flour through sea salt) in a mixing bowl (dry ingredients).
In a separate bowl, stir together the remaining ingredients (almond butter through pure vanilla extract) Note - if your almond butter is hard, microwave it for 20 - 30 seconds to soften it up to make it easier to stir.
Add the dry ingredients to the mixing bowl with the wet ingredients. Stir until combined and a dough forms.
Fold in your choice of add ins (see options above) and stir until combined.
Drop spoonfuls of dough on a large baking sheet and bake for 12 minutes, or until the edges of the cookies are golden-brown. Allow cookies to cool 5 minutes before removing from cookie sheet.
Nutrition Information
Yield

20
Serving Size

1 grams
Amount Per Serving
Unsaturated Fat

0g