Gluten-free cranberry scones made with yogurt and sweetened with coconut sugar. Topped with a coconut milk-based chai glaze for a super tasty treat!
This post is sponsored by Nancy's Yogurt.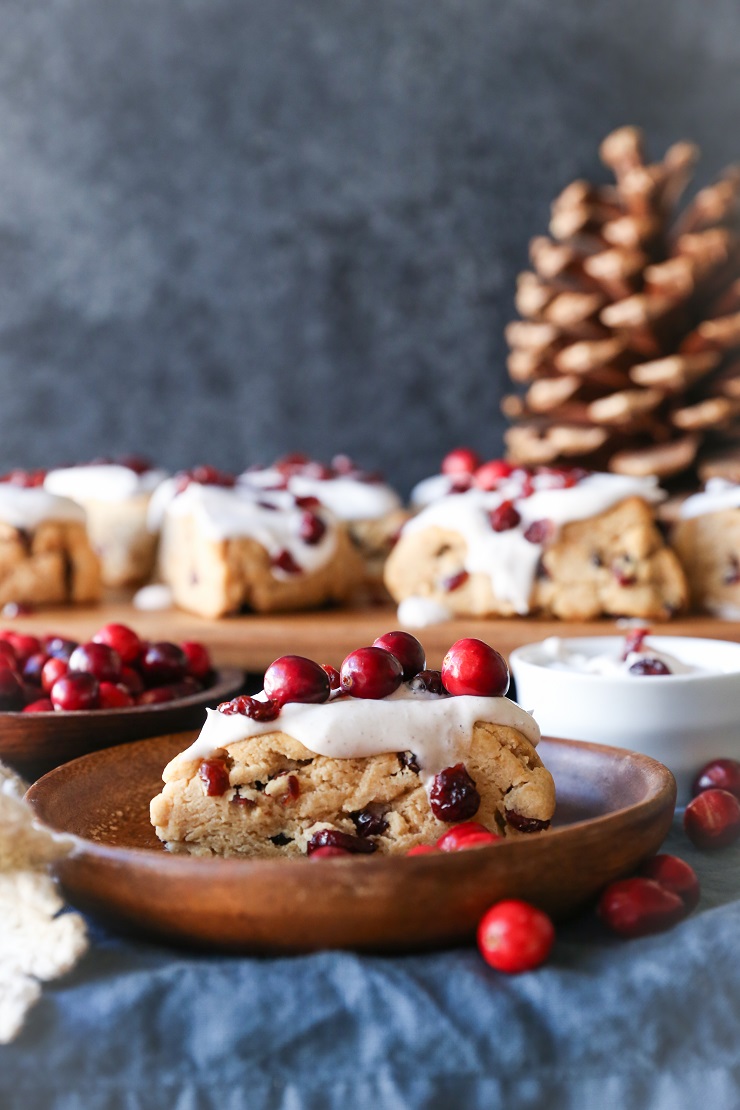 If I could characterize the theme of my recipes this fall, it would be Foods That Should be Consumed in Conjunction with Couch Time While Wearing Fuzzy Socks Underneath a Down Throw Blanket and Watching Drunk History on Hulu.
And if there were one treat bundle I could bestow upon each and every one of my readers this holiday season, it would be that exact kit and caboodle – a tray of these scones, a pair of the fuzziest socks this world has to offer, and the coziest down throw blanket to ever greet your snuggle session (color and pattern requests heeded).
You think I jest, but I'm actually feeling very strongly about all of this. In fact, I'd go so far as to say we should start a book club.
In the meantime, we have a topic to discuss: these gluten-free cranberry scones.
Le sigh. Cranberry scones. The little things in life that send your hypothalamus to a multidimensional Pleasureverse.
It hasn't been very long since our last scone adventure, as I posted the Vegan Pumpkin Scones with Coffee Glaze only a few weeks ago.
So many of you made and enjoyed the scones that I thought we could use another round.
And so we're making gluten-free scones again, only this time with dried cranberries and this ridiculous (I repeat: RIDICULOUS) chai glaze slash icing slash frosting slash whipped topping – however you want to look at it type of situation.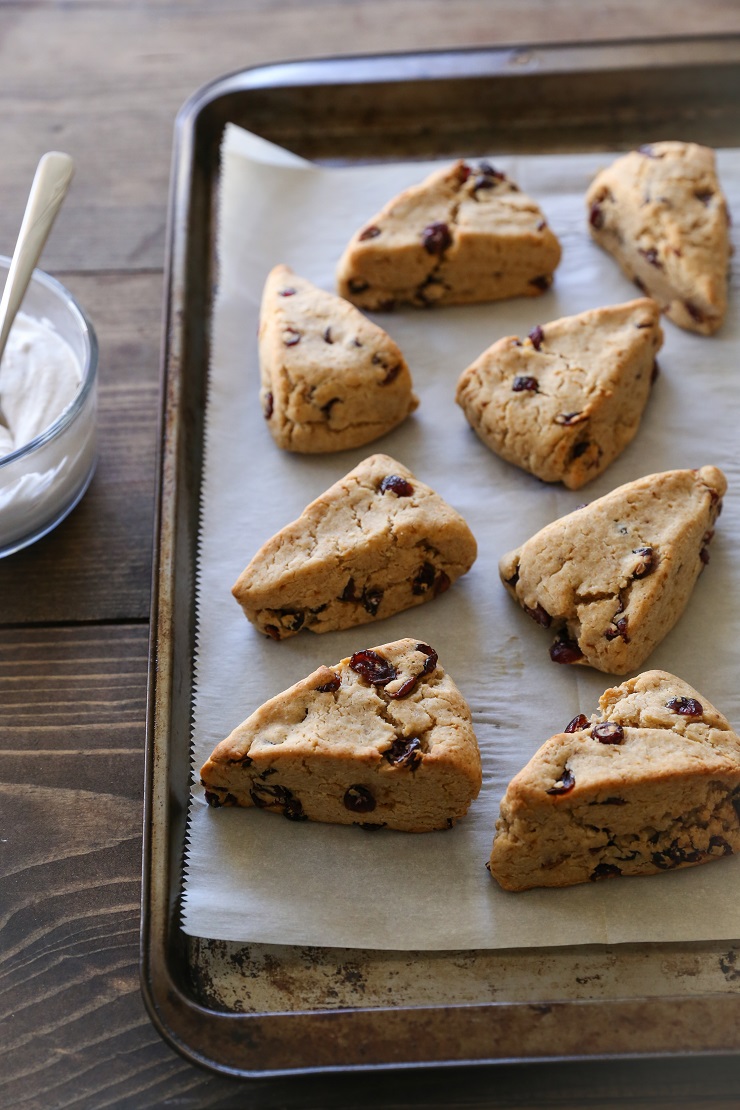 If you recall the Healthy Pumpkin Cheesecake recipe I posted not too long ago, you remember I'm a big fan of using plain yogurt in my treat recipes to replace things like sour cream, cream cheese, oil, butter, etc.
With the holiday baking season upon us, now is a great time to factor in healthful replacements in order to keep your treats succulent yet on the healthy end of the spectrum.
Because the way I see it, we don't need to acquire any spare tires this holiday season, but we can still have our cheesecake (or scones or cookies or brownies or..) and eat it too, can I get an amen?
SO: yogurt! I used Nancy's Organic Whole Milk Plain Yogurt to prepare these scones, which is the best decision I've made in weeks. The yogurt has such a rich and creamy flavor and texture profile that you won't even believe the trickery it plays on your recipes.
PLUS, the yogurt reacts with the leavening agents in your gluten-free all-purpose flour, helping the whole scone bake together like a dream.
One of my favorite parts about these scones is you can actually smell the yogurt in the dough before, during, and after the baking process. And you can taste the tang. It's almost, almost like you're eating a cheesecake scone.
Similar idea to a buttermilk pancake. Basically the same situation as a yogurt cake, as in my Blueberry Yogurt Coffee Cake recipe.
Point is – you can draw all sorts of comparisons here, all leading to the same fact – yogurt in baked goods = delicious.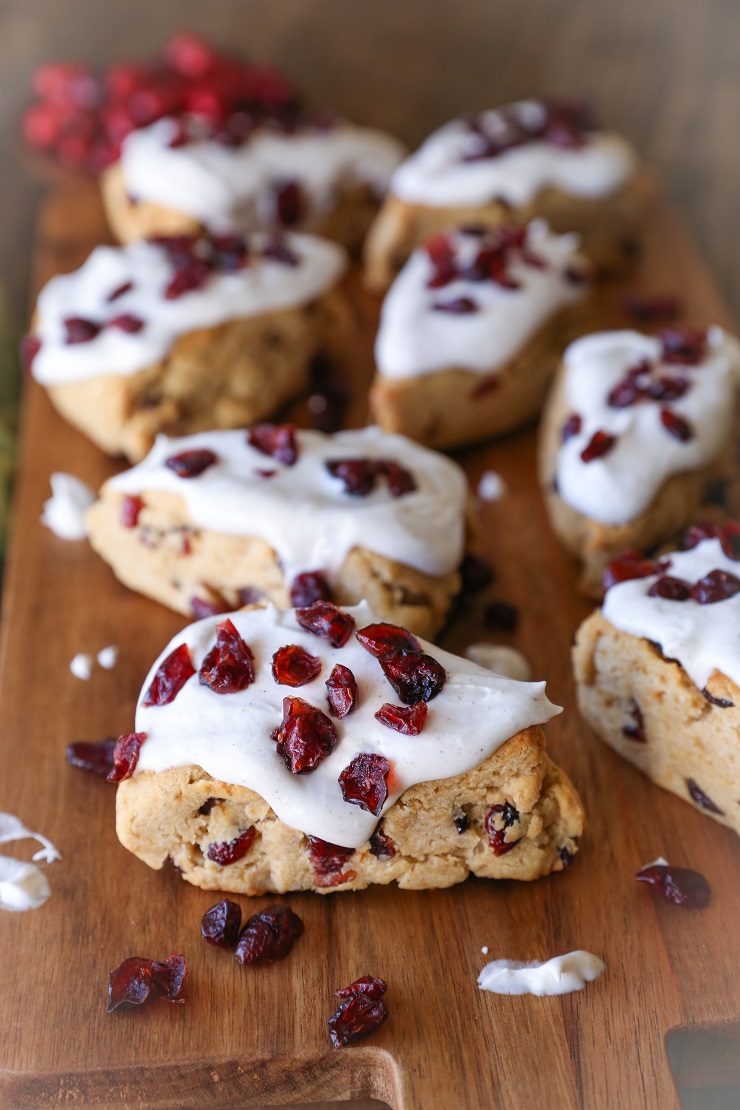 And now we discuss that chai glaze (slash icing slash frosting slash whipped topping) shinanigans we slasher atop the scones.
The concept is super simple: Coconut cream plus chai spices (cinnamon, nutmeg, cardamom, cloves), sweetened with honey, whipped into a thick yet airy cream fest that seals the deal on all the fun. When consumed together, the scone + glaze has the most unique flavor with the tang + sweet + warm spices interacting together.
IDEA!: Bake these for brunch on your holiday mornings!
The dough itself only takes 15 minutes to throw together, and the scones themselves only require 18 minutes of bake time, making them a great last-minute carb lump to add to your morning.
You can also prepare the dough ahead of time the night before and bake off the scones the next morning. Are you making a prize package for Santa Claus this year? He'd LOVE these.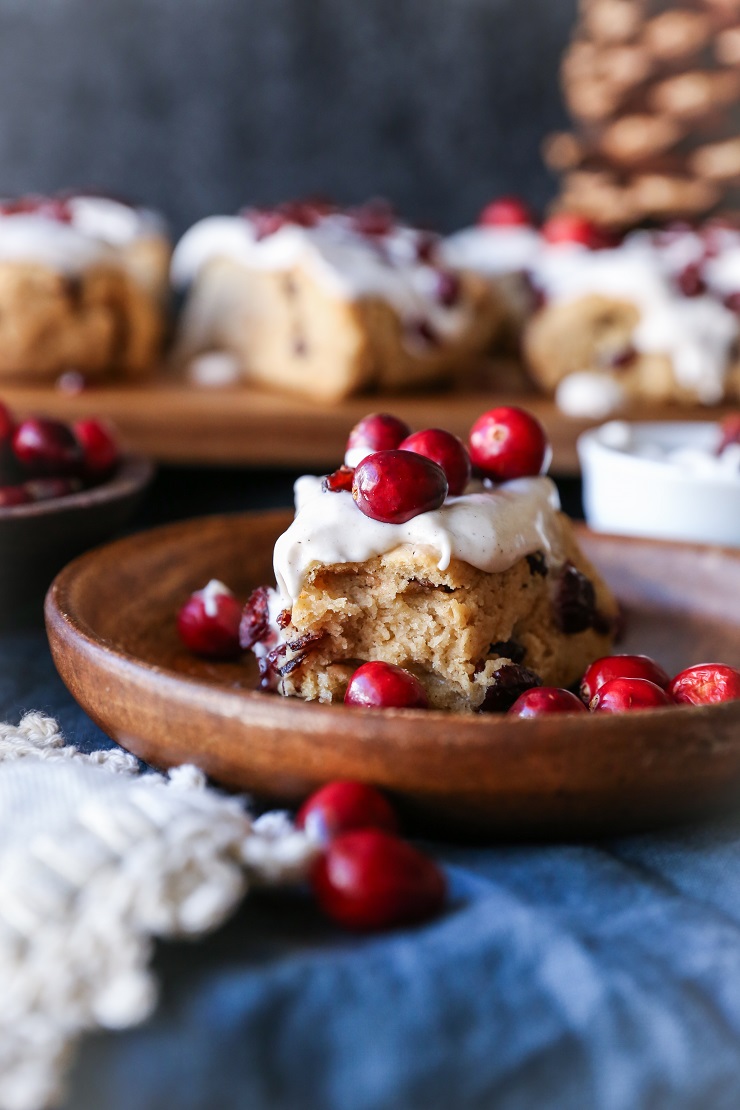 Recommended serving methodology: fresh out of the oven while the scones are still warm with room temp chai glaze, alongside your favorite latte or coffee drink.
Cranberry bliss this!
Gluten-Free Cranberry Scones with Chai Glaze
Gluten-Free Cranberry Scones with Chai Glaze are a tasty treat!
Ingredients
Chai Glaze:
2/3

cup

coconut cream *

see note

1 ½

tablespoons

pure maple syrup

or honey

¼

teaspoon

ground nutmeg

¼

teaspoon

ground cinnamon

¼

teaspoon

ground cardamom

Tiny pinch ground cloves

Pinch

sea salt
Cranberry Scones:
2

tsp

baking powder

3/4

cup

dried cranberries

¼

cup

coconut sugar

½

teaspoon

salt

½

teaspoon

ground cinnamon

Pinch

ground nutmeg

1

cup

Whole Milk Yogurt

5

tablespoons

coconut oil

melted and cooled

1

teaspoon

pure vanilla extract
Instructions
Prepare the Chai Glaze:
Place 1 (14-ounce) can of full-fat coconut milk in the refrigerator overnight to chill. Open the can and scoop all of the thick white "cream" on the top half of the can into a stand mixer fitted with the whisk attachment (or use a hand mixer). Add the remaining ingredients for the glaze to the mixer and whisk until well-combined and fluffy. Transfer to a sealable container or jar and refrigerate until ready to use.
Prepare the Cranberry Scones:
Preheat the oven to 400 degrees F.

Add the gluten-free flour, baking powder, dried cranberries, coconut sugar, sea salt, cinnamon, and nutmeg to a mixing bowl and stir together to combine.

Add the yogurt, coconut oil and vanilla extract to a stand mixer and mix just until combined.

Leaving the mixer running on medium speed, add the flour mixture until all of it has been combined. Continue mixing until a thick dough forms, and it pulls away from the sides of the mixing bowl.

Remove the dough from the mixing bowl and form it into a disc about 1-1/2 to 2 inches thick (Note: the sides of the disc will want to pull apart/crack - simply push them back together). Note: if preparing this recipe in parts, wrap the disc of dough in plastic wrap and refrigerate until ready to bake.

Cut 8 equal triangles from the dough and arrange on a parchment-lined baking sheet. Bake scones for 18 to 20 minutes, or until golden-brown and crispy.

Allow scones to cool 10 minutes before smearing with chai glaze and topping with more dried cranberries.
Notes
*you can purchase coconut cream in the Asian section of your grocery store, or online, or you can refrigerate a can of full-fat coconut milk to get coconut cream - see instructions above.
Nutrition
Serving:
1
Scone
|
Calories:
285
kcal
|
Carbohydrates:
47
g
|
Protein:
2
g
|
Fat:
10
g
|
Fiber:
3
g
|
Sugar:
20
g