Ginger Turmeric Braised Chicken with root vegetables and rice. This nutrient-rich meal only requires one pot and is packed with flavor and health benefits!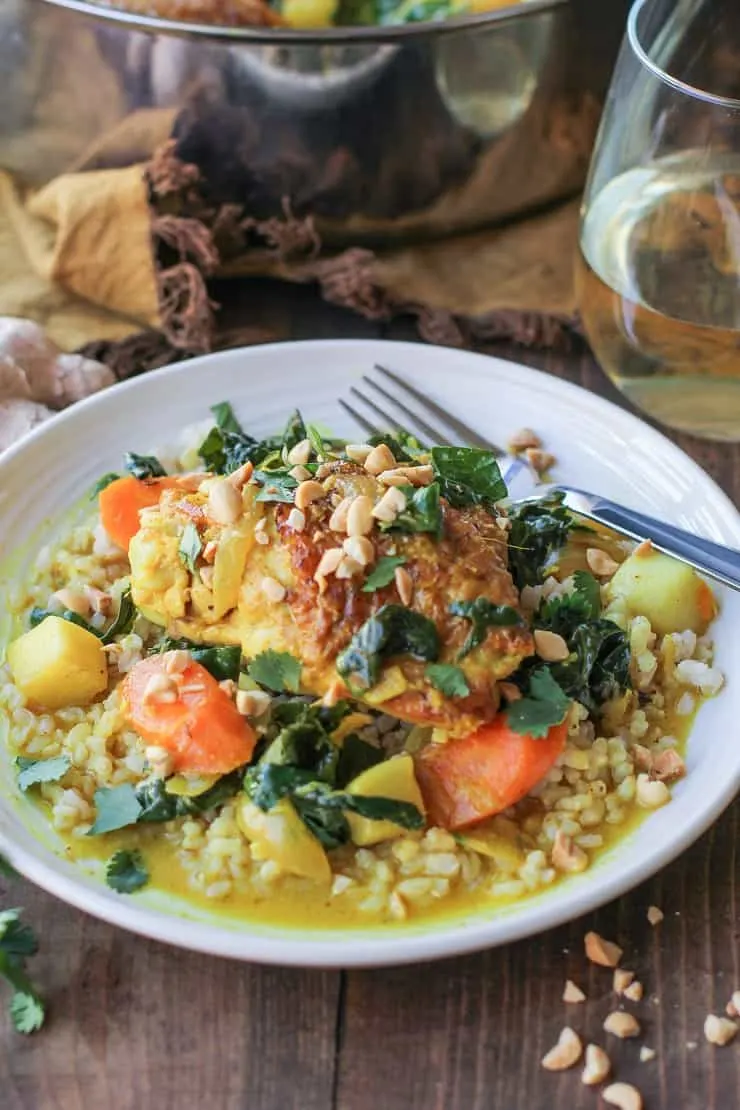 Most of us go through cooking peaks and troughs on a revolving basis. We have moments that make us feel like accomplished cooking ninjas, as well as botched attempts that make us want to toss ourselves on the floor like limp ragdolls. During my own culinary sinusoidal lows, I remind myself the purpose of it all. Above making a living at it, I cook to nourish, to sustain and elevate health, to have my own tiny impact on the direction of the food industry.
One of my motivations for cooking at home is knowing where all of the ingredients are sourced. I get an unparalleled satisfaction during the preparation process and derive more enjoyment out of consuming the food when I have a good understanding of where all of the ingredients were sourced. In this sense, the more information I have regarding inputs, the better. Way I see it, knowledge is bliss.
It gives me a sense of satisfaction knowing I selected humanely-raised meat, organically-grown vegetables, and knowing all of the flavors I've added come from companies whose visions on the environment and sustainability align with mine. In this way, the motivating and therapeutic side of cooking is enhanced knowing I'm cooking with purpose.
My favorite way of preparing chicken is slow-cooking it with a plethora of sustainably-sourced spices. Using Frontier Co-Op's Ground Turmeric as the front-runner in the spice department, the chicken turns out with a vibrant yellow hue. Frontier sources their turmeric from small farmers in Sri Lanka, to whom they gave a grant in order to build a training facility, where farmers are educated on organic, sustainable growing practices. All of Frontier Co-op's products have a story and are sourced with great care always being fair to people and planet (learn more about Frontier's sourcing here).
I also used Frontier's paprika, cumin, and coriander, and even a pinch of cinnamon to lend a little bit of a curry affect to the recipe. Fresh ginger is applied in volume, along with coconut milk to round out the flavor into a creamy medley of aromatic flavor. Adding turnips, carrots, and a head of kale, we're getting a hefty dose of veggies along with our protein.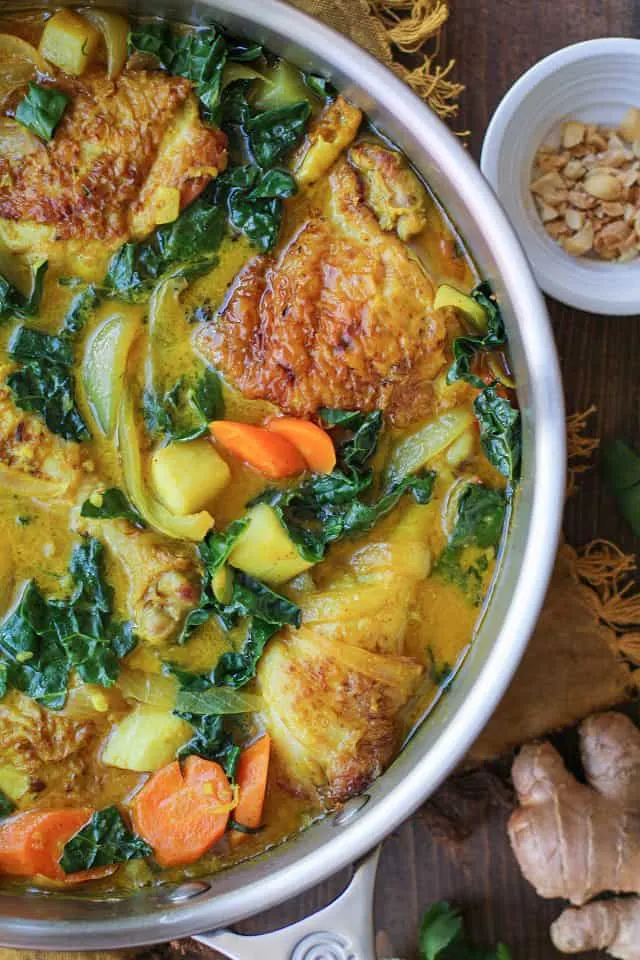 While this recipe can certainly be made in a slow cooker, I shaved off hours of cook time by braising it in an oven-safe saucepan. You can also use a Dutch oven, a large cast iron-skillet, or even a paella pan. Serve over steamed brown rice, and you're in for a super comforting yet healthful meal!
Chicken gooooood <- name that movie.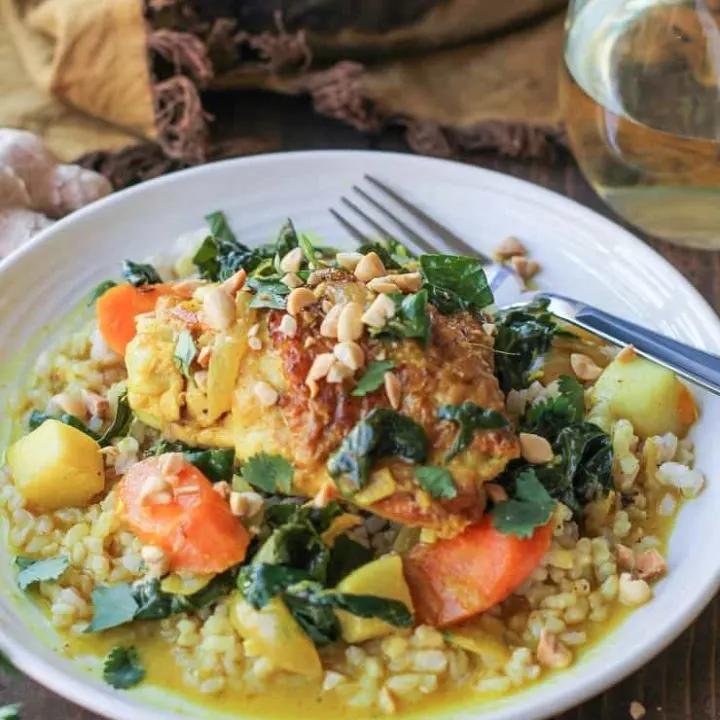 Ginger Turmeric Braised Chicken
Cook Time:
1 hour
30 minutes
Ginger Turmeric Braised Chicken is packed with flavor and color and results in tender fall-off-the-bone chicken for a winning dinner!
Ingredients
For the Ginger-Turmeric Coconut Sauce:
3 tablespoons fresh lime juice
1-½ teaspoons ground turmeric
½ teaspoon ground coriander
For the Chicken and Vegetables
3 tablespoons coconut or olive oil
1 large yellow onion, chopped
2 large carrots, peeled and chopped
2 medium turnips, peeled and chopped
3 cloves garlic, minced
1 3-inch piece ginger, peeled and grated
4 to 5 pounds bone-in chicken pieces, I used thighs and drumsticks
1 head lacinato kale, chopped
For serving:
Chopped roasted peanuts
Cilantro
Instructions
Prepare the Ginger-Turmeric Sauce:
Add all ingredients for the sauce to a small blender and blend until completely combined. Set aside until ready to use.
Prepare the Chicken and Vegetables:
Heat the coconut oil to medium-high in a large oven-safe saucepan or Dutch oven. Add the onion and saute, stirring occasionally, until is turns translucent and begins to brown, about 8 minutes. Add the carrots, turnips, garlic, and ginger, and continue cooking, stirring occasionally until very fragrant, about 3 to 5 minutes. Transfer the veggies to a bowl and place the saucepan back on the burner, and preheat the oven to 375 degrees F.
Keeping the heat at medium-high, place the chicken on the hot surface, skin-side down. Cook until skin is golden-brown and crispy, about 3 to 5 minutes. Flip the chicken and cook an additional 3 to 5 minutes.
Pour the ginger-turmeric coconut sauce into the saucepan with the chicken, along with the sauteed vegetables. Stir and arrange the chicken and veggies until everything is coated in the sauce. Cover the saucepan and place on the center rack in the preheated oven. Bake for 40 to 50 minutes, or until internal temperature of the thighs and drumsticks reads 165 degrees F.
Add the chopped kale, cover, and place saucepan back in the oven until kale has wilted, about 3 minutes. Stir everything together until kale is incorporated into the dish.
Serve turmeric chicken and veggies over cooked brown rice. Spoon sauce over the rice, and add sea salt to taste.
Nutrition Information
Serving Size

1 g
Amount Per Serving
Unsaturated Fat

0g
This post is sponsored by Frontier Co-Op. I was compensated for my efforts, but all opinions are my own. Thank you for supporting the brands that help make this site possible.
More Braised Chicken Recipes: