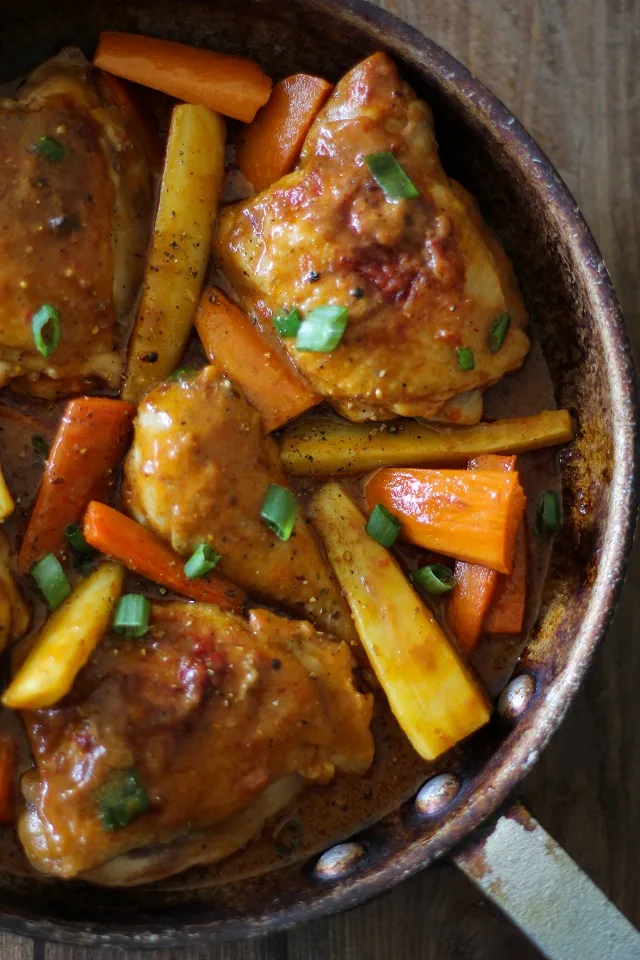 Winner winner chicken dinner! <- that's all I've got, don't hate me.
I'm slowly coming out of catch-up mode after my trip to Illinois for Stephie and Alex's wedding, and thought I'd pop in to slam dunk you in the face with Zee Best Braised Chicken Eeeeevahs and give you a lil' bitty trip recap.
Okay, the recap is long. Medium-sized. A bit bigger than itty bitty. Here we go:
Last Thursday, I arrived in Peoria just in time for Stephie's bachelorette party, which was super mellow and fun. Stephie's friends and I instantly bonded as we munched on tapas at Noir and sipped on wine. It was so nice getting to know the ladies in a relaxing environment void of banana hammocks and inappropriately-shaped straws.
The next day (Friday), Stephie, her friend Erin and I busted out a workout before setting up the venue, which was to be held in this kick ass barn in North Pekin. Friday evening was the rehearsal and the rehearsal dinner at this bangarang steak house called Alexander's, where you could flipping grill your own dang steak, just UGH!
Saturday, Stephie, my fellow bridesmaids and I got ready for the big event. There was a bit of downtime before the wedding started, so guess what we did? Yup, wine. You know me too well.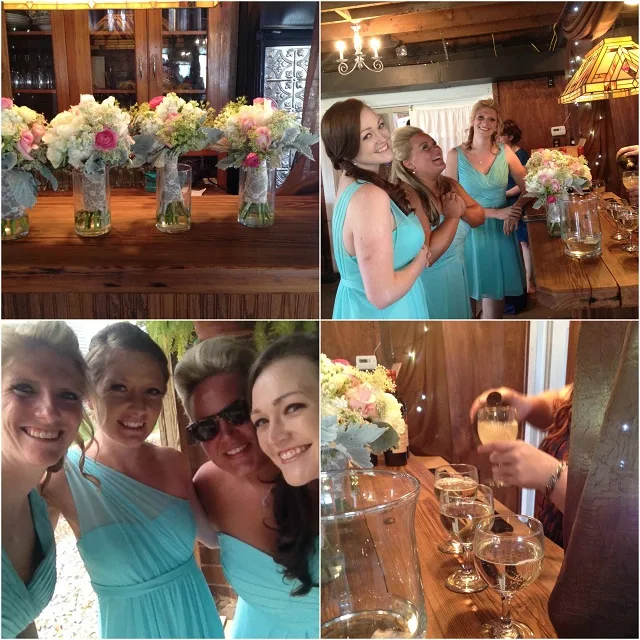 The ceremony and dinner was in this teal-roofed barn, and cocktail hour was in this rockin' cool silo. I mean, I'm not a uuuge wedding person (don't feign surprise), but I'd say this venue was epic.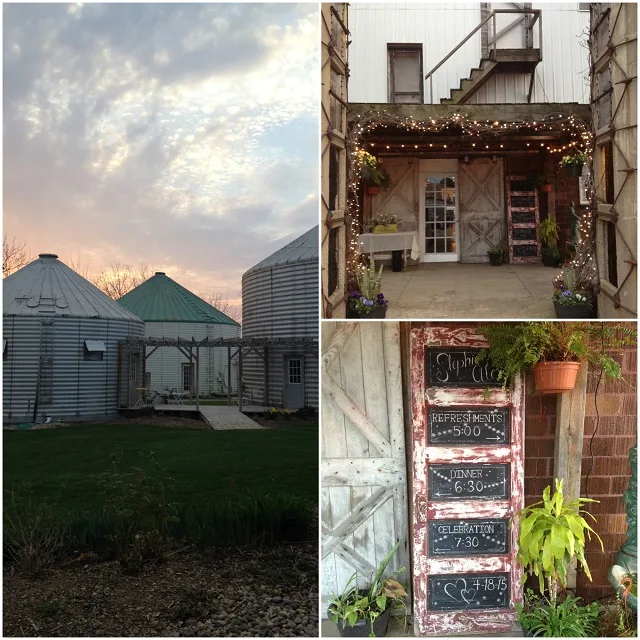 Stephie's friend, Amy got ordained prior to the wedding and officiated the ceremony. She said beautiful things about love that made me ugly cry. Like, I probably ruined all of the wedding photos of the ceremony with my scrunchy scrunch face, but hey, weddings are for ugly cries, yes? Thanks for understanding, Stephie 😀
Following the ceremony was cocktail hour, followed by DUH-licious BBQ dinner, complete with the best BBQ pulled pork and potato salad I ever did eat. Plus dang good coleslaw and brisket. Just. Whoa. And then all the boozing and dancing occurred. I took to Stephie and Alex's friends and family like white on rice. They're just such kind-hearted souls, and they let me follow them around, and dance upon them.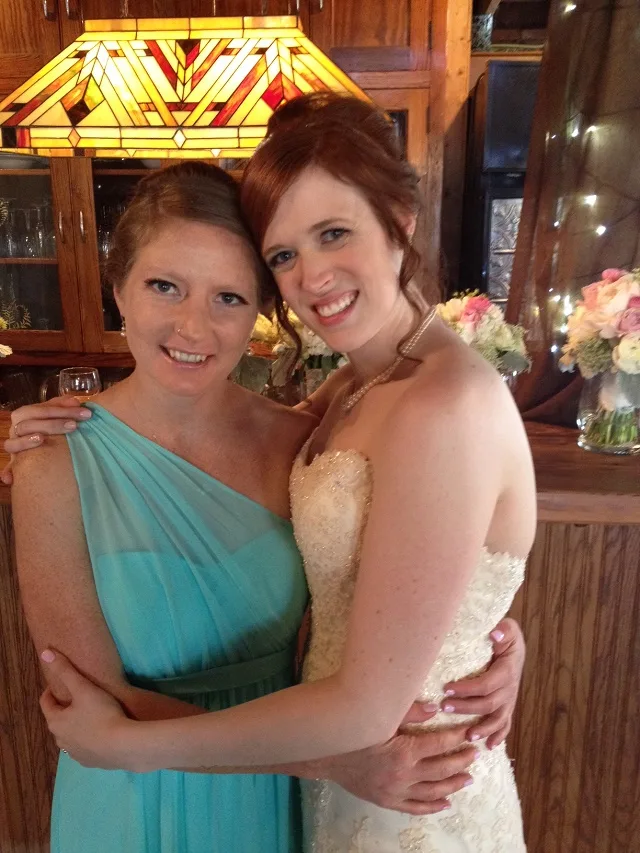 How flipping gorgeous is that bride?!
It's a good thing I didn't choose a career as a travel agent, because I booked my flight out of Peoria at the ass crack of dawn on Sunday. Bygones. I got sneezed upon during all three flights home, but didn't get sick, yay me! I attribute the strength of my immune system to the good hearty southern barbecue coursing through my veins.
A million congrats to the beautiful couple! If you want to see more photos of the ceremony, check out #StephieandAlex on Instagram.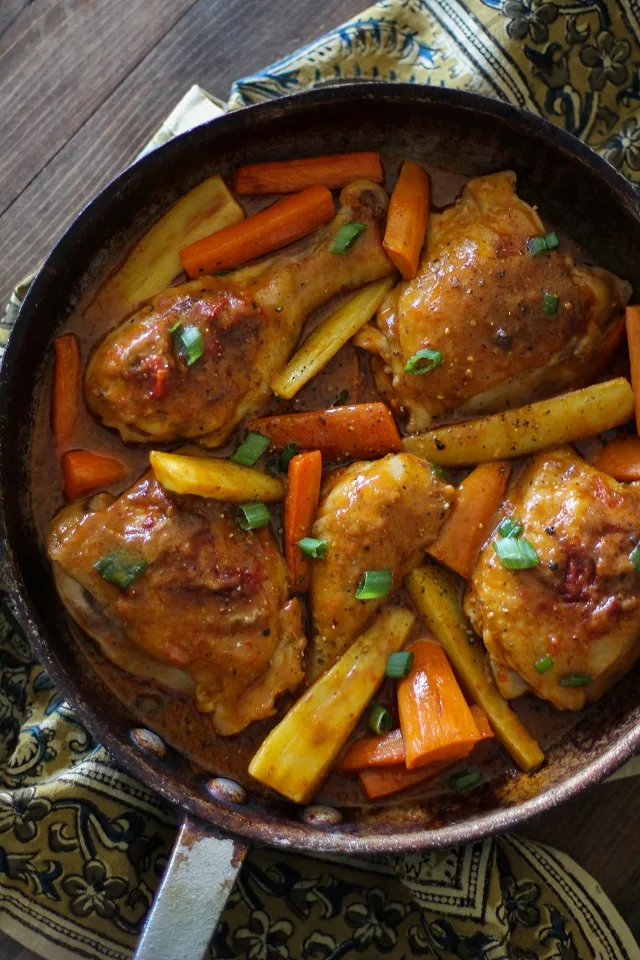 Let's talk braised chicken! As you very well know, I'm an uuuuuuuuge fan of saucy slow-cooked meat. While crock pot meat is always a choice meal, I also like to braise bone-in chicken when in a pinch. The process takes less than an hour and you end up with tender and flavorful meat. I was flipping through the April issue of Cooking Light and my mouth was watering at all the amazing chicken recipes in the issue. Inspired to make an ethnic braised chicken recipe, I figured harissa and coconut milk would be perfect.
Mixing up full-fat coconut milk, harissa paste, and curry powder for a dreamy steamy sauce goes down on the Top 10 Smartest Things I've Ever Done. Seriously, the flaaaaaavah! The chicken turns out super moist and the root vegetables soak up that sauce like hooooold the phone! I used store-bought harissa sauce for this recipe, but you can also use homemade. For those of you who are new to harissa, Saffron Road makes a great harissa simmer sauce, and you can find it at Whole Foods.
If you want to be a straight-up genius, you'll make this Ginger and Turmeric Aromatic Rice to go with the chicken and roots. You'll want some rice-like carb to soak up all that insane-o tasty sauce.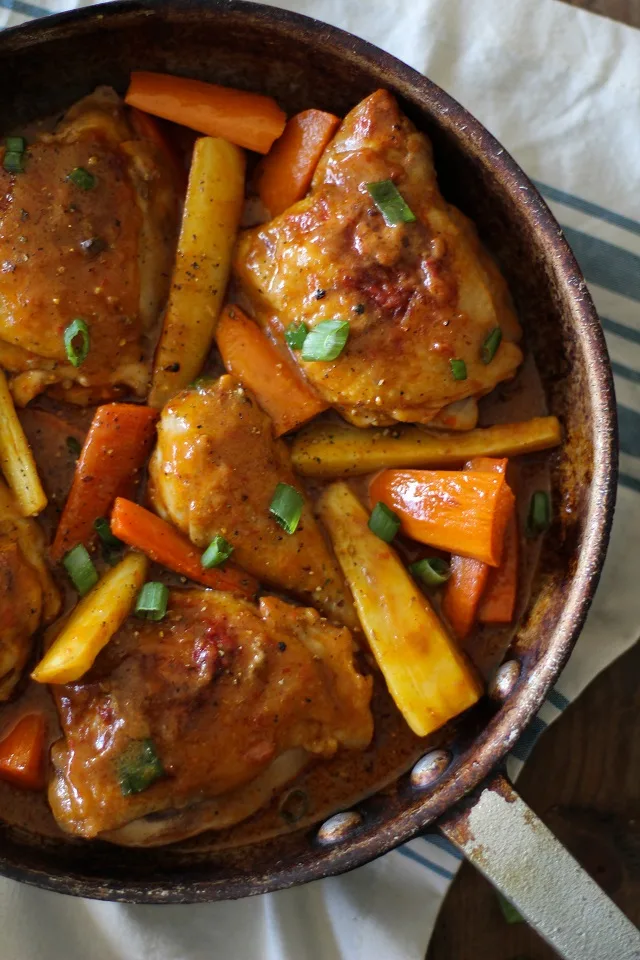 Braise thy chicken!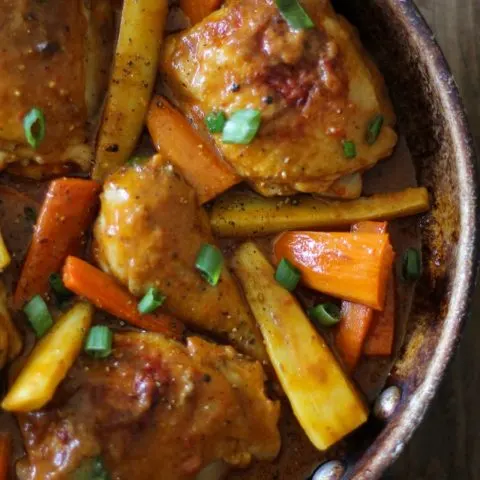 Coconut Harissa Curry Braised Chicken with Root Vegetables
Dinner time just got WAY more interesting! This Harissa Curry Braised Chicken with Root Vegetables in an aromatic coconut milk sauce is incredibly rich and flavorful.
Ingredients
1 (14-ounce) can full-fat coconut milk
2/3 cup mild harissa paste
1 tablespoon curry powder
¼ teaspoon sea salt
2 tablespoons grapeseed or olive oil
3 pounds bone-in skin-on chicken pieces
1 large parsnip, peeled and chopped into 2-inch pieces
1 large carrot, peeled and chopped into 2-inch pieces
1 small sweet potato, peeled and chopped into 2-inch pieces
Instructions
Add the coconut milk, harissa paste, curry powder and salt to a blender and blend until smooth. Set aside until ready to use.
Heat the oil over medium-high in a large (10 to 12-inch) cast iron skillet.
Place chicken pieces on the hot skillet skin-side down. Sear 2 to 3 minutes, until skin is golden brown and crispy. Carefully flip and cook an additional 2 to 3 minutes - do not cook the chicken through. Place seared chicken on a plate and set aside.
Reduce the heat to medium and add the root vegetables to the hot skillet. Saute, stirring frequently for 3 minutes.
Place the seared chicken pieces back into the skillet with the vegetables. Pour the coconut-harissa sauce over everything and maneuver the chicken and vegetables around so that everything is covered and in a single layer. Bring to a gentle boil, reduce heat to a simmer and cover. Cook for 30 to 35 minutes or until thighs reach 165 degrees F internal temperature and veggies are cooked through.
Serve with your favorite side dish and enjoy!
Nutrition Information
Serving Size

1 grams
Amount Per Serving
Unsaturated Fat

0g