German-style sweet potato salad is made with bacon and a vinegar based dressing instead of mayonnaise. Super flavorful and delicious, this is an amazing side dish!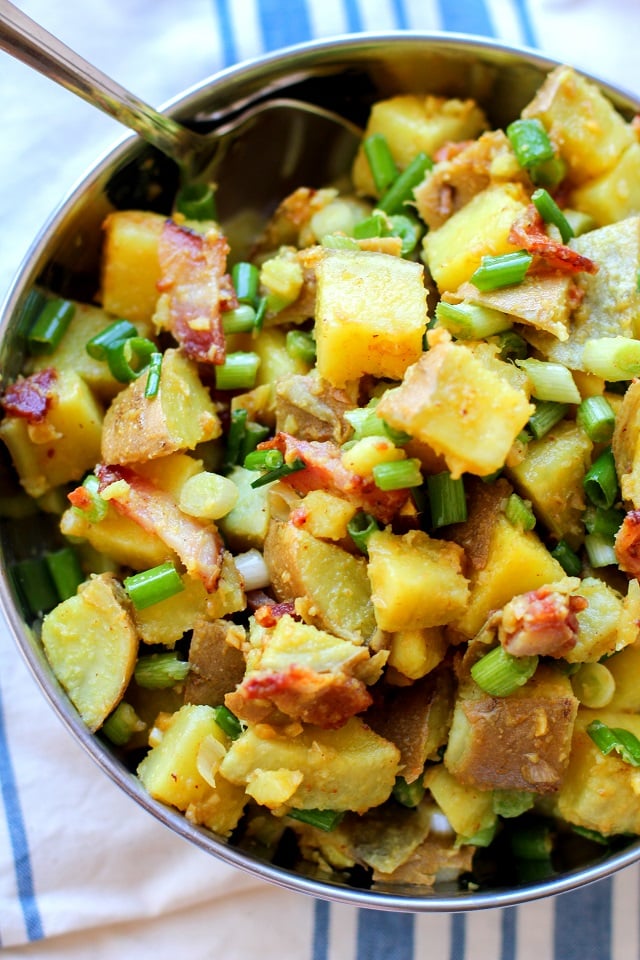 As it turns out, we've been doing this potato salad thing all wrong.
Have you had the scrumtrulescence that is German sweet potato salad? I hadn't until last week. To summarize: it's tubular.
Authentic German potato salad is made with red potatoes (or new potatoes), onion, fresh parsley, and is dressed in bacon drippings with a splash of dijon mustard and cider vinegar. So to give you an analogy, bacon fat is to German potato salad as mayonnaise is to American-style potato salad. I mean…whose team are you on, folks?
Not that you need to pick a team.
Pick a team.
Always send bacon to do the job of mayonnaise is my food philosophy.
The dish is served with crispy cooked bacon and green onion for even more texture and flavor. It's like sending an army to stomp on a mole hill. So to give you an analogy, dis is to your face as brandy was to John Steinbeck.
Here are my deviations from the classic version: I used white sweet potatoes instead of red potatoes for no other reason than I love them. I also left out the parsley for no other reason than I forgot to buy it. Normally, you'd add a smidge of sugar to the dressing, but since sweet potatoes are already sweet, I left the sugar out. Stone ground mustard in place of dijon…really any mustard will work…even yella.
This sweet potato salad's locked, loaded, and ready to punch any of your picnic slash barbecue mates squarely in the tongue buds. So to give you an analogy, this dish is to your summer gathering as fireworks are to the fourth of JU-ly.
You don't want to miss it.
It's the Rib Eye of the potato salads. The crème de la crème. The Zack de la Rocha. The awesome de la sauce. The…you get the picture.
Meat and potatoes, my friends. Meat.and.po.ta.ters.
German-Style Sweet Potato Salad
German-Style Sweet Potato Salad with vinegar dressing instead of mayonnaise is a fresh take on the classic side dish.
Ingredients
2

pounds

white sweet potatoes

or red potatoes

4

slices

thick cut bacon

1/3

cup

cider vinegar

1

tablespoon

stone ground mustard

4

cloves

garlic

minced

¾

teaspoon

sea salt

or to taste

1

bunch green onion

chopped
Instructions
Chop the sweet potatoes into quarters or sixths and place in a full pot of water. Bring to a boil and cook 15 to 25 minutes, until sweet potatoes are soft when poked with a fork. Transfer potatoes to a cutting board and chop into large chunks once cool enough to handle.

Heat bacon over medium-high in a skillet until crispy, about 5 minutes. Leave bacon drippings in skillet and transfer bacon to a cutting board and chop.

Slowly pour the cider vinegar into the skillet with the bacon drippings. Add the mustard, garlic, and salt, and allow mixture to come to a gentle boil. Cook 2 to 3 minutes, until mixture has thickened slightly.

Add the potatoes, bacon, and green onion to a large bowl. Pour in all of the bacon-cider dressing mixture and stir well to combine. If desired, mash the potatoes to desired consistency, or leave chunky.

Let stand 10 minutes before serving.
Nutrition