Garlic and lemon pan-seared salmon is the easiest peasiest meal that can be made in under 30 minutes. Keep your weeknights simple, healthy, and tasty!
During the snowstorm over the weekend, I was craving all of the omega fats, so I braved feet (inches) of snow, dodged sasquatch (an unsuspecting tourist wearing a poofy jacket), and bartered the last can of pineapple rings in the whole store for the last hunk of fish during the greatest power outage known to mankind, and then used pure alchemy to cook said fish while there was not a spot of electricity in all the land (who'm I kidding, no one fought me for the fish, I don't even like canned pineapple, the power outage was small potatoes, and it didn't effect my house, so I just used straight up electricity as opposed to alchemy).
To summarize: I made this pan-seared swimmer while the snow was falling from the sky and it was marvelous. The End.
Asyouknow, I normally broil my fisherooskis, but I wanted to change things up a hair. You know, like dress the fish in a new outfit to keep the flame going. I used the ever-so-simple butter-garlic-lemon approach to the salmon, and pan-cooked some asparagus as well. The whole thing took under 30 minutes from start to finish, and no sasquatches were harmed in the making of it.
For those of you who are up for a little raw-on-the-inside, simply cook the salmon for about 3 minutes on each side. For you'uns who like your fish cooked through, you're looking at 4 to 6 minutes per side depending on the thickness of the fish. And use real butter, folks! And it's okay to quadruple the amount of garlic. And don't forget the squeeze of fresh lemon! And eat your peas! Just kidding, peas are gross.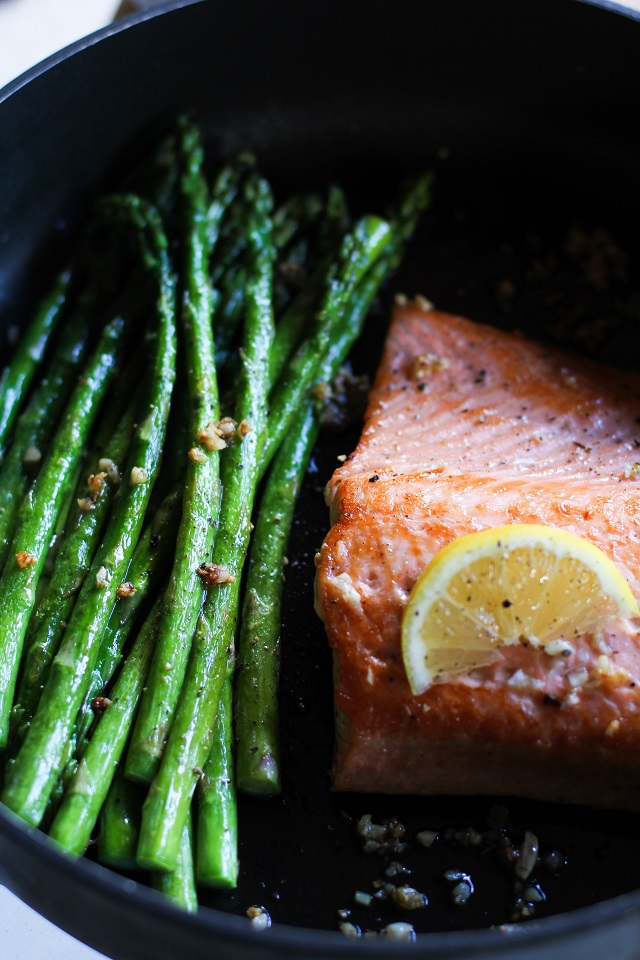 Salmon in less than 30 FTW!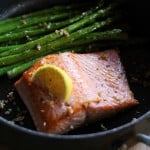 Lemon-Garlic Pan-Seared Salmon and Asparagus
Print
Ingredients
Lemon Garlic Asparagus:
1

bunch asparagus

trimmed

1

tablespoon

salted butter

1

tablespoon

olive oil

2

cloves

garlic

minced

zest of 1 lemon

sea salt and cracked black pepper to taste
Instructions
Prepare the asparagus:
Heat olive oil and butter in a non-stick skillet over medium heat. Add the asparagus and cook, stirring occasionally for 3 minutes. Add the garlic and lemon zest and continue cooking another 2 to 5 minutes, depending on your desired level of done-ness (I like my asparagus al dente). Sprinkle with sea salt and cracked black pepper to taste.
Prepare the salmon:
Heat a medium-sized non-stick skillet to medium-high and add the butter and olive oil. Sprinkle the salmon fillet with sea salt and place on the hot skillet, skin-side up. Cook for 4 to 6 minutes (depending on thickness of fish), and carefully flip to the other side. Cook 3 minutes, add the garlic and lemon juice and cook another 2 to 3 minutes, until salmon is cooked through but still moist.