A happy-gut blueberry smoothie with figs, beet, pineapple, coconut milk yogurt, and almond milk. This easily digestible banana-free smoothie is an awesome breakfast or snack.
Before I discovered my banana intolerance, I drank smoothies every day. Since going banana-free, I go in and out of smoothie kicks depending on the state of my gut health. If I have an IBS flare up, I gravitate toward replacing a meal or two with a smoothie or bone broth, as liquid is much easier on your digestive tract than solid food.
This fig beet blueberry smoothie is one of my recent happy-gut concoctions. It incorporates ingredients that are not only easy on your digestive system, but are welcomed with open arms. I use a fig, a few hunks of beet, blueberries, pineapple, coconut milk yogurt (probiotics), almond milk, ground cinnamon, raw pumpkin seeds (a natural anti-parasitic!) and some collagen peptides (awesome for repairing damaged gut lining!).
Depending on what your body tolerates, you can add and subtract as necessary. For instance, if you aren't banana-free, definitely add a banana, as it will give the smoothie a nice creamy texture and plenty of natural sweetness. If you can handle cauliflower, feel free to add ⅓ cup to ½ cup steamed and frozen cauliflower for a low-sugar creaminess.
Gut Talk
If you follow a strict Low-FODMAP protocol and haven't tested beets or figs yet, I recommend skipping the beets until you determine whether or not your body is cool with them. Figs are a high-FODMAP fruit, so steer clear until your gut issues improve. Beets are one of those in-between foods, where you can get away with eating a small amount as long as your body tolerates them, but anything above a small amount (a few pieces or ¼ cup) can lead to an adverse reaction, as beets do contain a great deal of natural sugar.
I've been using pineapple as a source of sweetness in my smoothies because it is not only a Low-FODMAP fruit, but it is a natural anti-parasitic (great for those who have been dealing with SIBO, candida, or leaky gut), plus it is so deliciously sweet!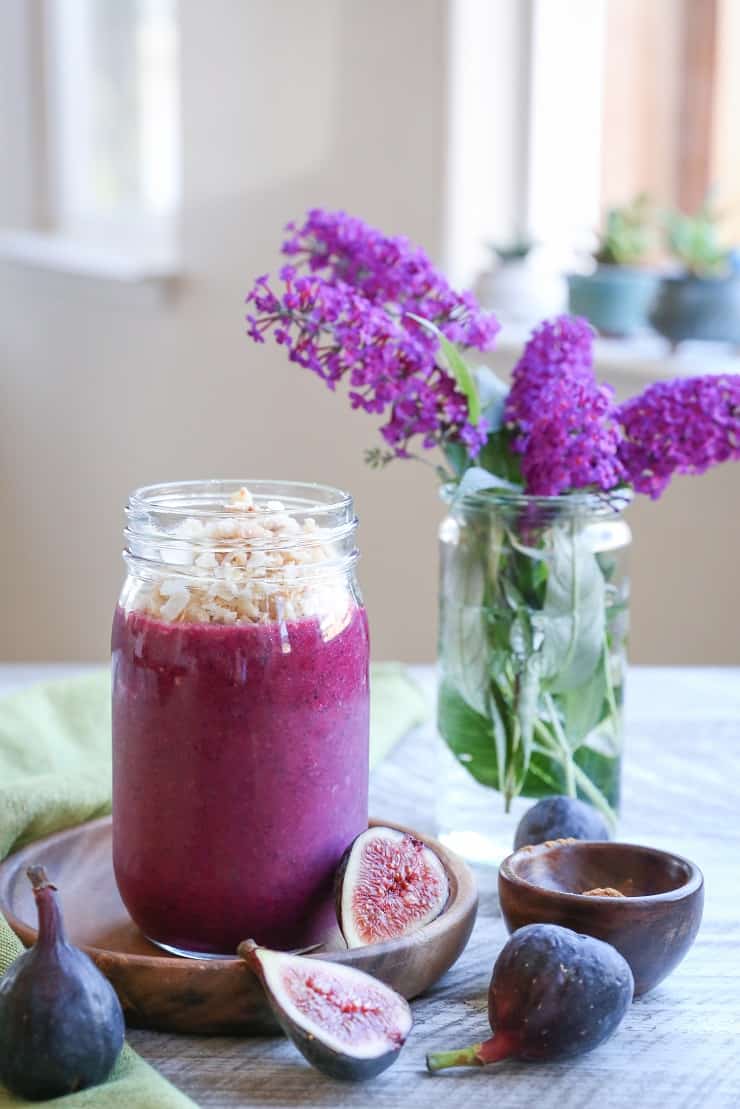 Since we're experiencing the beauty of fig season, I figured I'd toss a ripe fig into the smoothie for some nice poppy texture and some natural sweetness. I
f you don't have access to ripe figs, no sweat – you can definitely go without. If this is the case, just add another chunk of pineapple and you're good to go!
Adjust the sweetness of this smoothie to your personal taste and tolerance. I generally keep my smoothies as low in sugar as I can while still trying to keep them palatable, so finding your sweet spot may be a bit of a project.
If you can tolerate more sugar, go heavier on the pineapple. If you're ultra low-carb, skip both the pineapple and the figs, you feel? Just re-adjust your expectations depending on the changes you make. 😉
Oh, and because smoothies are always better when they involve a little garnish, I've been topping my smoothies with the Coconut Lovers Paleo Granola (a.k.a. coconut crack) I showed you a while back.
Blender Talk
In my Orange-Turmeric Tahini Sauce post, I mentioned I make all my smoothies and sauces in a personal-sized blender because I find they blend so much better than a larger blender. The smaller surface area of the carafe ensures the ingredients are getting up-close and personal with the blade, whereas in a larger blender, your ingredients bounce around and don't blend as well. This to say, I use my Tribest Life Personal Blender whenever I make smoothies.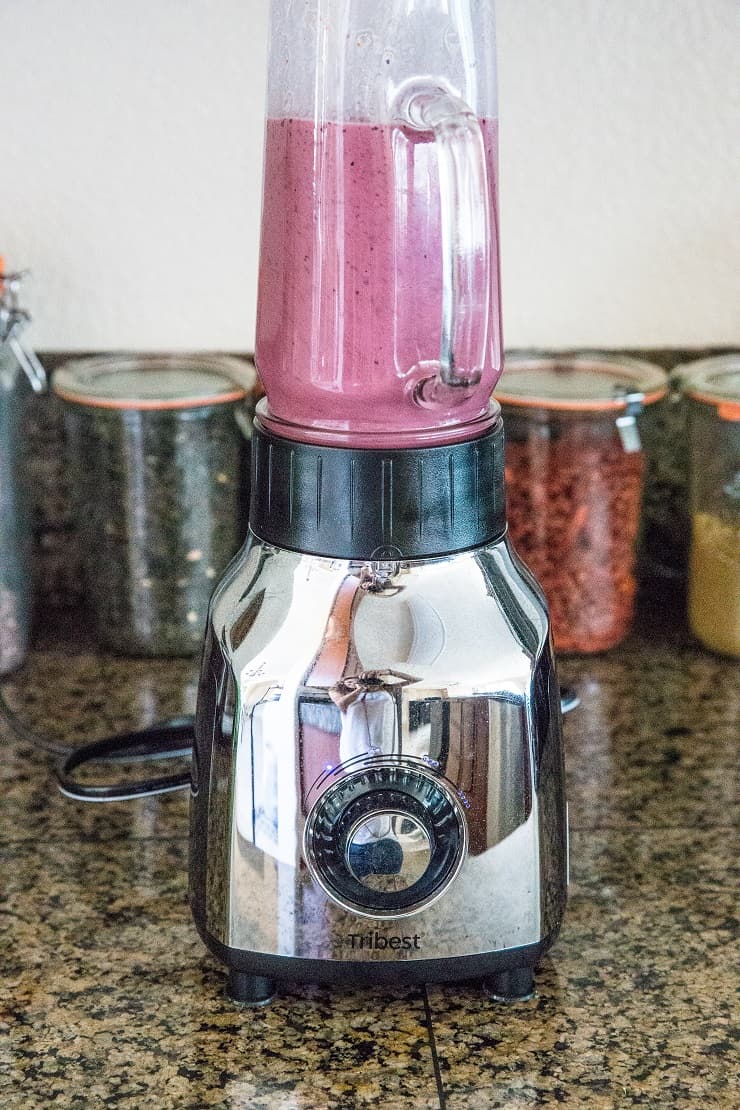 The blender is also a great resource for those blend-and-go moments, as it's easy to simply stick a lid on the carafe and bring it with you.
Be sure you blend the smoothie until it reaches your desired texture. Because there are beets, figs, and pumpkin seeds in this smoothie, you will need to blend it longer than your average smoothie.
Recipe Adaptations:
Replace the pineapple with mango if you tolerate it (note: mango is a high-FODMAP fruit).

Omit the beets if you follow a strict Low-FODMAP protocol.

Add your favorite protein powder and/or skip the collagen peptides.

Skip the coconut milk yogurt and add more almond milk, or replace yogurt with straight full-fat canned coconut milk.

Omit the pumpkin seeds or replace with walnuts.
Blend 'er up!
Fig Beet Blueberry Smoothie
Anti-inflammatory smoothie with beets and blueberries is a powerful way to take in your Vitamins
Servings:
1
large smoothie
Instructions
Add all ingredients to a blender and blend until smooth (Note: adjust amount of almond milk based on desired thickness).
Notes
*For Low-FODMAP, omit beets and figs
Nutrition