Quick and easy Shakshuka with eggplant, chickpeas, and chard – a well-balanced breakfast or dinner that requires less than 30 minutes to prepare!
This post is sponsored by Pantry to Pan.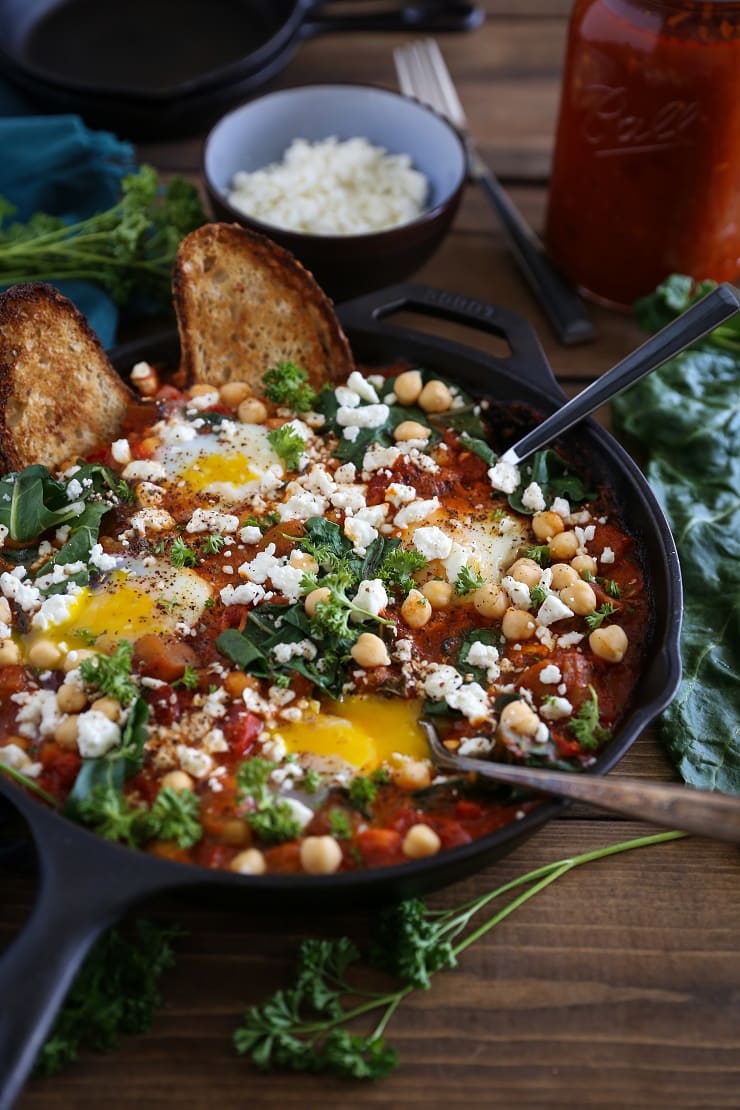 If I were to summarize my cooking philosophy in three main bulletpoints, I would say I am a.) fiercely passionate about big flavor and ethnic food b.) a firm, wholehearted believer that healthful meals can sooth the soul and satisfy the palate, and c.) Fully devoted to thoughtful convenience.
WELL. Have I got a meal for you.
For those of you who have never tried making Shakshuka, here's the skinny: Shakshuka is a classic North African meal of eggs stewed in a generously-spiced sauce made from tomatoes, red peppers, and harissa. The sauce is an art in and of itself, as creating that perfect balance of spice, cutting the acidity from the tomatoes and peppers, and – taking it a step further – preparing your own harissa can be difficult to master and time-consuming. But, when executed properly, the end result is an otherworldly flavorful, silky, palate-pleasing experience.
I have the best news ever for Shakshuka lovers, for busy families, for healthy food nuts, for lovers of ethnic food…so basically, I have great news for everyone. Spoiler alert: there's a great story here!
Stephen Hollabaugh, founder of Pantry to Pan, developed an Organic Shakshuka Starter in effort to bring Shakshuka into your home in the easiest, most delicious possible way. Where you'd normally take a great deal of time preparing the sauce, the work is already done for you. Just add eggs! Thank yooooou, Stephen! I know…you're already sold on the concept and want to know where you can purchase the product. Hear me out! 
Pantry to Pan's Shakshuka Starter is absolutely fabulous. I'm all about making my own sauces from scratch, but let's face it: Pantry to Pan does Shakshuka way better than I do. It has an amazing authentic flavor, and the meal only takes about 15 minutes to prepare. All you need is a jar of the starter and 4 to 6 eggs to prepare the most amazing Shakshuka that will ever greet your face. 
I had the opportunity to speak with Stephen Hollabaugh and his partner in crime, Natalie Ronning on a video conference call. As soon as we started speaking, I immediately felt like we had all been friends for years. Based out of Ithaca, New York, the founders are busy career people by day, and Shakshuka-making gurus by night. The time and quality that goes into their product is outstanding, and their passion is contagious. For me, this isn't just another product…it's conversation starter, an experience maker, a way of making your life much easier and far more delicious.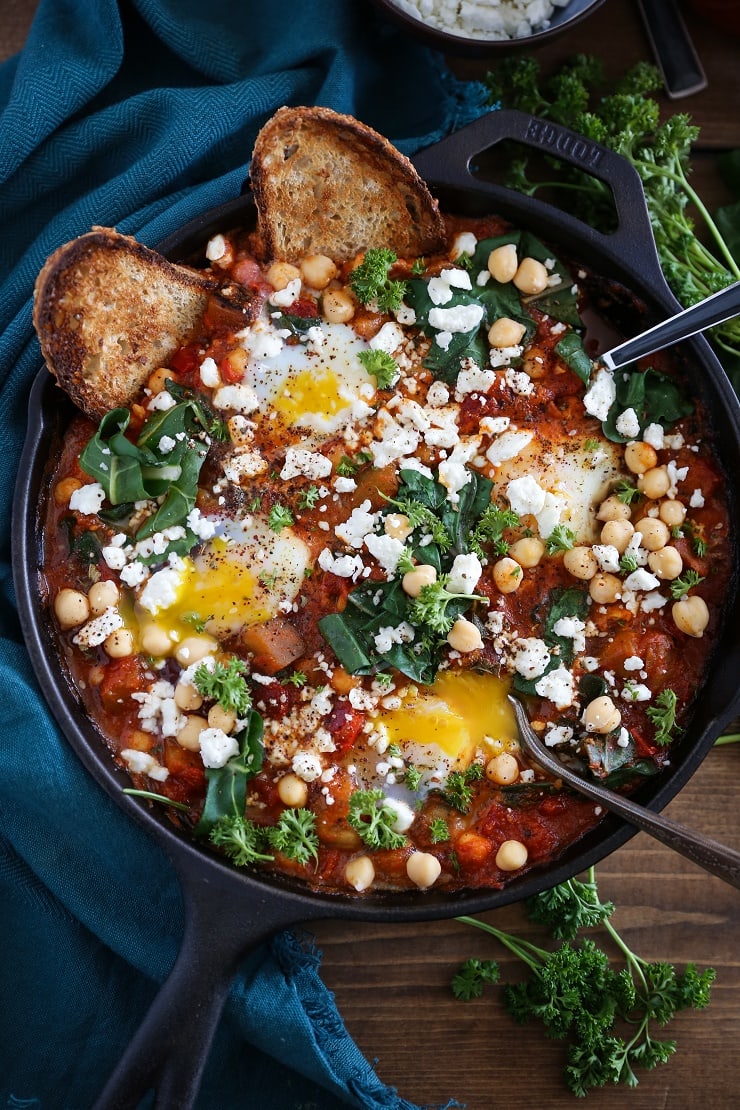 OKAY!
Where can you purchase Pantry to Pan's Organic Shakshuka Starter? Here's the deal: Pantry to Pan is a brand new company – their kickstarter launched today (click HERE to check it out) to help raise the remaining funds necessary to get it into production. To help bring the product to market, you can support Pantry to Pan by making a donation.  Hint: any pledge of $22 or more gets you the Organic Shakshuka Starter!
As is the case with all kickstarters, this is an all-or-nothing project. The team can't bring Shakshuka to the masses without the remaining funds. Your help counts!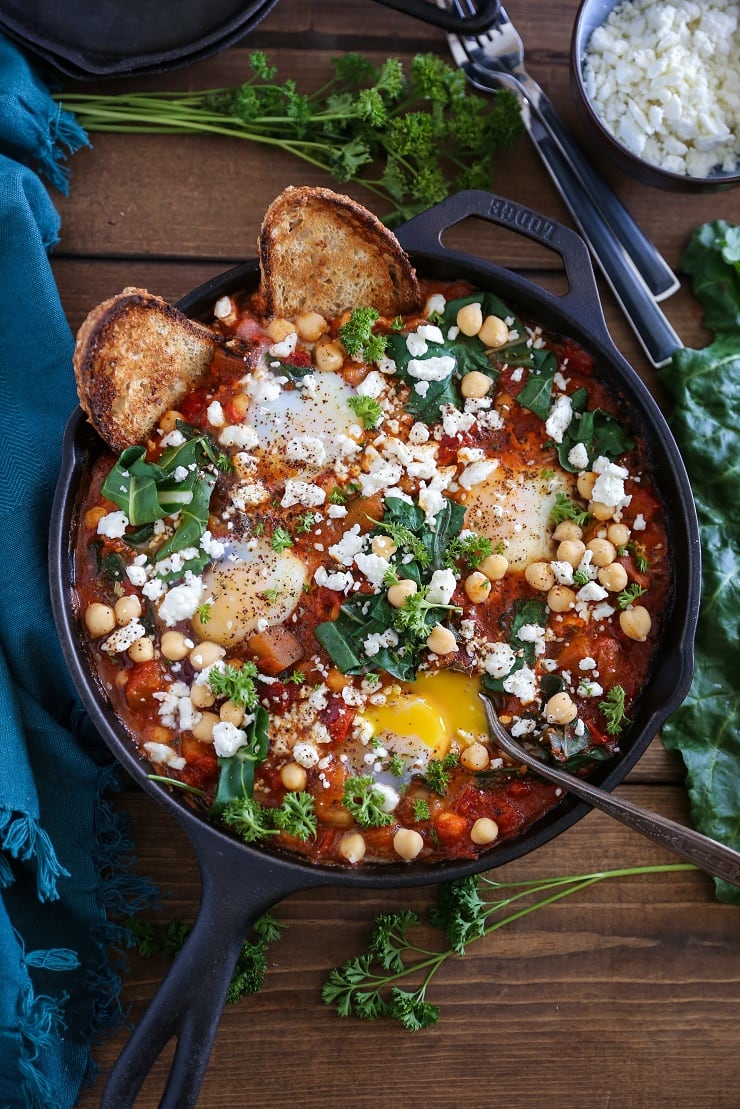 Oh, and customizations? Just because Pantry to Pan has done the hard work for you, doesn't mean you can't let your inner chef roar. You can can get as creative as you'd like and toss in virtually any fresh seasonal vegetables. In need of using up veggies from your CSA box or your last trip to the farmer's market? Simply saute up your fresh vegetables, add the starter, crack in some eggs, and wait for the eggs to set up. The waiting part is the only difficult part of the whole process.
All I did to prepare this recipe was saute eggplant with chickpeas and Swiss chard in a cast iron skillet before adding Pantry to Pan's Shakshuka Starter. I cracked in five eggs, waited super impatiently as the eggs set up, then sprinkled feta and fresh parsley on top. For serving, I toasted up some gluten-free bread. This simple combination worked seamlessly, and I'm already thinking of my next batch of Shakshuka. Broccoli, kale, carrots, maybe even some bok choy, or beets?…You name it, I'm wanting to shakshuka it. And because I know you're curious, even when I added fresh vegetables, the prep time was just about 25 minutes.
So now you're in-the-know! Make Shakshuka a staple in your weekly menu by helping launch Pantry to Pan!
Head over to Pantry to Pan's Kickstarter, and also stay updated by following them on Instagram, Facebook, and Twitter.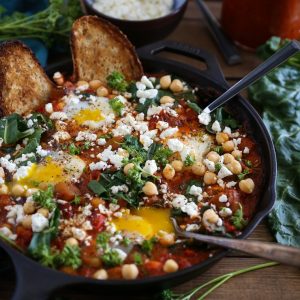 Eggplant, Chickpea, and Chard Shakshuka
Print
Ingredients
For Serving:
1/3

cup

feta cheese crumbles

see note*

1/4

cup

fresh parsley

chopped

4

slices

bread of choice

toasted
Instructions
Add the olive oil to a 10" to 12" cast iron skillet and heat to medium-high.

Add the eggplant and cook, stirring occasionally, until egplant is golden-brown and begins to soften, about 5 to 8 minutes. Add the chopped chard leaves, cover, and cook until wilted, about 1 minute. Add the chickpeas and Shakshuka starter. Stir and bring to a full boil.

Dig 4 to 6 wells into the shakshuka mixture and crack eggs into the wells. Reduce heat to medium-low, cover, and cook until the egg whites have set up, about 10 to 15 minutes.

Sprinkle with feta cheese and fresh parsley. Serve with toasted bread.
Recipe Notes
*I used goat milk feta cheese
**Follow this recipe for the shakshuka sauce